Hi, my name's Irena and I live on the beautiful island of Crete in the Aegean Sea with my four dogs and three cats.
However this article is for those of you who are proud owners of rabbits. I had rabbits when I was younger.
First there was Snowdrop who I got for my eighth birthday. She was gentle and sweet, but then there was Thumper who was a little bit wild and liked to take a nip at you every now and then.
At that time, which was quite a while ago now, we just let our bunnies run about in the garden under supervision.
Now however, rabbit playpens are available which is great as you can leave your bunnies to play to their hearts content without having to watch over them.
What are the Benefits of Rabbit Playpens?
Rabbits are active animals that need to run and play to keep them healthy. It's not good to leave them in their hutch all day unless you have one with a run attached.
If you haven't, a playpen is the best choice. Your bunnies will be able to exercise while staying safe and protected. There are rabbit playpens for both indoors and outdoors.
If you get one for outdoors, you will know that your bunnies are getting fresh air and are in more of a natural environment though you do need to ensure that it has a roof as predators might get in otherwise.
In addition, you do have to keep an eye on the weather as you don't want your bunnies to get soaked if it rains.
If you have an indoor playpen you will be able to leave your bunnies without checking up on them so often.
Where to Position Your Rabbit Playpen?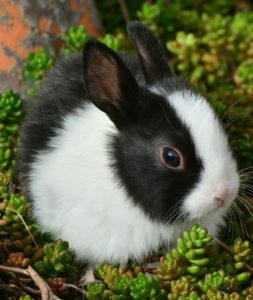 So where do you put your rabbit playpen? If you are using an indoor one I would put it in the same room as their hutch as they will feel more at home.
Keep the playpen away from any sunshine pouring in through a window as it might make them too hot. In the same way they might be too hot if they are put next to a radiator in the winter.
It is a bit more difficult to position an outdoor playpen. If your pen doesn't have a bottom you have to decide whether or not to put it on the grass.
Your rabbits will love munching on the grass, but you have to decide how much you care about your lawn.
You will have to place the playpen in the shade as you won't want hot sun burning your bunnies. As the sun moves you may have to also move the playpen.
If you have a covered area outside that would be the place to put the pen if it rains.
The one thing you have to do if you have an outdoor pen is to keep an eye on the weather. It's not a good idea to go out and leave your bunnies in an outside pen.
What are Rabbit Playpens Made of?
Both indoor and outdoor playpens are usually made of metal. They are long lasting and difficult to break so your bunnies will be safe and secure.
A few rabbit playpens are made of material but they are reinforced at the corners and seams so your bunnies will have a lot of trouble chewing their way out.
Both indoor and outside playpens can be folded down easily when you are not using them.
It is not difficult to take them with you if you are travelling. The material playpens even come with a carrying case.
What Size of Rabbit Playpen Do You Need?
I would say the bigger the better so your bunnies can have a good run around.
The height is very important as you don't want your bunnies jumping out. 36 inches is a good height for the pen to be.
If you have an outside pen you also need to have a roof on top of the pen so it doesn't matter so much how high the pen is. The roof is to stop predators getting in!
5 Best Indoor Rabbit Playpens
1) Amazon Basics Foldable Metal Pet Exercise and Playpen
This is the top choice of an indoor rabbit playpens because it is large and will give your bunnies plenty of room to play and exercise.
It has 8 panels, each measuring 42 x 24 inches meaning that the enclosure is 49 square feet. Your rabbits will have the time of their lives particularly if you put in a couple of toys for them to play with.
You can also just corner off part of the room with some of the panels if you haven't got room for the whole playpen.
You can set up this pen in a matter of minutes and you don't even need tools to do this. There are doors so you can get to your bunnies easily if you need to.
This pen can be used outside as well as it has 8 ground anchors, but I would be careful leaving your bunnies outside in this pen as it has no top.
I would only use it outside if I was also there keeping an eye on my bunnies.
2) Iris Small Animal Wire Pen with Plastic Bottom Tray
This is a rectangular pen which is 35.43 x 23.62 x 21.73 inches. It is high enough to stop your bunnies from escaping.
The pen has a plastic bottom tray which makes for easy cleaning if your rabbits aren't litter box trained.
It is made out of epoxy-coated steel wire so is very strong and even the toughest bunnies won't be able to chew their way out.
There are rubber feet on the bottom of the pen which stops it from skidding. The door has a chain and metal pin system so it is easy to securely lock the pen.
It could be used outdoors under supervision as there is no roof. Finally, no tools are needed to set the pen up. It just clips together.
3) JYYG Small Pet Pen Bunny Cage
This is a very versatile rabbit playpen. You can buy anywhere from 12 panels to 60. Each panel is 13.8 x 13.8 inches and they have multi-angle connectors.
This means that you can build it to the shape you want, be it tall, short, big or small. You could vary the design to give your rabbits a bit of variety.
It could also be put outside if you built it with a roof on to stop your bunnies from escaping and predators from getting in.
It is made out of a sturdy and durable metal which is washable and also eco-friendly. It is strong enough to withstand any biting by sharp bunny teeth.
The pen is easy to take apart and store or to travel with if you are taking your bunnies with you on vacation.
4) Kaytee Pet-N-Playpen Small Animal Pen
This rabbit playpen is 29 inches high so your bunnies will have great difficulty jumping out. It is very easy to put together and no tools are needed.
Just fit the connectible panels together and you will have an area of 9 square feet for your bunnies to run about in.
There is a connector to which you can add passageways or another idea is to buy 2 pens and attach them together for a larger space for your bunnies to play.
If folds down easily and doesn't take up much space if you want to store it or take it with you when travelling.
It comes with a plastic mat just in case your rabbits aren't litter trained. In addition the mat will stop them from scratching your floor or carpet.
5) Songmics Pet Playpen, Metal Wire Two Story Bunny Fence and Kennel
This is a large bunny pen for inside; 56.3" L x 28.7" W x 28" H. Your rabbits will love the amount of room they have to run about in.
It comes with 36 metal wire sheets and you can attach them in different ways if you want to give your bunnies variety. It can even be made two-story.
Your bunnies will love running up and down the ramp in-between the levels.
The pen is simple to construct and comes with instructions, a rubber mallet and 24 cable ties which will give the pen stability.
There are mats included ensuring that the pen won't go whizzing about the room. In addition it will stop your bunnies from scratching your floors or carpets.
The edges of the pen are rounded so your rabbits won't injure themselves.
5 Best Outdoor Rabbit Playpens
1) Pet Rabbit Cage/ Crate/ Enclosure/ Playpen
This rabbit playpen is suitable for outside as it has a roof, though I would still lock up by bunnies in their hutch at night.
The pen is made out of steel with an epoxy coating finish. This will stop your playpen from rusting, corroding and fading even if the weather is very hot or very cold.
The pen comes with a cover which partially fits on the roof. Your bunnies will be able to go under cover if it rains, snows or there is too much sun.
The cover comes with added UV protection meaning it won't fade, crack or rip in the sun. It also allows water and debris to run off it.
The pen is easy to set up. It comes with instructions and can be set up in a matter of minutes.
2) Zampa Pet Folding Playpen
This rabbit playpen is different to the ones we have been looking at as it is made of polyester, not wire. If you are worried that your bunnies might be able to chew their way out, don't be.
The corners and seams are reinforced so are very tough. It is suitable for outside as it has a top and there are four stakes to secure it to the ground.
Your bunnies won't be able to get out and predators won't be able to get in. It also has an attached floor so you can preserve your grass from chomping teeth.
Added incentives for buying this playpen are an attached water bottle, water dispenser hole and a pocket for toys and treats.
It is big enough for your bunnies to have some fun; 45 inches in diameter and 24 inches in height.
It is easy to set up and collapse and even comes with a carry bag if you want to take it with you when you are travelling.
3) Pet Camping Tent Playpens for Small Animals – Indoor/Outdoor Tent
This is also something a bit different. It is a play tent made out of mesh. The mesh has a great advantage as it stops mosquitos getting in.
It does have a bottom which helps if your bunnies have any accidents. You can put a few rocks in to keep the tent in place as it is very lightweight.
It only takes 5 minutes to set up and is just as easy to fold up if you want to travel with your bunnies. There is an included carry bag to put it in.
4) Bunny Business 8-Panel with Free Safety Net and Nylon Floor
This playpen has a twist to it. It is made of wire mesh, but has a net which goes over the top making it perfect for outdoors.
Half of the net is sealed which is good as it gives your bunnies somewhere to hide from the sun or the rain.
It has a waterproof nylon base in case your bunnies have accidents.
It is especially good for outdoors as it comes with long drop pins to secure it into the ground, making it all that more safer against predators. It is octagon shaped and is 55" x 55".
5) ToysOpoly # 1 Premium Pet Playpen
This is a large 45" playpen which comes with a removable top zipper, making it safe to keep your bunnies outdoors.
It also has 4 stainless steel anchors so you can securely attach it in the garden and not worry about predators.
It is even safer as it has protected seams and reinforced corners. Your bunnies won't be able to chew their way out of this playpen.
It is very easy to set up. It just pops up within seconds which is great if you want to take it with you when you are travelling.
The pen is completely water resistant which is good for your bunnies. You don't want them to get soaked. It has a zippered door which will keep your bunnies safely inside.
In addition the pen has a strong internal steel frame which makes it even more secure for your bunnies. 
Final Thoughts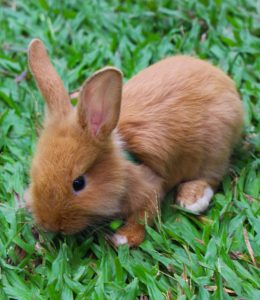 I hope you've enjoyed reading about the different types of rabbit playpens out there and have found one or two that would suit your household.
If you have rabbits it is important that they have space to run and play and a playpen is ideal for this. It is up to you whether you put it outside or keep it inside.
I think it's a good idea to have one for the inside and another for the outside so when the weather is fine you can put your bunnies outside and when it's raining you can keep them inside.
Remember to put everything they need in the playpen, for example a litter tray, food, water and their favorite toys. They will then be very happy bunnies.