Aquariums are a joy to keep whether you have a small tank or a large one. Once set up, they are fairly low-maintenance and bring peace and beauty into your home.
If you're heading out of town for the weekend or for a longer vacation, though, making sure your precious fish are cared for can be a stressful task.
Usually, you have to call a friend or family to check in and feed them as a favor, and even then the fear of overfeeding (and fouling up the tank) hangs over you like a dark cloud.
The nice thing is that there is another option: automatic fish feeders. If you're heading out of town, an automatic fish feeder will feed your fish whenever you need in the exact amounts you want.
My name is Michelle Ropp, and I've cared for freshwater aquariums in many different sizes throughout the years. I travel frequently, so I've learned a few tricks about how to prepare your tank for vacation.
To save you a bit of time and research, I've also put together a list of the five best automatic fish feeders so that when you're ready to go on your next adventure you can travel worry-free.
Preparing Your Aquarium for a Vacation
With all the chaos that traveling involves, it can be easy to forget to make arrangements for your aquarium until the last minute.
While automatic fish feeders will help immensely with this, there are a few steps you should consider before you leave so that the trip is as stress-free for your fish as it is for you.
Check Your Tank's Conditions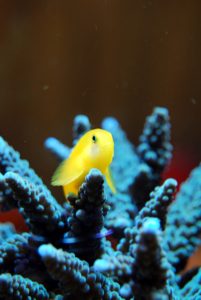 First, clean your tank and do a partial water change a few days before you leave. Check to make sure the filter is working properly and if any of the cartridges are nearing the end of their life go ahead and replace them now.
Though it might be tempting, resist the urge to change the temperature of your tank. Sudden temperature changes stress fish out and can make them susceptible to disease, so your best bet is to keep your aquarium operating in as normal conditions as possible while you're away.
Those conditions also include the light schedule. Although you won't be there to turn the tank light on in the morning and off at night, you can use a simple timer to do the job while you're on your trip.
Don't let the temperature of your home deviate too much, either. During the summer, make sure the AC will kick on if the inside temperature exceeds 80 degrees.
During the winter, don't let your home get too cold, either. You want to keep your home at or near a comfortable temperature because this will affect your tank temperature… and the health of your fish.
Check Your Fish's Health
Speaking of their health, make sure to do a thorough check on the health of your fish before you leave. If any of them are sick or exhibiting strange symptoms, contact your local fish shop to see if they should be quarantined or medicated before you leave.
If you're planning on being gone for a while, ask a friend or family to check on your tank from time to time. Make sure to give them your number and the number of a trusted pet shop in case they have any questions or need any help.
Whether you use an automatic feeder or have someone fish-sit for you, make sure that your fish are not overfed while you're away.
Fish love to beg and will happily trick anyone that walks by into thinking they haven't been fed. If they are overfed, though, it will only foul up the water faster which can create dangerous conditions for your fish.
Check the Water Levels
Lastly, make sure to top off your tank with water right before you leave. The water will evaporate slowly while you're out of town, so this crucial last step will ensure that the water level doesn't dip too low.
Once you've prepared your tank for vacation, you still need to make sure that your fish will be fed. Automatic fish feeders take the stress out of this step and will make your life easier whether you are traveling or not.
There are a lot of options out there for automatic feeders, though. Choosing the right one can be daunting, but not all automatic feeders are created equal.
Here are our five favorite automatic fish feeders.
Top Five Automatic Fish Feeders – The Best Vacation Feeders for Fish
      5. UStyle Automatic Fish Feeder
The Ustyle fish feeder comes in a round style or a square style and is a timed feeder that works with fish flakes, powders, strips, and pellets.
Because of its versatility, the Ustyle fish feeder can be used to feed all kinds of fish and aquatic creatures in all types of tanks.
It has a programmable timer that allows up to four meals per day with customizable portions so that you can feed your fish when and as much as you want.
Fitted with a moisture-resistant hopper, integrated fan, and ventilation, the Ustyle fish feeder keeps food inside fresh and dry until it is dispensed.
It's easy to install with a simple clip and is very compact. The price is right with this automatic fish feeder, too, so it will fit within any budget.
4. Wieppo Automatic Fish Feeder
Like the previous feeder, the Wieppo automatic fish feeder accommodates multiple types of foods thanks to an adjustable slide on the dispenser.
It works with almost all fish food types—including powder, crumbles, and pellets—but isn't designed for large flake food. It has a moisture-resistant hopper to keep food dry and comes with three different ways to install it depending on your tank.
Unlike most other automatic fish feeders, this one will work with covered tanks, too, using a base funnel.
This feeder works with small or large tanks. It can be powered using an adaptor or batteries so that if one power source is lost (due to dying batteries or a power outage) the feeder will switch to the other source to keep running.
It has a manual feeding button that allows you to feed anytime without affecting scheduled meals, and allows up to three meals a day to be set using the timer.
The amount of food provided can also be set using a slider that widens or narrows the opening that food dispenses through.
3. Torlam Auto Fish Feeder
The Torlam fish feeder is perfect for long trips. It holds up to a 21-day supply of food, can feed up to three times per day, has a manual button for feeding outside of mealtimes, and works with most types of fish food.
The hopper is moisture-resistant to keep food safe and dry, and the automatic feeder can be installed with either a universal clamp or velcro.
Like the last feeder, the Torlam feeder is powered by either an adaptor or batteries. If they are both installed then if one source of power goes out (due to power outage or dead batteries) it will switch over to the other source of power to keep your fish fed while you're away.
This feeder is perfect for tanks with or without covers, has an adjustable slider for the amount of food you would like it to dispense with each meal, and comes with two food hoppers in different sizes to fit your needs.
2. PROCHE Digital Automatic Fish Feeder
Unlike some of the other feeders we've seen, the PROCHE fish feeder lets you set the exact time that you would like to feed your fish and allows you to schedule meals up to four times per day with either one or two servings of food per meal.
It also comes with a manual feeding button so that you can feed your fish outside of scheduled meals if you'd like, and an adjustable slider dictates how much food will be dispensed.
The PROCHE automatic fish feeder can be installed two different ways using either a clamp or velcro. It comes with a 12-month warranty, lifetime customer service, and it works with nearly all types of fish foods, including powders, pellets, flakes, and strips.
Because of its versatility, the PROCHE feeder is perfect for aquariums but big and small. This feeder also comes at a great price that's easy for anyone to afford.
1. Eheim Automatic Feeding Unit
For me, this is the best automatic fish feeder!
Eheim is a household name in the aquarium world, and their automatic feeder lives up to the brand's reputation. This automatic fish feeder is the bestselling one on Amazon with thousands of rave reviews.
It comes with many features that the other automatic feeders in this list offer, including a manual feeding button, an adjustable slider to customize meal portion size.
It works with most types of food for freshwater and marine fish, and it holds enough food for a whopping 6 weeks of feeding. If you're going on an extended vacation, the Eheim automatic feeder is the way to go.
The Eheim feeder has a few extra perks, as well. It comes with a low battery indicator and a three-year guarantee. Batteries are included, and up to eight meals can be programmed per day.
The buttons are splash-proof, a fan and ventilation system keep food fresh and dry, and the transparent drum allows you to see exactly how much food is still in the feeder.
Final Thoughts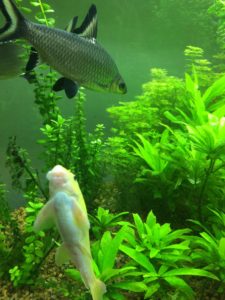 Wherever your next adventure takes you and whatever automatic fish feeder you choose, I wish you happy travels and a stress-free vacation!
Hopefully you can rest easy knowing that your fish will be happy and healthy, no matter where you are.
It may still be worth having someone check in on your fish, from time to time, just to make sure everything is alright.
If you have any comments or questions, please feel free to leave them below!