Hello, my name is Leah Spaulding, and I have a dog named Bean.
Bean is an adorably chubby rat terrier, who loves to learn and is very food motivated. I got him at a shelter seven years ago and we've been inseparable ever since.
Bean has an older brother named Bandit, who is a wonder-mutt. Bandit is thirteen and doesn't care much for tricks–it took him two years to learn to shake hands, and he'll only do it if he feels like it.
If you ask Bandit to shake hands in exchange for something he doesn't deem worthy, he'll go into a playful bow and howl at you instead.
I am the Vice President of a pet nonprofit organization called Their Voice, and I have a huge background in pets from working at a pet supply store for three years, training, and pet sitting.
Through my experience in the pet world, I believe strongly in positive reinforcement training and using force-free techniques to teach dogs tricks and to train them.
Why? In my humble opinion, training your dog to do tricks should be a fun experience for both of you. It should be an opportunity to bond with your pet.
What's the Difference Between Positive Reinforcement and Negative Reinforcement?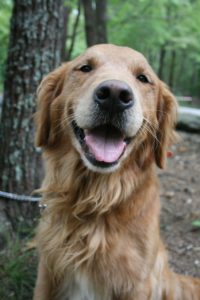 Scolding your dog after they've destroyed a couch cushion may make you think you've incited remorse or guilt in your dog, but they are reacting in fear–as proven by recent studies.
In one experiment, scientists tested responses of dogs getting scolded for eating a forbidden treat–whether they had eaten it or not. Based on this research, they found that the dog reacted the same.
"In research I did where owners confronted dogs both guilty and innocent of eating a forbidden treat, I found one clear result:
The 'look' happened most when dogs saw scolding, questioning or angry owners, whether the dog was guilty or not."
Positive reinforcement is encouraging good behavior with reinforcements like treats or praise.
For instance, if my dog comes in from the backyard when I call him, he will receive praise, attention, and sometimes treats. He will look forward to showing good behavior because he knows good things will happen to him if he does.
The difference between positive reinforcement and negative reinforcement is teaching good comes from good behavior versus teaching your dog to fear you.
Striving to Learn More
Despite my background in the pet world, I don't claim to be an expert–and I am always eager to tap into the knowledge of professionals to further my understanding of my furry friends.
Knowing how much Bean loves spending one-on-one time with me and learning (as well as the training treats), I've always wanted to know how much he could learn to do.
Bean truly enjoys the training process and everything to do with it–which makes him a perfect candidate for more training.
That's when I discovered Brain Training for Dogs–a program that couples mental stimulation with force-free training.
It aligns perfectly with my views on training (namely that negative reinforcement doesn't work, and just causes fear), and I love how the lessons are divided up.
The program was created by a dual-certified trainer named Adrienne Farricelli.
The lessons start with obedience training and then progress into a school system: preschool, elementary school, high school, college, university, graduation, and finally–Einstein.
I immediately wanted to know how far in the school system Bean could go, and how much would be review for him. Could Bean be hiding intelligence comparable to Einstein?
First Impressions of Brain Training for Dogs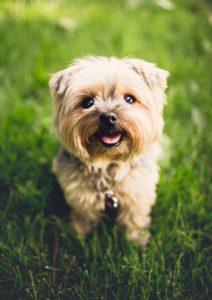 My first impressions of the program are mostly positive but come with some reservations.
I like that how the program is set up, the access to extra help, the real-life results found in the testimonials, and that it is regarded as the answer for any and all dog behavioral issues.
I'm apprehensive that the program sounds too good to be true.
Brain Training for Dogs has helpful step-by-step guides with photos and video demonstrations for program participants to learn by seeing.
I appreciate that, because the program will appeal to any learning style–visual, auditory, reading, and kinesthetic.
There is also access to a forum, access to a dedicated help desk, and email support.
All dogs are unique as their nose-prints, so sometimes a training method doesn't work. Thankfully, this program has taken that into account by providing alternative training methods and troubleshooting.
One testimony claims, "Since using Brain Training for Dogs, my dogs are more excited to learn.
They actively want to take part and figure out what they need to do! It's not about "commanding" that they perform a behavior, it's about getting them thinking. I really love this approach to dog training and my dogs do too!"
The first thing written on the website is that Brain Training for Dogs "…develops your dog's hidden intelligence to create the obedient, well-behaved pet of your dreams."
Could increasing a dog's intelligence really be the key to transform your disobedient doggie into a polite pup?
Farricelli's program promises to "unlock your dog's natural intelligence" and to quickly stop bad behavior–from not listening, pulling on a leash, aggression, chewing your possessions, digging, jumping up, anxiety, to whining.
Is this program like behavioral "snake-oil" for dogs–a quack cure-all to your pup's behavioral issues–or could a training program really be that good? I'm eager to find out.
I am also interested to find out if using an online training guide works compared to hiring a dog trainer or going to dog training classes.
That being said, the program is guaranteed to work and is much more affordable than other training programs–so it's a risk-free thing to try out.
Before starting the program, I had some burning questions to answer in order to determine that it's right for Bean.
Is the creator experienced in dog-training? Is the program a worthy investment? What do experts think of the program? Could an online training program really work? And what exactly is science-based training?
Adrienne Farricelli: The Program Creator
First, I wanted to find out how experienced the program creator is in dog-training.
On the website, it states that Adrienne Farricelli is a CPDT-KA certified dog-trainer. It took some research to find out what that meant, but I'm here to break it down to you.
According to the Certification Council for Professional Dog Trainers, CPDT-KA stands for Certified Professional Dog Trainer, Knowledge Assessed.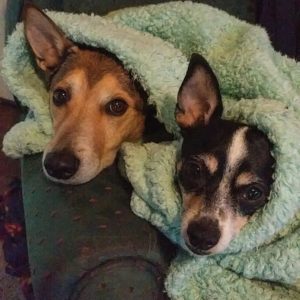 The qualifications to meet that certification includes the following:
a minimum of three hundred hours of experience in dog training within three years
a signed attestation statement from a CCPDT certificate or a veterinarian
Passing a one-hundred-and-eighty question exam
Farricelli has ten years of experience training dogs, and she has also had her work featured in USA Today and Every Dog Magazine.
From the sounds of it, the trainer that created Brain Training for Dogs is very experienced and has a professional training certificate to prove it.
Is it a Worthy Investment?
The Brain Training for Dogs program only asks for $47.00 for unlimited access to the training walkthrough archives and full support.
Traditional trainers can cost hundreds of dollars per hour, and you may not get any materials you can review afterward.
It's easy to deduce that Brain Training for Dogs is the more affordable option–if it works.
What Experts Have to Say
I was eager to find out what experts said about the program. I read a detailed analysis by a certified trainer here.
She shared my skepticism at first, but she liked that it was science-based training, the format of the course, found the obedience section delightful, and the courses helpful and informative.
Ultimately, she recommended the program after weighing the pros and cons.
Another review of Brain Training for Dogs I found described the trainer as "highly reputable" and "someone you can trust and learn from."
Dr. J Coates, Veterinary Advisor at petMD.com wrote, "Today's dogs suffer from a lack of mental stimulation and quality time spent with "their" people. The resulting boredom and anxiety can lead to no end of physical and behavioral problems. Brain Training for Dogs is the solution!"
Therefore, I can say with confidence that experts stand by the program's teachings.
What is Science-Based Training?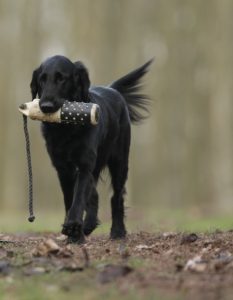 Science-based training is simple, yet complicated. It refers to training methods that are tried and true based on scientific studies.
Recent studies prove that outdated methods, such as the dominance techniques and force techniques, are not effective.
Science-based training is based in gentle, force free methods–because establishing a positive bond with your pet, as well as properly mentally stimulating your pet reduces behavioral problems.
According to the website for Brain Training for Dogs, "with the right mental stimulation and training…your dog's brain will become more open and receptive to learning new information. Your dog will listen to you and better understand what you are telling him to do."
Science-based training is exactly the training that I support for dogs. Negative reinforcement and forceful training is not fun for dogs.
It creates fear and mistrust. On the other hand, positive reinforcement and force-free training can create a bond between you and your pet and your dog will want to please you.
I love that Brain Training for Dogs is science-based, because science has proven positive reinforcement and force-free training to be effective. It shows the program creator did her homework to find something proven to work.
What does Brain Training for Dogs Include?
Brain Training for dogs is a program that took ten years to create!
It focuses on gentle force-free training techniques to mentally stimulate your dog, expand their mind, and be more receptive–eliminated bad behaviors and increasing the bond you have with your pet.
The program includes a seven-module course, photo and video examples, additional training courses, access to a forum and help, and access to a huge archive of information.
Here is everything that is included for $47:
Solutions to possible behavioral problems

A support system that includes a dedicated help-desk

Access to a private forum of others participating in the program

Obedience 101 Training, which has insider secrets from an experienced trainer and key strategies to get your dog to

listen

Polishing up your Training to boost obedience

Behavior Training for Dogs focusing on the best ways to correct bad behavior with gentle techniques

Access to over 100 articles covering behavior problems

Access to puppy-training secrets

A sixty-day guarantee

Step-by-step directions that come with pictures and video demonstrations, which include seven modules:

Obedience training course and foundational training (Preschool)

Training to reinforce your dog's understanding of completing commands (Elementary School)

Patience training to improve your dog's skills and impulse control (High School)

Training to improve your dog's motor skills (College)

Developing your pup's intelligence and creating a strong bond (University)

Advanced-level training (Graduation)

Training to the genius level (Einstein)

A bonus of seven trick training videos, including:

Take a bow

Cover his eyes

Dance

Shake hands

Howl

Play dead

Roll-over
The Pros and Cons of Brain Training for Dogs
To review, there are pros and cons to Brain Training for Dogs. From what I can deduce researching the program, these are the ones that I anticipate.
The Pros
More affordable than traditional training
Access to support, like forum, help desk, and email support
60 day money back guarantee
Can be done in the comfort of your own home
Includes many photos and video guides
The Cons
Takes self-discipline to learn the skills to train your dog
Requires access to the internet
Some items required for training
My Plan
After having done my research, checked out the program, and weighed the pros and cons, I'm impressed with the program.
I'm ready to start Brain Training for Dogs, and Bean is ready to learn and get some training treats!
As I progress in the program, I will be providing weekly written updates as well as video updates right here. Starting out, I'll go over Bean's knowledge and behavior, the good and bad, so that we can properly document his progress.
I will be working with Bean for thirty minutes, three days a week.
I work a full time job when I'm not writing or volunteering, so testing to see if using Brain Training for Dogs works for the average American schedule will be a good test!
Through the weeks, Bean and I will try our best to progress as far as we can. Before we can proceed, I will go over Bean's good and bad behavior so you can see how much progress he makes.
The Good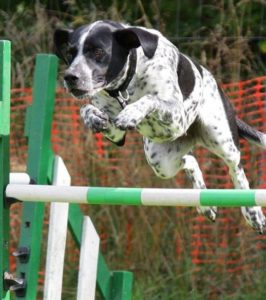 Bean is an amazing dog. He's a perfect lap dog, knows many tricks, and is decently easy to bring with me anywhere I go.
I've taught Bean a plethora of commands and tricks, most of which he learned in just days. He knows how to sit, stay, roll-over, speak, say "mama," dance, sit-pretty, up, get your toy, shake hands, and "fetch."
Bean is great off-leash and never gets too far away. He will immediately run back to my side if I ask him to, as long as he isn't distracted.
The Bad
I love my sweet darling Bean, but I will admit, he has some behavioral issues.
Though Bean knows many tricks, he struggles with "lay down" and wants to go straight into "roll over."
He also doesn't know "leave it" and doesn't always respond to his name–unless a treat is involved.
On leash, Bean is a puller. It's a good thing he's only sixteen pounds, but I want to take my time walking sometimes without him tugging on the leash.
If I'm walking with other dogs, he wants to lead the way, and gets in a frenzy if there are dogs walking just feet in front of him.
Off-leash, Bean is great unless he is distracted by food, people, or other animals. I was once walking him on the beach and he ran and sat in the lap of an unsuspecting stranger–good thing they liked him!
Another time, he chased a pack of wild turkeys down the street as I ran after him barefoot in the snow–unprepared for the gobbling visitors!
Bean will bark at other dogs. If I let him meet a strange dog, he'll sniff them and stop barking, but from afar, he will continue to bark–and I have no command that works to stop him from barking.
My rat terrier is also obsessed with food so he will insist on sitting next to me on the couch while I'm eating, and when I walk away, he'll help himself to my plate unless I distract him.
Video of Bean Before Brain Training for Dogs – Week 1
Will Bean reach the Einstein level of brain training? Join us on our journey as I document Bean's progress throughout the training program.
There will be written updates as well as video updates here every week as we progress through the program, so check back to see how Bean and I are doing!
For more fun, try the program along with me!
Thanks for stopping by, check below for weekly updates!
Brain Training for Dogs Progress: Week 2 Update!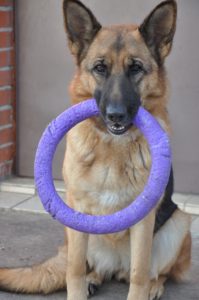 We are only (officially) a week into the program, but I am really liking the Brain Training for Dogs program already!
In just three days of working with Bean for thirty minutes, I have already seen noticeable improvements in Bean's training, and I am learning new techniques that work!
Before I go into my update on how Bean and I did in week one, I would like to review and expand upon Bean's skill level and areas for improvement before I began training.
Before Bean began the program, some things were in our favor. Bean knows sit, roll-over, say "mama", sit pretty, shake hands, up, get your toy, and fetch.
He learns fairly quickly, and it helps that he is extremely food-motivated. Even dog kibble can be used as training treats when I'm working on things with Bean.
Bean is genuinely happy to spend time with his humans. He has a thirteen-year-old brother, Bandit, who's getting too old to play–so Bean loves any opportunity to play with us.
He is relatively good at following voice commands and staying close when he's off-leash. I'll often let him off leash when no one else is around at the park or on a hike.
He follows me and rarely strays more than ten feet away. If he does, I'll say "bye, bye!" and keep walking–he'll run to catch up with me.
All of these ingredients amount to a dog that has the capacity and the personality perfect for learning more.
There were other factors, however, that told me Bean had room for improvement. At the very least, Bean is in need of review of his tricks.
He is impatient when it comes to getting a treat, so it is hard to extend time or distance when he is doing a certain trick (like lay-down or stay)
When Bean is confused, he'll usually just roll over, hoping it's what I wanted–including when I ask him to lay down or leave it. Any motion towards the floor will have him rolling over!
He is distracted easily, and has trouble focusing on commands when there is wildlife, other pets, or food around.
Bean barks at other dogs and animals–my least favorite thing about him. He will bark until he gets to meet another dog, and once he meets them, he usually sniffs them for five seconds and then he ignores them.
Bean tugs on his leash with gusto–often leading to reverse sneezing for him and a sore arm for me.
Bean likes to play "keep away" with his toys, and he doesn't know how to "drop it." He typically will only play fetch when it's with a stick at the beach for some reason.
I would love it if Bean would learn "drop it," not just so I can play fetch with him all the time for more exercise, but because it is a really important command to have (i.e if you dropped a pill or some chocolate).
Brain Training for Dogs has a guarantee that it can help with behavioral issues like this, so I am putting it to the test!
Recap on Week 1
When I first read through the program outline, I was shocked to discover that Bean would need to work on the preliminary obedience training and polishing training before beginning the school-system-inspired module.
I thought for sure Bean would already be at high school level, but was pleasantly surprised at the thought of so much room for improvement, even when most people are already captivated by Bean's abilities.
We began working on obedience training, and I was amazed at how quickly my rat terrier learned with the training techniques in the program.
Using the program's techniques, my rat terrier Bean is learning how to lay down again (that it is a different command than roll-over, which is his go-to trick when he's confused).
After just thirty minutes of working with Bean, he was already showing improvement! He did his first lay-down without going straight into roll-over after just two 30-minute training sessions with him!
We are working on leave-it. It has yet to occur to Bean that this command isn't just for food I don't want him to touch–but for leaving the chickens alone, or for when he's barking at the neighbor dog.
I will be trying out some of the extra suggestions provided by the trainer, who anticipated some dogs may not get it.
My Experience With Brain Training for Dogs so Far!
If you were doing a math test, would you prefer a question where you already had a foolproof formula to use, or would you rather tackle a complicated mathematical word-problem?
Chances are, like me, you would choose to solve the question with a formula. So many times, I've picked up a dog training book only to quit reading it a chapter in–due to their wordiness and story-telling. Every time, I thought just tell me how to do it and get to the point!
I was delighted to discover that Brain Training for Dogs has been expertly put together to be easy to follow and includes photo and video references. I really love that the directions for each trick get to the point quickly and step-by-step.
So far, it seems Adrienne Farricelli has provided an easy formula for solving every doggie dilemma.
I've also observed at puppy-training courses, where multiple dogs and people would attempt to follow vague directions as their pups battled with distractions.
With Brain Training for Dogs, you can do it in the comfort of your own home wearing pajamas and go at the pace that works for your pet without worrying about distractions.
My Goals for Next Week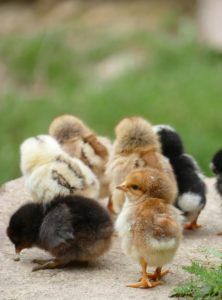 I'm hoping to focus on adding more challenge to lay down and leave it–two commands that will be very useful to have.
Last week, I got two chickens to raise for eggs, and Bean barks at them. My ultimate goal is to be able to have my chickens roaming around the yard (right now I will only allow Bean to be outside if the chickens are in their run) and Bean ignore them.
I hope to find a way to train Bean's not to bark at my chickens using this program. It would be a sure sign of success, because Bean is very prey-driven (after all, he's a rat-terrier).
Although having a clicker is optional for the training program (you can use a verbal cue instead), it seems really helpful in the video tutorials, so I'll be investing in one this coming week to reinforce good behavior as soon as it happens.
A clicker is a device that makes a clicking sound, which can be used to create an audible cue that the current behavior your dog is doing is correct. It seems especially convenient if the trick you are teaching has multiple parts to it.
We'll see if Bean can overcome his squabble with the chickens.
It will be a true test to see if Brain Training for Dogs really can cure bad doggie behavior!
Thank you so much for reading my week 2 update! Check back next week for another written update as well as video blog as Bean and I explore Brain Training for Dogs!
Let's see what grade Bean can get to!
Brain Training for Dogs Progress: Week 3 Update
Bean and I have been training for two weeks with the Brain Training for Dogs program.
Slowly but surely, Bean is making progress toward finishing the obedience training and moving on to the next module: Polishing Up Training.
In order to progress into the next module, Bean needs to have a firm grasp on a few core cues:
Understanding a "lure"
Bean is great with the concept of following a treat like a magnet. He's naturally food-motivated (and unnaturally round because of that)–so no problems here.
Sit
Bean learned how to sit within the first few days I had adopted him seven years ago. He's got this one down!
Lie Down: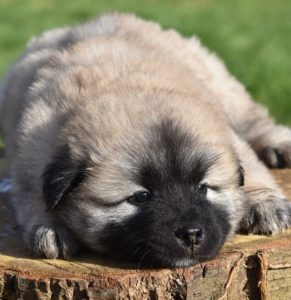 After last week, Bean seems to finally get lie down again. He had trouble differentiating it from roll-over (his go-to when he's confused), but he's getting the difference now, thanks to Brain Training for Dogs.
Take it/Leave it
We are still working on these ones. Bean's progressed from no concept of this command to starting to understand it.
Bean is slowly learning how to leave it with my pet chickens, but I think I need to spend more time without the chickens before he's ready.
Drop it
This one is a no-go for Bean. If there is a piece of food in Bean's mouth, he will refuse to drop it. Instead, he'll run under the armchair and chow it down as fast as he can like a naughty boy.
I can't wait to get started working on this one, because it is potentially dangerous if I were to drop something poisonous to dogs, like chocolate or onions.
Bean also likes to play fetch (except for the bringing it back part)–so I look forward to working on that as well.
Stay
Bean has a partial grasp on stay. He knows what it means and what I want, and it will usually slow him down from whatever he's doing.
I would like to improve on his staying ability by challenging it with time and distance, and I would like to see it stop him in his tracks if I need it to.
Stay is a very useful command for your dog to have. It can save their life from a scary situation, like if they are chasing a squirrel across a busy intersection.
Recall
Bean is pretty good at recalling. When he hears his name, he'll come running. I do think we could reinforce this to be even better, though. If he's distracted, he'll ignore me sometimes.
Heel
Bean is absolutely terrible at heel. He pulls on his leash until it makes him cough. I would love to smell the roses with him at my side–so I look forward to working on this one.
So far, I would say Bean is about halfway through the Obedience Training Module. It still blows my mind that my well-behaved, smart dog isn't even passing Obedience Training! What a wake-up call!
It's also really exciting that Bean–who already knows many tricks, could learn so much more!
Brain Training for Dogs guarantees success for bad behavior by providing a well-researched and developed structure of training, mental stimulation, and bonding with your pet.
I've found that it does require work–and patience, but the step-by-step instructions and visual aids make it easy.
As a reward, I get to spend one-on-one time with my furry child. He is having an absolute blast with all of the mommy-and-me time he's getting.
How Bean's Done this Week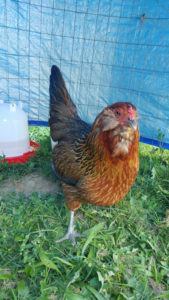 During the last week of training, Bean and I worked almost exclusively on leaving it–because it's that important.
My rat terrier is doing great now in the house away from distractions, but it is more challenging for Bean when my pet chickens (I now have four) are involved.
He is slowly getting it, and in my video update, you'll see how much better he is around the chickens than he was, but I would like to work more on Bean's basic understanding of the command to reinforce it.
I love the moments when Bean finally gets it because he gets so excited. He genuinely loves learning, and it makes him dance with happiness (just wait until the end of the video for his dance solo).
I work full time, I'm the Vice President of a nonprofit organization, and I'm also starting my own business on the side, so I'd like to point out that if I can fit Brain Training for Dogs into my schedule, you can too.
I've only been working with Bean for 90 minutes a week, and I am already seeing great results!
As a recap of the last weeks, Bean has a much better grasp on lie down, and leave it, and is really starting to be attentive to my requests.
He seems to be picking up on things a bit faster, now. Maybe it's true what Brain Training claims–that mental stimulation really is the key to unlocking your dog's hidden potential!
Goals for Next Week
I've got some ambitious goals for Bean next week–but I think he'll do well!
I plan to keep working on leave it and take it with Bean to reinforce what he's learned in the past week. I also intend on working more with him and my chickens.
I would love to get it to the point where I can have Bean and the chickens in the yard without having to police Bean.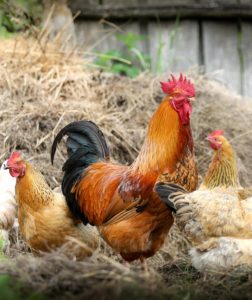 While this may not happen within a week, I think we could work on improving his behavior from this week.
My chickens roam around the yard to search for bugs and eat weeds, and if I could just get the dogs to coexist with them, I would be so happy!
I'd also like to start working on drop it with Bean, and see how he does with that next week.
He is terrible at drop it, and will do the old hide-and-chow, but I have hope that he will learn better–because so far, so good!
Thank you so much for following our progress so far! It has been my pleasure sharing my experience so far.
If you are interested in trying out Brain Training for Dogs alongside me, you can find it here.
Thanks for tuning in for another update, and I'll see you back for week four for more adorable footage of Bean the rat terrier as he works towards being as smart as Einstein!
Brain Training for Dogs Progress: Week 4 Update!
Thanks for joining Bean and I for another update on our journey experiencing Brain Training for Dogs! I have spent another week working with Bean on this program, and I am very pleased with his progress.
Bean has almost finished the obedience training module! He's about to start Preschool.
It has been a month since I began trying Brain Training for Dogs with my dog, Bean. Last week, my goals were to work with Bean on leaving the chickens alone and reinforcing leave it as much as possible.
I've been working really hard with Bean on leave it, and he's much better–just in general. He's my obedient boy!
He is doing great with stay, leave it, and lay down, all of which he struggled with in the past.
Watch my video to see how well behaved he is now–and keep in mind, he hasn't even started the main module of the training program yet! I am so excited to see how much Bean can learn, and how well-behaved he can be.
I just want to reiterate that I work full time, have just started a business partnership, and I'm a part of a nonprofit organization–and I still have enough time to work this program with my dog. If I can do it, you can do it!
I just spend thirty minutes, three times a week working with Bean. Brain Training for Pets provides straight-forward instructions (including video and photo references)–like a manual to my dog!
It's simple and easy, and my dog is already behaving so much better.
Most importantly, Bean and I are having fun and bonding. Training your dog is a great opportunity to spend more time with your fur-child–and establishing that connection will cause your dog to want to learn and behave better for you.
Chicken Update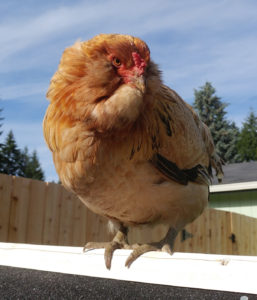 In the past few weeks, since I brought home four chickens as pets (for eggs), Bean has been naughty–barking at them, chasing them, and lunging at them aggressively. In past videos, I recorded his aggressive behavior.
The reason why I think this program is so effective is because it is focused on positive, force-free training.
I am bonding with my dog, and that makes him want to please me. He is also learning that good behavior will be rewarded with praise or treats–and he loves attention!
I'm so relieved–Bean is learning to finally leave the chickens alone! Most of the time now, he'll completely ignore them.
In this week's video, you'll see how much things have changed. He can walk around the chicken coop quietly examining them.
If he does bark, it's only a little, and when I say "leave it," he'll happily walk away.
Occasionally, Bean will run over to the chicken coop if one of them squawks, but will immediately walk away if I say "leave it." This is a vast improvement from where we started.
I'm still not comfortable allowing Bean to be with the chickens out of their coop, but he did sneak out one when my husband was outside.
He said Bean faced the chicken and decided against an altercation. This is real progress!
What work do you Need to Put in to Follow This Program?
Read a short explanation of each particular trick or command on the program website. These instructions are simple, to-the-point, and fool-proof. Most come with visual aids like video and photograph references.
Spend a short time each week (I spend 90 minutes a week with Bean on training)
Have some patience with your pet. Practice makes perfect! Sometimes it takes some troubleshooting to teach your dog, but the website accounts for that as well
Enjoy the benefits of your dog being better behaved and the bonding time
I'm super appreciative for the opportunity to spend time with Bean, work on his behavioral issues, and to inform my readers on my honest evaluation of the program–good and bad.
Goals for Next Week
Bean is getting really close to finishing the obedience training part of Brain Training for Dogs!
These commands are the essential foundation that the training program will build upon.
Let's look at what he has left to tackle:
Using the lure as a training technique ✔
Sit ✔
Lie Down ✔
Take it ✔
Leave It ✔
Drop It ✔
Stay ✔
Coming with their name's called ✔
Heeling & Attention Heeling
Bean has completed most of the obedience training module of Brain Training, but has one part left to learn–heeling.
My rat terrier has a very hard time heeling when we are walking. It's not uncommon for him to pull until he coughs in his excitement.
I often walk him at a local state park, and I would love to walk leisurely without worrying about him.
His pulling strains my shoulder–which hurts from a past injury. I have a nerve-root disorder from slipping on concrete a couple years ago.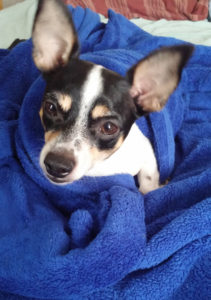 I would greatly benefit from him learning to heel, but I have yet to teach him. If he learned to heel, I would be able to walk him more often and for longer amounts of time.
Some outdated methods in training heel involve choke-chains or yanking back the leash–which could really hurt my dog.
I can't wait to learn the method for teaching Bean to heel without using negative reinforcement.
Next week, we'll be tackling heeling, and then he'll be finished with obedience training! My hope for next week is for Bean to get a good handle on heeling (he doesn't do it at all) and to move on to Preschool.
If you are interested in learning more about Brain Training for Dogs, you can visit their website here so you can try it out alongside me.
For an evaluation of the program by a certified trainer, click here. She agrees with me that it's worth a try–after all, it has a money-back guarantee to work, so it's virtually risk-free!
Thank you for tuning in for another week of Bean's progress testing out Brain Training for Dogs! Bean and I truly appreciate you following our progress as we evaluate whether Brain Training for Dogs really works.
We'll see you in a week for another update!
Brain Training for Dogs Progress: Week 5 Update!
It has been a fun adventure exploring the ins-and-outs of Brain Training for Dogs with my rat terrier, Bean. In the first week, we reviewed Bean's knowledge before training.
After a month of training spending just ninety minutes a week, I have seen a huge improvement in Bean's behavior.
Just going through the obedience training module of Brain Training for Dogs greatly helped Bean to acclimate to being around my pet chickens. It also reinforced his prior training (especially lie down).
How I'm Getting on with Brain Training for Dogs
In case you missed it before, I am a full-time worker, I am the Vice President of a nonprofit organization called Their Voice, and I am also starting up my own business. If I can make time to try out Brain Training for Dogs, anyone can.
Spending just minutes with your pet out of your busy schedule will benefit you! Time spent with your furry friend has been proven to reduce stress, keep you active and fit, and even improve your heart health.
You will also have a closer bond with your pet. As an added bonus, when your dog finally gets it and the training works, it is such a good feeling!
It is a wonderful sense of pride knowing you taught your dog something important.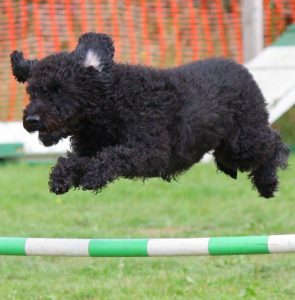 Commands taught in the obedience training module are very important. Knowing stay, leave it, and drop it especially can be life-saving.
Imagine your dog finds a piece of chocolate and is about to scarf it down. If your dog doesn't know drop it, chances are, you'll be attempting to fish it out of your dogs' mouth as they swallow it.
If your dog does know how to drop it, you will avoid a veterinarian visit and save your dog from an uncomfortable situation.
Your dog knowing stay is just as important. If you are near a busy road, using stay as a command could be the difference between life and death.
One month into evaluating Brain Training for dogs, I can confidently say it will help you train your dogs those useful commands and grow their intelligence.
What we Learnt This Week
This week, we completely finished the obedience training module by getting a good handle on heel, and by polishing up Bean's training with some extra pointers in the Brain Training for Dogs program before progressing on to Preschool.
Bean has a decent grasp already on some of the concepts for Preschool, and I have no doubt he will pass and progress on to the next grade next week.
In my video, I shared footage of Bean before and after 90 minutes of training him to heel.
That's all it took to see a drastic improvement–from pulling so hard he was choking himself to walking right by my side. I can't wait to test this out at the local state park!
Goals for Next Week
I also touched upon our next goal to complete: Preschool. Bean has a decent grasp of all of the concepts for Preschool, so next week will mainly be focusing on improving and expanding his abilities and challenging him.
I'm looking forward to working more on Preschool with Bean and progressing up the levels.
Now that Obedience Training is done for good, Bean will start working on the grades, getting graded based on the trainer's criteria.
I think Bean is pretty intelligent, and I am anxious to see how far he can progress through the grade levels of the program.
Next time, we'll go straight into Preschool training, and see if he can pass it! I can't wait to see how fast Bean can go through this program!
If you are interested in trying the program alongside me, check out their website here. For $47, you too can have a better-behaved dog. It's guaranteed to work or your money back.
As always, thanks for tuning in for my update on Bean's progress with Brain Training for Dogs. I'll see you back next week for the next installment!