There are a lot of myths surrounding owning dogs and dealing with shedding – especially when it comes to Shih Tzus.
From the amount they shed to their level of hypoallergenic to even their hair type, there are a lot of facts that are often debated when it comes to Shih Tzus.
Before getting into that, however, learning about the history of Shih Tzus can be extremely helpful in understanding them as a breed.
Short History of Shih Tzus
Shih Tzus are an important part of Chinese history. Believed to be a cross-breed between a Pekingese and a Lhaso Apso, Shih Tzus were bred to live a life of royalty.
They were used as lap warmers and were extremely pampered. These dogs stay sheltered behind Chinese palace walls for many centuries – in fact, they were virtually unheard of until the 1930s.
They were officially entered into American Kennel Club's records in 1969, and, since then, they have become an international favorite.
What is a Shih Tzu's Coat Like?
The Shih Tzu's most notable and coveted feature is their double coat.
Luxurious, long, and more like hair than fur, the Shih Tzu's coat can be short – though this will result in a fault if you plan on showing your dog – or floor length, creating an elegant appearance befitting for their royal origin.
While their coat can have a small amount of volume or texture, it should be mostly straight.
Do Shih Tzus shed?
In short yes. However, the American Kennel Club lists the Shih Tzu as an 'infrequent' shedder.
This means that they do shed, but it's not as much or as often as some other breeds.
How Much do Shih Tzus Shed?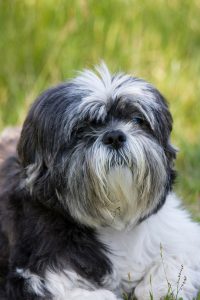 One thing interesting about Shih Tzus is that, rather than regular dog fur that you may find on any other breed, they have hair that is more similar to that of humans. Due to this fact, they also tend to shed like humans do.
This means that, rather than finding clumps of hair scattered on your floor or piling up in corners, like with a human, you may find random strands in your house – especially if you prefer the traditional long hair style on you Shih Tzu.
For the most part, though, due to the hair type and texture, most of the loose hair gets caught in the fur so that you can brush it out rather than it scattered all over the floor.
However, Shih Tzus are still dogs at the end of the day, which means that there are certain times that they shed more than other times.
What Does it Mean to Have Hair Rather Than Fur?
There are many differences in fur and hair, though both are made of keratin – a naturally produced protein.
Unlike fur, hair is long and goes through a shorter growth cycle, resulting in less shedding. Hair also has a different texture than fur for the most part.
Where fur is short and rough with varying degrees of texture, hair is, for the most part, long, thin, and straight.
When do Shih Tzus Shed the Most?
Think about a human. There are certain factors that change how much your hair sheds – the time of year, poor diet, different hair care routines.
The same goes for you Shih Tzu. Certain times of years, lifestyle changes, and health issues can lead to excessive shedding.
Time of year
Seasonal shedding occurs in all animals – cats, dogs, and even humans – and, when you think about it, it makes a lot of sense why.
Compare the climate in the summer to the winter. Big difference, right? Now think about how your clothing changes from season to season.
In the summer, you're more likely to wear lighter clothes that are less constrictive while still offering protection from the sun. In the winter, you're choosing clothes that will help you keep warm.
While dogs don't have the luxury of being able to throw on clothes to fit the daily weather report, their coat is designed to adapt to the seasons, thus, your dog will shed more in between seasons as they prepare a coat that is best designed for the upcoming climate.
Puppy coat
All dogs shed their puppy coats when they're maturing. It's a lot like humans – after all, could you imagine if everyone kept their baby hair?
You see, in Shih Tzus, a puppy's coat is much different from an adult's coat. It's thinner, wispier, and much softer. Puppy's coats will also not grow as well as an adult's.
A puppy will begin to shed its coat at around three months old, although some won't begin to shed until they are around nine months old. This heavy shedding can last up to three months.
Health Reasons for Increased Shedding in Shih Tzus
While the first two causes of excessive shedding are completely natural and are nothing to worry about, that's not the cause for all shedding.
Sometimes, certain health issues can cause your Shih Tzu to shed more than usual.
Parasites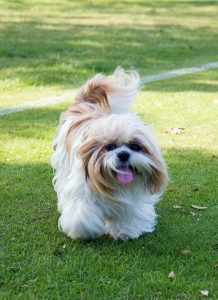 Ticks, fleas, or even internal parasites such as heart-worms, roundworms, or tapeworms can cause you Shih Tzu to shed more.
When your dog's immune system and body is being attacked, they won't put as much energy into maintaining their coats, allowing their fur to become brittle, damaged, and easily broken off.
External ticks or fleas can also cause your dog to groom or scratch excessively, leading to skin irritation or even hair loss in certain areas.
If you suspect that parasites are the cause for your Shih Tzu's sudden excessive shedding, be sure to talk to your veterinarian about an official diagnosis and possible treatments.
Licking
Your Shih Tzu may groom excessively for many reasons. Like mentioned before, it could be due to fleas and ticks, or it could be due to mental problems such as anxiety or boredom.
If a visual examination proves that there are no external parasites, you may want to consider lifestyle changes to see what suits your Shih Tzu best.
Poor diets
Hair needs nutrients to grow and stay healthy. If your Shih Tzu is lacking a poor diet, then their coat will show it.
Dull, patchy, and lackluster – without the proper nutrients such as vital minerals and vitamins, your dog may begin to experience coat problems that may potentially lead to excessive shedding.
While it is okay to choose cheaper options in some cases, make sure that your dog's food is a necessity you don't skimp on.
Cheaper dog foods are made with grain-fillers that don't offer any benefits for your dog.
How to Combat Shih Tzu Shedding
The best way to combat Shih Tzu shedding is to groom them regularly. Due to the texture and length of their hair, shedded hair and dander often gets trapped within the thick double-coat.
A Shih Tzu with long hair will require daily brushing, with extra attention paid to the hair on the top of their heads and the hair that makes up the moustache.
A bath at least once a month is recommended to help prevent buildup in both coats.
In order to help reduce the amount of maintenance needed, you can also consider trimming your Shih Tzu's coat into a puppy coat – short hair all over the body.
While this is not recommended for show dogs, there's no harm in doing so for pets.
Another way to make grooming easier and help prevent Shih Tzu shedding is to invest in the proper tools that can efficiently clean and remove loose hair and debris from both the top coat and undercoat.
Equipment Help to Combat Shih Tzu Shedding
Shih Tzus are high maintenance dogs, and, while they may not require professional care, you will have to be quite a bit of work into their coat, especially to combat shedding.
Here are some of the tools you may want to invest in.
Slicker brush
A slicker brushes like this one are one of the most common tools for double-coated dogs.
These are made of a flat brush head with fine, wire bristles that work excellent for removing mats and tangles from your  Shih Tzu's coat.
It will also help remove any of the loose fur, dead skin cells, or debris from both the top coat and undercoat.
Comb
Combs like this one are used to help your Shih Tzu's coat stay knot free and smooth.
Made of either plastic or metal – metal ones are preferred for their sturdiness – dog combs are almost identical to those of humans.
Shedding brush
Shedding brushes such as this one have a single row of fine teeth which work to collect shedded hair from the coat.
These are one of the most important tools you can buy, as, thanks to a combination of long hair and double coats, it can be difficult to truly collect all the shedded hair from your Shih Tzu's coat.
Pin brush
Pin brushes like this for dogs are extremely similar to those of humans.
These brushes are made out of a round but flat head and feature plastic or metal pins. These pins are capped with small balls to help prevent damage to your Shih Tzu's sensitive skin.
Undercoat rake
Most of the shedding that Shih Tzus have comes from the undercoat, which can be difficult to reach with a normal brush.
Undercoat rakes such as this one help reach the second coat, efficiently removing any loose hair.
Bristle brush
While efficient for removing hair that has already been shedded, a bristle brush like this will help distribute the natural oils your Shih Tzu produces, leading to healthier hair and, thus, less unnecessary shedding.
Are Shih Tzus Considered to be Hypoallergenic?
No, but that isn't their fault. You see, no dog is hypoallergenic. You could even have a completely hairless dog and still suffer from allergies because it isn't the hair or fur you're allergic to – it's their saliva.
Dogs have a certain chemical compound in their saliva that binds to their dead skin flakes – known as dander – when they groom.
When these flakes shed, you inhale them in, creating an allergic response.
However, due to the texture and style of a Shih Tzu's coat, they are one of the breeds that come closest to being hypoallergenic.
As mentioned before, their coat traps loose hairs when they shed. This means that it also catches a majority of the dead flakes when they are shed.
Do Some Shih Tzus Shed More Than Others?
All dogs are different, even if they are of the same breed. They're more like humans than we initially think, and, just like each human sheds a different amount of hair, so do Shih Tzus.
This gap of individuality can also be increased by various factors. Diet, health, and age are some of the biggest factors playing in the amount of hair that your Shih Tzu sheds, but they aren't the only ones.
You'll also find that things such as climate, genetics, and even grooming routines will affect how much your Shih Tzu sheds.
Some owners even insist that the gender of their Shih Tzu affects how much he or she sheds.
Final Thoughts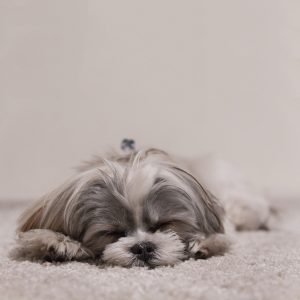 Each dog is different. Every breed has different characteristics, a different history, and different needs for them to live a healthy and happy life.
Shih Tzus may have been bred for the laps of royalty, but, so long as you take care in keeping them happy and are able to handle the commitment that comes with their long, luxurious fur, they'll be just as happy – if not even more so – at your home with you.
While Shih Tzus don't require professional grooming, in order to prevent their infrequent shedding from becoming a problem, you should invest in the right tools and care for them daily.
You should also make sure that their health is in good standings as this too can affect how much they shed.
Even in a breed, though, there are variations, so it's important to understand that just because one Shih Tzu sheds heavily, yours may not or vice versa.