Training your puppy is really not a difficult task and should be important to you, because when they grow up untrained, you might find that training them becomes even more difficult.
In the end, you could end up with a disobedient dog that simply does what he wants and never listens to you – not the ideal "man's best friend" if you ask me.
Not to worry – read on to learn about a few books that could help you train your puppy without costly sessions with a personal trainer.
Hi there. I am Anna and first off, let me say that I am relieved that I trained my dog since a very young age.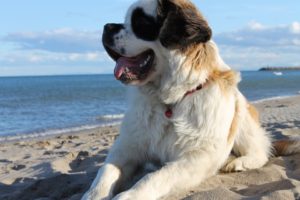 Now, I do not have much personal experience trying to train an adult dog myself, but from what I've seen, it seems so much more difficult.
Thus, it is essential to start training your dog from a puppy.
Today, I'd like to share a story with you about how I was able to train my own dog, as well as how I helped my brother get his new dog trained.
After my brother paid me a visit and saw how well-trained my dog was, he was curious as to how I managed to get Iron, my Saint Bernard, to be so obedient.
Since I trained Iron from the time I got him (he was only a few weeks old at the time), he is now well-trained, and he's even won a couple of prizes at dog shows.
I told my brother about how I was able to get Iron to be so well-mannered and how I trained him.
At the time, my brother had recently adopted a Labrador Retriever, who he named Spike. His dog was still a puppy.
My brother also had another Labrador Retriever, which he adopted a few years ago. Since he never spent any time training his first dog, Cooper, the dog was out of control in many ways.
He frequently dug holes in the backyard, he tore up curtains and shows, and he didn't obey any commands.
My brother did send Cooper to a personal trainer a while ago, but that set him back just over a thousand dollars in total.
Even though he was at a personal trainer, Cooper still had some problems that weren't addressed – yet a significant amount of money was spent.
My brother didn't want to go the same route with Spike, but he couldn't afford to spend another thousand bucks on a personal trainer.
Thus, he turned to me as he knew I already trained my own dog successfully.
Best Dog Training Books
Training a dog yourself is much easier than you might think – I discovered that not only does it allow you to save a lot of money, but it also gives you an opportunity to bond with your dog.
While I did train Iron myself, I must admit that I didn't teach myself the skills. I learned everything from a few programs and a couple of books.
There are some really great resources out there that can teach you everything that you need to know to train your own dog.
Best of all, the majority of these books are very affordable and will equip you with a lot of skills.
Below, I am going to share with you a list of the books that I used, which I also recommended to my brother.
All of these books are highly-rated and are excellent for ensuring you can training your dog from a puppy. The books target different aspects of your dog's life.
Some would offer you some advice on preparing for the adoption, some of the books will tell you about how you can potty train your dog, and others will give you some excellent tricks that you can teach your dog.
Before And After Getting Your Puppy
First up is the Before And After Getting Your Puppy guide by Dr. Ian Dunbar, famous for developing a new dog training technique in the 1970s.
The book is really affordable and can be purchased as a hardcover copy or a digital copy.
Dr. Ian Dunbar really introduced puppy training to the world, after he developed a positive approach toward training dogs.
Prior to his methods, the majority of training methods used involve drill-sergeant classes and leash correction methods.
Instead, Dr. Ian Dunbar created a training technique that involved rewarding a dog for good behavior – such as when they obey a command or when they perform a trick.
The Before And After Getting Your Puppy book is perfect if you haven't yet adopted a puppy, but are planning to or will soon be receiving your puppy.
The book will help you be more prepared and ensure you know what to expect, what to do in certain situations, and more.
Even those who have already adopted a puppy would be able to benefit from this book, as it will go into details about the unique training method that Dr. Ian Dunbar has developed back in the 70s, and how you can implement these techniques to start training your dog.
Inside of a Dog: What Dogs See, Smell and Know
I personally think that truly understanding your dog is an essential step to take if you wish to train him.
This is why I decided to include the book Inside of a Dog: What Dogs See, Smell and Know in this list of the best dog training books.
The book is written by Alexandra Horowitz. She is a cognitive scientist who explains everything that you really need to know to get a deeper understanding of your dog.
The book is very unique and what you discover on the inside of the book may even seem somewhat strange, but the information will definitely help you better understand why your dog will do certain things.
There really is a lot of interesting facts to discover in this book and once you understand your dog better, connecting with them becomes an effortless task and training also becomes much easier.
The book is available as a digital version, however, you can also opt for a paperback version if you prefer to read it in a physical form.
The Art of Raising a Puppy (Revised Edition)
If you are serious about training your puppy and raising him to be the perfect dog, then The Art of Raising a Puppy is definitely a book you want to own.
Available as a hardcover, digital copy, and even an Audiobook, this book really has it all.
The thing that makes this book the top-seller on many stores is the fact that it was written by the Monks of New Skete, who have become famous for their highly effective dog training techniques due to their extensive experience.
The book covers all aspects that people need to know when they adopt a new puppy.
It even contains a useful chapter that explains how people should go about the process of adopting a dog from a rescue center.
Furthermore, the dog helps the reader understand how dogs should be raised in certain areas and provides a lot of information about behavioral theory and general topics about raising a healthy dog.
How to Raise the Perfect Dog: Through Puppyhood and Beyond
This is one of my favorite books on the topic of dog training.
And yes, it was written by the popular "Dog Whisperer"! I really liked this book because it goes into more detail than many of the other books out there.
Additionally, it also does not only touch the subject of raising a puppy but prepares you for what's to come as well – teaching you everything you should know about continuing to raise the perfect dog, even when they become an adult.
Cesar Millan, the author of How to Raise the Perfect Dog: Through Puppyhood and Beyond, starts by laying out the foundations that you need to follow when you decide to adopt the dog – such as the environment that you should set up to make the puppy feel more comfortable and to make training them a little easier.
The book then takes you step-by-step through the process of raising your puppy, and what you need to do as they start to grow.
All of the information that is shared in this book is based on the personal experiences of the author, making the information much more valuable than some of the other guides on the market.
How to Raise the Perfect Dog: Through Puppyhood and Beyond is available as a paperback printed book, or as a digitally formatted e-book, which can be viewed on smartphones, tablets, and desktop computers.
101 Dog Tricks
Once you get the hang of things and your dog starts to obey your commands, it is time to take things to the next level – teaching him some great dog tricks.
Now, there are quite a lot of different tricks out there.
Surely sit, stand, and fetch are the most basic that people usually start out with, this book takes things much further by introducing you to 101 different tricks that you can easily teach your dog.
The 101 Dog Tricks book is written by Kyra Sundance and was named New York Times bestseller.
More than half a million of these books have already been sold, and it is available in 18 different languages.
In addition to being available as a paperback, you can save money by opting for it as a digital copy instead. Each trick described in the book includes step-by-step instructions that are easy to follow.
The book also includes color photos, which makes it even easier to teach your dog some new tricks that will surely impress.
Final Thoughts
After adopting a puppy, you should consider starting to train him as soon as possible.
The sooner training methods are initialized, the better you will be able to train him and the easier it will be.
There are a couple of different methods that can be used to train your puppy, but it is up to you to find the perfect combination that works for your unique puppy.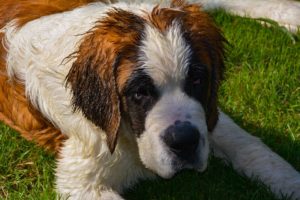 Thousands of books have been prepared by professionals in puppy and dog training to help you get the hang of things and to make sure you do not have to opt for expensive dog training sessions with a local dog trainer in your area.
In this post, I have shared the best dog training books that I have discovered in my journey to training my puppy.
My brother also tried some of these books, and they really helped him to master the art of dog training as well.
Be sure to choose a couple of books that will help you be more prepared for when the puppy arrives, as well as books that help with potty training, obedience, teaching your dog commands, and maybe even a guide on simple tricks.