Hello, my name is Valerie and although I have a dog, I have always been fascinated by small pets.
My friend has a hamster and I wanted to buy something for him to play with so I did a bit of research and came up with some interesting things about the toys hamsters like.
Why do Hamsters Need Toys?
Both dwarf and Syrian hamsters are active little creatures. They need plenty of exercise to keep them healthy.
They enjoy all types of toys, some of which are also essential for their health.
If you are looking for bedding for your dwarf hamster we have a great article here!
Some Great Hamster Toys:
Wheels and Balls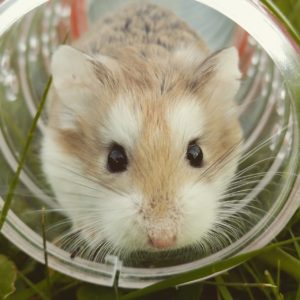 These are great to place in your pets cage, and the amusement value for small children is well worth it! The wheels should be the right size so small feet do not become trapped.
Solid surface wheels are the best as there is less chance of an injury.
Clear plastic balls, often called 'run-abouts' will give your pet the chance to run all over the place outside his cage and not run off or get lost.
Chew Toys
These are essential for keeping incisors short as these teeth keep growing.
Chew toys give hamsters something to gnaw on to keep the teeth in good condition.
Wooden chew toys can be bought from pet shops. One thing to remember is that wooden toys should be made from wood that is pesticide and chemical free.
It is probably a good idea to stick to toys which are designed for pets, although you can give him wood from your garden provided it has not been chemically treated.
Cardboard and Toilet Toll Holders
Hamsters love cardboard tubes to hide inside .
You can buy these commercially and they are normally stronger than a regular toilet roll.
Kitchen paper holders are longer than regular toilet roll holders and also make exciting toys for little creatures.
Climbers and Houses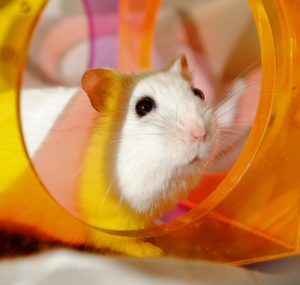 Most pet shops will have a selection of hamster toys such as climbers and houses.
They are designed with the small animal in mind and make great toys. Wooden ladders and climbing blocks are also perfect toys.
You can also use ladders from the bird section in a pet store as they are also suitable.
If you are a handyman, you may be able to make these yourself from thin dowels.
Coconut shells can be used to make hidey holes and organic ropes used to construct bridges.
If you use any of these, make sure that you use a thicker rope and there are no holes where he can get stuck or entangled.
Sand and Digging
Fine sand will give your pet a chance to roll in it and keep his coat in good condition. Most hamsters love to dig so having a deeper box of sand or sterilised soil is a great treat.
A Word About Plastic Toys..
Take care when it comes to plastic as hamsters love to chew – a lot! Most of them love plastic tunnels and tubes but if they start to chew pieces off it can lead to problems.
Any item which has shown signs of being chewed should be removed before your pet swallows the plastic.
If your hamster does swallow plastic he may start to choke so keep a close eye on his toys.
3 Great Hamster Toy Ideas!
1) Niteangel Natural Living Tunnel System
This is a great place for hamsters and small animals. It is made from natural wood and gives the little creature plenty of place to hide and play.
Plug them together and you have a two-storey house for your pet.
The house comes with an aspen bedding which also makes a great hiding area, several little bridges for hamsters to run over and tunnels to hide in.
The wood is far stronger than hay or grass toys so will last a whole lot longer.
The house comes apart should you want to build it in a different way or in another place and will easily fit into a 30 gallon tank.
This will provide endless hours of amusement for both adults and children as it is just so cute!
2) WINOMO Pet Hammock Hamster Hanging Toy Snuggle Hut
This is a great little hideaway from hamsters and other small animals. It is very cosy and comfortable.
Easy to use with four clips to adjust the height, your pet can curl up and sleep or place hide-and-seek as often as he likes.
The little hammock is well-made and will last because it is durable. The hammock is washable and can stand up to chewing from the little pets.
Turn it upside down and the hamster has a little house he can snuggle up in.
The hammock house measures 20 x 20 x 12 cm so can fit into a small place, and the chain is about 33cm long.
This is such a cute little hammock or snuggle hut, well made and perfect to give as a gift to a hamster owner.
3) Niteangel Wooden Interactive Toy Ball for Hamsters
Hamsters love chew toys and this makes a perfect toy for them. The ball is made from non-toxic wood so won't harm animals. You and your hamster will spend hours with this ball.
The hols are big enough for hamsters to climb inside but also a nice size to roll around for them to chase and play with.
The ball measures 3 x 3 x 3 inches with the hole diameter of 1.6 inches. I think that this would be a great addition to any hamster cage.
You can wash it if needed and it will provide endless hours of watching for you and exercise for your pet.
Final Thoughts: Hamster Toy Ideas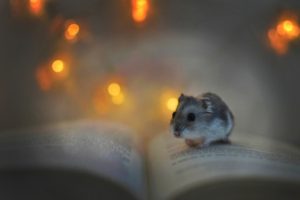 Well, I hope you've learned as much as I have about these adorable little creatures.
I can understand now why people are fascinated by them.
They all have different characters and habits.
What is great is that if you only have a small amount of space, they will make the perfect pet!
Articles you may like:
What to use for hamster bedding?
What is the best sand for hamsters?