Hi, my name's Irena and I have 3 cats which isn't a lot as many years ago I had 13.
As you can imagine it was then difficult to find somewhere to sit in the lounge as they took up most of the comfy chairs and settee.
The 3 I have now are Macbeth who's 13, Hamlet who's 5 and Dimitris who's 2. The problem I have is that they scratch, especially Dimitris.
I bought a scratching post and Macbeth and Hamlet took to it straight away. Dimitris liked it, but it still didn't stop him from scratching the furniture.
Then I bought a cat tree; well my husband bought it for me for our anniversary. Very romantic wouldn't you say, but I did want one!
What happens, Macbeth and Hamlet rushed to use it. Dimitris still scratched the furniture. However he has now started to use it, if only slowly. One can only hope!
Why do Cats Scratch?
This is an all-important question and we have to remember that dogs don't scratch in the same way so why do cats? Well, there are lots of reasons for cats scratching.
They like to exercise and tone their muscles and in addition scratching relieves boredom, frustration and stress. Cats might sleep a lot, but they still like to have a period of vigorous playtime.
They also scratch to remove old nail sheaths from their claws. In addition scratching is a good way to mark their territory. Even if your cats get on, they will still want to indicate what is theirs.
What are Cat Trees?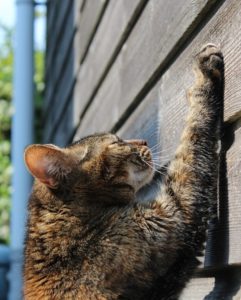 A cat tree is a structure on which cats can relax, play and scratch. Cat Trees usually have different levels with perches, condos, scratching posts and dangling toys.
They really are an adventure playground for your cats. They vary in height, but the bigger the better. Cats like to be able to survey their territory.
Cat trees are usually made of wood and then covered with carpet or faux fur.
Faux fur is probably the best as it has a very luxurious feel and your cats will settle down for a nap very happily on a perch covered with faux fur.
The posts holding the tree up are covered either with sisal rope or reinforced cardboard, both of which will stand up to a lot of scratching from your cats.
Many cat trees also come with dangling toys which your cats will love to play with. Even my older cats love to play with the mouse dangling on their cat tree.
The perches are good for the health of your cats as they encourage them to climb up to the top and get more exercise. Then they can relax on one of the perches. Most cat trees also have condos.
They are enclosed areas where your cats can go for a little break from their fellow cats. Just make sure that there are no fights for the condo or buy a cat tree with more than 1 condo.
What are Scratching Posts
Basically a cat scratching post is a wooden post covered in sisal, fleece, plush or cardboard which your cats can flex their claws on.
However, there are variations like scratching posts which can be screwed onto the wall or ones that combine lounging on a bed which is also a scratching post.
Some of these are reversible so you get double for your money. Scratching posts are great for indoor cats as they give them mental stimulation and physical exercise.
My Dimitris now loves his scratching post and plays with it no end, but unfortunately is still attracted to my furniture. He is a little devil, but gorgeous with it!
The Difficulties Finding Cat Trees and Scratching Posts for Larger Cats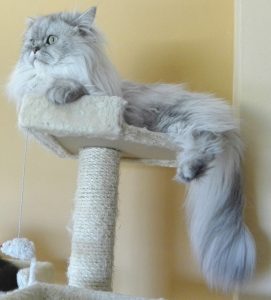 Perhaps you are worried that a cat tree won't support your larger cats, but there are cat trees which are big and strong enough.
In addition cat scratching posts are made in all sorts of sizes so you are bound to find one which will allow your larger cats to stretch to their full body length.
There are ones which you can screw onto a wall which means that you can put it up higher for your larger cats.
There are also ones which double as loungers which can take more than one cat. Just be careful not to choose one that is too small and looks flimsy.
When it comes to a cat tree make sure that you choose one that is heavier than all your cats put together and then you will be assured of their safety.
Where to Put Your Cat Tree or Scratching Post
Cat trees and scratching posts come in a variety of colors so you should be able to find one that suits your décor.
A lot of them are neutral colors so will fit in anywhere. Then comes the question of where to put it so it blends in naturally with your furniture.
A cat tree or scratching post needs to go in the room you use the most which is quite likely to be the lounge where you will have good quality furniture.
A good idea to start off with is to put the tree or post near the furniture they usually scratch so that they will be aware of it from the start.
You could put some catnip on the tree or post as that will attract most cats. Once they're used to it, you can move it to where it blends in with furniture.
Cats like being high up and surveying the world around them so why not put the cat tree near a window so they can sit and watch the birds outside. This is a particularly good idea for indoor cats.
6 Best Cat Trees for Large Cats
1) Go Pet Club 72 inch Cat Tree
If you have large cats, this is a good choice of cat tree. It is also excellent if you have multiple cats.
It is 72 inches tall and has a total of 10 sisal rope scratching posts so your cats won't be fighting over posts to flex their claws on.
In addition there are 2 condos. The largest is 18"W x 12.5"L x 11.75"H which is plenty big enough for a Maine Coon or Ragdoll.
To amuse your cats there are 2 hanging toys for them to play with and 2 ladders to run up and down on. This really is  heaven for cats.
It offers entertainment, activity and even leisure. The tree is strong and durable and is made out of compressed wood. It is covered in faux fur which is soft and comfy for your kitties.
2) Feandrea 67" Multi-Level Cat Tree for Large Cats
This cat tree is made with large cats in mind. At 67" it's a good height to give your cats everything they need in a cat tree.
There are 2 spacious condos so your cats can have a cozy nap after running up and down the tree and scratching the posts.
In addition there is a large scratching board, giving your cats no excuse to scratch your furniture. There are also 3 perches which have raised edges, making them safer for your cats.
There'll be no falling off while snoozing. This cat tree is very stable. It is strengthened with battens at the bottom and anti-toppling fittings are in place.
The tree is made out of CARB-certified natural particle boards and the sisal-covered posts are reinforced. All in all it should easily stand up to a hammering from your larger cats.
3) Frisco 72-inch Cat Tree, Large Base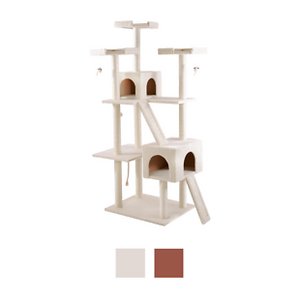 This cat tree has a particularly large base which is great for your bigger cats.
There are lots of perches leading up to a lookout tower and your cats will have fun jumping up and fighting for prominent position on the top.
There are 10 scratching posts all covered with sisal rope which is great for scratching and flexing those claws.
Even better, there are 2 scratch boards. So many places to scratch makes this tree ideal for a multiple-cat household.
In addition, your cats will still be able to hunt as there are dangling toys. If your cats put too much pressure on these toys, they will come off so as not to topple over the cat tree.
Once your cats get tired of scratching and playing, there are 2 condos in which they can curl up in and have a snooze in peace and quiet.
If you have more than 2 cats there are plenty of perches for nap time and these are covered in faux fur which is very comfortable and luxurious.
The condos have reinforced corner supports so are secure and unlikely to fall apart.
4) Furhaven Pet Cat Tree
This cat tree will keep your cats amused for hours. For a start there are toys. A plush ball toy is fixed on a spring and your cats can play with this to their hearts content.
In addition there is an IQ box which comes fitted with two removable jingle bells. Just watch your cats try to get the balls out.
They won't manage it, but they will still be enthralled. There are sisal-wrapped posts so your kitties can scratch away without leaving a mark on your furniture.
The sisal is biodegradable so you can rest assured that you are being ecofriendly. There are lots of platforms so there's plenty of room for more than one cat and they are covered in faux fur.
This is very comfy and your cats will love to laze about on these perches surveying their territory. Your cats will love the top perch especially as the spring puff ball is within reach.
The cat tree is also very easy to clean which is always a bonus. Just spot clean the dirty areas and then blot dry.
5) Armarkat 74-inch GleePet Cat Tree
This cat tree can safely hold 40 pounds in weight so is strong enough for a couple of large cats. It is 74 inches high so gives your cats plenty of opportunity to climb and exercise.
They might fight over the condo, but there are 7 perches so there is plenty of room for leisure time. The condo has two entrances, making it easier for your cats to get in and out.
There are 10 posts, all covered with sisal rope for when your cats need to scratch. The tree is made out of pressed wood and is covered in faux fur so is comfy.
It's easy to maintain by just simply brushing down with a dry cloth. If  your cats leave any marks use a damp cloth to remove.
6) PetPals Paper Rope Natural Bowl Shaped with Perch Cat Tree
This cat tree is a little different to the others we have looked at. It has a large base which is sturdy enough for the weight of fat cats.
There are 2 posts, 1 shorter than the other. There is a bowl shaped basket on the lower pole and a smaller basket on the taller pole.
They are made out of paper rope which holds their shape very well and they both have pillows for extra comfort.
The large bowl is 14.5" in circumference which is plenty big enough for your large cat.
Paper rope is good for your cats if they chew on it so you don't have to worry that they could become ill.
Both baskets are stable so your cats will have a sense of security and when they're feeling frisky they can scratch away at the poles.
In addition there is a dangling ball which your cats can have fun with. The baskets are easy to clean. Just use a vacuum cleaner.
6 Best Scratching Posts for Large Cats
1) Pioneer Pet Smart Cat the Ultimate Scratching Post
What cats need most in a scratching post is height, especially if you have larger cats.
They need to stretch their whole bodies and this scratching post should fit the bill perfectly as it is 32" tall.
It will also help to tone their muscles and allow them to mark their territory by scratching. Won't it be great if your cats stop scratching your furniture and curtains?
Unfortunately one of mine still likes the furniture even though I have a scratching post and cat tree. The other two however do use both.
This scratching post is covered in sisal which doesn't snag nails unlike scratching posts covered in carpet can do.
The base of this post is 16" x 16" which is a good size and is sturdy. It helps to stop the post from falling over.
It's easy to put together as well. Just screw in two screws. In addition it is a nice neutral color so should blend in with most furnishings.
2) Petfusion Jumbo Cat Scratcher Lounge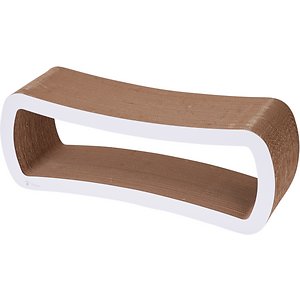 This scratcher is perfect for large cats as it is 39" x 11" x 14.3" so even a big cat can get on it. In fact it can hold up to 4 large cats.
It is a two-tiered scratcher and lounger. Perhaps your cats will want to have a little rest before scratching to their hearts content. It has subtle curves which makes it easy for scratching.
A great advantage of this scratcher is that it is reversible so you get double the scratching surface.
It is very eco-friendly as it is made out of recycled and recyclable corrugated cardboard which your cats will love.
In addition it's held together with non-toxic corn starch glue so you will know that your cats will be safe.
The scratcher comes with some catnip which will make it easier to train your cats to use the scratcher.
3) Diversity World Wall-Mounted Quick Replaceable Sisal Cat Scratching Post
This scratching post is great for larger cats as it can be mounted at any height, angle or position on the wall or on a door.
It has a strong aluminum alloy frame and it's very easy to install. The post is made from sisal which is durable and which cats love.
It takes a lot to destroy sisal so you will have it for a long time. However, if it does start getting a bit worn you can loosen the screws and rotate it so your cats have a fresh scratching post.
You can even just flip it over. The bottom of the scratching post is painted in non-toxic white latex which makes the post sturdy and strong.
4) Fat Cat Mama's Scratch 'N Play Ramp
This cat scratcher is a little different as it's in the shape of a ramp. Your big cats can stretch out on the floor and still be able to scratch the ramp.
It comes with catnip so you can sprinkle it all over the ramp and watch your cats get excited.
By the time your cats are hooked on the catnip they will still be attracted by the ramp.
This cat scratcher is made of corrugated cardboard which cats love. It is recycled, eco-friendly and is also recyclable once you have finished using it.
You can even turn it over when one side has gone and your cats will be able to scratch the other side.
5) Petfusion Vertical Cat Scratcher Post
Your cats will love this triangular cat scratcher with a play area. They can scratch horizontally or vertically and there is a cubby hole where they can have a nap.
It is made of eco-friendly, recycled and recyclable corrugated cardboard. The glue which keeps it together is non-toxic corn starch so it is completely safe for your cats.
The scratcher has curves which makes for an easier and more satisfying scratching experience.
It comes with catnip leaf so once you put this on the scratcher your cats won't be able to keep away. You can rotate the scratcher to get extra use which is a bonus.
6) Petlinks Dream Curl Multi-Surface Scratcher with Cat-Nip Toy
This cat scratcher has a curved design and your large cats can sleep in it when they have finished scratching, although they will have to take it in turns to rest.
This scratcher is unusual as it has two different surface to scratch; carpet and sisal so they will have a little variety. The base is wooden and is very sturdy. It will take the weight of your large cats.
Because of the shape of this scratcher, your cats will be able to approach it from all different angles which should keep them amused.
It comes with a catnip feather toy which your cats will love to play with. The scratcher is easily cleaned with a cloth which has been moistened with warm water. Leave to dry outside if possible.
Final Thoughts: Best Cat Trees and Scratching Posts for Large Cats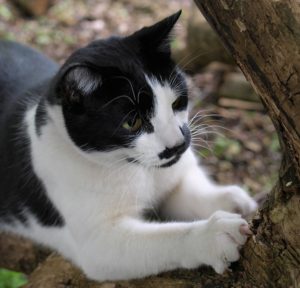 I hope that you've enjoyed reading about cat trees and scratching posts and have found ones you like from my choice.
All of the cat trees are sturdy which you want for your large cats as they will want to climb and play on it.
The more perches the better if you have multiple cats so that they all have somewhere to sit and don't end up fighting.
Scratching posts should be taller for your larger cats as cats in general love to stretch while they are scratching.
Wall mounted ones are good as you can place them at any height. Make sure that both cat trees and scratching posts have a strong base as that will help to support the weight of your larger cats.
I am pleased that I have got both a cat tree and a scratching post as at least it's stopped 2 of my cats scratching my furniture.
One day perhaps Dimitris will stop, but for now, I will have to keep chasing him away from my furniture.
More Cat articles:
Do Cat calming aids really work?