Hi, my name's Irena and I have 3 cats, Macbeth who's 13, Hamlet who's 5 and Dimitris who's 2.
I really hate taking them to the vet as they always struggle while I'm trying to get them in their carrier and I often end up with a few scratches.
I think that if I were taking any of them on a long journey, there would be steps I would take to ensure their comfort.
One of these would be to get a portable litter box. Travelling with a cat isn't like travelling with a dog. You can't just stop and let them out to do their business.
Cats in general, mine included, are not happy on a leash. It is much better to buy a bigger carrier and put in everything you need for a long journey including a litter box.
What is a Portable/Travel Litter Box?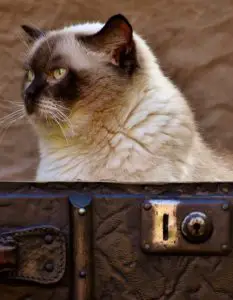 A portable cat litter box is smaller than a normal litter box. It should be 1.5 x 2 times the size of your cat.
It's much safer to put one of these in the carrier rather than stopping and letting your cats out in the car to use the litter box.
It could be quite difficult getting them back in the carrier and you don't want cats running around the car while you are driving. Anyway, most cats won't do their business to order.
There are two varieties of portable cat litter boxes.
The most long-lasting is made out of fabric, usually heavy-duty Oxford cloth.It can easily be folded which makes it simple to pack.
The other is a disposable cat litter box which is made out of biodegradable and ecofriendly materials, for example, cardboard.
They last for just a couple of uses so are good for the car journey and once you reach your destination, be it a hotel or a friend's house, you can use the fabric cat litter box. Remember to take poop bags and a scoop with you.
Portable cat litter boxes are usually uncovered, although a few do have airtight zippered fabric or cardboard covers as well.
I have tried covered cat litter boxes with different cats over the year and none of them have liked them.
However, all cats are different and if yours like a bit of privacy while they do their business these boxes will be just the thing for them.
Why You Might Need a Portable Cat Litter Box
If you are going on a long journey with your cats a portable cat litter box will come in very useful.
It's not fair on your cats to be without any chance of relieving themselves for hours on end.
Perhaps you are just going to stay with friends who aren't that far away, but you don't want to leave your cats with a cat sitter.
Then it's a good idea to pack a portable cat litter box in your luggage which you can bring out once you get to your destination.
It is usually best to keep your cats confined to one room if they are in strange surroundings. They might otherwise hide or try and make a run for it.
To prevent accidents be sure to use the same litter as you use at home. Your cats will be more likely to use the litter box if the contents are familiar.
Tips for Travelling with Your Cats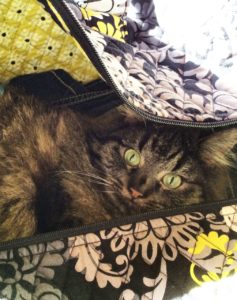 The key to travelling long distances with your cats is preparation. Don't expect them to settle in to their carrier happily without any warning.
The first thing to do is to buy a large enough carrier to put in a cat litter box as well as food and water bowls. Make sure it is big enough for your cats to be able to move around and stand up.
You really don't want to be letting them out while travelling. They're not dogs and may panic, scratch you or try to find somewhere to hide.
It's a good idea to put the carrier out at home a few days before the journey so that your cats can explore it. I would put a familiar blanket inside as the scent might attract them.
Perhaps try feeding them in the carrier. Go for a few short rides before the big day so that they get used to both the carrier and to travelling.
Make sure that you are fully equipped with everything your cats need for your time away. You will have to pack food and also take along the water they are used to.
You don't want them getting stomach aches from unfamiliar water. If they have favorite toys take them along as well.
Don't forget poop bags and a scooper as the litter tray will have to be cleaned at regular intervals.
It is a good idea to feed your cats 3 – 4 hours before the journey. Cats can suffer from car sickness as anyone can and you don't want a regurgitated present in the carrier.
It will mean a stop to clean up and your cats may dash out of the carrier and lead you a merry dance while you are trying to catch them.
You will need to place your carrier in the car securely. You don't want it toppling over or lurching forward when you have to stop suddenly. If it is possible, secure the carrier with a seatbelt. You will want your cats to feel secure.
Don't leave your cats alone in the car especially if it is warm weather. A car can heat up very quickly and you don't need me to tell you of the terrible consequences.
The same is true of cold temperatures as hypothermia can set in very quickly.
How to Keep Your Cats Calm During a Journey
Your cats might find the journey traumatic so talk to them throughout. They will be comforted by your voice.
If there are more than one people in the car, everybody should talk as it will give your cats familiarity.
Don't play loud music in the car as this might freak your cats out unless they are used to it at home.
Don't put the carrier in a part of the car which is affected by blazing sun. It will be very uncomfortable for your cats.
In addition, it is a good idea to stroke your cats through the carrier wire. Touch will remind them that they are with friends.
Sedatives are a bit extreme, but there are some natural products which can calm your cats during a long car journey.
One is Felisept Home Comfort Calming Spray which just needs to be sprayed into the carrier before you go. It only has natural ingredients and contains the substances in catnip which most cats love.
This spray doesn't contain any artificial or synthetic additives and generally has a soothing effect on your cats.
It combats urine marking which will encourage your cats to use the litter tray. In addition it stops them from becoming irritable and losing their appetites.
Another product which you might find useful is Bach Rescue Remedy Pet. It comes in drop form and all you need to do is add 4 drops into their food or water.
You can also rub it into your cats' paws, noses or ears. It is a blend of 5 flowers and is alcohol free. It easily reduces stress without the side effects of chemical sedatives.
Top 5 Best Portable Travel Litter Boxes
1) Necoichi Pop-Up Portable Cat Litter Box
This is our first choice because it is made of a lightweight, yet strong Oxford canvas. It also has a waterproof liner which is made of durable Polyurethane.
This also helps to protect against clawing. However, if you have an aggressive cat who loves to claw add an extra liner. The waterproof liner can be washed, but this should be done by hand.
This litter box suits all types of litter including crystal litter, pine pellets and standard litter.
However, you should use the same litter as you use at home as your cats will be keener to use the box. Don't fill it too deep as it will spill over the sides.
The size of the litter box is 15 x 10 inches with side walls measuring 5 inches. This is a good size to put in a large carrier.
It is much better if your cats stay in the carrier rather than wander around the car. If you just want to put a disposable cat litter box in the carrier for travelling, you can save this one for your destination.
It folds down to 7.5 x 2.8 x 4.5 inches so can easily be packed in your luggage.
2) Pet Fit For Life Collapsible Portable Litter Box with Collapsible Bowl
This portable litter box is made from strong and durable nylon with poly-plastic on the inside.
Nylon is tough enough to put up with a lot of wear and tear from sharp claws. It is also easy to clean. Just wipe the box down with a damp cloth and air dry it.
When folded it measures just 8 x 5 x 2 inches so if you want to pack it away it hardly takes up any room.
When it is unfolded it measures 16 x 12 x 5 inches which is big enough for a medium-sized cat.
The only disadvantage is that it doesn't fit a larger cat. The box is large enough to hold up to 5 pounds of cat litter which is sufficient for a long journey.
This portable cat litter box comes in a lovely blue checkered color and there is a collapsible water bowl thrown in.
Your cats will be able to stay hydrated for the whole journey. In addition, the manufacturer offers a 100% satisfaction guarantee so if your cats don't like it, you can return it with no questions asked.
This portable cat litter box can also be bought on Amazon, together with a cat carrier, water bowl and feather teaser toy. The carrier is also made out of nylon, with a steel frame and measures 32 x 19 x 19 inches; ample room for 2 cats.
3) Petsafe Enclosed Disposable Litter Box
For a change we now have a disposable cat litter box which is good if you just go for the occasional long journey.
It can be used a few times and will then have to be disposed. However, it is made out of biodegradable cardboard so is 100% eco-friendly.
Petsafe produce high quality goods and this is no exception. The litter box is enclosed which is perfect if your cats like to do their business in private.
It also has an elevated entrance hole which stops litter escaping. There is a wax coating in the box which also helps to prevent leakage. It measures 16.4 x 12.6 x 14.5 inches so will fit in a large carrier.
In addition, there are other goodies in the package; 8 disposable litter scoops and a bag of crystal litter.
Crystal litter absorbs odors very well so is a good choice for travelling in a confined space. The scoops are also made from biodegradable cardboard so are eco-friendly.
4) Iris Travel Cat Litter Pan
This portable cat litter box is a little different as it is round, but it can still fit in your cat carrier while travelling.
The diameter is 15.5 inches with 4 inch side walls which should stop too much cat litter escaping when your cats are scraping. It is the right size for kittens, small and medium-sized cats.
The cat litter pan is made out of canvas while the inside is coated with PVC. The PVC is waterproof so you won't have any problems cleaning it.
The best thing to do is to rub it down with a damp cloth and leave it to air dry. It has a zippered top cover which means that you can close it and store the litter when you aren't using it.
The only disadvantage with this portable cat litter box is that the walls are soft and so can collapse after a lot of use. However, the walls can be reinforced with cardboard and this should stop this from happening.
5) Nature's Miracle Jumbo Disposable Cat Litter Box 2 Pack
Here is another disposable cat litter box which actually comes in a pack of two so you are prepared for longer journeys.
They are larger than the other litter boxes we have mentioned so can be used for bigger cats.
You just need to be sure to have a big cat carrier so that the box fits in with enough space for the cats to move around. The litter boxes are 21 x 14.5 x 8.38 inches in size.
These litter boxes are made out of recyclable material so are eco-friendly. They contain baking soda which eliminates all foul smells and ammonia, all the better for a long car trip in an enclosed space.
Final Thoughts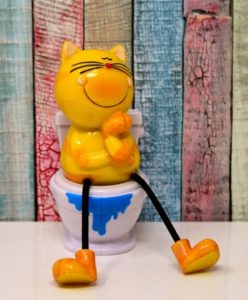 I hope you've enjoyed reading about portable cat litter boxes. I must say that I would be happy to use any of these if I went on the road with my cats.
All I would do would be to ensure that Hamlet and Dimitris weren't in the same carrier otherwise sparks might fly! They really don't like each other at all.
The main thing to remember with portable cat litter boxes is not to change too much as cats are creatures of habit.
Perhaps introduce them to the portable cat litter box at home a few days before you travel and always use the same litter as you would at home.
Don't worry if they don't use the litter box on the journey as they may be happier to wait until they've reached their destination.
When you get to the final destination, put them in the litter box to encourage them to go. Once they've been on a couple of trips they should become used to portable cat litter boxes and you won't have to worry.