Hi there, pet lovers! My name is Jennifer. I have two dogs and a cat; indoor pet gates are a must-have in my house.
About my dogs: My 11-year-old Weimaraner is named Ruger. If you're not familiar with Weims, they are pretty big.
My other dog is a 3-year-old Yorkshire Terrier named Lola. There is quite the size difference between the two breeds.
I also have a cat that I adopted the year before I adopted Ruger. She's a mixed breed, but is definitely at least part Siamese. Lola is closer in size with the cat than she is with Ruger.
In my experience, pet gates are more to keep dogs out of rooms, not cats. Unless the gate is floor-to-ceiling, cats can likely jump over any barrier.
However, if you have dogs and cats, some gates have lower cat doors that allow the cat entrance to areas where dogs aren't welcome.
Why You Need a Pet Gate?
Pet gates allow dogs to roam free in an open but still confined space. If you have cats, the gates are useful in letting cats wander freely while keeping the dog contained.
You might consider using a baby gate in lieu of a dog gate, but baby gates are made from flimsier materials and are intended for toddlers, not dogs.
There are many reasons why pet owners might want to use gates for their dogs or cats.
Safety First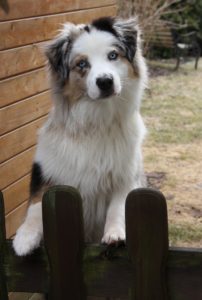 Keeping your pup confined to one area of the home can prevent him or her from getting into things they shouldn't. This is especially true for puppies or extremely curious dogs.
Some dogs are content to sleep all day while others have to get into every little thing. My dogs are a mix of both, but one of them can reach counters and high places while the other is stuck at ground level.
Teach Boundaries
Like toddlers, dogs will push boundaries as far as they can. The kitchen is the most common room where it's a good idea to have boundaries for your dog.
Some people don't allow their dogs in the kitchen at all and a dog gate can help your dog understand that the room is off-limits.
Prevent Destruction
Boredom, pent-up energy from lack of exercise or just a bad streak can all cause dogs to act out destructively.
It can be as benign as eating toilet paper or as severe as ripping up carpets. Gates can help keep the dog to an area to minimize destruction or prevent it altogether.
It's not just destruction, either. Dogs are messy. They like to roll in mud and then roll on the furniture. Gates can keep your dog from tracking in mud or things that should stay outside, such as sticks and dead animals.
Separate Multiple Animals
Due to the size difference between my two dogs, I keep them separated if I'm not home.
They get along fine most of the time, but you never know with animals. I err on the side of caution and supervise their interactions and playtime.
On the other hand, I leave my Yorkie and cat confined together. Sure, Lola likes to chase the cat, but that's relatively harmless.
I do use gates to separate the cat litter box from Lola because she thinks it's a snack dispenser. The cat litter box is in the bathroom and this also gives the cat a room to go into if Lola is annoying her too much.
High-Traffic Home
If you enjoy having frequent visitors (I don't) having a pet gate can keep your dog or your guest from becoming overwhelmed.
The gates are also convenient if you're having repairs or renovations done inside your home.
Dogs are great companions, but aren't great at handiwork. No thumbs.
Block Off Stairs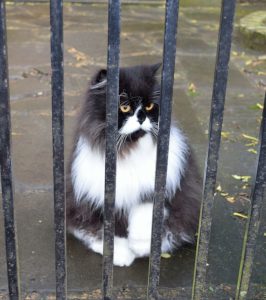 If your home is multi-level, pet gates are useful in blocking off stairs to keep your dog on one level.
An older dog might not be able to use stairs and a pet gate prevents the dog from possible injury – either from falling down the stairs or other hazards.
Free But Confined
Crates are another way to confine dogs, but gates are an alternative that gives your pup more wiggle room.
If you're house-training, a gate helps keep any messes contained to just one area of the house. Gates also allow cats to roam freely while keeping dogs confined.
Most cats can easily jump over gates or go through the built-in door if the gate has one.
Where to Place a Pet Gate?
The type of gate and the size of your dog(s) will greatly determine which pet gate is best for you. However, the room or entrance where the gate will go determines how large of a gate you'll need.
The size of the gate will need to be strong enough so that your pet can't topple it and tall enough so that they can't jump over.
Some of the most common areas for pet gates are:
Stairs
Kitchen
Living Room
Bathroom
Cat Litter Box
Note: Pressure-mounted gates aren't good for use on stairs. They can easily be pushed out of place by dogs.
5 Best Pet Gates for Cats
There are three main types of pet gates: pressure-mounted, hardware-mounted and freestanding. The type of home you have plays a role in the type of gate that is best for you.
Renters, for example, might be restricted to freestanding and pressure-mounted unless they get permission to drill holes into the walls for the hardware-mounted pet gate.
Keeping in mind that cats can jump over most gates, the 5 best pet gates for cats are:
1) Carlson Pet Products Extra Tall Walk-Thru Gate with Pet Door, Extra Tall
This is a pressure-mounted pet gate that is easily held in place without harming walls or doorways.
It is made from steel to prevent large dogs from knocking it over. At 36-inches tall, it should keep large dogs contained while still allowing cats to jump over it.
If the cat can't jump over it, there is a 10-inch by 7-inch pet door within the gate. The gate can be expanded in width from 29-inches to 38-inches.
It has a convenient one-touch release handle to swing open and let humans or pets walk-through without removing the entire gate.
This gate is great for blocking stairs to keeping dogs confined to one area while letting cats roam free. However, small dogs can likely also use the lower pet door.
2) MyPet Petgate Passage Gate with Small Pet Door, 30-inch
This pressure-mounted gate is made of steel and comes in bronze or white. The bronze gate looks very fancy compared to most pet gates.
The gate features a small pet door at the bottom with a flap that can be locked if necessary.
The extra-wide gate can be extended from 29-inches to 39-inches with the extensions that are included rather than sold separately. The gate measure 30-inches in height, which is tall enough to keep most large dogs contained.
There is a one-touch control lever that swings the gate door in both directions for humans to easily pass through. The smaller pet door measures 9.5-inches x 8-inches while the swinging gate door is 21-inches wide.
3) Carlson Pet Products Flexi Walk-Thru Gate with Pet Door
While most pet gates are designed to fit straight across openings, this gate can be adjusted into different shapes and angles. It is a hardware-mounted pet gate with the hardware for installation included.
When extended, the pet gate can span across a 76-inch opening. The hinged posts can be flexed into any angled or oddly-shaped openings. Humans can walk-through the gate easily by pressing the gate's one-touch release handle.
The smaller pet door is 10-inches by 7-inches.  While the gate can be used anywhere in the home, the manufacturers advise against using it to block off stairs.
4) North States MyPet 39″ wide Petgate Passage
This is another pressure-mounted gate with a cute little flap door for smaller animals to pass through.
The flap can be set to swing free or locked to keep smaller pets contained. Cats can likely jump over the top of the gate, even though it is 36-inches high.
The gate can be adjusted for openings between 29.75 -inches and 39-inches when using the included extensions. The steel gate is beautiful matte bronze.
In addition to the easy walk-through latch, the pet gate has a stay-open feature that can be helpful if you're carrying in the groceries.
5) PET LIFE 'Porta Gate' Collapsible Folding Travel Safety Pet Gate
We've covered four of the best pet gates for your home, but how do you keep your pets contained when you're traveling?
This folding travel gate can be used in your home or taken with you on the road for hotel rooms or visiting family that may have their own pets.
The poles on the side of the pet gate grip firmly onto any opening between 24-inches and 36-inches wide.
There is a mesh smaller door at one side of the bigger gate that can be used for smaller animals to pass through. The smaller door is opened and closed with a zipper for easy passage.
Unlike the other pet gates, this gate does not have an pass-through door. It is only 10-inches high and easily stepped over by people or large dogs.
It's best suited to contain smaller dog breeds while allowing cats to pass through safely. The pet gate has different color options, including Black, Brown, Khaki, Grey, White.
3 Best Pet Gates for Dogs
Since the pet gates above all feature smaller doors for cats to get through, here are 4 of the best gates for just dogs:
1) Regalo's Home Accents Extra Tall Walk-Through Gate
This gate is pressure-mounted and features cherry-wood accents along the top portion.
The rest of the pet gate is sturdy black steel. At 38-inches, it's one of the tallest pet gates, perfect for keeping those escape artist pups safe.
With the included extension, this gate can fit openings between 29-inches and 44-inches wide. It has an easy one-touch step-through swinging gate for humans.
2) MyPet Paws Portable Pet Gate
This gate is pressure-mounted between doorways 26-inches to 42-inches wide. It's basic white plastic.
It doesn't have a walk-through gate. But at 23-inches tall, it can be stepped over or easily removed and replaced.
I use a gate like this for my dogs and cat. My larger dog, Ruger, can easily knock it over. My cat has knocked it over several times when jumping over it.
However, it is perfect for little dogs. Lola has never knocked it over, but she does give me sad faces when she's on the other side of the gate.
3) MyPet's Extra Wide Wire Mesh Gate
This wooden pet gate looks very much like a baby gate for toddlers. It's 32-inches tall and uses pressure-mounts to stay in place.
The wire mesh is perfect for preventing your pup from getting their head stuck in the gate or escaping. However, if they are a climber, they might be able to figure out an escape plan using the slits in the gate.
For extra-wide door openings,the gate can be extended from 29-inches to 50-inches.
When the gate is locked into place, the side bumpers protect the walls from marks, making the gate a good option for rented homes.
Final Thoughts: Top 8 Best Indoor Gates for Cats & Dogs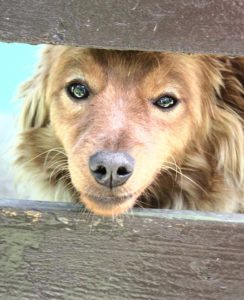 There is one thing I noticed on each of the pet gate descriptions that I want to share with you – a warning about the dangers of small animals getting their heads stuck in the gate slits.
When you're looking for pet gates, keep in mind that height isn't the only important factor in the size of your pet – the size of their head and torso are equally important.
The last thing you want is for your pet to get themselves stuck in the gate and potentially injuring themselves – or worse.
Pet gates are a great way to keep your pets confined to one area of the house without needing to crate them. Crate-training your pup is fine, but most dogs prefer to roam freely.
Pet gates allow total freedom to cats while restricting access for dogs. I personally use a pet gate to keep my dogs out of the cat's litter box.
Articles you may also like:
Top 12 Best Cat Trees ans Scratching posts for large cats!