Hi, I'm Irena and I have four dogs. Sherlock is the youngest at 5 and is a little scamp. I've never met a dog who has as much energy as he has.
The other 3 are Oliver, Aphrodite and Lipstick. They're going to be 15 in a few weeks time and are beginning to slow down; well Lipstick and Oliver are.
Aphrodite still seems to have lots of get up and go. They have all had treat dispensing balls at some time of their lives, but I didn't realize that they made such elaborate dispensers nowadays.
Apart from the automatic balls and puzzles, you can buy treat dispensers with remote controls and even some which come with cameras so you can see your dogs in real time!
Why You Might Need a Treat Dispenser for Your Dog
A dog treat dispenser is a great thing to leave with your dogs while you are out at work. Dogs are intelligent animals and have a tendency to become bored if they are left alone for hours on end.
They can start barking excessively and chewing on things you don't want them to chew on.
A dog treat dispenser can keep them occupied for a long time, although make sure you get one for each dog otherwise there could be fights.
Dog treat dispensers make dogs work for their food which can help to counteract obesity. It is up to you to decide how many treats to put in to stop them from eating too much.
A lot of dog treat dispensers also take kibble so you could feed them a meal from one.
In this way they would be working hard for their dinner as well as their treats. Dogs don't mind as they like both physical and mental stimulation.
Types of Treat Dispensers for Dogs
 Automatic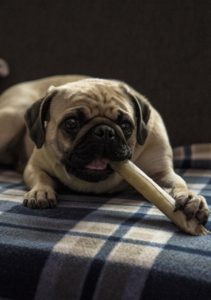 Automatic dog treat dispensers are the traditional types of dispensers. You can get simple ones like balls which dispense treats or more complicated ones like puzzles which stimulate the minds of your dogs.
They are great to leave with your dogs while you are out at work as they will keep them occupied and stop issues such as excessive barking and destructive behavior.
They are even useful when you are at home as they will keep your dogs occupied while you are doing things like cooking dinner.
They are also useful when you are training one dog and the others need to be occupied.
In addition, they give your dogs an opportunity to get a little more exercise. Some dispensers can even be set to dispense treats at regular intervals.
Remote Control
Remote control dog treat dispensers are useful when you are at home as you have to dispense the treats yourself.
They are good for training purposes as you can dispense a treat when your dogs obeying you. There are some remote control dispensers which your dogs can also operate.
These come with a push button which you can hide in different rooms to make your dogs work for their treats.
Some remote control dispensers come with a screen which has icons and plays music to keep your dogs entertained.
Built-in Cameras
Treat dispensers with cameras are very state-of-the-art and are great for people who love their phones and tablets.
You just load an app on your phone or tablet and away you go. Just swipe and a treat will be dispensed.
You can see your pups and they can see you which will be calming for them.
In addition some camera treat dispensers have bark alerts and tell you when something untoward is happening. Some can even take photos and videos of your dogs.
Automatic vs Remote Control vs Camera Treat Dispensers for Dogs
Automatic dog treat dispensers are great while you're out at work. They keep your pups occupied and present mental stimulation as well as giving them exercise.
I can't really think of any negatives with this type of dog treat dispenser. I have used them with great success.
However, if you suffer from separation anxiety from your dogs, you might want to get a dog treat dispenser with a camera.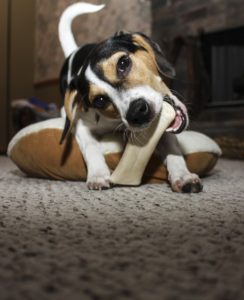 You will be able to see and interact with your dogs which will probably calm down anxious pets as well.
However, most of these treat dispensers don't give your dogs the mental stimulation they need nor the exercise, but their interaction with you should stop chewing and excessive barking.
You do need to have the time to operate this dog treat dispenser so if you have a busy job it may not be the answer for you.
Remote control dog treat dispensers are great for training your dogs. Once your dogs obey your commands, just press the remote control button and give them a treat.
Generally these treat dispensers are only suitable if you are at home. However, there are some remote control dog treat dispensers which come with a push button that your dog can press as well.
When you're at home, you can move the button to different rooms to give your dogs more mental stimulation.
What to Look For in a Treat Dispenser for Dogs
If you are going for an automatic dog treat dispenser go for one that is strong and durable.
It needs to be able to withstand continued hammering from your pets. In addition, you don't want them to be injured if the treat dispenser breaks.
If you come home and find that the treat dispenser has been attacked, take it away to stop accidents from happening.
Dog treat dispensers should be easy to clean. Make sure that you can take it apart and clean it otherwise your dogs could be exposed to all sorts of illnesses.
Remember that some dispensers are easier to clean than others and choose wisely. Make sure that you fill your dog treat dispenser with healthy treats.
Yes, they might take anything, but you don't want your dogs exposed to treats which can damage their health, for example treats full of grains and containing no meat.
You don't want your dogs to get overweight or obese so be careful with the amount of treats you give. Go and see your vet for recommendations as to how many treats your dogs should be having each day.
Top 3 Best Automatic Treat Dispensers for Dogs
1) Spot Ethical Pet Seek-A-Treat Shuffle Bone Puzzle Dog Toy
This is a treat dispenser which also encourages your dogs to think. It is a bone shaped wooden board which has 10 holes where you can hide the treats. The wood is also good for their teeth as it strengthens them.
The dispenser makes your dogs think. They know what awaits them if they get the puzzle right so they will work hard for their treats.
It provides them with mental stimulation and tests their skills. There's no chance of them getting bored with this dog treat dispenser.
It will help stop destructive behavior as their cognitive abilities will be tested.
This dispenser can be used either when you are at home or are at work. It will keep your dog busy while you are out, but it can also be used for training purposes.
If your dogs obey your commands, get out the dispenser and give them some treats. It will spur them on to do what they are told.
2) Pet Zone IQ Treat Ball Dog Toy 
This treat dispensing ball is suitable for small and medium dogs. You can put both small treats and kibble in it.
If they eat dry food mainly you could even put a meal in it. Then your dogs will have to work for their dinner as well as their treats which is good for fighting obesity.
This treat dispensing ball is great for when you have to go out to work and leave your dogs at home. It actually has different levels of difficulty which keeps their minds working.
Because it is a ball they will roll it around the room which will give them plenty of exercise and will stop bad behavior like barking and chewing shoes.
The ball is made of durable plastic so is difficult to break however hard your pups whack it.
It also comes apart very easily and can then be washed. Just make sure you get one for each dog otherwise there might be arguments between your dogs.
3) Nina Ottasson Dog Twister Advanced Dog Puzzle
This treat dispenser has different levels so is challenging for your dogs. The puzzle is circular and has 9 compartments with handles.
You put the treats in the compartments and your dogs have to learn how to pull open the handles.
Once they have mastered this, there are pegs you can put in the handles so that your dogs have to work out how to pull out the pegs before they can pull the handles and get their treats.
It is a great treat toy to leave with your pups while you are out as it will keep them amused for a long time, so eliminating bad behavior and helping your dogs to problem solve.
This treat dispenser can also be used at mealtimes if your dogs eat kibble. It will help to aid their digestion. Dogs generally eat very quickly and that can lead to diseases such as bloat which can be fatal.
This treat dispenser is easy to clean. You just have to wash it with warm soapy water. It is not dishwasher safe however so don't try it! The wash will only take minutes so can be done on a daily basis.
Top 3 Remote Control Treat Dispensers for Dogs
1) Pawbo Munch Wi-Fi Enabled App Remotely Fun Treat Dispenser
If you are looking for a treat dispenser that you can control remotely, this one could be what you are looking for.
It has a slot machine game for your pets which shows symbols. The ones they choose will dispense different amounts of food.
You will do the dispensing remotely so it gives you some interaction with your dogs. This is not a dog treat dispenser that you leave with your dogs when you are out.
It works with treats of all sizes and shapes which is very convenient as you can put favorite treats in. The treat tray is detachable so you can clean it.
It is oval-shaped and there is no spilling out of treats so your room will remain clean. The dispenser also plays music which should hopefully attract your pets to it. My dogs just love music.
2) Arf Pets Puzzle Memory Dog Training Activity & Treat Dispenser
This is a remote controlled dog treat dispenser which can be used by either your dogs or yourself.
It has a separate button to press to allow the treats to come out. This button can be attached to the treat dispenser or it can be placed in another room or even on a glass door.
It comes with a suction pad for this. It can also be installed in your back yard with a staking peg which is included in the package.
By moving the button to different areas will give your dogs incentive to find it and to get their treats.
Your dogs won't get the same number of treats each time. It varies, but imagine how delighted they will be to hit the jackpot.
Each time they press the button there are dog-friendly sounds which encourage them to continue playing. There is also an LED light which flashes when your dogs get their treats.
3) J & J Dog Supplies Remote Treat Dispenser
If you are training your dogs, this is the perfect treat dispenser.
It is remote controlled and when you dogs obey your commands, you can press the hand-held infra-red control button and out come the treats. It is a great way to train your dogs with positive reinforcement.
This treat dispenser is very small so is easy to take with you wherever you go. Perhaps you want to do some training in the park or in the yard.
The base of the unit is just 4.5 inches wide x 4.75 inches long x 2.125 inches high. It only weighs a little over 7 ounces. The range indoors is 50 feet, while outdoors it's 25 feet.
Top 3 Treat Dispensers for Dogs with Cameras
1) PetChatz HD Wi-Fi Two Way Audio and Video Camera & Treat Dispenser
This is my top choice out of the treat dispensers with a camera as it comes with a two-way audio and HD low-light video camera.
You can speak to your dogs and calm them down if they show any signs of anxiety. There are sound and motion detectors which will alert you if your dogs are barking.
In addition, if they do need to be calmed down, just one swipe of your phone remotely activates a spray of a calming scent. You can even stream DOGTV although you do need to invest in a subscription.
The dispenser has been made to only accept PetChatz treats. However, these are of a high quality.
Meat or fish is the main ingredient and they are grain-free so won't irritate sensitive stomachs. The flavors they come in are chicken and salmon.
The material the treat dispenser is made from is durable and there are no exposed electrical cords.
In addition, there are no sharp edges. The treat dispenser chute is easy to get to which makes it easy to clean.
2) Petcube Bites Pet Camera with Treat Dispenser
This dog treat dispenser comes with a camera so you can keep an eye on your pooches and even have two way communication with them.
This particular camera connects to your smartphone from wherever you are. You just need to have an Android or iOS smartphone.
The video is real time so you will see exactly what your pups are doing at the time they are doing it.
Of course it's not just a camera but is also a treat dispenser. Remotely you can toss a treat to your pups up to a range of six feet.
In addition you can program the device to dispense treats at certain intervals. It holds 2 pounds of treats up to 1 inch each.
The treat dispenser can be placed on any flat surface. In addition it can be hung on the wall.
It comes with a special wall mounting kit and you should have no problem attaching it to a wall. Just make sure not to put it up too high up otherwise your dogs might not interact with it as well.
There are additional features. It stores up to the last 4 hours of activity on video for free. It also includes 2 months free trial of Petcube Care cloud which allows you to look at the last 10 days of video.
3) LoVoom Pet Monitoring Camera
Here we have another treat dispenser which comes with a camera. It is very innovative as the dispenser pans 180 degrees so you are able to control where the food is coming from.
This makes it more exciting for your dogs as they don't know where the food is going to come from next. It tosses one pellet at a time so it is compatible with treats rather than kibble.
In addition you can also control the distance the treats fly from 3 feet to 10 feet so again your dogs will have variety.
There is two way audio so you can talk to your dogs and they can bark back. This is good for dogs that suffer from separation anxiety. It should hopefully stop them from chewing shoes and barking too much.
This treat dispenser also comes with a battery operated remote control which is an added bonus.
While you are at home you can use this rather than the app on your phone, particularly if your phone is low on power.
Where to Place / How to Set up a Treat Dispenser for Dogs
The ideal place to set up your dog treat dispensers is in the room they use the most. With automatic ones just leave them in the center of the room.
Perhaps give it a trial first while you're there to see if they are attracted to the dispenser. Maybe show them how it works to give them that boost to start playing.
Remote control dispensers need to be set up in the room you are in with your dogs, unless you have a push button one. The button can be placed in any room unless the walls are too thick.
If you can plug the dispenser with a camera directly into a socket all the better as then you don't have wires to worry about.
Dogs like to chew after all. In addition, keep it at a level which gives your dogs the opportunity to see you.
How to Use a Treat Dispenser for Dogs
You could be tempted to fill your automatic dog treat dispenser with treats, but resist that urge.
They shouldn't really be having more than 10 a day. You don't want them to get overweight or obese.
A remote control dog treat feeder or one with a camera is easier to control as you are in charge, but it's still important to keep a record of how many treats you're giving your pups.
A remote control dog treat dispenser is great for training purposes. Give your dogs a treat every time that they obey a command, but stop training if you are at the limit of their treats.
Final Thoughts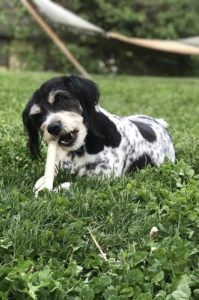 I think that we can conclude that dog treat feeders are great.
They keep your dogs occupied while you are out, you can use them as positive reinforcement to reward your dogs when they have done what you have asked of them and some even give you two-way communication with them while you are at work.
You don't have to worry anymore that your dogs are getting bored or suffering from separation anxiety.