Just having the pleasure of owning and loving a dog is great on its own, but let's be honest: we all absolutely love giving our dogs the threats he or she deserves.
After all, they're all good boys and girls, aren't they?
My name is Megan, and I've raised dogs nearly my entire life; I remember being just a tiny baby and being around dogs.
And, while the playing and cuddling and training was always fun, my favorite thing was giving my dog a treat because I know it made them so happy.
But, as I got older, I became more and more busy with school and then work, and so I wasn't home as often to give my dogs the treats they deserved.
I also felt that just treating my dog without any work neglected their primal instinct to work for their food. That's where treat dispensing toys and electronics come into play.
What are Treat Dispensing Dog Toys?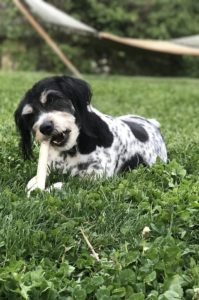 It's all in the name, really. These are any types of toys – or electronic! – that dispenses a treat for your dog. They come in many forms, as you'll see below.
Some are interactive puzzles while other, higher – end choices are electronic and feature both a microphone and a camera that allows you to treat your dog away from home.
How Treat Dispensing Dog Toys Work
Treat dispensing toys are, thankfully, really simple! While each toy is unique and may require different a different setup, for the most part, it's the same. Simply pre-fill the treats an let your dog play!
Refilling can involve putting the treat inside the toy or filling a canister, and, in the case of electronic dispensers, setup will require connecting your phone to the device.
After that, the toy will be ready for your dog to play with! Just because these are easy to setup and easy to play with, though, doesn't mean that you shouldn't use any precaution.
How to Use Treat Dispensers Safely
While they may seem like an easy toy to entertain your dog, it's important to remember that, like any other toy, there are safety issues to address and prepare for when using an interactive toy.
First, if you're using a traditional interactive dog toys that features a small opening where you place the treat, then there is a possibility that, while trying to reach the treat, your dog will chew up the toy.
Small pieces pose a choking problem for dogs, and, if they manage to swallow it, then you need to worry about intestinal issues and blockages.
You also have to take in consideration your dog's diet. While treats may seem small enough that they won't have an impact, too many can cause your dog to suffer from issues such as diabetes and obesity.
It's important to make sure that you don't overtreat your dog. The best way to do this is to provide healthy treats sparingly. Stuck on what to treat your dog? Here are some ideas!
Treat Ideas
There are a variety of treats you can give your dog – in fact, some of the best treats are right in your pantry.
One of the most known treats is peanut butter, and I can see why! It's inexpensive, easy to use, and my dogs have always loved it.
Another good snack is yogurt, but only if your dog isn't lactose intolerant. There are also some more surprising options such as quinoa, non-salted peanuts, and honey.
If none of those fit your lifestyle, you can also try store bought options.
When picking out the best dog treats for your dog, make sure you stick to low calorie snacks that are free of preservatives, dyes, and other unnatural fillers and additives.
Your dog is only as good as what he or she eats, so it's important to make sure that, even with treats, you're providing your dog healthy, nutritious food.
Some good treats to start you off are Stewart Pro-Treat dog treats and Wellness Rewards dog treats.
After you have your treats of choice, it's time for the fun part: picking the best treat dispensing dog toy.
7 Best Treat Dispensing Dog Toys
1) Nina Ottosson Beginner Dog Puzzle Toy
While interactive, treat dispensing toys can be a great addition to your dog's life, some are more difficult to complete than others.
The Nina Ottosson puzzle is great for all dogs, especially beginners or puppies. It's inexpensive and easy to use with nearly any type of treat.
The way this toy works is similar to the cup game during a street fair; you place your dog's treats under at least one of the covering and let them sniff and find it.
Of course, while this may seem easy and fun, it's important that you supervise your dog the entire time they are playing with this and remove it when they are done.
The treat covers on this toy are small and removable, and, while it is unlikely, it is possible for your dog to accidently choke on it.
The Nina Ottosson Beginner Dog Puzzle was designed specifically to help prepare dogs and puppies for tougher, more advanced puzzles later on.
It's easy to use, easy to clean, and made of durable materials. It's a great choice for anyone looking for a cheap way to jump headfirst into the world of dog puzzles.
2) West Paw Zogoflex Qwizl Interactive Treat Dispensing Dog Toy
West Paw is a company that I've always be interested by because all of their toys are made by their own material called Zogoflex.
Zogoflex is an extremely durable and safe rubber that is made in the United States, recyclable, and dish washer safe.
It's even FDA approved, which means that it is safe enough to eat off – though, I personally don't recommend that!
The Qwizl Interactive toy is special in its own way too. It's a puzzle, but it's also designed specifically for tough chewers.
And, rather than hiding small pieces of kibbles and biscuits, it's designed for larger treats like jerky strips. All you do is place the strip or stick inside, and your dog will have to chew, throw, and play to get it out.
One customer says that, while this isn't as mentally stimulating as an actual puzzle, it works well to both preserve expensive treats and curb chewing.
3) Wisedom IQ Treat Ball Interactive Food Dispensing Puzzle Toy
If that's not a mouthful, I don't know what is. You'll also find that this food dispensing toy is a mouth full for your dog!
It engages all of your dog's senses, as well as their primal instinct, and, after a short 'hunt', rewards your dog with tasty treats.
This puzzle toy offers a lot more benefits than just a puzzle though, which is one reason I like it so much.
First, the Wisedom ball is made out of a special, safe rubber that has a ribbed design to clean your dog's teeth, gums, and tongue while they play and forage for treats.
It's durable and easy to clean and fill, which means that you can spend more time playing fetch with your dog than cleaning and refilling their ball.
It's highly reviewed, relatively inexpensive, and a great puzzle to invest in if you want to entertain them both independently and together.
4) StarkMark Bob-A-Lot Interactive Dog Toy
The StarMark, despite its simple appearance, has a lot going for it. I especially like the weighted bottom that makes it, well, bob a lot.
It comes in two sizes – small and large – so it's perfect for dogs of all sizes.
While it may seem easy at first – bob the toy around and eventually the treat will fall out – this toy has an adjustable opening so that you can make it easier or more difficult while also allowing you to use larger treats if necessary.
The Bob-A-Lot, thanks to its extra large storage that holds about a cup of kibble, can be used as a slow feeder too. The only think to take into consideration is the fact it's made out of hard plastic.
5) West Paw Zogoflex Tux Interactive Treat Dispensing Toy
That's right, West Paw has made this list twice! I'll admit it: it's the Zogoflex that gets me.
I once had a dog choke on a piece of his toy, so I tend to be much more precautious when purchasing toys now. It's a material I like and trust, and I think that fact alone earns it to places on the list.
However, the Tux has a lot of differences when compared to the Qwizl I mentioned earlier. The most obvious thing that is probably the first thing you'll notice is the shape.
Unlike the Qwizl, the Tux has a unique T shape that allows any treat – frozen, hard, or soft – to be placed inside for hours of play time.
If that isn't good enough, this thing is tough. I mean, you can throw it, swim with it, play with it the snow, and even pop it in the dishwasher, and it'll come out, ready to go again.
6) Outward Hound Nina Ottosson Puzzle Brick Dog Toy
I think it's time I mentioned a more advanced toy, just in case there's a puzzle expert reading this.
The Outward Hound Brick dog toy is a level 2 puzzle, meaning it's great if your dog already has some experience with interactive puzzles.
There's three ways to play, and you can hide up to 20 treats for a playtime packed full of delicious fun.
This toy is also very similar to the Nina Ottosson level 1 toy mentioned earlier in this list: you fill the 'bricks' with treats and let your dog shake, flip, and slide the blocks to find the tasty treats hidden inside.
It's easy to clean with warm water, and it's durable enough to handle some tough love from your pup.
However, once again, there are some smaller pieces involved with this interactive puzzle, so it's important to make sure that your supervise your dog carefully when he or she is playing with this toy.
7) Kong Wobbler
When I think of interactive toys where you hide treats and goodies, the Kong Wobbler is the first thing that pops into my mind.
It is the Beauty Blender of dog toys, and for good reason: it's a classic. It's simple, easy to clean, and durable – some of the most important characteristic of an interactive dog toy.
I also like this because it's the most versatile when it comes to the treats you can use. Want to use a store bought treat? Sure, go for it! Want to use some peanut butter? Works great for that too!
You can even shove peanuts or pack quinoa inside of it too; it's just great for all kind of snacks. It's a bit pricier, but, due to its durability, versatility, and ability to function as a puzzle, I think it's worth the investment.
The Kong Wobbler is great for all dog owners and dogs, no matter their experience level with interactive puzzles.
Honorable Mentions
Now, these aren't interactive in the tradition sense. They're not puzzles or chew toys, and, in fact, they're not even truly tangible to your dog.
However, I think that, due to the 2-way audio and cameras these great dispensers can still be interactive.
The camera allows you to communicate with your dog and have them do tricks and commands then treat them from anywhere.
So, while these didn't make the main list, here are some more cool options to consider. (If you want the full scoop on electric treat dispensers, you can find it here).
SKYMEE Dog Camera Treat Dispenser
This is the cheapest of the dog camera treat dispensers in this abridged list, but it has a lot of unique features. The first thing I want to point out is the light.
Now, we all know that dogs are 'colorblind'. Well, that's not quite true. Dogs can see colors, it's just very limited.
However, blue and yellow are colors they can see, and the SKYMEE takes advantage of that. Whenever you're around – or rather, on the app – the light will turn blue.
Your dog over time will be able to recognize this and know you're there. Once on, you will be able to have a one way video call with your dog.
You can have them do tricks and commands or just talk to them and check in. Best of all, you can treat your dog with just the click of a button.
Vbroad Smart Pet Camera Treat Dispenser
Sometimes you're away from overnight, but you still want to give your dog his or her bedtime snack.
The Vbroad dispenser has a night vision feature so that, no matter what time of day it is, you can spoil your fur baby.
This dispenser lacks a two-way camera but does have two-way audio so you can talk to your dog.
Even better, the Vbroad has the option to record or take snapshots while you're entertaining your pet, allowing you to instantly share their funniest moments.
Furbo Dog Camera
After it aired on the Ellen Degeneres show, the Furbo camera and dispenser became a smash hit. Vets and dog trainers approve, and owners and dogs love it!
It's a bit more on the expensive side, but it has a high-quality image during video calls, a night vision feature, and, rather than just dropping a treat, it tosses it.
It also has a bark alert that notifies you when your dog is distressed. This has saved dogs from fires, gas leaks. and even intruders.
This is just the begging of the features though. If you're willing to pay a little bit more, and you want to interact with your dog throughout the day, the Furbo is a great option.
Top Picks
For my top picks, I decided to do my overall favorite interactive toy, my favorite low-price toy, and my favorite luxury toy.
My all time favorite treat dispensing interactive toy is the West Paw Zogoflez Qwizl.
While it's not great for small treats and kibble, I think it's really interesting and innovative to have a toy designed specifically for strips and sticks, especially because those are the types of treats my dogs always seem to love the most.
Zogofelx is also a very interesting material, and, due to the fact it's recyclable and FDA approved, I feel like, with it, I could rest assured that, while my dog is chewing and solving puzzles, she's safe.
I also like the fact that the West Paw Qwizl is designed curb chewing and preserve expensive treats while providing both a mentally and physically stimulating activity. It's also inexpensive, which I think is a bonus for any pet owner.
Next, my favorite low price interactive toy. I think this one goes to the Wisedom IQ Ball.
I love the fact that it's designed for all types of play, whether your dog is alone or you're playing fetch together.
It's also very highly reviewed, which makes me feel secure in purchasing this, though, it is low priced. It's also easy to clean and refill, which, as a college student, I need all the ease and extra time I can get.
It'll clean my dog's teeth, stimulate their mind and mouth, and provide the quality playtime she needs during the day.
All in all, I think this is a great choice for a pet owner who wants to buy a multi-purpose toy at an inexpensive price.
Finally, my favorite luxury toy is the Kong Wobbler. I've owned this toy before, actually, and it's one I highly recommend.
The dog I had bought this for was a small Chihuahua mix that was also a heavy chewer; she loved it, and it was strong enough to handle her tiny, but powerful teeth.
I also like the fact that it's simple and a classic. I'm a minimalist, and I want something that gets the job done without a lot of extra stuff, so this was perfect for me. It's definitely pricy, but I personally find it worth the cost.
I feel like it's only fair to mention which one of the honorable mentions was my favorite too. Despite its price, my top pick is the Furbo dog camera.
It functions great in means of entertaining your dog while you're away from home, but I really like the extra stuff it has to ensure your dog is safe at all times.
The extra security and peace of mind it provides is enough to make me forget the fact it's not a tradition interactive treat dispensing toy. I also like the fact that it's so highly reviewed, even by Ellen herself.
Shopping online can be a scary process, especially with so many internet buy horror stories, so it's nice to know I'll be receiving a quality product, especially when I'm paying that much.
Final Thoughts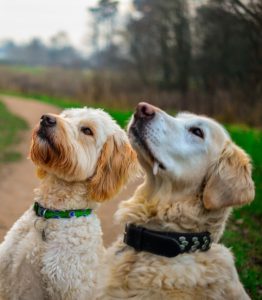 We spend so much time focusing on our dogs' physical health that I think it's easy to forget that they have mental needs too.
I think we also forget that, like humans, dogs love praises and rewards, and that's why I think interactive dog puzzles and toys that dispense treats are a great product that every pet owner should invest in.
Of course, there's a lot to consider when choosing the right interactive treat dispensing toy, especially because there are just so many styles and so many treats available.
That's why it's important to do your research, as toys are not a one size fits all type of product.
If you have a dog that is a smaller breed, you will need a smaller toy, and if your dog is a heavy chewer, you will need a toy that isn't made of plastic and is more durable than your average toy.
Whichever one you end up purchasing, though, just know your dog looks forward to spending quality time with you that is productive, educational, and fun!