As dog parents, it is so easy to go overboard with toys and treats. We want our dogs to be happy and healthy, so we find the best ways to spoil them.
Depending on the size of your dog, it can be hard to find toys that last long and are safe for your dog.
Hi dog moms and dads! My name is Bri, and I am a loving dog mom to a big American Bulldog and Pitbull mix named Bruce.
Bruce weights about 90 pounds and has an iron grip. He loves to tear apart toys to the point where there's nothing left, so finding durable toys can be tricky.
When we first brought Bruce home, we signed up for a BarkBox subscription. This subscription shipped two plush toys, two bags of treats and a chew right to our front door. Sounds great right? Well it was!
However, these toys were not up to par with Bruce's love of tearing toys apart. The BarkBox toys frequently had a squeaker or a plastic ball inside, which Bruce would tear out of the toy and try to eat.
Luckily, I was able to take it from him before he got very far.
Obviously, this was a safety hazard for my boy, so I was disappointed and thought I would have to cancel his subscription. I knew this would break his big bully heart – he loved BarkBox day!
Fortunately, I was able to contact BarkBox and they switched me over to their SuperChewer box, and since then we haven't had any issues with Bruce destroying his toys.
We have become permanent customers of SuperChewer!
Time Out, What is BarkBox?
BarkBox is a subscription service provided by a company called Bark. Bark is run by dog lovers whose mission is to provide high quality treats and toys to dogs everywhere.
Bark offers two subscription boxes; BarkBox and SuperChewer. Each box follows a different theme, like Christmas or "Back to School" and so many more.
In a standard BarkBox, dogs get two plush toys, two bags of treats and a chew. The toys come in a countless variety of characters, including squirrels, cinnamon rolls, lobsters, and so many more (those are just a few of Bruce's favorites).
You can fully customize your box according to your dog's size, allergy or food sensitivity, and age which helps Bark know what size treats and toys to send in your dog's box.
There are different subscription price options that you can choose from to make sure you are getting the one that suits you and your pup the best!
Tell Me About the Treats!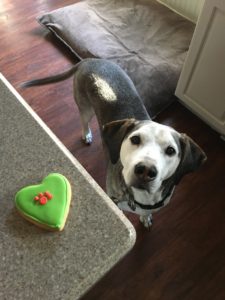 BarkBox treats are fantastic. Taste wise – you would have to ask Bruce, but I am sure he would tell you they are delicious. I love them for their wholesome and healthy ingredients that are safe for my pup and his sensitive skin.
The treats that come in a BarkBox are made in the USA and free of wheat, corn and soy. Same for the chews! Wholesome ingredients go into these treats so I know I'm feeding Bruce something that is good for him and won't irritate his sensitive skin.
With my dog's sensitive skin and allergies, I was able to select the allergy option when signing up for his box, so I know all of his treats have limited ingredients and are safe for him.
On top of that, I used to spend SO much time in the store going through every brand of treats trying to find ones with good, wholesome ingredients for Bruce.
There are literally hundreds of different brands, flavors and sizes of dog treats in stores and I was getting overwhelmed with choices.
I never knew which kind had the best ingredients and when I did find one that looked good, I was always worried that Bruce might not even like them.
Plus, buying bags of expensive treats every couple of weeks adds up quick (and Bruce gets spoiled with treats). SuperChewer allows me to feel good about the treats that Bruce is getting.
The best part is they are delivered right to my door so no more wasted time in the store. That means I get more time at home with my fur baby and that makes both of us happy!
What Comes in a SuperChewer Box?
The SuperChewer Box is almost exactly the same as the original BarkBox. The only differences are in the style of toys and you get two chews instead of one (BIG plus for Bruce – he loves the chews!).
Other than that, they still follow the fun themes and come with two toys and two bags of treats.
At first, I didn't pay much attention to the extra additives in the box. Bruce wasn't interested in the games, so I didn't bother looking through them.
However, I recently looked a little closer at what comes with it and I was pleasantly surprised at the cute and fun extras they include.
In this month's box, Bruce got a Viking theme that came with his very own Viking helmet. It was a little small for his big head, but we made it work!
There was also a family tree and a "Create your own Viking tale" that you could fill in about your dog.
This would be a really fun activity for dog owners to do with their kids (real kids, not fur babies… or them too I guess!).
I also like that SuperChewer pays attention to detail in these boxes. They provide safety precautions on the inside of the box along with their pledge to correct any issues you may have with the contents.
Their website and contact information are displayed for easy access to help, and I can personally say that Bark's customer service is amazing to work with!
Here's my video showing you what comes in a Barkbox Super Chewer box!
Barkbox vs Super Chewer: Which One Is Best?
This is a tough choice for me since Bruce and I really liked both, but ultimately, this is completely dependent on your dog.
We LOVED our BarkBox subscription, but unfortunately Bruce was just a little too rough and tough for their plush toys.
We switched to SuperChewer because they supply toys that he doesn't destroy in 5 minutes or less. For dogs that don't have a tendency to chew toys to pieces, the BarkBox would be a perfect fit.
However, if your pup is a big dog like mine with a big mouth, they would probably be better off with a SuperChewer box.
Some dog parents see extreme chewing as a bad habit and try to correct it, but it's just their nature. Keeping them occupied with durable toys is the key.
And who am I to tell Bruce he can't be a SuperChewer??
If you have trouble deciding which one would be best for your dog, Bark's support team is AMAZING at helping out.
I was able to chat directly with a representative who made me feel much better about making the switch to a SuperChewer box for Bruce.
SuperChewer vs BarkBox
Let's break down this comparison.
First, what do these boxes have in common?
You get a fun theme, lots of toys and treats, and games to try with your dog.
Same company – same great customer service. Bark is an amazing company that has some of the best customer service representatives working around the clock to keep customers (and their dogs) happy.
Bruce's opinion: he loves them both. Hands down, he would be happy with either one. I thought he was going to be put off by the hard toys because he loves stuffed animal toys, but I was pleasantly surprised to see him go crazy over the hard ones too!
What's Different About the Barkbox and Super Chewer?
The number of chews: Like I said before, you get one more chew in the SuperChewer Box than in a BarkBox. No complaints here, and Bruce definitely is not complaining!
The toys in SuperChewer:  boxes are specifically designed to be more durable and withstand some of the heaviest chewing dogs.
They are never made with fluffy filling, plastic, or "oh my goodness what is this squeaky thing that I must get out and destroy right now and then eat it and puke it up later" content. HUGE plus for me.
The Price: You guessed it – SuperChewer boxes are more expensive than BarkBoxes. However, it's not by much! Plus, you get another chew and extremely durable toys.
Let's Talk Bark for my Buck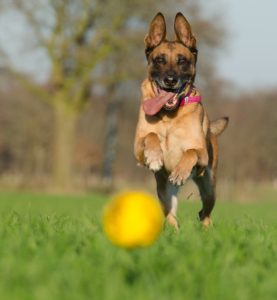 The standard BarkBox comes with three different subscription options. A 12-month subscription will cost 22 dollars a month.
Their most popular plan is the 6-month subscription which is 25 dollars a month. They also offer a single month subscription for 29 bucks for those who just want to try it out.
SuperChewer boxes offer the same style of options but at a higher price. 12-month subscriptions (which is what I have for Bruce) is 29 dollars per month.
6-month subscriptions are 34 dollars a month, and the single month is 39 bucks. These prices aren't a huge increase from the standard BarkBox, but you are getting another chew and their most durable toys!
It might seem like these prices are a little steep for a monthly subscription.
However, if you go to a pet store and buy two high-quality toys, two bags of allergy friendly, wholesome treats and two high quality chews, you could be spending around 50 dollars every time you go!
The value you get in a SuperChewer box for your money is no joke. You can check out the Super Chewer box, by clicking the button below!
Barkbox Gives Back Scheme!
I am always a sucker for companies that not only supply great products, but also make an effort to give back. Bark is one of those companies!
Bark is determined to promote more dog-inclusive environments and their focus is to make dogs happy and healthy. Not only do they help dogs that already have great homes, but also those who don't.
Bark works with rescue organizations, shelters and nonprofit organizations to help them raise funding and get the supplies they need to keep their dogs happy and help them find their forever homes.
Resources like toys, treats and food are so important for these organizations and Bark helps them get what they need!
The organization in need can send Bark an application explaining their needs and Bark works with them to supply discount codes and donations.
Plus, the organization gets a custom URL code for customers to use and a donation of 25 dollars is made by Bark for EVERY new subscription they get from that URL!
We adopted Bruce from a shelter, so this holds a special place in my heart. Shelters really do depend on donations and support from outside companies and organizations.
The fact that Bark takes the time to make a difference for dogs who need it most just shows how much they value service.
How amazing is this company??
Is the SuperChewer Box Worth It?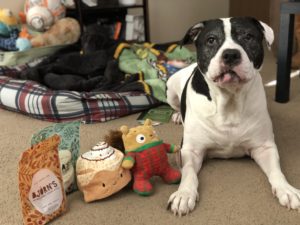 I absolutely think the SuperChewer box is worth the money. Nothing is more important to me than my dog's safety and happiness, and that means I have to provide the best quality care for him.
I think I'm one of the pickiest dog moms out there when it comes to the treats and food my dog consumes. I spend more time looking at ingredients in his food than I do the food I eat!
Bark makes getting treats and toys for Bruce so easy and stress free, and I know I don't have to worry about what is in the treats he's getting.
The amount of money I have spend on toys that Bruce just destroys in a day blows my mind! These toys withstand his super strong jaw and his love for chewing.
Plus, he loves the treats and I don't have to worry about searching for the right treats for him. These get delivered straight to my door!
If you have doubts about the SuperChewer box, try it out for just a month and see how your pup reacts. I have a feeling they, and you, will not be disappointed!
If you want to check it out for yourself, click here!
If you have any questions or comments, please leave them below!
Happy pup parenting!