Picking the right food for your best friend is challenging, especially when that best friend has allergies and sensitivities that you were not aware of.
My name is Elisabeth, and my family has four dogs. We have three dachshunds over the age of 10 named Max, Hilda, and Trudi. We also have a corgi named Winston who isn't quite three yet!
Trudi has a wheat allergy that causes her nose to bleed — poor baby — which is why we initially switched to Blue Buffalo, as they do not use wheat in their products!
What are Blue Buffalo's principles?
Blue Buffalo has a simple mantra: "Love them like family, feed them like family."
Blue Buffalo strives to provide pet parents with the best, healthiest products for their dogs. Meat is always first in its products, and Blue uses no by-product.
If you wouldn't eat it, Blue Buffalo doesn't want your dog to need to either.
Blue also advocates for the dog and cat community through funding cancer research and helping shelter dogs and cats find new homes.
Information on Blue Buffalo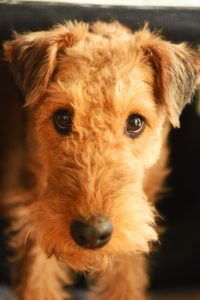 The founders of Blue Buffalo are dog parents, just like us! The Bishop family started Blue Buffalo company in 2002.
One of their pups, an Airedale Terrier named Blue, struggled with cancer. His struggle sparked their interest in pet health.
In response, the Bishops started the Blue Buffalo Foundation in 2003. This foundation gives funds to universities and clinics that are dedicated to understanding the causes, treatments, and prevention of dog and cat cancer.
In addition to their foundation, the Bishops work to produce the healthiest, all-natural pet food on the market. Blue Buffalo is produced in the US with all USDA approved ingredients.
Blue Buffalo does not use wheat, corn, or soy in their food because it can be difficult for dogs to digest and Blue also does not use artificial flavors and preservatives, or chicken by-product.
Also, for ease of of not typing "Blue Buffalo" out every time, I may just refer to them as "Blue" during this article!
Blue Buffalo Recalls history
On March 17, 2017, Blue Buffalo voluntarily recalled one of its dog food products. The Blue Wilderness Rocky Mountain Recipe: Red Meat Dinner Wet Food for Adult Dogs could potentially have high levels of naturally occurring beef thyroid hormones.
Essentially, the Blue Buffalo Company was worried that the beef thyroid hormones could cause dogs to have increased thirst, urination, heart rate, and restlessness, or weight loss. These symptoms should stop when you discontinue the use of the dog food.
If your pal eats it for too long, the symptoms could get worse and cause vomiting, diarrhea, or difficulty breathing. If this happens, your pup needs to go to the vet immediately!
The recall only applied to one batch of this particular product, it has the best buy date June 7, 2019, at the bottom of the can.
Only one dog was reported as possibly affected. Don't worry though! The dog has fully recovered.
In February of 2017, Blue Buffalo recalled some of its Homestyle Recipe dog food. It was possibly contaminated with aluminum.
That same month, Blue recalled wet dog food cups because of a packaging problem. The recall encompassed Divine Delights and Wilderness Trail Trays of varying flavors.
The Lead Lawsuit
Blue Buffalo has gotten some bad press recently and were sued over lead contamination.
The suit claimed that Blue Buffalo "Knowingly advertised and sold dog food contaminated with lead without including proper warning to customers."
The allegations were not backed by any evidence. Blue Buffalo does not have lead in its dog food, and the case was dismissed in March.
Why Choose Blue Buffalo?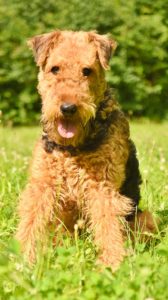 Blue Buffalo only uses natural ingredients. Blue has no chicken by-product in its meals, no artificial flavors and preservatives, and no corn, wheat or soy.
Not having wheat, corn, or soy was the main reason why my family chose Blue.
Life Source Bits are Blue Buffalo's special ingredient. They contain vitamins and nutrients that help support a healthy immune system, life stage requirements, and a healthy oxidative balance.
Basically, they are little nutrition nuggets that keep our furry family healthy!
Blue Buffalo is more than just a dog food brand and Blue works to fund dog and cat cancer research in memory of their pup Blue.
Blue also helps support animal adoption through three different programs: Home 4 the Holidays, Remember Me Thursday, and Shelter Stars. Each of these programs is designed to help dogs and cats find their new home.
What range does Blue Buffalo have?
Blue Buffalo has a wide variety of dog treats and wet and dry food.
Blue's treats are categorized by their type: Crunchy Dog Treats, Soft-Moist Dog Treats, Jerky Dog Treats, Dental Dog Treats, Training Dog Treats, and Seasonal Treats.
My dad particularly likes the dental treats to treat bad breath, and the pups don't seem to mind them either. The dogs generally wait to get their treat, and then they run to different rooms from one another to chew on them.
They just don't want to share!
Blue Buffalo also has different names for its wet and dry food, although some of the product lines do overlap.
Blue Buffalo has 5 dry food product lines: Blue Life Protection Formula, Blue Freedom, Blue Basics, Blue wilderness, and Blue Natural Veterinary Diet.
When my dogs reached adulthood, we started them on Blue basics. We regularly change which flavor we purchase, but our dogs have loved everything so far! I do not see us changing from Blue Buffalo any time soon.
We never fed our dogs wet dog food, but I know wet food can be more comfortable for small jaws to eat. Blue Buffalo offers four types of wet food: Blue Dinners, Blue Stews, Blue Family Favorites, and Blue Single-Serve.
I don't know if any of y'all have read the names of some of Blue's meals, but they sound like something my mom might call and say she made for dinner. YUM!
Below I have listed our favorite dog foods by Blue Buffalo. I have listed one product for each age group and one product for each dog size. Blue Buffalo has a wide variety of options for furry friends, take a look!
Best Blue Buffalo's Dog Food Products
        1. Blue Buffalo Freedom Grain Free Natural Senior Dry Dog Food, Chicken
This dry dog food is the best for senior dogs. It has deboned chicken as the first ingredient, and no grains or wheat that can cause your older dog to have an allergic reaction.
As our dachshunds get older, my family and I are learning how senior dogs need different things than they did when they were younger. We want to do all we can to keep the spring in our older dogs' step. They have to keep up with Winston somehow!
Blue Freedom for senior dogs has ingredients that help with their overall health. It also contains the special ingredient from Blue Buffalo: LifeSource Bits. Blue Buffalo Freedom Grain Free Natural Senior Dry Dog Food has small, easy-to-eat kibble for your older dog.
The senior variety is excellent for senior dogs of all shapes and sizes. Senior dog food is recommended for dogs 8 years and older.
2. Blue Buffalo Life Protection Formula Natural Adult Small Breed Dry Dog Food, Lamb and Brown Rice
Staying with the small kibble theme, this dry food is great for small adult dogs. Its first ingredient is lamb, and it is packed with healthy nutrients.
It has specific small breed benefits like being "high-energy" certified. It also contains Omega 3 and 6 to help promote healthy skin and fur.
Also, lamb and brown rice? This sounds like people dinner, right? It should! Our dogs are like family, and we want to feed them like family.
As always with Blue Buffalo products, Blue Buffalo Life Protection Formula Natural Adult Small Breed Dry Dog Food has no chicken or poultry by-product, no corn, wheat or soy, and no artificial flavors or preservatives.
3. Blue Buffalo Life Protection Formula Natural Adult Dry Dog Food, Chicken and Brown Rice
This adult dog food can be used for small, medium, and large dogs. If your dog is small, it only needs one meal a day, but larger dogs need two.
Chicken and Brown Rice Blue Buffalo Life Protection Formula Natural Adult Dry Dog Food sounds good enough to eat. Its first three ingredients in order are deboned chicken, chicken meal, and brown rice.
Blue Buffalo Life Protection is specially formulated to help with muscle development, keep the immune system healthy, and provide plenty of carbohydrates to keep up with the high-energy lifestyles our dogs may maintain.
4. Blue Buffalo Wilderness High Protein Grain Free, Natural Adult Large Breed Dry Dog Food, Chicken
This is the only Wilderness line product to make this line, but do not discount the Wilderness line. It has great variety and flavors to keep your dog happy and healthy.
Blue Buffalo Wilderness High Protein Grain Free, Natural Adult Large Breed Dry Dog Food is made with the best ingredients, including deboned chicken, chicken meal, fish meal, sweet potatoes, peas, potatoes, blueberries, cranberries, and carrots.
These ingredients help your large dog get the protein and vitamins he or she needs to stay strong. It is also made with Glucosamine and Chondroitin to help protect your large dog's joints.
5. Blue Buffalo Freedom Grain Free Natural Puppy Dry Dog Food, Chicken
This puppy food is great for developing strong muscles. Chicken is the first ingredient, but it also contains chicken and turkey meal to fill the food with protein.
It also has unique puppy benefits like DHA and ARA support for your puppy's brain and eye development and support for muscle and bone development.
Last, Blue Buffalo Freedom Grain Free Natural Puppy Dry Dog Food has unique "small-bite" kibble to make it easy for your puppy to gobble up all those nutrients and proteins.
Comparison With Other Kinds of Dog Food
Blue Life Protection Formula vs. Iams
If you compare Blue Life Protection Formula Chicken and Brown Rice to Iams Proactive Health Adult chunks, you can clearly see a balanced diet from both brands.
However, if you look at the ingredients, you can see that Iams uses chicken by-product.
There is never any chicken by-product in Blue products.
Blue Life Protection Formula vs. Alpo
Alpo is a product line from Purina, but meat is not the first ingredient!
Corn is the first ingredient in Alpo Prime Cuts Savory Beef, and it is challenging for dogs to digest. Alpo also does not have fruits or vegetables.
Like Blue Buffalo, Alpo does not use chicken by-product in this meal.
Blue Life Protection Formula vs. Purina ONE
Both of these brands have meat as their first ingredient and use no artificial flavors or preservatives.
Blue stands apart because it does not use chicken by-product, and it includes fruits and vegetables.
Blue Life Protection Formula vs. Purina Puppy Chow
Blue knocks Purina out of the park when it comes to its puppy chow.
Purina Puppy Chow does not have meat as the first ingredient, and it does not have fruits and vegetables.
It does have chicken by-product, artificial flavoring, and corn is its primary ingredient.
Blue Divine Delights vs. Cesar Classics
When it comes to wet dog food, it is vital that the food is as nutritious as possible. This comparison is between the Filet Mignon flavor wet dog foods.
Water is the first ingredient in Cesar Classics. Beef is the first ingredient for Blue.
Water is not on the top ten ingredients for Blue, Divine Delights have liquid from Beef Broth.
Cesar Classics also contains chicken by-product, beef by-product, and meat by-products.
I am not sure what the difference is between meat by-products and beef by-products, but it is not something I would want my dog to eat.
Blue Health Bars vs. Milk-Bone
Unlike Blue, the Milk-Bone's first two ingredients contain wheat. Milk-Bone also has no real meat in its treats.
Blue Health Bars contain real bacon and carrots. Milk-Bone has meat and bone meal from an unknown origin.
I personally do not want to feed my dogs treats if I do not know what is in them.
This was a long comparison, but it is important to read ingredients side-by-side when you are picking out the best food for your pup.
The general point is that other brands use by-product, wheat, and they don't always have meat as the first ingredient.
Are there any Blue Buffalo's products to avoid?
My family has never had an issue with Blue Buffalo products, and I did not find any products that stood out in a bad way.
Make sure to always pay attention to recalls on your pet's food to keep them happy and healthy — no matter what brand you decide to use.
My Experience with Blue Buffalo!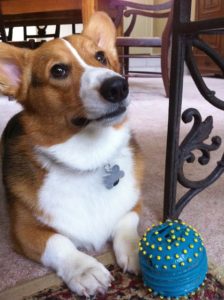 My family and I love Blue Buffalo dog food. We have been using it with our dogs for as long as I can remember. Unfortunately, Blue Buffalo is a little on the expensive side.
If you can afford to switch to Blue Buffalo, I would highly recommend it. Blue's products have never done me or my dogs wrong.
I spent a lot of time talking about dog foods, but I never addressed my personal favorite product from Blue Buffalo: Blue Bits.
I love Blue Bits. They are a soft-moist dog treat meant for training.
The dog food is great, but nothing is better than memories. When we first got Winston, our youngest pup and only corgi, we used these treats to "train" him.
I put "train" in quotation because it didn't really go that well — he sits, but he does not stay or listen to any other command. It is not the treats fault, he is like that because he was so cute as a puppy that everyone gave him the Blue Bits, regardless of if he had done what we asked.
I mean, how can you say no to a cute corgi puppy face? You can't. Or.. at least we couldn't.
Either way, we started using these treats almost as soon as we got him. He could eat them before both of his ears perked up.
I remember watching his little corgi butt waddle into his taxi for trips around town, and then he'd always turn around immediately and expectantly, waiting for his Blue Bit.
Final Thoughts: Blue Buffalo Dog Food Review
Overall, Blue Buffalo is a nutritious, all-natural dog food brand that stays true to its roots of pet health. Blue offers a wide variety of products for every dog's needs.
Meat is always the first ingredient in Blue dog foods, and Blue's treats have real meat.
Just remember, if you switch your dog over to Blue Buffalo. the food is very rich.
Start by giving your dog twenty-five percent of his or her meal as Blue and the other seventy-five percent as your dogs old food.
You should gradually transition your pup to a new food over two weeks to keep him or her as happy and healthy as possible.
I hope you enjoy Blue Buffalo as much as I have.
If you have any questions or comment, please leave them below!