Hello there, my name's Cailtin!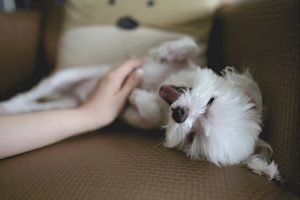 I remember the first time I brought home my precious pooch Ella!
I didn't want want to put her into her crate… I just felt so cruel.
Her cute little puppy face looking back at me made it really difficult to leave her in there!
But I did, because I knew it was the right thing to do, so that she got used to it.
Crates can be really useful for when you need to leave or transport your pooch, so it's a good idea to get them used to it!
In this post I will go over the best dog crates for your furry friend and also give you my 9 easy steps to training your dog to use their crate!
What is a Dog Crate?
So, you need to transport your love-able pup in a safe and secure way. You want to keep them in something that will be comfortable which will remind them of their natural den.
A 'home away from home' of some sort.
Dog crates are perfect for that.
Made of metal, wire, plastic or fabric, dog cages are a great way of travelling with your dog on new adventures and when discovering new surroundings.
Or simply when taking them to the vet's!
Not only are dog crates brilliant for transportation, they're also useful for toilet training; keeping your dog safe in different locations; training your pup; as well as a hideaway for your pet when visitors come over.
Much like a crib or a playpen for a toddler, dog crates allow you as the owner to relax and get on with chores around the house, knowing that your pup is safe and happy in their cage.
However, it's really important that – just like young children in playpens – you mustn't keep your dog in their cage for too long, as this can cause your pet to become distressed or even cause psychological damage as a worst-case scenario.
Crate training is a good idea to get your pup used to the cage, initially, so that they can become accustomed to it and feel more at home.
What Are The Different Types of Dog Crates?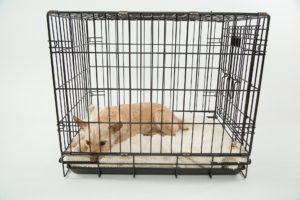 Once you've decided on getting a dog crate, you'll need to choose one that'll suit you and your pup.
There is a wide variety of dog crates to look at, so you won't be spoilt for choice!
So, here are 7 different types of dog crates you can choose from:
Steel Crates (crash-tested)
These are designed especially for the car, van or any other type of road vehicle. They're designed with what's known as, 'crumple zones' which actually work with the crumple zones of the vehicle you're driving, to absorb any impact in the event of a crash. Hence being crash-tested in the lab for yours and your pet's safety.
It's worth noting, though, that while these crates may seem pretty sturdy (and they are!) they're only intended for use in road vehicles, not aeroplanes or for carrying your pup around in outside of the vehicles.
There are 2 different types of aluminium crates you can get: folding or fixed. The wonderful thing about aluminium is it's strong but lightweight, it doesn't rust, and allows plenty of air into the cage for your pup.
These type of dog crates are considered to be 'all-rounders' because they're suitable for car travel, trips to the vet, as well as a den or a hide-away at home. The aluminium cages with solid walls tend to make pups feel more secure, although some may prefer to see out of the ones with bars.
Wire crates are generally quite heavy, though they can be folded away for storage. You can get a wide range of sizes with pads and covers for added comfort. These crates can be used for car transport and at vets and kennels. Your pup will have a much better view and airflow from inside these cages.
Owners will recognise these wire crates as being widely used at dog shows. Spectators can view dogs more clearly and the wire makes it easy for rosettes and sashes to be hung on them.
These are considered to be safer than wire crates for transportation in a car and are suitable for aeroplane travel. The only issue with plastic crates is that they aren't foldable, so you will need plenty of room to keep them in.
So, these basically comprise of a metal frame base with a fabric cover. These are really lightweight and can be folded for storage. Dogs can enjoy good visibility and air circulation, whilst feeling safe and secure.
Not ideal for transportation nor are soft-sided crates a good idea for dogs who might chew or dig at the crate.
These are purely for the home. The wooden or rattan material design is meant to suit the home décor rather than being suitable for transport. Best for calm and less destructive dogs.
Dog tents are super lightweight and can fold down to a really small size, so they can pretty much be carried around anywhere – whilst camping, hiking, the beach, etc. Just shove them in a tent bag and away you go!
So, these type of dog tents are suitable for active dog owners whom are into sports and travel with limited space. Just ensure that your pup is housebroken and that the dog tent is not in use during vehicle transport.
Why Choose a Plastic Dog Crate?
Let's take a look at some of the advantages of owning a solid plastic crate for your pup:
If you're a traveller who loves the great outdoors and is permanently on the road, then having a crate that you can pick up and carry around effortlessly is a huge plus. Regardless of the size, plastic dog crates are exceptionally light.
Small dogs, puppies or short-haired dogs will really benefit from plastic dog crates particularly in colder climates. However, long-haired dogs in warmer climates may not receive the benefits of a warm crate!
Depending on the type of plastic crate you buy, you can either take it apart for storage or remove the top, so your pup can enjoy the benefits of a bed. Just make sure you purchase one that has this feature.
In general, plastic dog crates have less visibility than wire crates, for example, so your pet will be less distracted. This in turn, may calm them down and help them to feel more secure and at peace.
Most airlines will accept plastic dog crates for transporting your pup with you on your travels – but make sure to check beforehand so that they meet safety guidelines. These are usually the more approved form of airline crate.
Best Plastic Dog Crates
Below are the top 3 plastic dog crates that we've found to work best for most dogs. Of course, every dog is different, and you'll have your own preference, so this is simply a guide.
        1. Petmate Sky Kennel
The Petmate Sky Kennel offers a great deal of comfort for your pet whilst keeping them safe and protected.
The shell is made from durable plastic with an extra strong steel wire for the door and windows.
The wing-nuts are non-corrodible, and the interlocking door provides better protection. Plastic nuts and screws.
This is the ideal crate for meeting airline requirements being approved by both the USDA and the IATA.
It can be easily put together – top and bottom – in a matter of minutes. It'll take a weight of 30-50lbs as it's strong and secure, and even has properly distributed handles on the sides for safe lifting and carrying rather than on the top.
The Sky Kennel features additional holes in the 4 corners, as well as at the top and bottom of the interlocking door.
This allows for extra protection with zip-ties, so your pup won't escape.
The Sky Kennel comes with "live animal" stickers for transportation, clip-on bowls, padding and ID stickers which fulfil the basic airline requirements.
2. Aspen Pet Porter Heavy-Duty Pet Carrier
The heavy-duty plastic shell complete with metal screws maintains the strength and endurance of this crate for longer.
Incredibly lightweight for ease of transport, the Aspen Pet Porter features several ventilation openings for better air circulation and views for your pet.
Easy to assemble with metal nuts and bolts to securely fasten the top and bottom, complying with airline safety guidelines.
Not only is the Aspen Pet Porter easy to wipe-down clean, but it also features additional tie-down holes for added security, and the easy-open latch can be opened with one hand.
This kennel can accommodate a weight between 70 – 90lbs and comes in a wide range of either neutral or vibrant colours.
Pet owners have found that their pups enjoy going in and out of their den – if only for a snooze.
Previous owners have also commented on the quality of this crate with a non-corrosive metal grate that keeps the crate staying bright with good airflow.
3. Petmate Compass Plastic Pets Kennel with Chrome Door
Durable plastic and heavy-duty construction make up the Petmate Compass which helps keep your pets safe, giving you as the owner, peace of mind.
The 2-way door opens on either side for better freedom for your pup, and the quick and easy 'slide and snap' assembly can be secured using a 4-bolt design – free of tools.
This Plastic Pets Kennel provides upper and lower ventilation for increased airflow and more visibility.
A sliding top and bottom make easy-access for cleaning, and since this crate meets most airline specifications, travellers can relax, but do check with individual airlines.
It comes in a combination of colours such as Pearl White/Black and ranges in size from 10 – 90lbs.
Always ensure the height of the crate is 3-4 inches taller and longer than your pet to give them plenty of room to roam around in and spread out, comfortably.
The Petmate Compass fits snugly in trunks of SUVs with a secure latch to keep your dog safe.
Instructions are easy-to-follow and the quality is excellent for the price.
When Not to Choose a Plastic Dog Crate?
So, although plastic dog crates may seem fairly universal, particularly when it comes to travelling, they may not suit every dog owner, and they most certainly may not suit every dog.
Here are some of the disadvantages we've found when it comes to plastic crates:
These crates don't fold away flat, so if you're travelling with your pet, you will need to take this into account before you set off. You'll also need to make permanent room in your home for one of these crates.
Some dogs love solitude and quiet time. They may whine if they get too distracted by everything going on around them.
However, other dogs crave the outdoors and thrive on distraction, so plastic crates may not be suitable for these types. They may cry or whine to tell you that they're feeling confined.
Of course, less wire and more plastic mean less air circulation through the crate as your pup might like, which may not be an issue in colder climates, but may certainly be somewhat uncomfortable in warmer climates.
Again, this is something that will need to be taken into consideration if you decide to travel to sunnier parts.
Plastic crates can be difficult to keep clean over time, as the materials in a plastic crate can accumulate dog odours and smells. Be mindful of this if you plan to keep one of these crates in your home.
Why Choose a Wire Dog Crate?
Let's take a look at some of the advantages of owning a wire crate for your pup:
The slide-out trays underneath these wire cages catch any accidents and make cleaning easy. Odours can escape through the wire.
Plenty of air circulation going on in these crates, so your dog can keep cool during hot weather. Long-haired or large dogs will be particularly grateful as the crate is completely open.
An open crate means views all-round! High-energy dogs will love this especially, so that they can witness everything going on around them and will feel less confined or enclosed. This will depend entirely on your dog, however.
Most wire crates can be folded down with ease and efficiency and put away for storage or travel. It's worth noting, however, that wire crates which have corner drop pins may not be as convenient to set up or store away.
Wire dog crates come in a wide range of sizes, and some can be quite large – suitable for allowing your pet plenty of room to grow. Wire crates tend to be on the more expensive side but will work out more cost-efficient in the long-run, especially since they can be put away when not in use.
Best Wire Dog Crates
        1. AmazonBasics Single Door and Double Door Folding Metal Dog Crate
The double-door design of the AmazonBasics wire crate makes life a lot easier for you and your dog given the front and side entry.
There are 2 side-bolt latches for added security, and the sturdy metal folds away easily for transport and storage.
It comes with a removable 'waste' tray which makes cleaning a doddle, as well as a divider panel, and this is useful for growing pups.
It simply makes the crate smaller and can then be adjusted to create more room as your pup gets bigger.
The idea of creating a smaller crate for your pup is so that they won't go to the loo on one side of the crate while sleeping on the other side.
Fold your crate away flat for compact storage – no tools required. The frame of the cage fastens securely, and the metal loop side handle make transportation easier.
Previous owners have wrapped blankets around the bottom tray to prevent their pup from chewing up the comfort pads at the bottom. It's important to get the right size for your dog, however, one owner commented on the crate being a perfect fit for their 51lb Golden with a 42" long crate being ideal for their dog when lying down.
The cost over quality of this cage is exceptional considering the ease of putting it up and putting away.
One owner mentioned that their 48" tall crate was a great size for 2 of their dogs together – since they were litter mates, they didn't like being apart.
2. MidWest Homes for Pets – Folding Metal Dog Crate
Another double door crate for easy access, the iCrate comes with a divider panel, dog tray and carrying handle.
The heavy-duty slide bolt latch gives extra safety and will keep your pet shut securely inside their home.
Really easy to assemble and fold away for storage, the iCrate also features "roller" feet for moving around the room while preventing your floors from damage.
No tools required for set up, and the patented corner clips minimise the risk of sharp corners and edges.
The iCrate is particularly useful when it comes to housebreaking, potty training or 'disciplining' unwanted behaviours.
The crate will need to grow with your pup so choose one that will be tall enough for them to stand up in and long enough for them to lie down in, legs outstretched.
Just make sure that the cage isn't too large as this can be a little daunting for your pup and won't give them the desired feelings of security.
One owner mentioned the ease and comfort of having their 100lb German Shepherd in one of the 42" sized iCrate, allowing their pet to lie with their front legs stretched out.
3.MidWest Life Stages Double Door Folding Metal Dog Crate
The MidWest Life Stages crate can accommodate dogs up to 27" tall and, like with the other 2 wire crates, has double doors for easy access – front and side – and comes with a divider tray, roller feet and sliding dog tray.
The difference with the Life Stages wire cage by MidWest is that this one is made of a heavier gauge steel with a tighter wire mesh.
That makes this crate considerably stronger and more durable than the iCrate.
2 side bolt latches – one for each door – to keep your pet fastened securely. Easy to assemble with patented rounded corner clips for safety.
The MidWest Life Stages crate is perfect for a growing dog with sturdier wire than others which makes chewing and bending more difficult!
2 doors for entering and exiting so keep your cage in a position where the side door is needed. Constrain puppies with the dividing panel and move the panel as your pup grows.
It's best to introduce blankets or comfort padding once your pup is fully reliable and toilet trained in their crate.
Folding away and setting up is simple and effortless and the value is excellent for the quality and efficiency of this cage.
Some dog owners have reported that their pet feels at ease in their crate whenever they're scared or in trouble, but especially like to lie down on the cool plastic when they're too hot.
Naturally, wire crates have excellent ventilation and so perfect for warmer climates or hot, sunny days.
When Not to Choose a Wire Dog Crate?
So, although wire dog crates offer plenty of air circulation, easy access and smooth setting up and folding away, there are a few downsides which may not suit you or your dog.
Here are some of the disadvantages we've found when it comes to wire crates:
Wire crates are not lightweight, so do bear this in mind when travelling with your pup. There may be a fair amount of heavy-lifting involved. Always ensure that you buy the right wire crate for your dog in terms of size, weight and ease of lifting, i.e. position of handles.
Since the wire crate is so open, smaller dogs and short-haired pups may not be too keen on the lack of insulation that comes with these types of cages – particularly in colder parts of the world.
While some dogs love to be around all the commotion, being separated from the crowd – as it were – may cause them some distress or feelings of anguish, since they can't join in. As a result, your dog may take to whining or crying out their emotions.
Why Choose a Soft dog crate?
Let's take a look at some of the advantages of owning a soft dog crate for your pup:
Soft-sided crates are, without a doubt, far easier to manoeuvre in and around the car, as opposed to wire crates or hard plastic ones. And this is especially ideal for small cars. Soft-sided crates won't scrape the metal of your car and can be lifted in and out with very little effort. Steel-framed crates are better in terms of safety in the car.
These types of crates typically come with front and back flaps which can be opened and closed offering your pup some privacy and downtime when they need it, with the option of being able to see everything around them when open, if they prefer. This appeals to a wide range of dogs, therefore.
Break soft crates down smoothly and shove them in between the smallest of spaces if needed. Ones with wire frames enable you to fold the crate into a flat square and some will allow you to twist the frames so that the crate can fold over itself for an even smaller storage size. Some steel-framed ones will need to be removed before flattening.
Best Soft Dog Crates
1. EliteField 3-Door Folding Soft Dog Crate
The EliteField soft crate will give your dog a much more comfortable and spacious experience.
Easy to set up and fold down, the steel tubes and high-quality fabric cover provides plenty of ventilation and sturdiness, whilst being lightweight at the same time.
The mesh doors at the front, top and side, allow better air circulation and light through the washable fabric cover.
This soft crate comes with a carrying bag and a fleece bed, handling straps, as well as an adjustable padded shoulder strap.
Calmer dogs will definitely appreciate this type of crate – as will their owners! Previous owners have commented on the convenience of managing the weight of the crate and manoeuvring it in and out of rooms.
The corners have an extra layer of canvas material for added protection, and the zipped pocket built into the top of the crate is a great little place to add accessories like doggy bags, leash, etc. And of course, there's the 2nd zipped canvas accessories bag for even more storage.
One owner remarked on the convenience of being able to fold down the crate with the bed still inside, also.
2. 2PET Foldable Dog Crate – Soft, Easy to Fold & Carry Dog Crate for Indoor & Outdoor Use
This all-in-one foldable dog crate is versatile enough for indoors, outdoors, training and travelling.
The strong steel tube design gives you the confidence you need to carry your pup around in the crate and can be folded and unfolded in a matter of seconds, then carried around using the top handle.
The soft fabric cover is washable, and the steel frame is water resistant. One thing to note about the 2PET Foldable dog crate is that this improved design comes with a full-frontal zipper that your dog won't be able to chew so easily.
Great ventilation and allows natural light, owners have found these crates to be durable with an excellent range of colours from which to choose from.
Previous owners have purchased this type for back seat trips as the seat-belt is easy to thread through the back and top handles to keep this nice and secure in place.
Other owners have found this crate to be of particular use when crate training by leaving it in the kitchen and by purchasing the appropriate size, their pup can grow with the crate.
3. Noz2Noz Soft-Krater Indoor and Outdoor Crate for Pets
This durable well-ventilated crate is great for pets weighing up to 70lbs and is perfect for both indoor and outdoor use.
The rounded corners of the crate provide added protection for your home and the mesh fabric is made of a heavy-duty, tight weave – slightly different from the others – making it more durable and withstanding.
One owner has used this crate for their 42", 80lb Golden Retriever and is a perfect fit.
The crate is ideal for frequent travelling around the country and is found to be much more advantageous than using a wire crate for taking in and out of the car.
Make sure that the zippers are closed completely. There is a latch and a hook on each door for further security and peace of mind.
Why not choose a soft dog crate?
So, although soft dog crates are far more favourable when it comes to lifting, manoeuvring and packing up and down, there are some reasons why you might not want to purchase a soft crate for your dog.
Here are some of the disadvantages we've found when it comes to soft dog crates:
If you have a particularly restless and lively dog, this may not be the crate for you (or him, for that matter!) Once the crate gets into the grip of their strong jaws, you'll be amazed if it's still standing by the time you get home.
Unfortunately, there's not a great deal you can do to try and prevent them from tearing their cage to pieces, once they've got that in their mind – even the steel-framed crates won't hold them back. Best suited for calmer dogs.
Fabric material is not the simplest of materials to clean doggy doodle off of, so not a great idea for pups who aren't house trained. The crate will still need to be cleaned, occasionally, however, to eliminate any doggy odours or hair build-up, so this is where the washing machine comes in!
Unlike wire or plastic crates, soft sided crates come with a zip which your dog may figure out how to use and open. This is the last thing you want when travelling and certainly if you need to keep you pet out of the way for any amount of time. These are not as secure as bolted latches, therefore, so choose a small lock if you get one with a double zipper.
Other Best Dog Crates to Consider
        1. Guardian Gear ProSelect Empire Dog Cage
This 20-guage steel cage with 0.5-inch diameter steel tubes comes with strong latches and the thick steel construction makes this a difficult crate to break out of for even the toughest of dogs!
The floor grate comes with a slide out tray for easy cleaning, and you can even attach removable casters to the bottom of the tray to roll the crate to where you need to go without damaging floors and surfaces.
Strong welds and dual latches on the door give this door a 10 in terms of strength and resistance!
2. Crown Pet Products Wood Pet Crate End Table
This hardwood dog crate with lacquered finish will sit beautifully in your home, blending in with the rest of the furniture, making it look part of the décor.
The swing-through door rotates inside so it won't be a hazard, and the multiple bars offer excellent ventilation and views for your pup.
The floor of the crate is covered in a waterproof melamine cover which prevents liquids and odours being absorbed and helps keep the crate looking and feeling fresh.
The Crown Pet Wooden crate can take dogs up to 8-lbs in weight.
3. Zaihe Pet Teepee Dog & Cat Bed – Portable Dog Tents & Pet Houses
A natural cotton canvas – a different twist to your average dog crate!
This is a great den for small dogs up to around 30lbs. It comes with pine wooden poles, a small blackboard and a cotton cushion.
Machine washable, easy to assemble, easy to transport and move around, plus the cute Tepee design will add a unique touch of décor to your home.
What's not to love about this one?
How to Train Your Dog to use a Dog Crate
Crate training is a useful way of getting your pup to use their den as a haven or a safe place to sleep. It essentially works as their go-to place where they can seek refuge from noise and distraction or as a home-away-from-home when travelling to unknown parts.
Here are 9 easy steps to follow as a guideline for training your pup:
Size
Always ensure you measure your pup and get the right size crate for them to grow in, so that they can stand, stretch out and lie down in.
Either buy 2 crates – one for when they get bigger; or buy one that you can partition off to make it smaller and then remove when they grow, like wire crates for example.
Type
After reading the above, you may have decided upon which crate would suit you and your pup's lifestyle.
Perhaps you may want to purchase 1 or 2 different types, i.e. one for the home and one for transport?
Weigh up the pros and cons until you find one best suited.
Entertainment
Keep your pup's favourite toy or comforter in this crate so that they can associate the comfort with their new den.
Just make sure that there are no sharp bits or parts that can come off and be a choking hazard.
Keep the den within your range of vision so you can keep a close eye.
No force
Be calm and patient.
Once you've introduced your pup to the crate, let them know that they can feel safe here.
Don't use the crate as a form of punishment.
Open door
Keep the crate door open in the early days so that they don't feel confined. Allow your pup to go in and out and explore and investigate but always give them the option to leave if they want.
Praise
When they go in voluntarily and lies down or sits for any length of time, ensure you shower them with praise.
Give them lots of attention and plenty of encouragement.
Offer treats at this time so that they will associate the crate with positivity.
Meals
Give your pup their meals in the crate. They will love the crate for it!
Always keep the door open so they can go in and out, and over time, you can put the bowl further and further inside the crate.
Close the door
Once pup is happy with eating in the crate, you can close the door while they eat.
Open once they are finished eating. They will get used to having the door closed on them and won't have too much of an issue with it.
Over time, gradually increase the length of time you keep the door closed before you open it again, i.e. after 2 minutes of eating, after 5 minutes, after 7 minutes, etc.
Crate Command
Whenever you entice your pup into their crate, i.e for feeding or treats, always use a simple command, such as 'crate' or 'kennel' as well as a hand gesture.
Then try saying the command on its own without anything else to encourage them into the crate and reward them every time they go in.
Final Thoughts
Plenty of types from which to choose from and to conclude, there really isn't a 'one-type-fits-all' kind of crate.
Each crate really will be dependant on your lifestyle, whether you're a frequent flier, an on-the-roader or whether you simply want a cute little Tepee for your Chihuahua to curl up in front of the fire in, when you return home from work for a bit of Netflix!
As mentioned, it may be a good idea to get a couple of crates – especially one that will meet airline standards, and perhaps one for fastening in the back seat of the car.
Of course, you wouldn't stuff your Pitbull on heat in a soft dog crate, so you may find a wire crate would suit them in the hot summer months.
Just remember to get the right size for growing dogs; train them up well and enjoy!