Hi, my name's Irena and my youngest dog is called Sherlock. I love him to bits, but he can be a little terror when I take him out for a walk.
Sherlock was dumped in the olive grove next to my house when he was just around three weeks old, but even then I could tell he was going to be a handful.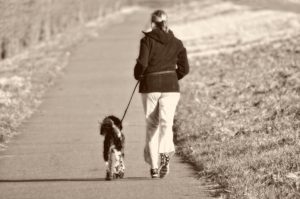 I started walking Sherlock when he was four months old and I used a harness and a fixed leash. All well and good for the first few months, but then he started wanting to explore more.
I am not very good at running and with such a short leash, that's all I seemed to be doing and it wasn't that much fun.
Then it dawned on me; why not get a retractable leash. I had been using a fixed lead and it just wasn't working.
So what is a retractable lead? Simply it's either a leash made out of cord or tape wrapped around a spring-loaded contraption inside a plastic casing.
There's a handle and a button to control how far the leash goes or if you want your dog to stop.
First of all, I bought an inexpensive retractable leash, imagining that they would all be the same, but it broke within a couple of weeks. It was very disappointing and the second leash I bought didn't fare much better.
In the end I thought that perhaps I should do some research and found there were a lot of leashes out there which were a little more expensive, but they had good reviews.
So which one to choose?
Sherlock weighs around 60 pounds so I knew that the best option would be to get a heavy duty retractable leash.
What to Consider Before Buying a Heavy Duty Retractable Dog Leash
Dog walking should be a leisurely activity, but sometimes your dog is just plain over-enthusiastic, like my Sherlock. He wants to go every which way and to explore to his heart's content.
To decide which high duty retractable leash would be the best for your pooch, you have to first consider the weight of your dog and then the length of leash you want.
Leashes usually start at 10 feet and go up to 26 feet.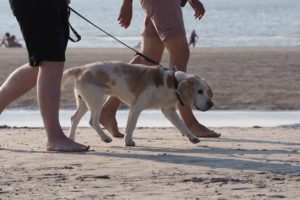 Then think about the location you are in. If you walk your dog in open countryside, a retractable lead is perfect, but if you live in a town, perhaps not so much.
The general behavior of your dog also comes into play. If he is disobedient and won't stop when told to, a retractable lead is probably not for you.
A dog who doesn't do what he's told can cause injury both to himself and to the pet owner.
Retractable leashes can get tangled and if the dog doesn't stop when called, it can cause your arms being yanked and neck and back injuries to your dog.
A solid heavy duty retractable leash feels substantial, but if you have shaky hands or an illness like arthritis, a fixed leash might suit you better.
Dog Size vs. Which Lead to Get
These dog leashes generally come in four sizes; extra small for dogs weighing between 18-26 lbs., small for dogs weighing 26-33 lbs., medium for dogs weighing 33-44 lbs., and large for dogs weighing 44-110 lbs.
There's nothing stopping you from buying a size up. It may cope better with the over-enthusiasm and strength of your pooch.
If you are worried that your dog is too heavy and that the large size would be too small, I have found that there are a few leashes out there which can handle a dog up to 150 lbs. See below for more details here.
Then there is the decision to be made of what type of leash you should get. Generally cord-type leashes are suitable for smaller dogs, while tape-type leashes are stronger and work well for bigger dogs.
Is a Heavy Duty Retractable Dog Leash Suitable for Your Dog?
Perhaps you think that you don't need a heavy duty leash for your dog because it's small.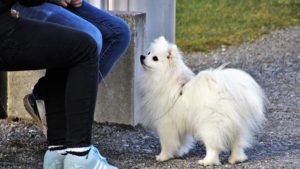 However, there's nothing wrong with buying one for your smaller dog as it will give you extra control over its' movements.
If your dog is old or sick, there probably isn't any point buying a high duty retractable leash. A fixed lead will suffice.
As we have said, retractable leashes are not always suitable for untrained dogs. Train your dog to walk to heel on a fixed leash and then think about purchasing a retractable one.
What to Look For in a Retractable Dog Leash
It's not a good idea to go for the cheapest leash out there as I found to my cost. You will end up spending more in the long run if you have to keep replacing them.
The things you need to look out for are the length of the leash and the material used. You need to check if it's going to be strong enough for your dog's breed, size, and temperament.
Another thing you need to consider is where and when you will be walking your dog. If it's in a city, you will probably need one of the shorter leashes. If you want to walk at night, a reflective leash would be best.
Will you want to walk more than one dog at a time? It's not advisable as the leashes could get tangled, but there are double leashes out there if you are determined to try it out.
What to Watch For When You Take Your Dog Out on a Retractable Dog Leash
So, you've been using your retractable dog leash for a while and it's working out well. However, there are a number of things you need to check each time you take out your dog.
The most important thing to check is the condition of the leash. If the leash is frayed it may snap.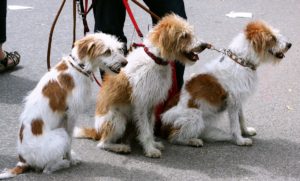 Make sure that it is still extending and retracting.
Also, accidents do happen, there's no doubt about that. However, if you think ahead, you should be able to avoid them.
Don't retract the leash suddenly when your dog is running. It could cause him serious neck and back injuries.
If you are not using the leash correctly; for example letting it get tied around a tree, trying to untie it while your dog is attempting to run on may cause you cuts, burns, or bruises.
Always hold the leash by the handle. Holding onto the leash itself may cause injury.
Pros and Cons of a Heavy-Duty Retractable Dog Leash
Pros 
Your dog can go at his own pace and explore without too much restriction.
A great idea for dogs who are already leash trained on a fixed lead as they won't run off and pull you over. They will get extra freedom while you are still in control.
With a well-trained dog, you won't need to use any force to stop your dog running wild.
These leashes have a smooth retraction mechanism which can easily bring your dog to a halt without tugging him.
The handle is more comfortable to use than on a fixed leash.
Cons
These leashes aren't suitable for badly behaved or untrained dogs.
The rope can get tangled especially if you are somewhere like a woody area.
There is a risk of injury such as friction burn, bruises, and cuts.
My Top Five Heavy Duty Retractable Dog Leashes
So, using my experience from using heavy duty dog leashes, i've had a look online to find the best dog leashes available.
Hopefully this will help and you won't have to bother searching through pages and pages of dog leashes.
There should be something for everyone, but make sure to read the reviews, as they may answer questions that you have about the product!
1. URPOWER Upgraded Retractable Dog Leash
This leash comes in two sizes, medium for dogs up to 55 lbs. and large for dogs up to 110 lbs. I naturally chose the largest one for Sherlock as he has a mighty pull.
The leash extends to 16 feet and has a 360 degree tangle-free rope mouth. It is made from a strong and durable nylon which can cope with the antics of a very lively dog.
There is a one button brake and lock system, which allows you to adjust the distance between you and your dog. You will always want to keep him in sight so you can pull him in if it looks as if he wants to run off somewhere.
The handle is easy to grip and strong enough when your dog pulls it. It is made of ABS plastic casing which is very tough and hard to break.
2. TaoTronics Retractable Hands Free Dog Leash for Large Dogs
This is a completely different retractable leash, but I had to mention it as I'm sure it will suit a lot of people, especially those who lead busy lives.
This leash is completely hands-free as you wear it around your waist. You can answer the phone or read the paper while walking your dog as long as he's well-behaved.
There are handles for extra control, one at the waist and one at the collar, so if you feel that something like a dog fight might happen you will be able to control your dog.
The great thing about this leash is that it is suitable for dogs up to 150 lbs.  However you could even use it with a smaller dog if you prefer the hands-free approach.
It stretches up to 67" which isn't quite as long as some of the retractable dog leashes out there, but it still gives your dog more freedom of movement than a fixed lead and you the opportunity to see where your dog is.
3. Triton Retractable Dog Leash Tangle-Free, Heavy Duty Leash with Anti-Slip Handle
This is a heavy duty leash which is suitable for small and medium sized dogs. Just because they're that much smaller doesn't mean that they're not energetic and can benefit from a heavy duty leash.
It's easy to operate, giving you more time to check on your dog. It has a one touch locking and unlocking system meaning that you press a button to extend it and then again to stop it.
The retractable leash extends to 16 feet, which gives your dog plenty of space to roam.
The leash is made of 100% nylon ribbon which is strong enough to withstand most things apart from chewing. Don't let your dog play with it when not taking him for a walk as you might come back to find it frayed.
The leash has an anti-slip rubberized handle which is very easy to hold onto while your dog is dashing about.
It comes with a free water bowl which simply clips to the leash or collar. This is a great idea for those hot summer days when your pooch might want a drink.
An added bonus is that this leash comes with a lifetime replacement guarantee. What could be better than that?
4. SparklyPets Heavy Duty Rope Leash for Large and Medium Dogs
If you have a large and strong dog, this leash will suit you down to the ground as it is braided with tough nylon making it into a rope.
As well as the rope, there is a metallic hook, leather joints, and an elastic bungee. The bungee extends the leash from 43.3" to 68" and it helps to offset any pulling by your dog.
This leash is suitable for dogs who wear out their leashes quickly and an added bonus is that it's chew-resistant. I think this might suit Sherlock as he has masses of energy and loves to chew.
The leash has a padded handle which will protect your hands from burns, bruises, and cuts. It is a little different from the usual plastic casing, but it works just as well.
Perhaps you like to walk your dog at night? It can be fun, but perhaps a little dangerous. However, if this is something you enjoy, this leash is the ideal choice as it is reflective.
5. Flexi Explore Retractable Dog Leash
This is a great leash for larger and stronger dogs, although it does come in a small and medium version as well. Whichever you choose, you will find that it can cope with rough pulling from your dogs. It is one of the strongest leashes out there.
The leash is made from high-quality nylon and the casing is solid and durable. It is easy to hold onto so there should be less chance that you will end up having to let go of the leash.
This leash is long, believe me. It extends to 26 feet, longer than any we have mentioned so far, so if you live in the countryside with wide open spaces it's a great leash to have.
Your dog can wander and explore to his heart's content without you having to take your eyes of him.
If you have a dog which weighs up to 110lbs, this will be perfectly suitable. If your dog is heavier, the TaoTronics leash is a better bet.
This leash works very simply and you only need one hand to operate the braking and recoil mechanism. The lock button allows you to adjust the lead to the length you require.
In the small and medium versions, the leash is made out of cord, but in the large model it comes as strong tape, suitable for the strength of your larger dog.
As an extra bonus, you get a safety collar with this leash.
Final Thoughts
I believe that I have shown that a heavy duty retractable leash is a good investment. It will give your dog a chance to explore more and be free to an extent, while you still have the ultimate control.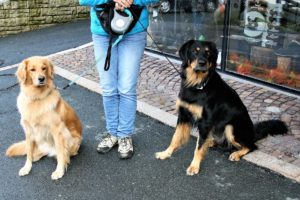 These leashes aren't wildly expensive and you will find that there is a different range of prices out there which should suit most budgets.
I learnt the hard way that buying a cheap leash was a mistake. There are so many things that can go wrong with them, like jammed mechanisms, broken casings and frayed cords.
In the long run, they can become dangerous both for you and for your dog.
Hopefully my suggestions will help you to make a quick choice as to the best high duty retractable leash for you.
I have told you about leashes for all different sizes of dogs, different lengths of the leashes, and other features such as accessories.
My dog Sherlock is a great example as to how good these heavy duty retractable leashes are. He seems like a completely different dog with this leash.
He enjoys running and exploring, but he doesn't pull anymore which is such a relief.
I hope that you've found this article helpful and if so, please leave a comment below and share my thoughts with your dog-lover friends and family.