Walking your dog should be a fun, healthy bonding experience for both of you, as well as other dogs and people you meet along the way. However, sometimes pups can get a little excited during walks and start to pull.
Keeping your dog safe on adventures is always important, so that means you need to have control over them. A great way to do this is to put them in a harness!
However, there are so many different harnesses out there it can be difficult to decide which one is best. Material matters! I've found that leather harnesses offer some of the highest quality material you can find.
Hi dog moms and dads! My name is Bri, and I am a loving dog mom to by American Bulldog, Bruce. Bruce weighs a whopping 95 pounds. He walks great on a leash, but being a bulldog, he's stubborn.
When Bruce is ready to stop walking, he plants his feet and will not budge. Sometimes it's funny, but sometimes he does it in the middle of a street and it's the most inconvenient thing he could do.
This is where I'm thankful for Bruce's leather harness. I'm able to pull Bruce to our next destination without hurting him because the harness gives me full control.
Like I said, there are so many harnesses out there that make it hard to pick which one is right for your dog.
In my experience I have learned that I (and Bruce) prefer a leather harness, so I put together a list of the top 4 leather harnesses to help you narrow down your search!
Types of Harnesses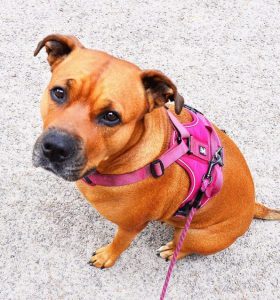 Harnesses vary in all shapes, sizes and materials. There are nylon harnesses, fabric harnesses, leather harnesses, and so many more.
Harnesses also come in three main different styles, which are categorized by how you put them on your dog. One of them slips over your dog's head.
The other style, which I think is a bit easier, has your dog simply step into the harness. Both these styles are completely personal preference.
The last style is the head harness. These are great for training, especially if you have a dog with lots of loud energy.
Bruce is a big dog, so for me, it's easier to place the step-in harness on the floor and have him walk into it. Then all I have to do is clip it on his back. We'll go into more detail on how to get your dog's harness on later!
Why Choose a Leather Harness?
Leather harnesses are beneficial for many reasons. Just like a leather belt, the material is strong and durable.
Here are the top reasons why leather belts are the best choice:
1. Leather is an extremely durable material, and dogs can put harnesses through a ton of wear and tear.
2. Leather typically lasts a very long time so you can spend more time with your dog and less time finding a replacement harness!
3. Unlike some harnesses that are made of woven plastics, leather is a natural material that isn't as likely to cause common skin irritations in dogs! This was a huge deal for Bruce because he has very sensitive skin.
4.Its soft and flexible. If you've ever owned a leather belt, you might have noticed that it's soft and flexible. This is great for comfort reasons for your dog.
Leather will have some give to it so it will fit your dog better and be much more comfortable!
How to Measure a Dog for a Leather Harness:
Getting a properly fitting harness is the most important step! If your dog's harness is too big, it could allow them to slip right out of it and escape.
If it is too tight, they might be uncomfortable or it could even interfere with their circulation which could cause much more serious problems. Taking the proper measurements is key!
First, you want to take a measurement of your dog's neck, all the way around the base. Next, take another measurement around their belly, right behind their front legs.
This is hard to describe so to help you make sure you are getting the right measurements, here is a video (with a super cute dog) on measuring your dog for a harness:
This video does not specifically talk about leather harnesses, but that's okay! The fit will be the same no matter what material you get.How to put a leather harness on your dog?

Putting a leather harness on your dog is as easy as putting any other harness on them. Depending on which style you get, you can either put it over their head or have them step into it.
The easiest way to explain how to put your dog's harness on is to show you! Here's a video (once again with a really cute dog) on how to put your dog into their harness:
If your dog is not used to wearing a harness, this process might be a little harder than it looks. Harnesses can be intimidating for first time users!
Make sure you go slow and give them lots of positive reinforcement while you are putting on the harness. Treats are always helpful!
It's also a good idea to let your dog walk around the house for a bit before going outside with a harness on for the first time. This allows them to get used to how it feels in a safe environment!
4 Best Leather Dog Harnesses
1) CollarDirect Leather Harness for Puppies
This leather harness is made for puppies and is great for leash training.
It only comes in extra small and small sizes so it will not work for larger dogs, but if you have a small breed or are just starting off training with a young puppy, this is a great tool to start with!
This harness comes in a few different colors and even includes a matching leash. It is a step-in harness style, and the leather material is stitched in a roll so it helps to not tangle or get caught in your dog's fur.
The leather material is soft and pliable so it will flex to fit your dog's body. The harness itself is also adjustable so you can get the perfect fit for your pup.
It's also a very reasonably priced harness which is great!
2. Beirui Genuine Leather Dog Harness
This is Bruce's harness! And he LOVES it!
I like this one for several reasons, but first and foremost; the straps.
I've noticed that with other harnesses Bruce has worn that have thin straps, they tend to dig into his shoulders and chest.
This harness doesn't do that because the straps are nice and thick, making him more comfortable! I also like how soft the material is.
Leather is strong, but soft and flexible so Bruce stays comfortable on long walks.
We have never had an issue with this harness rubbing or irritating his skin.
There are three adjustable straps on this harness with two super heavy-duty D-rings. Each strap has multiple fastening holes so you can adjust the harness to fit your dog as they grow!
The straps are secured with durable metal buckles that will not allow your pup to escape.
There are also different sizes and a helpful sizing chart to make sure you know what size to get your dog. This harness is definitely geared towards bigger dogs like Bruce, but the smaller sizes will also fit little pups too!
One of the great things about this company is their customer service. If there is a problem with your harness, they offer a 30-day money back guarantee with no questions asked!
They also sell separate leashes and collars that match this harness so you can get the whole set. We highly recommend this harness to all of our pet parent friends!
3. Beirui 1" Genuine Leather Dog Harness
It's not déjà vu, this harness is made by the same company as the last one! This one is entirely different in many ways, but still just as good quality.
The obvious difference between this harness and the one I have for Bruce is that this one has thinner straps and is only fastened with one adjustable buckle.
This harness is great though because it has an added handle right on the back for extra control.
It also has a padded lining that keeps your pup nice and comfortable. The O-ring is securely attached to the harness for you to connect a leash to without having to worry about your dog pulling or getting excited.
The padding also keeps the leather material from rubbing and irritating your dog's skin. The material is extremely durable and fits so your dog can't get it in their mouths to chew themselves loose!
I also really like that this one has adjustable holes that are secured by a heavy-duty buckle. This is important because the point where a harness fastens is usually its most vulnerable spot.
The buckle on this harness would be incredibly hard to loosen, even for a dog as big and strong as my Bruce!
4) Peshouco Leather Dog Harness
If you are looking for a high-quality leather harness for your dog and don't mind spending a little more, this is one of the nicer ones on this list.
It's the most expensive one, but you definitely get what you pay for.
With two color choices of brown or black, you can see the quality in these harnesses with their advanced structure and design.
They have fully adjustable straps that are soft and flexible for maximum comfort for your dog!
These harnesses are designed to combat pulling. The pressure sits right at your dog's chest, giving you full control over their movements.
Besides functionality, this harness is also really popular for its looks. You can easily see the grain in the leather and it has a beautiful oily shine that is built to last through the wear and tear dogs put these harnesses through!
Safety Considerations
MAKE SURE THE HARNESS FITS! This is the single most important safety precaution you need to take when you put a harness on you dog.
If the harness does not fit properly, it can be a danger to your dog, other animals, people and yourself. The last thing you want is your dog escaping your harness or getting it caught on something that causes them harm.
Harnesses that are too big are particularly scary. Your dog could slip out of the harness and run into a busy street or get too close to another animal who is not friendly.
Harnesses that are too tight are equally as dangerous. A tight harness could be causing major discomfort for your dog, and could even be cutting of their circulation.
It's vital that you take thorough measurements when you are fitting your dog for a new harness so you do not run into these problems!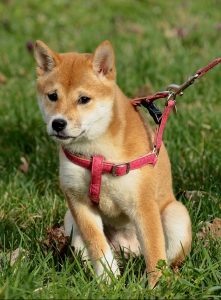 Another safety consideration you might want to keep in mind is visibility. Leather harnesses do not typically have reflective qualities and are usually naturally colored.
While this is not a deal breaker, it is never a bad idea to have a bright color or reflective collar or tag so that your dog is more visible in dark or adverse weather conditions.
The last safety consideration I want to mention is about having a harness on your dog while you're in the car. It is so important to fasten your dog to a car seat using a harness – NOT THE COLLAR!
If you were to get in an accident, the collar could cause serious injuries to your dog's neck. A harness will give you a much more secure hold with the pressure more evenly distributed.
Final Thoughts
We've gone through several harnesses for Bruce, but I'm still in favor of his leather harness. The durability just can't be beat!
I hope this information has helped you decide if a leather harness is right for you and your dog. Happy pup parenting!