Hi, my name's Irena and I'm going to talk about the best chews to give your English Bulldogs.
We all know that dogs love to chew, but we'd rather they didn't chew our furniture and our shoes.
Chews can help to stop this. Some are tough enough to give hours of fun and many have health benefits, in particular for their teeth.
They also have a soothing effect on your dogs. If you have anxious or hyperactive dogs chews can help to relax them.
What are English Bulldogs?
English Bulldogs are medium sized muscular dogs with wrinkled faces and short legs. Their heads and necks are enormous and their jaws are massive, broad and square.
Their upper lips hang down and they have pushed-in noses. Their coats are short and smooth. A distinctive feature of these dogs is that they drool and slobber, which makes them even cuter.
Although they look intimidating, they are in fact very affectionate, playful and perfect as family dogs. However they are also protective and make good guard dogs.
What Types of Chews Are There?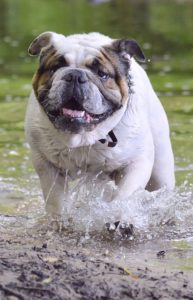 There are plenty of different chews out there and you'll be spoilt for choice if not confused as to which to choose.
Basically they can be divided into 2 different categories, those that are edible and those that are toys. Both are good for the dental health of your dogs.
What you shouldn't do is give your dogs bones from your own plate as they can splinter.
In addition they can get food poisoning from viruses and parasites which can cause big problems in the gastrointestinal system. You need to avoid this despite their pleading looks.
Edible chews include bones, sticks and treats. Dogs find that they smell and taste delicious, although we may find the smell unpleasant.
My four love any type of chew as long as it's edible. The downside to edible chews is that they can make a mess. They can also become costly if your dogs have a couple a day.
Synthetic chews are often made of rope or nylon and are much cleaner than edible chews. Like edible chews, they help with dental health.
The downside is that most aren't flavored, though there a few out there that are. All have an appealing scent so are not as smelly as edible chews.
What Sort of Chews Should You Give to your English Bulldogs?
English Bulldogs have strong jaws so need a tougher chew. Soft ones will be gone in five minutes if not less.
It is also a good idea to supplement the edible chews with toy chews as they will keep your dogs occupied while you are out.
Elk Antlers
Elk antlers are a good choice for English bulldogs. Not only are they tough, but they have health benefits. They contain calcium which is good for the bones and teeth.
There is collagen which improves skin health, helps with joint pain and boosts muscle mass. In addition elk antlers contain phosphorus which is good for the kidneys, muscles, bones and blood vessels.
The elk antlers are dense and are unlikely to shatter unlike butchers' bones. In fact they are as strong as bones.
They massage the gums and increase jaw strength, as well as looking after general dental health. A lot of them are shed naturally by elks so you will be doing something for animal welfare.
Rawhide
Rawhide is another tough chew, but it is controversial. They can be prepared with dangerous chemicals and if your dogs eat large pieces they often can't be digested properly.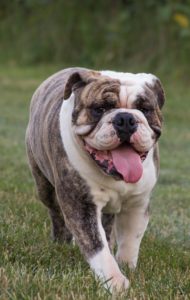 On the other hand there are some rawhide chews that are promoted by vets. They are safe and are easily digestible. It may be a good idea to get advice from your vet.
You could buy your English Bulldogs bully sticks. They are made of pizzle, and for dogs they are very tasty.
They are dense so last a long time so will keep your English Bulldogs occupied. Unfortunately, on the downside, they do smell horrible.
Beef Tracheas
Beef tracheas are also a good choice as they are made of cartilage and are tough. They contain glucosamine and chondroitin.
These both help your English Bulldogs to build cartilage and help to ease any joint pain they may have.
Himalayan Yak Dog Chews
We can't leave out Himalayan Yak dog chews even though they're not made from meat. They are made from cow and yak milk which is turned into cheese.
It is mixed with salt and lime juice and then left to dry for a few weeks. This makes it very hard which is good for your English Bulldogs.
They are made from natural ingredients and don't contain any artificial preservatives or colors. They also come from cattle and yaks which are not treated with antibiotics or hormones.
Other Options
Finally there are dog chew toys which also give hours of enjoyment. Yes, your English Bulldogs may prefer an edible chew, but they will still have fun with a toy especially if they are left alone for a while.
The best materials to go for are rubber or nylon as they are more durable. With too soft a material your dogs may be able to tear the chew apart and may swallow pieces and even the stuffing.
There are also chew toys which can be filled with treats which gives your pups an extra incentive to play.
Our Top 6 Best Chews for English Bulldogs
1) Ecokind Pet Treats Himalayan Gold Yak Dog Treats
These chews are made from an ancient recipe from the Himalayan Mountains in Nepal. They are totally natural and organic and are made from yak and cow milk from which the lactose is taken out.
Dogs and lactose don't mix so these chews are good for sensitive tummies. There is also no gluten in them, another thing that can irritate and cause allergies.
They are 6 – 8 inches in length and 1 – 2 inches in width which will give your English Bulldogs hours of enjoyment.
In fact they are dense and last up to 5 times longer than rawhide chews.
Another upside is that they don't smell unlike a lot of other chews, so you don't have to put up with a nasty odor in your home.
2) Jim Hodges Dog Training Grade-A Antler Chews
These are elk antlers and are of the best quality out there as its Grade-A rating suggests.
They are the largest elk antlers on Amazon and they are 6 – 12 inches long and weigh between 9.5 – 11 ounces.
They are dense which will suit your English Bulldogs and last longer than bully sticks, rawhides or pigs ears. They can last up to 14 hours which will provide hours of fun for your pups.
In addition they are healthy and are a fantastic source of calcium, phosphorus, manganese and zinc.
They are also good for dental health. There are no antibiotics, hormones or additives in these antlers.
They are good for indoors as they aren't sticky or messy. They also come from free-ranging elk that shed their antlers naturally.
They are picked in the forest and hand sorted by Jim Hodges Dog Training.
3) Premium 3" and 6" Beef Trachea Dog Chews by Downtown Pet Supply
Here is another long-lasting chew for your English Bulldogs. Beef Tracheas are made from cartilage and are very healthy.
They are jam-packed full of vitamins and minerals, are high in protein and low in fat. They have glucosamine and chondroitin which helps with joint pain and arthritis.
They will help your English bulldogs increase their movability and flexibility. In fact there is 1200mg of glucosamine in the 6" treats which makes them the perfect chew for your pets.
Another pro for these chews is they don't contain preservatives, artificial flavors or hormones.
The only downside is that they are greasy so it's better if your dogs eat them outside.
4) 12" Braided Bully Sticks for Dogs by Pawstruck
These bully sticks are also a good choice for your English Bulldogs as they are strong and durable. They are made by intertwining 3 sticks and have excellent health benefits.
They are high in protein which helps to build muscle mass. They are also low in fat which contributes to a lean dog.
English Bulldogs are greedy dogs so these treats will help to keep their weight down.
Another benefit of these chews is that they are excellent for dental health and help to remove plaque and tartar. They are made from grass-fed, free-range cattle and contain no hormones or chemicals.
If your English Bulldogs are prone to allergies, these bully sticks are a good choice as they are free from corn, soy and grain, all of which can cause allergies. To top it all, they don't smell a lot.
5) Cowdog Chews Natural Rawhide Chips
I have said that some rawhide chews have chemicals, but these don't so I decided to include them as they are hard and tough chews, suitable for your English Bulldogs.
In addition to there being no chemicals, there are no artificial preservatives or colors either.
They are made from free-range and grass-fed cattle, with no added hormones.
They are great for dental health as well and clean the teeth, so reducing plaque and tartar.
They are also odorless which is a great bonus. They are the perfect chews for an aggressive chewer.
6) Benebone Wishbone Durable Dog Chew Toy for Aggressive Chewers
This is a chew toy which is made of durable nylon. It will take a lot for your English Bulldogs to destroy these toys. They are a great design.
Flat chews can be difficult for your dogs to hold, but this chew is wishbone shaped which is much easier.
It also has deep grooves, which makes it even simpler for your dogs to grip.
In addition, although this is a toy, it has been flavored with either bacon, peanuts or chicken which your dogs will love, but you won't have to smell.
Final Thoughts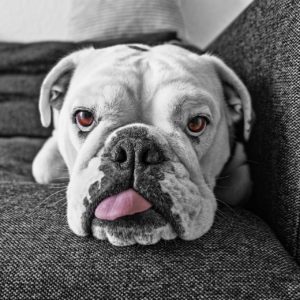 I hope I've given you some good examples of chews for your English Bulldogs.
I have gone for the Himalayan Gold Yak Dog Chew as my first choice as it is all natural, odorless and made from the milk of cows and yaks that are not treated with any antibiotics or hormones.
My second choice, Jim Hodges Dog Training Grade-A Antler Chews, is also natural and is good for the bones and the teeth.
However, if your English Bulldogs are aggressive chewers you will need to take care if they chew right through an antler or bone.
Antlers aren't meant to be chewed through. Your dogs could swallow sharp fragments which could cause lacerations or even worse.
Still unsure about which chew to buy your English Bulldogs? Why not buy 2 or 3 different kinds so they can pick their favorite.
If you are looking for a great range of toys we have created an article about a box called a bullymake box.
After all, they have personal preferences like we do and we do want to keep pour pooches occupied and entertained.