Think about everywhere we store our food: fridges, pantries, and even cabinets. When it comes to our dogs, though, we often just leave their food in the original bag laying right out in the open.
My name is Megan, and I've owned a lot of dogs throughout my life. And, with every single dog I've owned, I've kept their food in an airtight container.
I've used all types of containers, from the smallest option to the largest, and it's one thing that I wouldn't raise dogs without one.
A lot of people feel as if investing is an airtight container is a bit of a waste, but there are a lot of great benefits that make purchasing one worth it.
Benefits of an Airtight Dog Food Container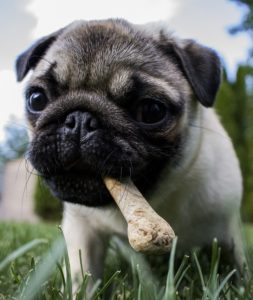 While it's probably not your meal of choice, at the end of the day, dog food is food.
That means that, if left out in the open, your dog's food may attract some unwanted dinner guests like ants, roaches, and even rats.
While just the thought of having any of these pests in your home may be enough to frighten you, it's important to remember that they, especially in the case of rats and mice, can bite your dog or transfer harmful diseases to them.
By using an airtight container, you can greatly reduce the chance of any pests entering your home.
The airtight seal doesn't only keep pests out, though. It also works to keep moisture and air from reaching your dog's food.
Moisture can cause the food to mold which, if consumed, is capable of causing an abundance of health issues ranging from mild diarrhea to serve intestinal complications that require medical attention.
On the other hand, if air reaches your dog's food, it can become stale. While that isn't necessarily harmful, it is rather unpleasant for your dog. After all, you wouldn't want to eat stale food.
Airtight dog food containers also provide more convenient storage. If you leave your dog's food in a bag, you'll find that the large bag is difficult to store and hard to access when it's time to feed your dog.
Storage containers can come in any size that you need, and, if you purchase on of the larger options, you can even buy one that has wheels to make it easier to move and use.
Of course, each storage container has its own benefits, depending on what type of container it is.
Types of Airtight Dog Food Containers
Short and tall, big and small – there is a large variety of airtight dog food containers. The first things that sets them apart, which is also probably the most noticeable difference, is the size.
There are airtight containers for both the smallest and largest spaces – in fact, the container I'm currently using is small enough to fit on a single shelf in my cabinet.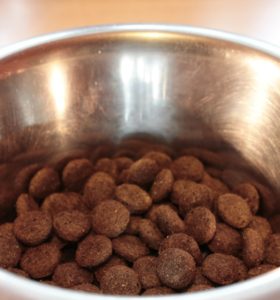 The next difference is the material that each container is made out of.
A majority of airtight dog food containers are made out of BPA-free plastic, however, there are some higher end ones that are constructed out of stainless steel.
Both work just as well, but it's easy to see that the stainless steel option is much more stylish and aesthetic, making it the best option if you plan to store your dog's food in plain sight.
And finally, some have a variety of accessories designed to make your life easier.
You can find containers with wheels, scoops, and even an inner container that makes cleaning easier. With all of these options, it can be difficult to pick the right airtight container for you and your lifestyle.
Finding What Airtight Container is Best for You
Believe it or not, dog food containers aren't a one size fits all type of product. With such a variety, some styles will fit you better than others.
The main thing to consider is the amount of space you need. When I had only one small dog, I didn't need anything more than a small container that could fit on my counter.
However, when I had three big dogs, I needed the biggest container there was – with wheels too!
So, if you have multiple dogs or a large dog, you'll need a larger storage container than you would with a single small dog.
Next, you'll also want to consider where you plan to store the container. If it's going to stay in your house, you need to think about the best place for it such as in a cabinet or pantry.
If you have the ability to do so, check the measurements to make sure that you're not disappointed when the product arrives and doesn't fit.
If you plan on storing the food outside, like I did with my larger dogs, then you'll need to make sure that the container you buy is high quality.
While it's okay to stay a little cheaper on indoor storage, outdoor storage will be exposed to different temperatures, elements, and humidity levels, so you'll need to make sure that the container is airtight and durable to keep your dog's food safe.
3 of The Best Small Airtight Dog Food Containers
1) Vittles Vault Outback 15 Pound Airtight Pet Food Container
We all have one: a pet that can't seem to stay out of their food when it's not dinner time. My dog was like that, and now my cats are too.
All three of my pets were small, though, and a larger container didn't serve a great purpose as it took up more space than anything else.
That's why I started to look for smaller containers, and the Vittles Vault airtight container, which holds up to 15 pounds of food, was a great place to start looking.
This dog food container was designed to keep food and freshness in and everything else out.
Due to its super durable exterior, you don't have to worry about pests or you're very own pets breaking in for a midnight snack.
This durability, along with the compact size, makes it perfect for any location, indoor or out.
This container also comes with a free scoop. And, who doesn't love free stuff? I'm a college student, so I know I do, especially when it's as useful as a dog food scoop.
2) Paw Prints Pet Food Storage Bin (Word Design)
You don't have to pay an arm and leg for a pretty, aesthetic design thankfully.
If you're looking for a visually appealing, small, and inexpensive dog food storage container, look no further than the Paw Prints container, which holds up to 15 pounds of food.
It's durable enough to keep any pests or pets out of it, but, thanks to the airtight seal, they won't even be able to smell what's in there.
This container is great at keeping odors and freshness end while keeping animals and moisture out.
If you're worried about the material harming your pet, don't! This is made completely out of BPA-free materials, so your pets can dine safely.
This container is durable enough for you to have it anywhere, though, it's so cute you'll probably want it right on your container, where, due to is small but efficient size, it'll fit perfectly.
3) TBMax Pet Food Container for Dog Food with Sprout
This is easily one of the most unique airtight dog food storage containers I've ever seen. First, it's very small, in fact, it's only 2 liters.
This makes it absolutely perfect to sit on your counters. It also has a sprout with an airtight seal so you can easily pour your dog's food without worrying about the sprout letting in any moisture or letting any odors out.
The airtight lid also functions as a measuring cup if your dog is on a restricted diet. It's BPA free and prefect for indoor use, outdoor use, and even traveling!
It's easy to clean too, which is a plus. I feel that my pets are just as important as I am, and if I'm going to wash my dishes regularly, I feel it's only fair to clean theirs just as often.
Of course, with larger or more complex containers, that can be a bit difficult. However, this is dishwasher safe, making cleaning a breeze.
4 Of The Best Large Airtight Dog Food Containers
1) Simplehuman Large Pet Food Container
If you're looking for a lot of storage, a beautiful exterior, and the luxurious feeling of splurging on something you need that's worth the price, then look no further than the simplehuman large pet food container.
You can buy this container in three sizes – 25 liters, 30 liters, and 35 liters. The 25 liter size can fit around 27 pounds of food; the 30 liter size can fit around 32 pounds of food, and the 35 liter size can hold 40 pounds of food.
No matter what size you pick, though, you can expect an abundance of benefits.
First, while the exterior is a sleek, stylish stainless-steel canister, inside is a removable BPA-free plastic container that you can easily clean.
It also has an airtight seal and wheels providing both fresh food for your pup and convenience for you. And, finally, my favorite part: it comes with a magnetic scoop that you can stick to the side.
2) Inspired Essentials Plastic Airtight Pet Food Storage Container
Sometimes, simple is best, especially when it comes in two extra large sizes that can hold either 42 or 55 pounds of dry dog food.
This BPA-free plastic storage bin comes in either white or black, and it has wheels to make life easier.
After all, if you're putting 55 pounds of dry food into a container, then you're most definitely going to want some wheels to make moving and refilling easier.
This airtight lid is going to make sure that nothing will get or out, even if your pets are going to be tempted by the sight of their kibble.
Due to its large size, this probably isn't the best container to have in the middle of your kitchen, but its durability makes it great for porches and garages.
3) IRIS 3 Piece Airtight Pet Food Storage Container
The IRIS container definitely has it all: high reviews, a variety of colors, and an inexpensive price.
It even has a unique 3 piece design that features a smaller container – perfect for treats, biscuits, and even toys –a larger container that can hold up to 25 pounds of food, and a scoop.
Plus, it's all on wheels for easy moving and refilling. One of the things I love most about this is that you pay an inexpensive price and then can detach the containers to position them how you see fit.
They're made out of durable, BPA-free material, and you can store them in your kitchen, in your garage, or even on your porch.
4) Paw Prints Pet Food Storage Containers (Word Design)
You shouldn't have to give up style just to have a bigger version of something that you love.
That's why I love the fact the Paw Prints food storage mentioned on the list of the smaller list has a larger version that can hold 25 pounds of dry dog food.
This container also has all of the great benefits of the smaller version. It has an airtight lid, a cute exterior design, and a durable, BPA-free composition.
This version is, of course, a little bit larger, so you may not want to have it sitting directly on your counter, especially if you need a lot of space, but it can still be used within your kitchen.
It's durable enough to be kept outside or in the garage, too, but who would want to hide something as cute as this.
My Top Picks For Airtight Dog Food Containers
Small Airtight Dog Food Container
My top pick for small dog food containers would have to be the TBMax container. I love the unique and innovative design as well as the convenience.
I try to keep my pets' bowls always filled up so being able to just grab the container, pour, and put it away is great for me. I also really like the fact that it's machine washable.
My runner up for the small dog food containers is the Paw Prints container. I keep my pets' food on top of my fridge, so it's one of the first things guests notice when they're looking around the kitchen.
I like the fact that this is both efficient and appealing. It was a close tie between the Paw Prints container and the Vittles Vault container.
I think that they are both very efficient and great for getting the job done, I just happen to like the design of the Paw Prints container.
Large Airtight Dog Food Container
First, I need to give an honorable mention to the simplehuman dog food container. It's definitely a luxury item, but I just absolutely loved the magnetic scooper.
Now, for my top pick: the Inspired Essentials dog food container! I'm a simple person, and I want inexpensive stuff that works well. I also like convenience, and the wheels are great for that.
Now, of course, I'm currently only the proud fur parent to smaller pets, but, back when I was raising large dogs such as Labs and pit bulls, this is the type of container that I would choose.
Finally, my runner up for large dog food containers is the IRIS 3 piece dog food container.
I just love the idea of getting three pieces that I can use as I see fit, especially because I don't just need to store food for my dogs, but smaller things like treats and biscuits too.
The variety of colors is another plus because who doesn't love to have pretty things, especially when it's something that people are going to be seeing.
And, of course, I love any dog food container that comes with a scoop, even if it isn't magnetic.
Final Thoughts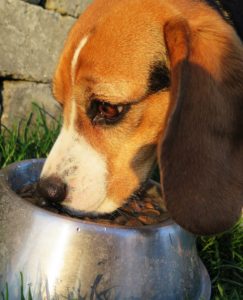 Despite the fact that airtight dog food containers aren't at the top of most people's list when they think of the supplies needed for raising a new dog, they offer an abundance of benefits that make them important in every pet-friendly home.
From keeping potentially disease carrying pests out of your home to keeping your dog's food fresh and ready to eat, airtight containers are most definitely worth the investment – especially since there are so many inexpensive but high-quality containers available.
If you're worried about having the room to store a container, or if you're worried about it being unsightly and ruining the aesthetic of your home, then that problem is also covered due to the fact that air tight containers come in a huge variety of sizes and styles.
No matter which container you choose, it is one thing that I recommend for every single pet owner.
I use them for my dogs, cats, and even reptiles, and I couldn't imagine not having them. Your dog will also appreciate the fact that you've taken the time to ensure that their food is safe, fresh, and delicious just for them.