My dog's name is Bennett. And Bennett, while I love him very much, can be quite a dirty and smelly fella.
It's no secret to any of us dog-lovers that our beastly best friends can turn a perfectly good, clean dog bed into a filthy, hairy, stinky heap of fluff and fabric pretty quickly.
Hi, my name is Anna. I'm a very proud dog mom and someone who is always looking for the best products to use with my beloved pet.
I've been through dog bed after dog bed because I spent too much money on beds that weren't washable and not enough time looking into a bed that might benefit my bank account, as well as my dog.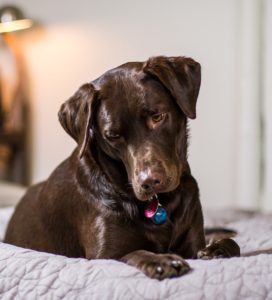 I'm happy to tell you now though, that I have researched good washable dog beds and I'm about to share with you what I found to be the top five out there.
For some reason, it didn't dawn on me for quite a long time that I was buying the wrong kind of dog beds.
I was frustrated with always having to throw away the dog beds I had purchased long before I had intended to.
I tried all kinds of different dog beds, but in the end, they never lasted very long.
I wasn't buying cheap beds or beds that were low in quality. But I always found myself having to get rid of the beds before I thought I should have to.
Finally, I decided to look into how I could make my dog's bed last longer. And what I found in all of my internet research was that I needed to buy washable dog beds.
It made perfect sense too. I was throwing beds away when they got too dirty, with a smell that I just couldn't stand anymore.
I could fix all of that if I could simply throw the bed in the washer or even just the cover to the bed.
Why Washable Dog Beds Are Better
With your typical dog bed, you can do a few things to try and keep it from getting too dirty.
Let's face it. We love our dogs, but they aren't the cleanest animals on the planet for sure.
So, you have to do something to keep their beds clean.
You can take the bed outside and shake it out sometimes. Or you can vacuum it.
But what do you do when the dirt and grime that your dog brings to the bed from walks or playing outside builds up and makes the bed noticeably filthy?
You can try to just surface clean it with a wet rag but trust me when I say, that doesn't really do much good.
Washable dog beds can be shaken out and then thrown into your washing machine with detergent, so you don't have to look at a dirty dog bed in the corner of the room.
Odor is another big problem with dog beds.
Our furry family members don't always have the most pleasant smell coming off of them. Therefore, their beds don't always smell the best.
Beds that aren't washable can be sprayed with odor neutralizers or some kind of freshener but that will only mask the smell for a short time.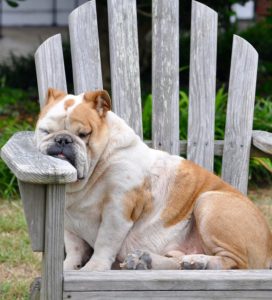 Washable dog beds can be put in the washing machine where the odor-causing grime and bacteria can be washed away.
It will make the bed, not only cleaner with a better smell, but also a healthier place for your dog to lay down.
So here we are. It's been months since my discovery that I needed to buy a different kind of dog bed.
My dog and I are enjoying a much cleaner and nicer smelling pet bed in our home and it's because I made the switch to a washable dog bed for Bennett.
Now I want to share with you some of, what I consider to be, the best washable dog beds on the market.
That way you don't have to sift through all of the different beds to try to find the perfect one.
I've already done that and narrowed it down to a few that I think are good options.
Top 5 Washable Dog Beds
1) Blueberry Pet Heavy Duty Microsuede Overstuffed Bolster Lounge Dog Bed
This bed comes in two sizes. The smaller size is 25"x21"x10" and the larger is 34"x24"x12".
You can also choose from two different colors, champagne beige, and tango red or champagne beige and brilliant blue.
The sides are bolstered to give support for your dog's head and back.
The microsuede fabric of the bed cover is durable and is resistant to scratching so it will last for a long time. The cover is completely removable so that you can wash it whenever you need to.
You can wash it in your washing machine with like colors on gentle and then throw it in the dryer to tumble dry.
2) Brindle Soft Shredded Memory Foam Dog Bed
With three inches of shredded memory foam inside this bed, it's sure to give your dog a very comfortable place to lay. You can choose from seven different sizes. There are also four different color options.
Because the stuffing is memory foam, the bed will conform to your dog's body.
This will help to take pressure off of joints to help with any aching or stiffness.
To wash the bed, you simply unzip the cover and remove it. You can throw it in the washing machine with other bedding. Wash on cold to hot with the gentle cycle. Then tumble dry on low.
The fabric is soft microsuede and is meant to be comfortable but durable.
3) Petfusion Large Dog Bed
Petfusion's bed is also a memory foam-based bed that is meant to be supportive and comfortable for your dog.
It has bolsters around the sides too for an added support for your dog's head. The outer cover is completely removable in two steps to make it easier.
There is one zipper for the base of the bed and one zipper for the bolster.
The material is water resistant to keep the memory foam from getting wet. This is a large bed but is perfect for any size of dog. The dimensions are 36"x28"x9".
The color is slate gray and the fabric is durable and easy to remove hair from.
4) The Dog's Bed, Premium Plush Orthopedic Waterproof Memory Foam Dog Bed
This bed comes in seven different colors. It has a waterproof and completely removable fabric cover.
The cover is made of Oxford fabric that is very durable and hypoallergenic.
The fabric is resistant to mildew, dust mites, and molds. It's durable enough to be used as an outdoor bed if that better suits your needs.
The dimensions are 40"x25"x6" so it can accommodate most sizes of dog breeds.
This bed doesn't have the bolster that some of the others do but it's great for dogs that just like to sprawl out when they lay down.
The guidelines for washing are pretty much the same as the others, machine wash on gentle cycle and tumble dry on low.
5) BarksBar Large Gray Orthopedic Dog Bed
The BarksBar bed looks comfy enough to want to crawl into it yourself. It's sure to give your dog a super comfortable place to sleep.
This one has padded walls for a supportive place for your dog to lay his head.
There is a rubber non-slip backing on the bottom of the bed to keep it from sliding around on your floors as well.
The cover is durable polyester and is easily removable, so you can put it in the washing machine for cleaning. Put it on the gentle or delicate cycle.
It is recommended that you air dry this cover though. The design is quilted and meant to be easily matched to most home decors.
While the cover is machine washable, it's also easy to spot clean and remove hair from.
Final Thoughts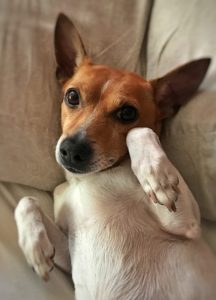 The biggest thing I figured out is that having a washable dog bed makes it where you don't have to keep throwing away your dog's bed because it gets too dirty and stinky to keep around.
There are a lot of good choices out there and since you know you'll get to keep this bed for a long, long time, you can feel good about spending a little more money for a good, quality bed that will give your dog the comfort and support he needs and deserves to keep him healthy and happy.
It shouldn't be difficult to clean a dog bed when you have a perfectly good washing machine at your disposal.
The dog beds I mentioned in this article are all really good quality and all have machine washable covers that you can just remove and clean.
The prices vary but if you find that these don't fit your budget, don't worry, I saw prices ranging all over the place when I was doing my research.
There is something that will work for you and your dog. And believe me, Bennett and I are both very happy customers with the washable dog bed we chose for our house.
I hope you've found this article to be as helpful as I meant for it to be. I'm always looking for ways I can help other dog lovers to find the products that will most benefit them.
If you find this helps you in any way, please share with your dog-lover friends and family.
And if you have anything that you'd like to add or suggest for other readers, please leave us a comment.
We always welcome the good advice of our fellow dog parents.