It's a little bit of a niche piece of equipment, but dog harnesses and mounts for dogs are not only really fun, but they can prove to be useful for content creators or researchers.
Hello, I'm Katie. I'm a little bit of dog fanatic – and when any new gadgets and tools come out, I'm also so intrigued.
I have a black Labrador, and I've always wondered what the world looks like from her point of view.
I always want to know what adventures and wondrous things she sees, especially as she's wandering off on her own little adventure. I firmly believe that every dog owner will be the same.
I also have other content creator friends, who are genuinely fascinated with these amazing gadgets. They create incredible videos for short films and funny social media posts.
In order to get the best videos, you not only need a great camera, but you'll need a sturdy and steady camera.
These can vary from dog to dog, and also what you'll be using it for. So, without further ado, I've compiled a guide to shopping the best dog harness mounts for GoPros and dog cameras.
Sidenote: I will mention what breed and size of dogs these will be the best for.
7 Best Dog Harnesses Mounts for GoPros & Dog Cameras
1) The Kurgo Tru-Fit Smart Harness with a Camera Mount
This is best for medium to large breeds and is really the best if you're looking for value for money.
It's made from really amazing, durable materials – that are also comfortable for your dog.
It's essential that you factor in your dog's comfort and safety when buying a dog camera harness.
The Kurgo harness also has two mounting locations, which is perfect for every single moment – allowing you to capture from two different angles.
One of the best features of the Kurgo harness is that it's designed for every day walking.
This is something that many other camera harnesses do not offer. This means that you can capture footage, while on your daily walks.
It's actually this function that puts the Kurgo harness on this list for me, I think it's a really thoughtful and interesting addition.
Especially since many walking areas required dogs to be on their lead.
2) The Kitway Dog Camera Harness Mount
This particular company was established in 2010 and has been a solid favourite ever since.
They create professional GoPro equipment, and every single action camera accessory you could think of.
That's why, when this Kitway dog camera harness mount came out, it became a must-have for all dog owners.
It's an adaptable harness, making it suitable for small and big dogs.
It's almost designed for professional filmmakers- which may be filming with multiple different clients and their dogs. It's a great harness and is really a great gadget.
It's also really easy to put on – again, a feature which is often overlooked. This is especially great if you quickly want to capture something.
It secures amazingly and gives you the change to capture footage from both the chest for a first-person view, or through back mounts for a video which includes the dogs head.
It's also completely fine for dogs as small as Chihuahua can use this harness. I know that owners of adorable Chihuahua struggle to find harness or coats to fit their tiny friend.
Don't worry about the harness and camera staying on too. This stays on even with tension and attaches through loops.
The back piece is also made from really lightweight foam, which is great for dogs as they also won't even notice that it's there.
I will say, this harness is probably best for smaller dogs, or even puppies that are growing. It's also really competitively priced and comes from a trusted manufacturer.
It's basically faultless and is perfect for those who want to try some new filming techniques, with their best friend.
3) The PROtastic Deluxe Dog Camera Harness Mount
As you'll be able to tell, this is definitely more suited to larger dogs.
It's actually incredibly similar to your standard walking harness, with the "wrap" design, that you often see.
This makes it the perfect tool for dogs that may get irritated – they'll just think it's the average harness.
The GoPro mount will be sure to stay in place, and won't move or rotate at all. This adds a level of security when you're attempting to film something important.
The harness with easily go on the dog, and then just adjusts accordingly. It's really durable and made from quality materials.
Just like the first harness that I mentioned, it also has a strong eyelet on the top – doubling as a means to walk your dog.
I love this feature, as it allows you to film and walk your dog – a mutually beneficial situation.
The reviews to this product rave about how the harness doesn't rotate or move about.
When your dog is acting a little boisterous, it risks ruining the footage. With this harness, that problem won't even be a thing.
Incredible.
4) The GoPro Fetch Dog Harness
This is a really amazing product and comes with everything you could possibly need.
Adjustable straps: check
Padded plates: check
Mounting points: check
Waterproof: check
Tether loop: check
A top tip with all these filming harnesses, back mounts work much better for smaller dogs – as they tend to have smaller necks.
Give it all a try, but the chest mount is always amazing, whatever size dog you have.
Although this harness really is incredible, the chest mount does slide sometimes.
For this reason, I believe it to be the perfect harness for those who a trying out filming and are looking for an easy to adjust and strap camera harness.
This problem is quite common, and shouldn't cause problems, though.
Not to mention, if your dog simply enjoys a relaxing stroll, there's no need for any heavy-duty mounts. Every dog is different, and this harness could be the one for you.
Regardless, it's a great harness and could work perfectly for you and your adventures.
5) The Aodoor GoPro Dog Harness
With a mount available on the chest and the back, this harness allows you to capture everything.
This harness is perfect for every type of activity – from hiking, running, or just a leisurely stroll in the park.
It can withstand anything that might come its way, ensuring that you get only the best kind of footage imaginable.
The best thing about this harness, in my opinion, is the five-point adjustment system.
Not only does this help the harness to fit seamlessly, but it also offers amazing stability for the camera.
It's always important that your footage isn't hard to watch or completely crazy.
Another really desirable feature of this harness if the price. For who durable, stable, and amazing it is, the price is extremely competitive.
Everything about it is strong and suitable for heavy use – which you might not expect considering its low cost.
This harness is also washable and waterproof, making it perfect for dogs that like to play in mus or swim in rivers. It can also be machine washed, which is just extremely convenient.
6) The DURAGADGET GoPro Fusion
One of the best features of this fantastic harness is that it's so easy to get on an off. Every dog owner will know the struggle of trying to fit their friend into something new, and maybe uncomfortable.
It's a lightweight piece of equipment, that's super flexible. Perfect for dogs that love to move around a lot whilst on their adventures.
This makes it better for both of you – they can still have maximum movement, while you gain terrific footage from their point of view.
This harness is perfect for medium-sized dogs, with the elasticated webbing – it's ideal for the majority of sizes.
Although not an excellent fit for small or large dogs. Of course, it's also durable and waterproof – allowing your pooch to play and swim with no worry.
It features the universal GoPro buckle, making it perfect for any type of camera. It also has multiple straight joints, allowing you to connect different accessories, and try new ways to gain incredible footage.
I will also say that the camera won't slip, especially if you're not planning on doing anything crazily rigorous. It has a rubber safety catch which keeps the mount secure, as well as non-slip properties.
Perhaps the best feature of this harness is the feature. It's truly a bargain, that is perfect for those trying out the new dog filming trend.
If you're the parent of a beloved Beagle or Bulldog, make sure to try out this affordable and comfortable harness.
7) The PanDaDa Harness
As with the majority of these harnesses, this one is also made from a waterproof and washable material.
This is an incredibly vital feature to have, as the majority of adventures will likely end up in mud, rain, or water.
When searching for the perfect harness, make sure to choose a waterproof and washable one.
The PanDaDa is perhaps the most affordable camera harness you'll find on the market but still does the job entirely.
I'd say, it's the perfect one for those who are just looking for a little casual hobby. Perhaps you want to casually see what your dog gets up to on your walks.
This sweet harness can be adjusted, making it suitable for dogs from 7kg all the way to 54kg. This is a bold range of sizes, which makes it quite a popular product.
Again, this mount can be placed on either the dog or chest, providing you with a variety of different angles.
It's also effortless to remove the camera, in case you want to quickly check the footage.
With images and description in mind, this harness is perfect for pugs all the way to labradors and dalmatians.
My first thought with this is how amazing it would be for growing puppies – proving to be a gadget you can use with them as they grow.
There we have it, that concludes my list of favourite dog harness and GoPro mounts.
They're all great harnesses that all come with their own unique benefits. Let me know which one you'll choose to use on your next adventure.
What else you'll need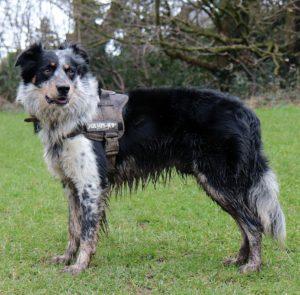 Obviously, with all these fancy harnesses and mounts – you'll need a camera to go along with it.
These cameras need to be as durable as the harness itself and ensure that only the best type of footage is captured.
GoPro is the best brand to go for with this, they're cameras have been specifically designed with adventure and excitement in mind.
They also fit in all these harnesses, as they have been specifically designed for these cameras.
However, there are multiple different versions to choose from, which can be quite daunting. Below are my suggestions:
HERO5 – This is arguably one of the easiest to use and create clear video and audio. It's also rubberised on the exterior, making it perfect for any activities which it may get shaken around a bit.
The HERO4 – This is the one camera that I would trust with anything, and recommend to anybody. It creates an amazing video and is loved all over the world.
All action camera also comes with built-in WiFi, Bluetooth technology, and the ability to connect to the GoPro app. They really are amazing cameras, that can be used for multiple different functions.
You can also get various accessories to complement your filming. With your dog, you might want to get the WiFi remote, which gives you control of your footage even when your furry friend runs away.
I really hope this guide helps you pick the best dog harness and mount. I would love to see any footage that you create from these innovative gadgets, as would the majority of social media.
Let me know if you have any other suggestions.