Hi, my name's Irena and I have four dogs, Sherlock who's five and Aphrodite, Lipstick and Oliver who are all fifteen.
Now I live on the beautiful island of Crete and we have really hot weather with little rain from about April until October.
However, sometimes in the winter we can have a big downpour. In fact last winter was awful. We had terrible floods and bridges were destroyed by tidal waves.
I've never seen anything like it. Anyway, if I have to take out my dogs in the rain which I try not to, I will put a coat on them so at least part of their body stays dry.
After all I put on a raincoat myself so why should my dogs suffer, not that Sherlock really cares what the weather is like. Hot, cold, wet, dry, it doesn't matter, he's still happy to go for a walk.
Best Materials Used in a Waterproof Dog Coat
The best materials to be used in a waterproof dog coat are nylon and silicone treated polyester. Both are very water resistant.
They have a polyurethane or PVC coating which helps to reject water and both materials are also windproof. These materials are much better for dogs than humans.
If we wear a nylon or polyester zipped up jacket we can get hot and sweaty even though we keep dry. However, dogs don't sweat so they will be perfectly happy in these materials.
Other good waterproof materials include Goretex, tinsulate (which is made from polypropylene) and fabrics with a PTFE membrane.
Many of these dog coats are quite thin so if you live in an area which is cold as well as wet you can buy coats with a padded lining which will keep them warm.
If you live in an area which can be warm and wet but at other times cold and wet you can put sweaters on your dogs underneath their thinner waterproof dog coats. Then they will stay cozy and dry.
Coat Coverage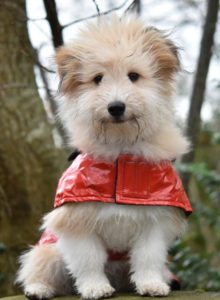 In my opinion there's really no point getting a raincoat just for the back of your dogs. They will be kept drier if they have chest and underbelly protection. Yes their feet will get wet but the rest of them will stay dry.
You can get raincoats with hoods to keep heads dry, but they invariably slip down and most dogs don't like having their heads covered.
The only benefit of a hood is that it does provide some protection around the neck even if you don't put it up.
A lot of dog raincoats have reflective strips which are great if you walk your dogs after dark. They are also good for overcast days. Safety is of the outmost importance when you take your dogs out for their walks.
Color
Perhaps you like to color coordinate yourself with your dogs? If so you will have great fun with waterproof dog coats.
They come in all sorts of snazzy colors like pink, bright yellow and red. You would certainly be able to keep an eye on your dogs if they were wearing something so bright.
However, if you prefer your dogs not to stand out quite as much there are plenty of coats out there in blacks, blues, dark greens and greys.
Fastenings
Securing the coats on your dogs is very important. You don't want them falling off when you are out in a deluge.
Buckles are fine, but they do take a while to secure and your dogs may get impatient. I know my Sherlock would as he is really hyperactive.
Velcro and zippers are so much easier and quicker to fasten. Snaps are easy to do up, but they can also come undone quickly. If I were you I would go for Velcro or zippers.
Size and Measuring
You need to get the correct size of coat for your dogs otherwise they will be uncomfortable. If a coat is too small it will restrict movement which will ruin the walk for your dogs.
It could also rub or cause discomfort.  You should be able to put your hand underneath each coat opening. On the other end of the scale coats that are too big will gape and can become tangled or even caught in foliage on your walks.
Jacket style coats are the best as they cover the chest, shoulders, stomach and thighs. They should cover the body from the neck to the base of the tail.
If the coat doesn't do this it won't be nearly as good protecting your dogs from the rain.
When you order from an online seller you will often be given a size chart from extra small to extra large, but to be able to choose you will have to measure your dogs.
The first thing to measure is the length from the base of the collar to the base of the tail.
Then measure the girth. You do this by measuring the widest part of the chest of your dogs behind their front legs.
Finally measure their necks where their collars are. Then you should be all set for choosing the right size of coat for your dogs.
Top 7 Best Waterproof Dog Coats with Chest and Underbelly Protection
1) Higuard Dog Raincoat Lightweight Waterproof Large Pet Dog Rain Jacket
If you are looking for a raincoat which is both waterproof and warm, look no further than this coat.
Not only is it made from waterproof nylon; it has a fleece lining. It is very warm, soft and comfortable. Your dogs will think they're in heaven.
The color of the coat is black, but it has green reflective strips on the back so your dogs can be seen easily in the dark.
There is also a hole in the coat near the neck so that you can fix their collars safely. It is secured with Velcro tape which is one of the best methods of securing a dog coat.
It is unlikely that it will come apart and it is adjustable so a few inches here and there won't make any difference. The coat comes in 5 sizes from small to extra large so you should easily be able to find a size to fit your dogs.
When you get in from a wet walk you can just wring out the coat. However, there will come a time when you will need to wash it and it is machine washable on a cold wash.
Then just hang it on the line to dry. Don't tumble dry it as it will probably shrink.
2) Touchdog Quantum-Ice Full-Bodied Reflective Dog Jacket
Now if you live somewhere cold in the winter, this is the coat you should get for your dogs. Not only is it waterproof, but it's snow proof and cold resistant.
There is a layer of fleece on the inside of the coat which is breathable while keeping your dogs warm. The outer layer is lightweight so your dogs won't feel as if they are carrying a heavy load on their backs.
This coat doesn't just give chest and underbelly protection, but it also goes part of the way down the legs adding extra protection.
The leg straps are adjustable. The coat has reflectors so your dogs will be seen during bad weather or at night.
It comes in a variety of sizes from extra small to extra large so you should be able to get a good fit for your dogs.
3) Migohi Dog Jackets for Winter Windproof Waterproof Reversible Dog Coat
This dog coat will fit most dogs from a Chihuahua to a Golden Retriever and even bigger. It comes in sizes from XS to XXXL.
You have a choice of 6 colors including Scottish tartan which will make your dogs look very smart.
This coat is reversible so you get two coats in one! The outer layer of the coat is water resistant and is made from polyester and TC (terylene and cotton).
It has a warm inner layer made from polyester fiber. The coat is thick but lightweight at the same time.
This coat is very easy to get on and off as it has Velcro stickers around the neck and the belly.
This would suit my Sherlock as he's very hyper and he gets over excited when I just put a lead on him. The easier the coat is to put on and off so much the better.
4) Frisco Dog & Cat Parka Coat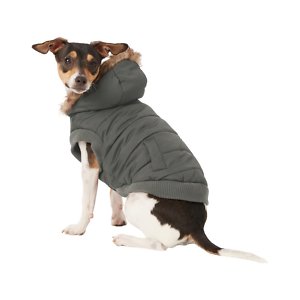 Now this is a very smart and stylish dog coat. It looks like a parka and even has a hood which your dog might or might not manage to keep up.
If it was my Sherlock, it would be a no. But anyway the hood is pretty as it has a faux fur trim and there are faux fur pockets.
The exterior of the coat is water resistant so is good for rain and even snow. It has a Sherpa fleece lining which will keep your dogs warm and cozy.
There is a built-in leash hole so it won't be difficult to walk your dogs.
5) PETCEE Waterproof Dog Jacket, Soft Fleece Lined Dog Coat for Winter
This coat will definitely fit all dogs as it comes in sizes from XS to XXXXXL. Just remember to measure your dogs to make sure you get the right fit.
It is 100% polyester which will keep your dogs dry and protect them from the wind. This waterproof dog jacket is fleece lined so your dogs will stay cozy and warm.
It also has a neck collar to protect against the rain. It is reversible and the two sides are different colors so you can decide which color you prefer and which suits your dogs the best.
The coat has a reflective strip so your dogs will be safe at night if you like going out for evening walks. It does up with a Velcro strip and is really easy to get on and off your dogs.
One thing you don't want to do is struggle getting coats on your dogs. The coat also has a rope which goes round the tail and secures the coat in place.
6) Canada Pooch Yellow Torrential Tracker Dog Raincoat
If you want your pup to be seen this is the coat to go for. It's bright yellow and also has reflective piping. It is waterproof and has a nautical shaped lining.
It gives full belly and chest covering so your pooches will stay relatively dry when they jump in puddles. My Sherlock loves to do this. He gets wet and then shakes himself down when he gets in the house!
The coat comes with a hood and a visor brim which is great for when the rain has stopped and your pups want to survey their territory.
There are two pockets where you can store treats. Your dogs won't be able to get to them so they will have to be good to get some from you. There is also a leash slit so it won't be difficult to attach the leash.
7) Kurgo Loft Dog Jacket/Water Resistant Jacket for Dogs
This water resistant coat is made of microtomic ripstop which is nylon. It is durable yet comfy for your dogs. It is also lightweight so your dogs will hardly know that they are wearing it.
The coat is warm so it will keep your pooches cozy throughout the long winter months. It has reflective piping so your dogs will be able to be seen if you take them out at night.
It has a zipper opening on the back of the coat so is easy to put on. In addition it's not difficult to put on a harness or a leash with this coat.
The coat is machine washable which is a bonus as it might get dirty when your dogs jump through dirty puddles. It comes in sizes from XS to XL so should fit most dogs.
Final Thoughts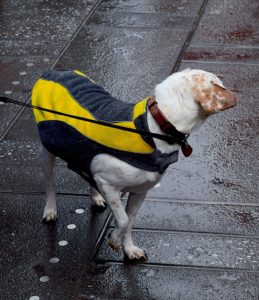 Waterproof dog coats are a great idea in the bad weather. My dogs love to go out in all weathers, but I hate to see them dripping wet and cold.
A waterproof dog coat is definitely the answer. Nylon and polyester are the best materials as the water just runs off them.
Chest and belly protection is also essential as it lessens the area that will get wet.
Yes their little paws may get damp, but then you could invest in booties, but that's a whole different article!