Hello, my name is Valerie and I am the proud owner of Bentley, a Clumberdoodle.
Bentley and I were out walking the other day when we met a friendly Doberman. He and his human were new in the village and while the dogs got to know each other, she and I had a good chat about our furry friends.
I did not know that Dobermans were first developed in the 19th century. They are very intelligent, as well as being active and loyal to their humans. Often, they work beside military and police forces, but they also make the most wonderful family friends.
I was so interested that I took myself home and did some research on this breed, and I found out some very interesting things.
The average life span of a Doberman is 10 years and 8 months, although the oldest Doberman lived to 16 years and 8 months
Dobermans are large and sleek, they are highly active and don't have many allergies. The average male can weigh up to 100 pounds, while a female will top out at about 90 pounds.
Because they grow so fast and are such a large breed they need a diet which takes this into consideration. They do, in fact need a healthier diet than any other breed.
What Does a Doberman Need in its Diet?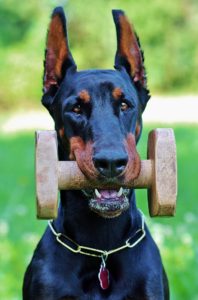 Because this breed is so active they need a high-quality diet. This is also important to keep them healthy. The best food for a Doberman is one that is rich in protein, carbohydrates and fats.
A Doberman needs at least 25% of the diet to be made up of at least 25% protein, although not much more than that because they are prone to kidney disease – a little more on this later.
Dobermans need a high-calorie diet in order to support their muscles. This will also provide the energy they need as they are very active dogs.
I thought Bentley was active! The Doberman never stopped, they had a great run around, and Bentley slept most of the afternoon!
So, a healthy Doberman will need an excess of 2,100 calories in his diet every day.
You should split this into smaller meals so that the dog can refuel his energy supply. It is important that when you do this you measure the daily intake in calories and then divide it up throughout the day.
A growing dog will not need as many calories as this so about 1,800 a day will be sufficient. Of course, as the dog gets older the calories needed will become less. Older pooches will need around 1,300 calories a day.
As with all dogs, the figures are an average. Every dog and his activity is different and the diet will need to be adjusted throughout the life of the dog.
Because Doberman puppies grow so fast, breeders often recommend that they are fed on puppy food made for large breed puppies because these food pay attention to the calcium/phosphorus ratio.
You can feed your pup 2-3 small meals a day until he reaches 4 months and then cut back to 2 meals a day until he is an adult.
Health Issues That Dobermans are Prone too
It seems that every breed of dog comes with its own set of health concerns. I know Doodles can have hip problems. Bentley was tested for this when he was just a few weeks old and all was well.
But, there are problems which may only show up as the years go by. Often a correct and nutritious diet can prevent them or minimise them. It seems that Dobermans have not escaped this either and there are a few health issues which are specific to this breed.
Hypoglycemia
Kidney disease
Bloat
Hip dysplacia
Obesity
Arthritis
Wobblers Syndrome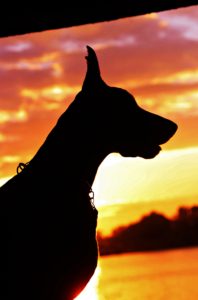 The top ones I have heard of before, but Wobblers Syndrome needed some research. It seems that about 5.5% of Dobermans have this. It is also known as cervical spondylomyelopathy, and mainly affects large breed dogs.
The disease normally becomes evident at about 6 years of age and the cause is largely unknown, although genetics may play a part. The disease is kept under control by limiting the percentage of protein intake to 24% of the diet and avoiding extra vitamins and minerals.
An interesting fact about Dobermans is that after setting down their food, you should remove it after 15-20 minutes. If you leave food out all the time, your pooch will simply continue to eat, and this can result is obesity.
Bloating is not a pleasant thing to have happen, but this is kept under control by feeding 2-3 small meals through the day so that the dog does not have an empty stomach for any long length of time. You may even give a few dry dog biscuits late at night so that he is never starving first thing in the morning.
The Benefits of a Good Diet for Your Doberman
 Consuming a healthy diet, whether you're a human or a dog (let's face it, unless you're a very advanced blog reading dog, you're probably a human), is likely to have some great health benefits.
Some of the benefits are:
A Healthy, Active dog
Less Chance of Obesity
More Likely to Have a Shiny Coat
Healthier Teeth and Gums
Good Skin Condition
Less Health-Related Illnesses
All of these add up to one very good reason why it is important to feed a Doberman a healthy diet – you get to enjoy your pooch in tip-top condition for longer, and that's worth a whole lot!
Why do Dietary Needs of Large Dogs Differ From Smaller Breeds?
The reason for this is that small dog breeds do not grow as fast as the big dog breeds.
Because of this incredibly fast rate of growth, big dogs are far more prone to certain health issues which smaller breeds are not.
The Ideal Doberman Diet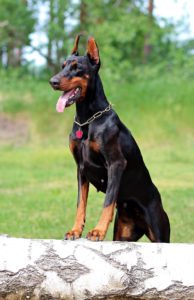 A good dog food will feature meat proteins in the first three ingredients. Make sure that the first three ingredients are not grain or carbohydrates.
Either whole meats or meat meals are good sources, with 'whole' referring to whole beef, chicken, fish and lamb. Less desirable to have are by-products or meat digests.
Protein
The dog food you choose should contain 25% protein, which should be high-quality. Too much protein will leave a dog susceptible to kidney disease so try to keep to this figure.
Animal meat is always the best with bison and de-boned chicken topping the list where possible.
Fats
Some fats are good for your dog. Not only do they add flavour, but they also benefit the skin health. Good fats include salmon and flax-seed oil.
Carbohydrates
About ¼ of the diet should be made up of carbs, preferably in a food which contains complex carbohydrates.
Complex carbohydrates include peas, sweet potatoes and legumes. Not only do they provide energy through the day, they also avoid spikes in blood sugar levels.
Vitamins and Minerals
The overall health of your pup and adult Doberman will be enhanced by fruit and vegetables. Kale and blueberries help fight off diseases because they contain antioxidants.
Calcium
A diet which includes 2% calcium is needed to keep your dog's bones. Blueberries are a great source and so is rhubarb.
While I was finding out about the good things for a Doberman, I also discovered some really bad things which you should avoid.
Things for Dobermans to Avoid
You may ask where you will normally find these ghastly ingredients. Well, you will find them in cheap, bottom of the range dog food.
I saw plenty of them when I was looking into foods for my new pup and was horrified to see that they are plentiful.
So, do your dog a favour and stay away from cheap, nasty, bottom end dog foods.
By-products
Colours
Preservatives such as BHA, BHT and ethoxyquin
Additional flavouring
Sweeteners
Sugar
Now that we've covered what Dobermans need and what to avoid, let's take a look at the best dog foods for your Doberman!
The Best Dog Food for Dobermans
        1. Hill's Science Diet Large Breed Dry Dog Food
This food is recommended for dogs who weigh more than 55 pounds.
The food contains natural sources of Glucosamine and Chondroitin which both support joint health.
The other ingredients of this food include Omega-6 fatty acids, vitamins and antioxidants, all of which are designed to promote a healthy immune system.
2. Nutro Wholesome Essentials
This dog food is comprised of farm-raised chicken, sweet potato and brown rice – sounds good enough for me!
It also contains natural sources of Glucosamine and Chondroitin, essential antioxidants, vitamins E and A, all which promote a healthy immune system.
The food does not contain any GMO ingredients and is designed to support strong muscles.
3. Taste of The Wild Grain Free High Protein Dry Dog
You will see here that the first ingredient is real meat, in fact it is roasted bison.
The food also contains vitamins and minerals, fruits and veggies and a fatty acid blend for skin and coat.
This food does not contain grain, corn, filler, artificial flavours or colours, and is free from preservatives.
The food is nutrient rich and easily digestible (for your dog).
4. Blue Buffalo Wilderness Rocky Mountain Recipe
You will notice that the first ingredient here is real meat, which is what you want for your Doberman.
The meat is from de-boned chicken, chicken and fish meal. There is added L-Carnitine which helps develop muscles.
The food contains antioxidant rich fruits and veggies and is grain free.
Also included are vitamins and minerals to support the immune system.
There are no by-products, no corn or what in this food and neither are there any artificial flavours or preservatives.
5. AvoDerm Natural Dog Food
This food is made from lamb and sweet potato and contains essential fatty acids to support skin health.
The food is grain free as well as wheat, corn and soy free.
It also contains no artificial colours, flavours or preservatives.
The food is made from high quality plant and meat protein and is rich in vitamins, minerals, antioxidants and other essential nutrients.
6. Blue Buffalo Wilderness High Protein Food
Real meat is the first ingredient here and the food is made from de-boned salmon, chicken and fish meal. L-Carnitine is added for muscle support and development.
Additionally, the food contains fruits and veggies, Glucosamine and Chondroitin for good joint health.
The food is grain free and enhanced with vitamins, minerals and antioxidants to support the immune system.
The food does not contain any by-products, corn, soy or wheat. Neither are there any artificial colours, flavours or preservatives.
7. Eukanuba Weight Control Adult Dry Dog Food
This food is specially prepared to work with weight issues.
It offers a specialised fibre rich diet and is made from natural beet pulp to promote nutrient absorption and healthy digestion.
The food also contains Glucosamine and Chondroitin to support healthy joints and Omega-6 & 3 fatty acids to give your dog a healthy skin and coat.
A bonus with this food is that it comes with the Eukanuba 3D Dentadefense to reduce tartar build-up in 28 days.
8. Blue Buffalo Homestyle Recipe Natural Adult Wet Dog Food Lamb Dinner
This food is made of healthy whole grains as well as healthy veggies and fruits.
The food is also enhanced with vitamins and minerals.
One thing to note here is that the food is made with no wheat even though it is a wet food.Wheat is often used as a thickener.
There are also no artificial flavours, preservatives or by-product meals used in this.
Best Dog Food for Large Breed Puppies:
       9. Hill's Science Diet Large Breed Puppy Dry Dog Food
This will take care of the big breed pup up to one year of age. It contains natural sources of Glucosamine and Chondroitin for muscle and joint strength.
It also has optimum levels of calcium for controlled bone growth.
Also added are antioxidants, Vitamins C & E, and amino acids.
The food is easy to digest and does not contain any artificial colours, flavours or preservatives.
You should notice right away that the food actually smells very nice!
Healthy Treats for Big Dog Breeds:
        10. Blue Buffalo BLUE Bits Training Dog Treats
These make the perfect treats to give your puppy as you are training them, also great for rewards for older dogs.
The first in gradient is de-boned beef, with other healthy ingredients right after that such as brown rice, oatmeal, maple syrup.
Additionally, there are potatoes, vegetable glycerine, flaxseed and natural smoke flavours.
It is important to remember that these are treats only and should not supplement feeding. The treats have a great smell, they will entice your pooch with their delicious aromas.
The treats do not contain corn, soy or wheat and there are no artificial flavours or preservatives.
Final Thoughts
Well, I hope that you have learned as much I did while I was researching this amazing breed and how to keep these big dogs healthy.
Next time Bentley and I meet his new friend, I will have a better understanding on what makes this delightful big boy tick, and Bentley will have a friend to run him around.
If you have any questions or comments, leave them below!