Many people choose to buy products that were made in the United States, and dog toys are no different. I personally prefer to purchase dog toys for my American Bulldog, Bruce that were made in the USA.
Hi everyone, my name is Bri and I'm a crazy dog mom who probably spends way too much time obsessing over the stuff I give my dog.
I firmly believe in giving my dog the best, which is why I care so much about where his toys come from.
Sometimes, it can be hard to find quality toys made in the USA.
There are millions of dog toys out there, so I created a list of my favorite American-made toys that give my dog the most bang for his bark (and my buck)!
Why Should You Buy a USA-Made Dog Toy?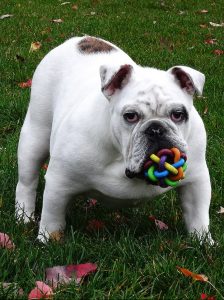 Many toys that are made outside of the United States are reasonably cheap. While it's great to save money, you definitely get what you pay for.
Dog toys made with cheap materials are a waste of money for several reasons. The most important reason to me is the safety hazards.
Cheaply-made toys are easy for my bully to destroy, which means small pieces end up in his mouth, throat and belly. This can be super dangerous, so I make sure to buy sturdy toys made in the US!
Additionally, the fact that they are so easy to destroy means I have to throw it away and buy a new one. With how fast my dog can go through a toy that is a lot of money wasted.
Another reason to buy American-made toys is to support your local businesses!
I love finding pet stores with dog owners who care about their pets as much as I do, and supporting them by purchasing their high-quality toys.
A lot of these local businesses are involved in giving back to local organizations, too. Double check if the company gets involved in donating to local shelters or organizations for an added benefit!
Where Can You Find USA-Made Dog Toys?
There are multiple places to find USA-made dog toys. I prefer to buy mine online because it's easier, so I frequently check Amazon and, one of my favorite websites for dog supplies, Chewy.com.
Many pet stores also supply American-made toys such as PetCo. And Pet Supplies Plus, and even Target! You just have to read the label.
Every toy should say where it's made, so look for the "Made in the USA" sticker! If you're buying a toy online, read the description to make sure it was made in the USA.
Top 5 Best Dog Toys made in the USA
1) Elk Antlers from Deluxe Naturals
If you're reading this, stop. Click that link and buy your dog an Elk Antler. I'm telling you this is Bruce's FAVORITE toy, and I bought it over two years ago!
This is by far the best investment I have made in a dog toy for Bruce. There is no mess and it is practically invincible. Bruce loves this thing!
It has natural texture in it that dogs love, and the texture is great for their teeth. It also doesn't have any artificial flavorings which means no harmful chemicals.
My only drawback to this toy is the price. They can be a little expensive if you get them at a pet store as a single, but don't worry! Amazon has them in bulk packs that save you a ton of money.
Honestly, you get what you pay for with these and they end up paying for themselves in the long run because you don't need to replace it over and over again.
I put this option first because I really believe from experience that it's the best toy on the list!
Another thing I want to point out about these Elk Antler toys is that the antlers are naturally shed and harvested. That means the elks are not hunted or harmed for this product.
I would NEVER support a company that mistreats animals, so knowing that these antler pieces are naturally shed makes a HUGE difference. Otherwise, I would never recommend them.
2) KONG Rubber Fillable Toy
Let me start by clarifying something – KONG Rubber toys are made in the USA, but KONG Cozie toys are made in China.
I have purchased both for Bruce and he tears right through the Cozie plush toys. This is a huge no-go. Attention to detail is key!
Now that that's done, let's get to the goods. KONG toys are another winner for Bruce because they are incredibly durable, but also because you can fill them with fun stuff like peanut butter and treats.
The example I'm sharing is their standard KONG toy, but they make all different rubber toys like tires, balls and bones that are all high quality.
They are also reasonably priced which makes them even better, and they last a long time.
I've bought two KONG toys for my dog, one of the standard styles and one KONG tire and he loves both of them!
Bruce does seem to like the tire toy the best, but only when his other one isn't full of peanut butter.
You really can't go wrong with these. Plus they come in different sizes depending on how big your dog is.
I don't even have a con to list on KONG toys. They really are great for dogs!
3) Nylabone Dura Chews
Bruce has had a couple of these bones and they are always a hit. He still has several of them hidden in random places throughout the house!
These bones are made of durable nylon and have texture that dogs love, and is also great for cleaning their teeth. Plus, you can get flavored ones that they'll love even more.
Nylabones come in different sizes for larger and smaller dogs so make sure you get the right size for your dog. Bruce would probably be able to do some damage to the smaller sizes.
There are seven different sizes from puppy to XXL/Monster for dog 50+lbs (yes that means Bruce gets the monster ones). Amazon gives you an easy to use chart so you can tell which size is best for your pup.
These are also super cheap toys which is surprising for their high quality.
The only reservation I have about these bones is, eventually, they tend to splinter. Although this hasn't happened to Bruce yet, eventually the bone will wear down.
Splintering nylon could be risky, so as soon as you see cracks in these toys it's time to throw it away and get a new one. I can't stress enough how important it is to inspect your dog's toys for signs of damage.
However, like I said this hasn't happened to any of Bruce's Nylabones yet so they do last a long time!
4) Benebone Wishbone Dog Chew Toy
Bruce has this one too… yes, he is a little spoiled I know. But this is a great chew toy that is made in the USA!
Benebones are naturally flavored with 100% real food ingredients which dogs love. The wishbone design lets your dog get a good grip on the bone with their paws for maximum chewing power!
I also like these toys because the company is heavily involved in charity donations to animal welfare groups and communities. Plus, 100% of their products are made in the US, including the packaging!
I only have to drawbacks to list for this toy. The first is similar to the Nylabone in the fact that eventually they will wear down. Again, this means possible splintering.
Keep an eye on your dog and inspect their toys every now and then to check for cracks. The second is that, while the food flavoring is all natural, it can be a cause for allergic reactions in some dogs.
Bruce has a lot of allergies, so some of the flavors irritate his skin. Not a deal breaker since they have multiple flavor choices, but just something to consider.
P.s. – Bruce's favorite flavor is the peanut butter!
5) West Paw Zogoflex Hurley Durable Dog Bone Chew
This is the only toy on the list that I don't have personal experience with, but it has incredible ratings.
I love that it has different sizes to accommodate different dog breeds and ages. From the looks of it, the large size would be perfect for my dog.
Another key element to this is that it includes a 100% Manufacturer Guarantee against dog damage. This is huge!
This means that the manufacture fully trusts its product and is willing to give you your money back if you prove them wrong.
My favorite part of this toy that I think has just convinced me to buy one is that it is recyclable AND dishwasher safe. Bruce slobber is gross. Period.
The fact that I can throw this in the dishwasher to clean it now and then is so convenient, and I love that it can be recycled if we ever need to throw it away!
Plus it has been certified by the FDA to be non-toxic so I know it is safe for my dog.
I really couldn't find any negative reviews on this product which is also a great sign!
US Made BarkBox Toys – My Personal Favorites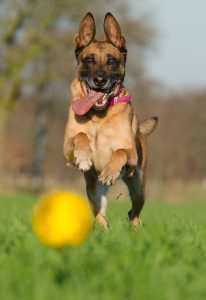 If you have read any of my other articles, you probably know that I am OBSESSED with the BarkBox subscription boxes. And so is Bruce.
If you don't know what BarkBox is, it is a subscription box that sends you a box of themed toys and treats every month. The best part is, all of the toys and treats are made in the USA and tested by real dogs!
If you want a full review of mine and Bruce's BarkBox experience, click here. If you want a brief overview of my favorite BarkBox toys, keep reading!
BarkBox sends Bruce two different toys every month. While some of them he likes better than others, there are a couple that stand above the rest.
The great thing about BarkBox is you can find their toys on Amazon too, or you can buy single toys from their website without subscribing. However, you save some money if you subscribe.
Here's my top three favorite, USA-made BarkBox toys:
1) Lady Liberty Plush Dog Toy
You can't get more American than this. Seriously, Bruce is obsessed with this toy!
On the outside, it looks like a plush ball in the shape of the Statue of Liberty's head. However, underneath the fabric is a spiky, squeaky ball of fun.
The fabric is meant to be removable, so don't freak out if your dog gets it off. It is still durable enough for them to play with on its own.
However, they are really after the squeaky wonderland that lives within! Bruce plays with the ball every single day, till dad takes it away because of the squeaking (that's why Bruce is a mama's boy).
The design of the ball is made for a reason. Texture attracts dogs, but it also helps clean their teeth and mouth! Don't be surprised if they still have bad breath though.
2) Ernesto Ballerino
Okay it's a weird looking toy, but Bruce loves it. This toy came in the Halloween box, hence the Frankenstein vibe. It comes apart in the middle which for whatever reason was a huge hit for my dog.
The top half is a fish and the bottom half is ballerina legs. Inside of both is a squeaker and whatever that stuff is that makes a crinkly sound that Bruce is obsessed with!
This one is thrasher approved, so no matter how many times Bruce does the "bully shake" the toy holds up perfectly. He's had it for a couple months now and there's no signs of damage!
Plus, it's like getting two toys in one. Even though it's a little creepy looking, Bruce loves it so I love it too.
3) Bunches of Brussels
BarkBox loves to get seasonal! This toy came in the November box which was themed for the Thanksgiving holiday.
This might be my favorite BarkBox toy yet. It came with two tennis balls and a Velcro sticky plate. Remember when I said Bruce slobber is gross?
The sticky plate lets me pick up the ball without touching it. YES PLEASE! Bruce normally tears through tennis balls, but these ones have held up great.
I also love that they gave him two instead of just one, because the more the merrier.
Bruce even likes to chew on the sticky plate for some reason, although it does have that crinkly stuff in it so that catches his attention!
You can find all of these on the barkbox website here!
I love BarkBox for the affordability and the quality. Most of these toys on their own are only 10 bucks or less, and the subscription boxes are super affordable too.
Plus, the treats and chews are also made in the USA with quality ingredients. I love that I know exactly where his treats and toys are coming from so I know he is getting the highest quality product I can give him.
Bark also supplies the SuperChewer Box for dogs who destroy plush toys easily. We tried this out for a while but Bruce personally prefers his plush toys.
Check out my full review for more details!
Final Thoughts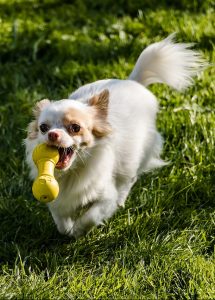 Please note – not all American made dog toys are high quality. Read that again. NOT ALL AMERICAN TOYS are good toys! Prime example: Rawhide.
I know plenty of people who have given their dogs rawhide and never had an issue, but I know many more who have lost dogs to these toys.
Rawhide can be extremely dangerous to dogs, even if they are made in the USA.
This material absorbs moisture and can easily get stuck in a dogs throat, and many of them are filled with disgusting chemicals. Please talk to your vet on this topic and pay attention to the ingredients.
Research and read reviews before you purchase your dog toys. Sometimes companies sell toys that are packaged and shipped in the USA, but the actual creation of the toy was done overseas.
Make sure you look for an American flag stamp or sticker! Any toy made in the USA proudly displays it, and if they don't, it could be because they actually outsource to international companies to make the toy.
Also, consider your dog's breed when you're buying their toys. I have a 95lb American Bulldog, so I'm not going to get him a flimsy toy.
Some smaller breeds or ones that aren't heavy chewers might do just fine with a cheaper toy.
Bruce needs heavy duty toys, but the same toy probably wouldn't be suitable for a Shih Tzu puppy.
However, supporting local businesses is always a good reason to by American made toys no matter what breed you have.
Hopefully this list helps you find the perfect American-made toys for your dog! Happy pup parenting!