You've heard of little kids being picky eaters.  But did you know dogs can be, too?  I'm here to tell you that they can!
Hello, my name is Jennifer and I am the proud dog mom of two dogs. I adopted them both, at very different times in my life.
One of my dogs is a 10-year-old Weimaraner named Ruger that was a surprise from my ex-boyfriend. I'd never even heard of Weimaraners before, but they were the ex's dream dog.
One Spring day I happened to look at the local shelter's website and lo-and-behold, there was a "3-month-old" Weimaraner available for adoption.
I'm still not sure if he was actually 3-months-old or not because he was the biggest puppy I'd ever seen. According to his file, he was a stray. No surprise there – Weimaraners are well-known for their escape tactics.
At the time, I also had a 6-year-old Yorkie that I had brought into the relationship. Sadly, she passed away at 15-years-old.
After a year of grieving, a friend told me that she knew someone with a spunky 3-year-old Yorkie that needed a home. Lola and Ruger get along quite well, but sometimes they can be picky eaters.
Deciding on the best food for your dog can be overwhelming even when your dog willingly eats anything that you offer him. It is even more difficult when your dog snubs his nose at the food you give him.
Why Picky Eating Happens
Most picky eating doesn't happen because of the dog's behavior; it's because of yours! Routinely feeding dogs table scraps or excessive treats can result in the dog not eating its bowl of food because Fido is holding out for something better.
When a dog turns its nose up at its regular dog food, most owners become concerned and offer their dog human food or different flavors of dog food. Dogs are smart, and you might think you are training them, but most of the time they are training YOU.
How many times a day does your dog pretend to go to the bathroom only to run right back inside and you give them a treat anyway, just for being cute?
You know how your mom always said you'll ruin your appetite with that cookie before dinner?  Yeah, that applies to your dog and their treats.  You're ruining their appetite.
Dogs Get Stressed, Too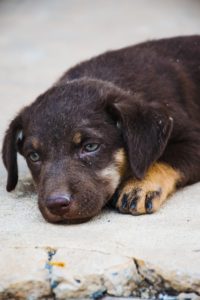 Have you moved recently? Had health problems? Gone on vacation?
Any kind of change in routine can cause dogs stress and not eating is one of the first signs of stress.  Even if it's you that's under stress, your dog can sense that. Dogs are intrinsically in tune with their human's emotions.
I went on vacation recently and had a dog sitter watch Ruger and Lola. The dog sitter was getting concerned because Ruger wouldn't eat his food for the first two days.
Weimaraners are a breed notorious for their separation anxiety. Luckily, he started eating it on the third day, or I would have had to cut my vacation short.
Dogs Tastes Can Change
A common myth about dogs is that they will eat the same thing every day because it is in their biological nature to eat whenever they can. This trait is passed down from their ancestors who had to hunt for their food and therefore never knew when their next meal would come.
This may be true for some dogs, but dogs don't all have the same quirks.
If your dog is a picky eater, you might want to consider the possibility that their taste has changed and a food they once loved is now a food they don't like.
Think of those funny internet anecdotes of "Why My Kid is Crying," where the kid loved mac & cheese yesterday, but they throw a tantrum over it today.
If you do decide to change up your dog's food, mix the old food and the new food together for the first few days to avoid unwanted tummy issues.
My Weimaraner, unfortunately, has a very sensitive stomach. He doesn't even get many table scraps because his stomach stages an epic protest that leaves us both unhappy and stinky for days.
How Long Will a Picky Dog Go Without Eating?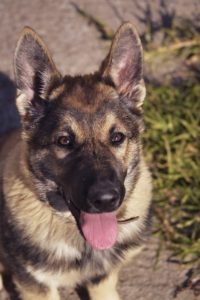 Generally, dogs can survive for 3-5 days without eating.  Most finicky dogs will get hungry enough after two days to start eating again.
You may be tempted to give your dog treats to sustain him until he eats dog food, but that will only make the situation worse in the long run.
Resist those sad eyes! Basically, Fido will eat when he's hungry enough.
Assuming your dog isn't ill, it is best not to give him extra attention during his picky eating phase.  If he gets more attention for the behavior, the behavior will continue indefinitely. Dogs 101.
When Does Picky Eating Become a Problem?
If your dog starts showing other symptoms, such as dehydration or lethargy, you should check with your vet if they become disinterested in food.
As I previously mentioned, dogs can survive for up to 5 days without food, but if they aren't drinking water, they might not last more than 3 days.
If you wake up one day to find that your dog won't eat or drink and are acting strange, take them to the vet immediately.
Even if they look fine, it is important to check their mouths and fur for any injuries. A tooth problem or any kind of pain or discomfort could be a reason why they won't eat or drink.  And course, take them to the vet if you discover any serious medical issues.
Key Ingredients to Look Out for With Picky Eaters
Like people, dogs can be allergic to certain ingredients found in dog food.  Many dog foods are made with wheat or grains.  Chicken and fish are also common food allergies in both dogs and humans.
If your dog is allergic to his food, there will typically be external symptoms, such as itching and redness around the mouth.
So, unless those symptoms are present, your dog most likely just doesn't like that food. There are tests your vet can do to determine what exactly your dog is allergic to, which can be helpful to pinpoint exactly which ingredient to avoid if you think it might be a reason why they aren't eating.
I've complied a list of the top 5 foods for picky eaters. Remember to mix with the old food at first. All choices are meant for adult dogs.
Top 5 Dog Foods for Picky Eaters
#1 Taste of the Wild High Prairie Grain-Free with Venison and Bison
Taste of the Wild brand of dog food is widely recommended by vets as one of the most nutritious and flavorful. The venison and bison are a nice change in taste for your pup, harking back to the days when their ancestors hunted for food.
Vegetables and legumes in the recipe provide excellent sources of zinc, selenium and vitamin E to support your dog's immune system and overall well-being.
The sweet potatoes, peas and fruits (such as tomatoes and blueberries) are an added source of nutrients found in the food and are uncommon in dog foods, which gives your dog a treat.
Omega fatty acids are known to promote coat and skin health in dogs. The Taste of the Wild Venison and Bison flavor have optimal levels of both omega-6 and omega-3.
The Taste of the Wild brand includes their patented K9 Strain Probiotics. Developed especially for dogs, the active cultures are added after cooking to ensure viability. These probiotics promote healthy digestive and immune systems in your dog.
As the name suggests, it is gluten-free food. The food doesn't contain any grains, wheat or corn, which is perfect for the dog with allergies to these ingredients.  Additionally, the food is free of unhealthy artificial flavors, colors or preservatives.
Ruger's vet highly recommends the Taste of the Wild brand to fight his food allergies, but unfortunately, his sensitive stomach prevented us from fully switching to this brand.
However, this is a great choice for other dogs who are simply picky eaters without any additional stomach issues.
#2 Purina Pro Plan Savor Shredded Blend Chicken and Rice Formula
This dog food is aimed for small, adult dogs. Their crunchy kibble comes in a smaller size for your pup's tiny teeth and mouth.
There are also pieces of shredded chicken to offer the feel of different textures to give your dog some variety. Who doesn't like variety to mix things up?
Please be aware that this food is NOT grain-free and contains wheat and corn products that are somewhat prevalent in food allergies.
Chicken is the #1 ingredient, a flavor that many dogs love. Real chicken guarantees a high-quality level of protein, which builds lean muscles, but without a high calorie count. Chicken is a fantastic source of bone health, as it includes both amino acids and glucosamine.
Linoleic acid is an omega-6 fatty acid that helps keep your furry friend's skin and fur healthy and shiny.  As a side note, itchy skin is another indicator of allergies.
Your dog's digestive health will be supported by the natural prebiotic fiber found in the wheat bran ingredient.
Maintaining an ideal body weight is important for a dog's overall health and this food has a beneficial amount of both protein and fats to help Fido stay in shape.
#3 Blue Buffalo Freedom Dry Dog Food
Blue Buffalo Freedom Dry Dog Food comes in flavors of chicken, lamb or beef. This review is specifically for the chicken flavor.
The main ingredient in this food is protein-rich deboned chicken. Blue Buffalo guarantees their products do not have any nasty chicken or poultry by-products in them.
Additionally, their food is grain-free and doesn't contain any gluten. As we know, many dogs (and people) are allergic to gluten. With no corn, wheat or soy, this food is a great choice for dogs with known food allergies.
There are many health benefits found in the Blue Buffalo brand. Their foods include a blend of calcium, phosphorus and vitamins that help your dog maintain strong teeth and guns.
Fido's joint function is supported by the inclusion of glucosamine. Good thing, too, because the precise combination of protein and carbohydrates in the food will encourage your dog to be more active.
Blue LifeSource Bits are the brand's unique blend of vitamins, minerals and antioxidants recommended by animal nutritionists. These special ingredients found in the Blue Buffalo Freedom food promote a dog's immune system and overall health.
Blue Buffalo is dedicated to finding the perfect food for the life stage of your dog and that is why they offer puppy, adult and senior types of dog food.
#4 Rachael Ray Nutrish Real Beef and Brown Rice Recipe Dog Food
You may be familiar with Rachael Ray from her short-lived talk show, but she is also a huge animal lover and created her own line of dog food with her signature recipes.
The slogan for Rachael Ray's Nutrish line of dog food is: "Real recipes. Real ingredient. Real good." Her Beef and Brown Rice recipe boasts that the #1 ingredient (beef) is farm-raised in the United States.
A grain-free option, this dog food doesn't contain any wheat or gluten products. It is also free of any gross poultry by-products and fillers.
Foods that contain brown rice are full of healthy fibers and essential vitamins.  The food's natural prebiotics support healthy digestion in your pup.
The dog food prerequisite omega-3 for a healthy coat and skin comes from the recipe's ingredient of chicken fat. This is a great option for dogs who are allergic to or dislike chicken.
If your dog could talk, he'd exclaim, "Delish!" after tasting this food. Hold the EVOO. (That's extra virgin olive oil, for those who don't speak Rachael.)
#5 Taste of the Wild Pacific Stream Recipe (Salmon)
Your dog's inner wolf will revel in the taste of salmon, a food frequently hunted by their ancestors. Fresh salmon is the #1 ingredient, utilizing both wild caught salmon and farm-raised salmon to maximize fishing sustainability.
The only egg-free dog food on the list, it is also grain-free. The majority of the ingredients are fish based, making this food rich in omega acids, promoting excellent skin and coat health.
The wide array of fruits and vegetables provide numerous antioxidants, an important immune system booster.
As previously mentioned in the earlier Taste of the Wild choice, 80 million live and active cultures are found in Taste of the Wild brand's patented K9 Strain Probiotics.
Probiotics are another ingredient that help support the immune system.
Other Methods to Get Your Picky Eater to Eat
Once you've ruled out any serious medical conditions for your dog not eating, there are several tricks you can use to encourage them to eat.
One way is to give them 30 minutes after you set their bowl down to eat and if they haven't eaten, take the bowl away and try again for the next meal. Eventually your dog will understand that if they don't eat, their food gets taken away.
Another tried-and-true method that worked on Ruger when he was on his mom-is-on-vacation-without-me hunger strike is to mix your pup's dry food with wet food. Many wet foods are the dog equivalent of McDonald's, which is probably why dogs see it as a jackpot of gluttony.
Bone Broth (chicken, beef or turkey bones simmered overnight in water) is a fantastic supplement if your dog isn't eating. It provides much-needed nutrients and dogs love it.  In fact, you might want to consider making it a staple in his diet regardless of his eating habits.
You might be tempted to increase treats and table scraps out of pity for your dog. Doing so will only reinforce your dog's refusal to eat his dog food. Cut back on the treats instead.
Taking your 4-legged furball for a walk before mealtime is an excellent way to increase their appetite (and yours!).
If you suspect your dog has an upset tummy, bland chicken and rice is something most vets recommend to settle Fido's stomach.
Final Thoughts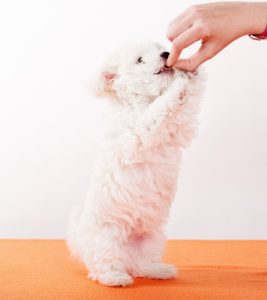 Picky eating habits don't apply just to us humans. Cats get quite the bad rap for being fussy about their food.
It is assumed that dogs will eat anything and everything, but sometimes that's just not true. Sometimes they bamboozle their owners by not eating their bowl of food in a ploy to get treats or table scraps.
An occasional scrap from your meal is acceptable, but you have to be careful, both for your dog's health and routine. Dogs thrive on routines, so if you feed him something other than what's in his bowl, that is what he will come to expect.
The majority of the time, a dog not eating his food isn't cause of concern or an emergency visit to the vet. Keep a close eye on your pooch for a few days and usually the situation resolves itself.
It is important for dog foods to include proteins, vitamins and minerals. Be sure to check the labels and ingredients to find the ones that best fit your pup's needs.
If a food change is necessary to get Fido to eat, I've provided 5 optimal options for you and your dog to consider. The Taste of the Wild Pacific Stream is my top choice, solely based on my personal experience of having Ruger's vet recommend that brand for him.
We ultimately didn't make a successful switch because of his sensitive stomach issues, but I trust my vet.
I would suggest purchasing a small bag of whatever food that you choose and mix it with your dog's old food. Buying a small amount allows you to gauge whether your dog likes the flavor and if he is allergic to any ingredients.
Be sure to take Fido to the vet if his hunger strike lasts longer than 2-3 days. An immediate vet visit is in order if your dog isn't eating OR drinking.
If you have any comments or questions, please feel free to leave them below!