Many people think harnesses are only for big dogs, but that is not the case! Harnesses are great for little dogs to.
Many little dogs, like French bulldogs, are actually better off being walked and trained in a harness then they are in a collar.
There are also many safety benefits to using a harness for these little bundles of energy.
Hey dog moms and dads, my name is Bri! I have an American Bulldog at home that I use a harness for. Even though Bruce is much bigger than a French bulldog, I have always wanted a Frenchie.
Bruce is a strong pup, and gets very excited when he sees people and other dogs. When I am walking him, he tends to pull me towards whatever he wants to see.
I used to just have his collar on him till I started reading about how harnesses can help a dog owner have better control over their dogs. I started to try out a couple different harnesses and it made a huge difference!
Obviously Bruce is much bigger than a French bulldog, but the same concept applies to little dogs. Harnesses have a ton of benefits for walking, training, car rides and more.
I have many friends who have French bulldogs who all used harnesses for them. Since it was a popular topic, I wanted to put together a guide for the top 10 best harnesses for Frenchies!
Why are Harnesses Good for French Bulldogs?
Like any dog, harnesses give the owner better control over their dog. Frenchies are definitely small dogs, so a harness also gives a safer hold on their little bodies.
With smaller pups like the French Bulldogs, you have to be careful. They are much more fragile than a bigger dog and should be treated more gently.
There is obviously nothing wrong with a collar around the house, but for things like walking and car rides, harnesses can be much safer.
If a French bulldog were to unfortunately be in a car accident, being hooked to a seat belt by their collar could be deadly.
However, if they are secured with a harness, it takes less of the pressure off of their neck. The same goes for walking. If your Frenchie suddenly jerks forward with a collar or you have to pull them back, it could harm their neck.
Plus, you could accidentally choke your dog by pulling too hard on their collar.
Harnesses will not give you that problem since it goes around their chest and stomach where they have plenty of muscle and bone to make the fit more comfortable.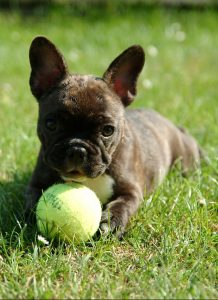 The harness gives you better control over them without hurting them, but also can be safer when you are not around your dog. If you leave your dog at home alone, there is always the chance of their collar getting caught on something.
Dogs are free spirits and do the craziest things, so it is not uncommon for one to get into a sticky situation. In a collar, they could get caught on something that turns the collar into a choking hazard.
A harness, however, does not sit around their neck so even if it gets caught on something, it is much more unlikely that it would harm the dog.
Harnesses are also really helpful in training! Puppies are always a little crazy and high energy, but this is something French Bulldogs are especially known for.
Training in a collar can be really hard because it doesn't allow you to control their entire body. Harnesses allow you to maintain better control and keeps you from putting too much pressure on their neck and throat.
Frenchies need a lot of patience and a lot of training, so the harness will definitely come in handy.
Types of Harnesses for French Bulldogs
While there are a few different types of harnesses for French Bulldogs and really all dogs for that matter, they are all pretty similar. The main differences are in how they are put on the dog and the size or width of the straps.
Some harnesses are step-in harnesses, which I personally believe are the easiest to get on your dog. These ones are made so you can lay it on the ground and have your dog step into the leg holes.
There are also harnesses that you have to place over your dog's head first. While these are still great harnesses, I have personally found that this is a little harder to get my dog to stand still for.
Harnesses with thicker straps are also a benefit in my book, but thin strapped harnesses are great too. The difference is just in the width of the material.
Neither one is really any better than the other, but specifically for Bruce I prefer the thicker straps so when he pulls it is not digging into his body as much.
How to Measure a French Bulldog for a Harness
Getting the proper measurements for your Frenchie is one of the most important steps in purchasing a new harness. If the harness is too loose, it could injure your dog or they could slip out of it.
If the harness is too tight, it can dig into your Frenchie and be extremely uncomfortable. Measuring your pup is not too hard, as long as you can get them to be still long enough for you to finish taking the measurements!
To measure your Frenchie, you will want to first make sure you have a good, flexible measuring tape. We like this one from RayTour for Bruce because it is easy to use and automatically rolls itself up!
You need to measure the circumference of your dog's neck and chest. Simply wrap the measuring tape around the base of the neck and then the largest part of their chest behind their front legs.
These measurements should help you match up the sizing on most of the harness sizing charts, but if your measurements don't match exactly there is no need to worry!
All of the harnesses we have listed below are adjustable so you can order the closest size and go from there.
How to put Harnesses on a French Bulldog
This will obviously depend on which style you get, but it is pretty much the same. First task is to get your dog to stand still.
This is honestly probably the hardest part of the process. It can be hard to get them to do what you want them to do long enough to get the harness attached, but this can be a great training tool!
Give your pup treats for standing still while you put their harness on and they will learn to stand stiff as a board. Once you get their attention, it's time to put on the harness.
Depending on what kind you get, you either have to get your dog to step their front legs into the harness or slip it over their heads. Then all you have to do is clasp the locks behind their back and attach the leash!
Honestly, Frenchies are probably one of the easier dogs to get a harness on. If you sit on a chair or couch, you can most likely sit them on your lap and just put it on that way!
Too bad I can't do that with Bruce… but if I tried to lift him onto my lap I would probably blow out my back.
10 Best Harnesses for French Bulldogs
1) Downtown Pet Supply No Pull Adjustable Harness
This is a fantastic harness for small dogs and made the top of our list for several reasons! First, it is inexpensive!
This harness is also adjustable which is great for dogs who still have some room to grow. There is an adjustable clasp on the chest, which gives plenty of wiggle room.
This harness also comes in a few different sizes so if you have a Frenchie that is a little on the chubbier side, you have some options to work with. It also comes in 9 different colors to fit your taste and style.
The tricky side of some harnesses is orchestrating getting it on your dog. Between holding them still and figuring out the straps, this can be a pain.
However, this one is thick and slips on very easily! It is also padded and soft for ultimate comfort for your Frenchie.
Speaking of material, this harness is made of extremely durable, double stitched fabric. It has a Velcro closure on the front that is secured by a locking snap.
On the back of the dog, the harness has strong metal D-rings for you to attach your leash that are sure to hold through all the pulling they can muster.
The material is even washable so your dog can get as dirty as they want on your walks without ruining the harness!
2) Pawtitas Pet Reflective Step in Dog Harness
The Pawtitas harness is great for dogs of many shapes and sizes, but they especially cater to small dogs with their extra small sizing options. Perfect for Frenchies!
Safety is my main priority when I am walking Bruce, which is a main feature of this harness. It is reflective, which is perfect for making sure your dog is clearly visible in any condition.
With 10 vibrant colors to choose from, owners have plenty of options to fit their taste. It also has a step-in design which makes getting it on your dog much easier.
The harness is made of strong, durable materials that will hold up even against the strongest pullers. It is also made to be extremely comfortable for your pup and not rub or irritate their skin.
There is an easy to use sizing chart available also that helps you find the perfect size! You can even get a matching leash that is also reflective to go with your harness.
3) Pupteck Soft Mesh Dog Harness with Leash
I am a little partial to this one because I love its plaid print design, and Bruce looks mighty handsome in plaid.
However, it has many more benefits than just style alone! It is inexpensive, durable, and easy to get your dog into. Sounds great, right?
It is! Its material is 100% polyester which is durable as well as machine washable. The chest belt is adjustable and secure so you have complete control over your pup no matter how hard they pull.
The material is also breathable which helps keep your dog comfortable. Its design allows your dog to step right into it without fussing over straps.
The chest belt is stable and secure, but is easy to get on and off. It also has a durable D-ring on the back for the leash to attach to which is strong enough to keep up with a hyper pup.
This harness only comes in two colors, but the print is adorable and you get a FREE matching leash! This harness option is stylish and effective for walking, training and everything in between.
4) Didog Soft Flannel Padded Dog Best Harness
The first thing I noticed about this harness is that it is escape proof. This is super important for your dog's safety!
Like I said, dogs can do crazy things. Many of them will do whatever it takes to escape a harness and run free. This harness is specifically designed to keep your dog from wiggling their way out no matter how hard they try!
It has a wide, padded strap that gives you more control over your dog. It is also soft and padded for comfort.
For safety, it is lined with double reflective lines so your dog can be seen in any condition. The sturdy clasp is made of nylon and is adjustable to fit your dog perfectly.
There is also a welded O-ring for your leash to attach to that is positioned perfectly for you to maintain control. It even has a welded D-ring on the front that you can hang a tag on if you want.
This harness is also designed to minimize your dog's ability to pull you. The way the straps sit around your dog holds them back securely but gently.
It comes in five different colors and the company also makes matching leashes to satisfy any style.
5) PoyPet No Pull Dog Harness
Easy access is crucial when looking for the right harness. This harness is super easy to secure onto your dog with very little effort.
It comes in many different sizes, but the small and extra small are specifically best for French Bulldogs. They come in over ten different colors and patterns so you can choose which style looks best for your pup.
With a no-pull design, this harness has three release snap buckles that are adjustable and give a snug, secure fit. The material is made of soft, breathable mesh that is padded for extra comfort.
This material is also washable so you don't have to worry about it getting ruined on your adventures. Plus, it includes reflective stitching throughout to make sure you and your dog are fully visible and safe wherever you go.
This harness has a strong pull ring on the back for you to attach your leash to, but it also has a strong, padded handle so you can quickly grab your dog if you need to.
This is also great for Frenchies because you can scoop them up easily to put them in the car or just to hold them!
The handle is strong enough to support a Frenchie's full weight when you lift them and is super convenient.
6) Wonderpup Soft Mesh Dog Harness
Talk about a great price! This harness is under ten bucks, but does not lack at all in quality. It was made specifically for small dogs like Frenchies but also comes in larger sizes for other dog breeds.
This is a lightweight harness with both a Velcro and clip closure for double security and hold. There is a D-ring for the leash attachment that helps you control your pup securely.
The 100% polyester material is durable and breathable with mesh fabric that keeps your dog cool, dry and comfortable. This is super important for dogs that are super active, like French bulldogs.
The material can be washed and dried so you do not have to worry about stains ruining the harness. It also can withstand lots of pulling and wear and tear from your rambunctious pups.
With several different colors to choose from, you can pick whatever style best suits your French bulldog. The colors are bright and vibrant to help your Frenchie stand out for safety.
It also has a very easy to follow sizing guide so you can make sure you get the right size, but the chest strap is adjustable to give you a perfect fit for your Frenchie.
7) Gauterf Dog Harness and Leash Set
Looking for a harness you can use for your French bulldog and your cat? No joke – that is what this one was made for!
While I can't promise your cat would like this harness, I can speak to the benefits of this harness for your Frenchie.
Perfectly designed for small dog breeds, this harness comes in both extra-extra small and extra small so even your tiniest Frenchie will have the perfect fit. It comes in larger sizes too for your beefier bullies.
The material in this harness is specially designed to be soft and comfortable without allowing your French bulldog to slip out. It has mesh fabric that also keeps them cool and dry, adding extra comfort.
Something I really like about this harness is that the straps are not thin.
Sometimes thinner straps can dig into your dog's body and I can't imagine that being comfortable for them, so the thick straps in this harness definitely look more comfortable.
This one also has two adjustable buckles to give your Frenchie a perfectly snug fit. There are also reflective strips in the fabric to add visibility that is very important for safety.
With two strong D-rings, the FREE included leash (yes that says free) attaches securely to the back giving you full control. It comes in over 10 different colors so you can choose which one best fits your and your Frenchie's style.
8) Rypet Small dog Harness and Leash Set
This one might be my favorite choice yet, solely because it comes with a built in bow tie! How cute is this? There are also more girly options for your little lady Frenchies!
Speaking of style, it comes in a few different colors and patterns. Again I am a sucker for a dog in plaid, but there are a few different prints to choose from and your Frenchie will look dapper in all of them.
One more feature on style is the bell. There is a tiny, adorable bell on the chest of this harness so you can hear your pup no matter where they are.
Not only is that cute, it can also be a safety feature if they somehow manage to slip out of sight!
Another safety feature is the large padded straps that will not dig into your dog or cause them to choke or strain their necks on walks.
The material is very durable and secure, but is also lightweight and comfortable. The only downside to this one is that if it gets dirty you would probably need to hand wash it so you don't damage the bell or bow.
This is a perfect harness for special occasions or just looking great every day!
9) Voyager Step-in Soft Plush Dog Harness from Best Pet Supplies Inc
If you are looking for a warmer, winter-friendly harness for your Frenchie this harness could be a great option.
Although its furry warm padding is great for colder temp adventurers, this is also a downside for those who live in warm climates. The material is thick and solid which makes it not very breathable for warmer temperatures.
This is probably the most comfortable harness on the list. It is made with super soft lining and plush wrapping. The outer layer comes in different styles from suede or corduroy to a stitched plush pattern.
This also comes in many different color combinations to fit you and your Frenchie's unique style. Each color is made with durable material that can be washed easily to remove dirt and stains from your dog's active adventures.
This is a step-in harness that allows you to easily fasten it to your Frenchie. All you have to do is have them step into the leg holes, and then just fasten the secure hook and loop and clasp the buckle.
The hook and loop gives you a superior hold on your pup. It also has two sturdy D-rings that evenly distribute the pull of your dog during walks and training.
While there are a few different sizes to choose from with this harness, it was designed for smaller dogs. They even use a Frenchie as an example in their sizing chart!
That sizing chart also makes it super easy to find out which size your dog will need for a secure fit.
10) Copatchy No Pull Reflective Harness
This is the perfect harness for dogs of all breeds and sizes, but especially for young, hyper Frenchie puppies.
It comes in many sizes for different breeds, but luckily for Frenchie owners the sizes start at extra, extra small for the tiniest Frenchie puppies.
This harness' design is ideal for preventing stress on a dog's neck. It prevents choking and digging into their skin as well.
The material is filled with a sponge layer that makes it extra comfortable. It is also mesh throughout which lets the material breathe and keep your Frenchie cool and dry.
The best feature of this harness is the extra handle on the top. This allows you to quickly grab hold of your pup if need be, giving you additional control over them.
For walking and running, there is a secure D-ring that is centralized in the back of the harness for even weight distribution. The straps are also adjustable so you can help your dog get the best fit.
There are several colors to choose from that are all vibrant and bright. Their sizing chart is extremely easy to follow, and the company even provides full returns if there is a problem with the harness when you receive it!
Safety Considerations of Harnesses for French Bulldogs
I pretty much covered all the safety features you should look for in a harness, but I'll go ahead and summarize them here. There are quite a few safety considerations you should keep in mind.
Like I have said a couple times already, a proper fit is vital to the success of a harness. Loose or tight harnesses can be very dangerous!
Reflective Qualities. Not every harness I listed has reflective material. While it is not an absolute must-have, it is definitely a great benefit when it comes to safety. It maybe worth getting a glow in the dark collar. Small dogs like Frenchies can be hard to see, especially at night. The reflective material will help people see your dog which can help prevent accidents.
Seat belts. This is something that I preach to all dog owners – NEVER attach a seat belt harness to a collar! If you were to stop suddenly or get into an accident, you can easily cause life threatening damage to your dog's neck. Harnesses should always be used in a car. Simply attach the seat belt to the same rings you attach the leash to so your pet is safe in the car.
This is something I didn't really emphasize but can make a big difference. Choosing dark or natural colored harnesses is fine, but brighter colors can be an added safety feature. These bright colors will stand out against your dog's natural coat so they can be better seen at all times. It also can help identify your dog if they happen to get loose during your walks or car rides.
Other Considerations of Harnesses for French Bulldogs
Something else you might want to think about when getting a harness for your Frenchie is their skin. All bulldog breeds are well known for experiencing skin complications, mostly due to allergies.
Something that is not commonly known however is that some fabrics can irritate allergies. It is important to pay attention to the materials the harness is made of and make sure it is not irritating your Frenchie's skin.
You may also want to consider inspecting the smell of the harness when you receive it. If there is a strong chemical smell, it would be smart to wash it thoroughly before putting it on your bully so there is less chance of a chemical irritation.
Another inspection you will want to make is for any damage before you put the harness on your dog. Rips and frays in the harness could lead to further damage and even worse, an escapee.
Final Thoughts: Best Harnesses for French Bulldogs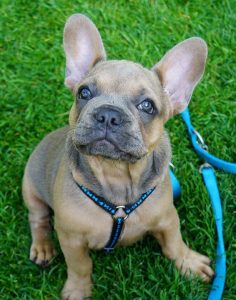 Having the right harness for any dog can be a great tool for training and daily use. Frenchies could especially benefit from a harness because they do tend to be highly active dogs, especially as puppies.
The most important things to remember are the safety features and the sizing. Make sure your Frenchie's harness is not too big or too small and will keep them safe with reflective features or bright colors.
There are plenty of harnesses on this list, as well as others that we didn't even get to include. Just make sure to do your research when you are buying a harness so you get the highest quality one for your Frenchie.
Hopefully this list helps you decide which harness is best for your French bulldog! There are plenty to choose from, so read the information thoroughly and get whichever one suits your dog's needs the best.
Happy Pup Parenting!