Having a dog who loves the outdoors is a must for me. Luckily, I adopted an American Bulldog and Pitbull mix who loves to be outside.
Unluckily, I live in a state that experiences freezing temperatures, snow and ice for about three months out of the year.
While this doesn't stop my dog, Bruce, from wanting to be outside, his paws can't always handle the extreme weather.
Hi dog moms and dads! My name is Bri, and I'm one of those ridiculous dog moms that puts boots on my pup in the winter time.
I know, they look silly and make him walk like a dizzy duck. However, I didn't just get them for a good laugh and a funny Facebook video.
When I first adopted Bruce, I noticed that he had pretty tough paws like most dogs.
Where I live, though, our roads and sidewalks get covered in snow and ice. To combat the elements for safe driving and walking, salt is sprinkled to melt the ice.
This is great for me when I'm walking, but that salt gets up in between Bruce's toes and can cause him a lot of pain.
Plus, his precious paws aren't made for extreme cold and snow and he could have easily gotten hurt or even frost bite if he walked outside without his boots on.
There are tons of different doggy boot brands out there and I've tried more than a handful. Most of them slip right off, or Bruce was able to grab them with his teeth and pull them off.
After a long time of searching, we found a few different brands that worked well, so I want to share them with you! Let's take a look.
Why are Dog Boots Important?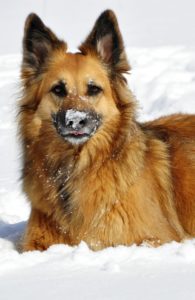 No matter if its snowing or blistering hot, your dog's feet need to be protected. Boots like the ones above can help meet that need.
One of the most important things to remember when buying boots for your dog is their comfort and safety.
You want a boot that will fit properly and securely without hurting them or making it harder for them to walk.
Bruce's main problem was getting used to walking in these boots. He got it eventually, but I had to make sure he didn't hurt himself while waddling around.
I found it helped to walk beside him to make sure he didn't walk to fast and stumble. After a few funny moments, he got the hang of it and now he doesn't even notice he's wearing them.
Another thing you'll want to consider when buying dog boots is the sizing. If they don't fit properly, they won't stay on or could be uncomfortable for your dog.
Best Dog Boots for Snow and Ice
Before I get into the products, I want to make sure that I mention style. I'm not just talking about what your pup will look fashionable in, but more the functionality.
What I found through experience was that the simpler the boot, the better. Some boots offer more coverage. They're taller and look more like a tube sock.
While these may say they keep your dog warmer by covering more of their legs, we actually found that they offer a much less secure fit than ones that only cover the paw.
No matter how tight we secured the tall boots, Bruce was able to slip out of them!
That being said, I will offer a tall boot option in this list but most of the best products will be boots that just cover the paw itself.
1) My Busy Dog's Water-Resistant Dog Shoes
These are my go-to for Bruce in the snow, rain, mud, and even hot summer temperatures. They have a durable sole that is anti-slip so he can trot around with ease.
These boots are sewn together and include a wide opening with adjustable, reflective fastening strips.
These strips sit right on the joint where the paw meets the leg, so the foot actually helps keep the boot on.
With multiple different sizes, almost any size dog can use these boots. Bruce weighs about 90 pounds and has pretty big paws, but we found that the size 7 boot fits him perfectly!
What I love about these boots is that they're water resistant and are perfect for our cold temperatures. They also protect Bruce's paws from the salt on the sidewalks. Plus, he can wear them year-round.
Sometimes I like to take Bruce hiking in the woods (when he's done napping) and the trails can be rocky and uneven, but these boots allow him to walk and jump without worrying about injuring his precious paws.
I live in a pretty suburban area where most of the pavement is blacktop, which can get extremely hot in the summer. These boots protect his paws from burning on the hot pavement.
You wouldn't walk barefoot on a sizzling black top would you? Neither should your dog!
2) Bark Brite All Weather Neoprene Paw Protective Dog Boots
Although I never tried this brand personally, a fellow dog mom that is a friend of mine loves them. She has a golden retriever, so finding something that wouldn't slide right off his fur was difficult.
These boots provide just a tad more coverage than the first brand I mentioned but have generally the same mechanism. The straps sit just above the ankle joint and are also reflective.
With Neoprene material, the soles of these boots form to your dog's paw shape for comfort. They are puncture resistant to keep their paws safe through uneven terrain.
These are waterproof so they're great for keeping paws dry in the cold snow and protected from the ice. They're also useful on hot asphalt and keeping your dog's paws clean in the rain and mud.
There are several different sizes for these boots, so many different breeds can benefit from them.
3) Wuxian Waterproof Dog Shoes
This is a brand I've never tried before, but they have many similar features to the brands I have used.
They're ideal for snow and ice, but can also protect pet paws from hot temperatures, mud and uneven and sharp ground.
The water-resistant material keeps your pup's paws clean and dry. They have sturdy stitching that will last for many uses, even for the rowdiest dogs.
The soles of these dog shoes are durable and anti-slip to help your dog with traction. You can even use them indoors if your dog tends to slip around on hardwood, tile or laminate floors.
There are several different sizes for these boots, and they have two sets of adjustable straps. The straps fasten just above the joint on your dog's paw, which help to keep them securely in place.
4) VetGood Oversized Basic Waterproof and Breathable Dog Boot
This is one of the boots I mentioned that is long, maybe too long. We tried this boot out on Bruce to keep him from licking a hot spot on his leg, but it just kept sliding off so this one wasn't for him.
However, it can be better for other dogs! It can keep your dog's entire law and most of their leg (depending on how tall the are) dry and warm.
There are two safety fasteners, one right above the foot and one higher up on the leg, that keep it in place. These were meant to be used to protect bandages, stitches or any other healing injuries.
The durable rubber sole protects from cold snow, hot asphalt or sharp objects. They are water-resistant too, so they won't get wet.
These boots are slightly oversized to go over bandages, but can still be adjusted to fit your dog for every day use. The come in different sizes for many different dogs to benefit from.
These might also be more beneficial if you live in an area that gets pretty deep snow.
5) QUMY Dog Boots
This is another dog boot that I personally love! They have a thicker Velcro strap that provides a stronger and more secure hold.
They have a thick sole that protects Bruce's feet from the salt, snow and ice. They also protect him from hot pavement in the summer and sharp objects on the ground.
I like that the thick strap sits right on the ankle joint with these boots. Bruce has short, fine fur so this helps keep it from sliding off since it rests right on the joint.
They're flexible and breathable for comfort, but sturdy and strongly stitched for durability. They're also hand washable so you can keep using them time and time again!
Final Thoughts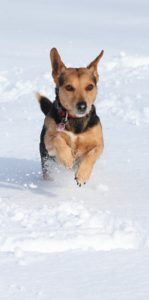 At the end of the day, protecting your dog's paws from cold snow and ice is crucial. Dogs' paws are extremely sensitive and should be protected just like human feet.
I prefer the shorter dog boots like the first link I talked about, but any of the ones above would work.
I hope this helps you find the best dog boots for your pup to romp around in the snow!
Happy Pet Parenting!