Hello, my name's Valerie and my furry friend is called Bentley. He's a Clumberdoodle, which is mix of Clumber Spaniel and Standard Poodle.
Bentley came to live with us when he was just 15 weeks old and has been the light of our lives ever since. Not that the road has been all smooth – no sir!
We have had our ups and downs, but every day's a school day for both of us, and we learn from each other all the time.
One of the first things I bought for Bentley was a collar and leash. Unfortunately, being the first dog for me in many years, I bought an inferior collar and leash.
I should have known better, but as a new puppy parent, I was pretty new to all that stuff. Into the bin went the remains of the collar.
After the collar literally fell apart I decided that some extra research was needed before investing any more money.
I think that the collar and leash are probably the most important things you should buy when you first get a dog. I also think now that buying the best quality possible is a good idea.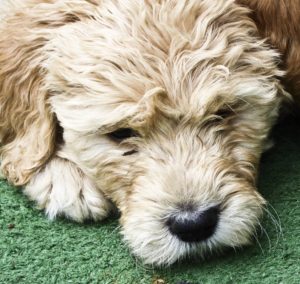 If you don't, you'll find out like I did that you are literally throwing money away.
If you spend a little extra and buy a good quality collar and leash, you will be set for many months of great walks and runs, knowing that if your pooch needs to stay near you, he will.
The lead or collar won't fall apart at the critical moment.
So, having decided on a new collar and leash, I took myself off to the pet shop.
Wow! I've never seen so many collars and leashes in my life! Every size and shape, colour and fabric. With and without bows, with whistles, with studs, and the list went on!
Finally, I got myself back together and headed over to the collars I had researched – the leather ones.
Now while there was also a huge selection there, it seemed that there was a difference in quality and certainly I noticed that the leather collars were better made.
They just looked as if they would last longer.
So Why a Leather Dog Collar?
Well, in my opinion there are several good reasons to buy a leather collar as opposed to a nylon or plastic one. Truthfully, I think the plastic ones looked a little tacky, and the nylon did not look as if it could withstand Bentley and his antics.
Leather gets more pliable as you use it, whereas nylon and plastic could harden and then crack, and the genuine leather collar Bentley wears now has lasted a long time.
After reading about leather collars I found that these are less likely to irritate the skin so less chance of skin rashes.
It's not true that if your dog wears a leather collar he can't go into water – he can. As long as the collar has been treated correctly, and at regular intervals, it will be just fine.
You should rinse it out after a swim in the sea, but that's because of the salt water which will damage pretty much most fabrics.
Most leather collars are flat although I have seen round ones. If you have a dog with very long, curly hair, a round collar will be easier on the coat and you'll have less tangles in the neck area.
While leather collars are quite heavy compared to plastic or nylon, you will manage just fine with most dogs. If you have a tiny dog, you may need to buy an extra thin leather collar which won't weigh them down.
Why Every Dog Needs a Collar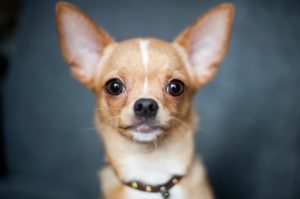 I've found that collars serve more than one purpose. The main one is to attach the leash to so that I can take Bentley for a walk and know that he will not suddenly run across the road or off after a rabbit.
Another good reason for a collar is that it gives you somewhere to hook his identification badge onto. I had one made at the local shoe shop where they do engraving work.
He has a shiny bone-shaped badge with all his info on, firmly attached to his collar.
In Spain dogs must never be allowed to ride in the front seat of a car, so Bentley has his own seat belt in the back seat. It attaches to his collar and is at the right length to stop him climbing into the front seat.
He can sit up to see out of the windows but not jump out if they are open.
One other reason for a collar is for me to grip onto if I need it. Occasionally Bentley gets overexcited and wants to hurl himself at unsuspecting neighbours.
The collar lets me have a firm grip while he is sitting still, and he simply cannot launch himself at anyone or any other dog.
Knowing that the collar will not break or fall apart is a good thing for me also.
Are There Advantages and Disadvantages of Leather Dog Collars?
Yes, there are. As with most products that you buy, there are always point in favour and against. I do think that the points in favour of leather collars outweigh those against.
Leather is 'earth-friendly' as it is made from a natural product. They are more comfortable than nylon or plastic which will sweat in high temperatures. If you have a pooch with a sensitive skin, then leather is the best type for you.
The disadvantages are that leather is normally more expensive than the other types. They need to be cleaned regularly otherwise they start to smell.
All things considered, there are not that many points against a good-quality leather collar.
The Benefits of a Genuine Leather Collar
There are several benefits for a genuine leather collar, one of them being that if you take good care of it, it will last a long time. Sometimes a good collar will last the life-time of your pooch, so bearing that in mind, paying more for it should not be an issue.
Even after getting wet or muddy, a good wash will restore the collar to full use, so it is perfect for outdoor activities such as swimming.
For the fashion-conscious pet parent and dog, leather is always in style. It always looks smart no matter how old it gets. We all know that man who still has his first leather belt, even though it may be a little too tight, it still looks classy.
Leather just looks so good, even on your pooch. It is infinitely more attractive than plastic or nylon.
And then there's the leather smell. Somehow it retains that distinctive smell even years after you've bought it. These days you can get a leather collar in any colour you and your dog like.
Have it studded with Rhinestones or any other gems, and it will still look timeless. Your dog will be the envy of the street!
A Very Big Disadvantage!
Possibly the main disadvantage of leather – and this is one that you should remember at all times – is that your leather collar is made out of very tasty animal hide!
Never leave the collar in reach of a puppy who is teething, or even a bigger dog, because you will find that it has become a very enticing chew toy!
Unfortunately, dogs can't tell the difference between a rawhide treat and an expensive collar, to him they both smell wonderful and they taste all the same!
You can train your dog not to touch anything that you store in a certain place, such as a container which holds his collar, leash, harness etc, but believe me, if he gets the urge, and you are not looking, the collar will disappear!
How to Choose the Best Leather Collar
After checking out many leather collar labels I saw that some are not genuine leather. They are made from something called PU leather. I looked this up and it is a cheap and soft fabric, but it is not durable at all, so will not last as long as genuine leather.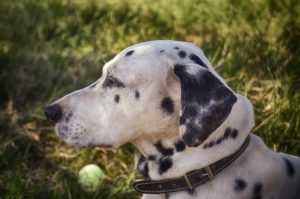 Small pups and dogs could handle Napa leather which is incredibly soft and will not irritate their skin while the biggest, strongest dogs will need a collar made from Buffalo leather.
The best way to choose a collar is to measure your dog's neck before you purchase, and then read the description which will give you the maximum neck size for that collar.
Never be tempted to buy a smaller sized collar, as your dog will probably outgrow it quickly and you will have to replace it.
Function vs Look of a Leather Dog Collar
It's a great idea to have a collar that is stylish and smart but there comes a point where you have to consider the function of the collar. I think that sometimes it is more important to have a collar that does the job and does it well, rather than one that is merely pretty.
I have learned with Bentley that he is a very strong boy! He weighs in at around 30kg, and when he gets it into his head to lunge for something he thinks he should chase, it takes a good solid collar to hold the leash, without simply snapping.
The last thing I want is for him to run over the road and be knocked down.
However, before you buy a collar you should consider why you need it and what purpose it will serve. If your dog seems to get into mischief a lot, you may consider a collar with a breakaway fastener so that in an emergency you can release him quickly.
I think for most average dogs a good sturdy collar will suffice, though.
Very small dogs may not need as robust collars as Bentley-sized pooches, although in my opinion it is always better to be safe than sorry, and function wins over looks every time.
Caring for the Leather Collar
Leather collars come in two types, namely finished and unfinished. You will be able to tell the difference easily as finished leather has a glossy or shiny finish, while unfinished leather is quite dull.
Neither type of leather will do well in your washing machine, and truthfully leather is not a fan of water, but finished leather handles wetness better.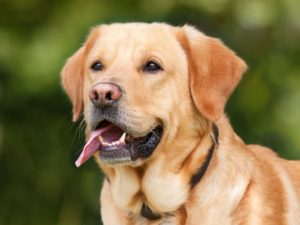 The ideal way to clean a dirty leather collar is to use a damp cloth and simply wipe it clean. On a finished leather collar, the dirt will more than likely come off easily.
If the dirt is ingrained and will not budge, then use a small amount of soap and rub gently with a stiff-bristle brush. Remove the residue of soap with a clean damp cloth and then buff it with a dry cloth.
It is a good idea to treat the clean collar with a preservative or conditioner once you have cleaned it. This will help keep the collar is pristine condition.
Unfinished collars will handle being rubbed with saddle soap. You should gently work this in with a slightly damp cloth. Wipe soap off with a dry cloth.
If at all possible try not to use a damp cloth on unfinished leather, unless you really have to. Once you have cleaned the leather, you should treat with an oil which is made for the job.
Information to State on a Dog Collar
As I said before, the ring on the collar makes a great place to hang the ID tag. Bentley has his hanging nicely under his chin and does not even notice that it is there.
There are some things which should always be on the tag, namely:
Dog's name
Your telephone number
Your partner's number (or any other contact you would ask to help)
Having your name and address is optional. Some people do not like to give out this information, which is understandable.
As long as there are more than one contact number and your dog's name, a lost dog should get home again.
How to Size a Collar
When you see rows of collars hung up, they all show a size in either inches or centimetres. This is from the one end to the other end of the collar.
You need to allow an overlap of about 4" for the collar to fit right. This also gives you a few extra holes if they dog gets bigger.
To measure your dog's neck, take the measurement from a few inches down his neck, then add one inch for small dogs and two inches for larger dogs.
Make sure that the tape is snug but not tight and allow room to slip two fingers in between the collar and the skin.
If you can get more than two fingers under the collar it is too large, while less means that it is too tight and must be loosened.
So, after learning all about leather collars, I've found five of the best ones for you.
Best Leather Dog Collars
1. Soft Touch Collars Luxury Real Leather Padded Dog Collar
This collar fits a neck measurement of 18-21 inches and if you like, you can order the leash to match. There is a small ring for the ID tag.
The leather is two-toned and really one of the most attractive collars around. It is brown and cream with a sheepskin inside for extra softness.
The buckle and d-ring are made of brass which is coated so that it does not rust, nor will it corrode.
The leather is naturally tanned so there are no chemicals or dyes used in it, and it also comes with a lifetime guarantee. If anything goes wrong with it, you can send for a replacement right away.
2. Blueberry Pet Soft Genuine Leather Dog Collar
The collar is made from leather and a polyester webbing which gives it more flexibility and feels more comfortable.
The metal buckle is an eco-friendly brass colour and the leather feels soft and luxurious.
The collar comes in eight different colours, so you could have one for each day of the week, if you wanted to be completely co-ordinated.
The collar is easy to clean, they recommend that you just wipe it with a damp cloth.
There is a matching leash which is sold separately.
3. Bestia Maximus genuine leather dog collar for large breeds
This leather collar is for a big dog – a really big dog. It is meant for breeds such as Rottweiller, Bullmastiff, Boxer and Cane Corso.
The collar itself is 2.5" thick and stands up to rough usage.
The collar is made from Buffalo hide with a lamb leather lining. It comes studded for that extra macho look that big dogs carry off so well!
Apart from the looks which are stylish, the collar is durable and long-lasting, and very comfortable for your dog to wear. All the metal parts are heavy duty and golden coloured.
The actual thickness of the collar is amazing at 4mm!
This is made up of a top layer of buffalo leather, an under layer of soft lamb leather, and a middle of orthopaedic foam so even though your dog is a monster size, he should still be comfortable on his walks.
4. Padded Leather Dog Collar
I've found this collar for teeny tiny pooches!
This collar is made from a thick outer layer of leather which has been stitched to a soft padded lining. It doesn't fray and cleans easily with a soft damp cloth.
For the super-smart small dog, this is stylish and comfortable. The hardware is metal and re-enforced so that even though it is small it is built to last. There is a sturdy loop where you can hook an ID tag.
If for any reason you don't like this collar, they'll take it back and give you a refund, so they must be pretty sure that you will be happy with it.
5. StrawberryEC Puppy Collars for Small Dogs
Finally, here's one for the little diva..
This is possibly the cutest collar in the world! It comes with a plaid red bandana and is small enough to even fit a cat. The length of the collar is 9-12" so will fit a neck of less than 10".
There are 5 holes which you can use to adjust it.
The bandana can be exchanged for a bow tie, for that extra smart boy dog. Either way, the dog who sports this will get compliments from all who meet them.
Apart from the looks, the collar is well made and durable, while the bandana is made from top quality fabric.
This unique design will have your tiny pet adorned beautifully for their walks.
Final Thoughts: Best Leather Dog Collars
Well, I hope you've learned something about leather collars. I certainly have, and I must say that I am more than happy with Bentley's leather collar and I feel confident that the collar will stand up to a bit of rough and tumble, and also that the leash attachment will hold firmly.
I realise that the temptation to chew it will possibly always be there with Bentley, so I've found a place out of reach where the collar will be safe for another walk.