We all need a little help climbing upwards sometimes, even dogs.
Hi, my name is Jennifer. I'll be exploring the differences between types of dog ramps and how to find one that best fit your dog's needs.
This is a timely topic for me because Ruger, my Weimaraner, turned 11-years-old this year and has started having trouble with his bag lets.
Just last week, he had to go to the vet for what turned out to be fluid in his elbow, likely caused by jumping on and off the bed.
While I'm not at the point of needing a dog ramp yet, it will be good to know my options.
When the eventual time comes where he needs help getting on the bed, maybe he can teach my 3-year-old Yorkshire Terrier, Lola, how to get off the bed.
I have a generic stool propped up against the bed that she uses to get ON the bed. But the problem is, she hasn't figured out how to use the stool to get OFF the bed. She uses a chair instead.
She's the typical little sister who follows her big brother around and does whatever he does. So, chances are that once my Weim learns to use a ramp, my Yorkie will follow suit.
Why you Need a Dog Ramp?
In my case, my Weimaraner dog is now in the age range of a senior dog and that is the reason why I am considering a dog ramp.
My Yorkie doesn't seem to have a problem jumping (she can jump almost as high as my kitchen counters,) but small dogs are notorious for developing joint issues from jumping too much.
However, I could also use one because my Yorkie is a smaller dog with short legs. She's also having surgery next month to get spayed and might have difficulty jumping for a few days until her stitches come out.
Small dogs often struggle to get on beds or couches. Constant jumping can damage the joints of both small and large dog breeds.
As dogs age, they can develop arthritis and other mobility issues that make it difficult for them to reach heights.
That can make normal activities, such as getting into vehicles, climbing stairs or getting in and out of boats or pools, an obstacle they can't overcome without help.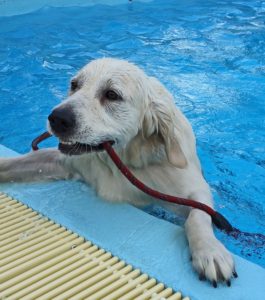 Pools can present a danger to dogs that might fall in and be unable to get themselves out of the pool in time. Here is a helpful article on the best products to help dogs get in and out of pools.
Many dogs prefer to be as close to their owner as possible. If your dog has severe mobility issues, denying access to certain areas they used to being can cause the dog to feel lonely and depressed.
Banishing your dog to a bed on the floor can cause them to act out in confusion or injure themselves trying to get to places they can no longer reach.
Dog ramps are a perfect solution to keeping your dog happy AND their joints healthy. They also save you from injuring your back by constantly lifting the dog.
Types of Dog Ramps
Telescopic Dog Ramps–  Telescopic dog ramps slide in and out for the desired length. The safety lock ensures the ramp remains extended.
Bi-Folding Dog Ramps– Bi-folding ramps can be folded in half for easy storage.
Tri-Folding Dog Ramps – The tri-folding ramp folds into three sections to store longer ramps.
Free-Standing Dog Ramps – Dog ramps that are free-standing come at their full length and can't be extended.
The main difference between the ramp types is that the telescopic ramps can be adjusted to fit your dog's needs. The folding ramps can be folded for storage but remain at the same length once unfolded.
There are three things you need to look for when buying a dog ramp: height, length and slope.
Height is the exact height of the vehicle, sofa, bed, etc. that your pet wants to reach.
Length is how far the ramp extends. An adjustable ramp is best for multiple uses, such as car and boat.
A steep slope can be difficult for your dog to overcome. Expect a few training sessions before your dog is comfortable walking up or down the incline of the ramps.
Safety Considerations of Dog Ramps
Before your pup starts using a dog ramp, be sure to read these safety tips first.
Supervise your dog using the ramp, especially boat ramps
The height of the ramp should be similar to regular steps
Dogs need traction to maneuver ramps. Be sure the ramp isn't slippery.
Make sure your dog falls under the recommended weight for the ramp to prevent injuries
The top of the ramp should be even with the car, truck, bed, etc.
Be patient with your dog. Going up the ramp is easier than going down it.
5 Best Rated Dog Ramps for General Use
1) PetSafe Solvit Deluxe Extra-Long Telescoping Pet Ramp
The Solvit Deluxe Telescopic Dog Ramp is a sturdy option for large dogs. It's built to hold up to 300 pounds of fluff.
Despite the ramps sturdy material, it's lightweight for humans to transport. It weighs just 18 lbs.
For safety, the ramp includes raised rails on each side of the 20-inch span. There are rubber feet on the bottom of the ramp to keep it stable during use.
The surface of the ramp itself offers a high, textured surface that gives your pup enough traction, especially those with mobility issues.
As a telescoping pet ramp, the ramp measure 47 inches but can be extended to 87 inches in length.
2) Pet Gear Bi-Fold Half Ramp
The Pet Gear half ramp is for smaller dogs to use indoors. Because it's only 20-inches high, it won't reach vehicles or higher places.
Pet Gear's bi-fold ramp folds in half and has a handle for compact storage and portability.
The Pet Gear ramp features pressure activated grips on the SupertraX mat designed to your pup's paws to grip the mat for sure-footing.
There are also rubber grips on the bottom of the ramp to keep it balanced and steady.
The non-skid carpeting on top of the ramp can be removed for hand-washing if soiled. The plastic material of the ramp itself can easily be wiped down.
3) Herzher's Smart Ramp
One of the best-selling dog ramps around, the Smart Ramp is sturdily designed for dogs up to 300 pounds. It can be used indoors or outdoors.
The ramp extends up to 70-inches to reach higher elevations.
The ramp is 16-inches wide, but don't fear for your pup – each side has raised railings to protect your dog from falling off the ramp. It folds up for easy storage and transportation.
Shur-Foot is technology patented by the company to give dogs a comfortable grip when maneuvering the ramp.
Senior dogs or dogs with arthritis can benefit from the ramp's extension which lessens the steepness.
4) Pet Gear Pet Ramp
The Pet Gear Pet Ramp is similar to the Pet Gear Bi-Fold Ramp in that the SupertraX carpet tread is removable and machine washable.
However, this is an indoor ramp for small dogs or dogs up to 150 pounds. It is easily snapped together without tools. It can be transported from room to room.
The ramp is a stationary free-standing ramp for heights up to 5-inches from the floor.
The rubber grips on the bottom of the ramp keep it steady. It has a smaller slope than some of the other dog ramps.
This ramp would be perfect for my Yorkshire Terrier if I can convince her to use it.
5) Rage Powersports Extra Wide Pet Ramp
The Rage Powersports Pet Ramp is built for heavy-duty large dog breeds.
It can handle dogs up to 250 pounds, such as my current obsession, Great Danes.
This versatile ramp can be used for loading pets into vehicles or at home to gain access to couches or beds.
High traction is one of the most important things to look for in a dog ramp and this extra wide pet ramp has a secure grip tape for your dog's paws.
A 2-¾ inch lip to attach the ramp to trucks, SUVs, cars, etc. is included in the construction of the ramp. It folds for easy storage and travel.
Best Dog Ramps for Use on Stairs
1) Pet Gear Reflective Extra Wide Pet Ramp
The Pet Gear Reflective Extra Wide Pet Ramp features highly visible reflective strips to help guide low-vision dogs in maneuvering the ramp. It can hold dogs up to 200 pounds.
There are rubber grips at the bottom to hold the ramp steady and slip-resistant material covering the ramp for your dog's safety.
Easily fold up the ramp and use the built-in handle for portability. Unfolded, the ramp extends to 71 inches, making it long enough to fit along the wall over most staircases.
2) Pet Trex Titan Telescoping Aluminum Pet Ramp
For smaller staircases, the Pet Trex Pet ramp can extend 62-inches and reach heights up to 4-inches high.
The bottom of the ramp has rubber feet to hold the ramp in place. The surface of the ramp has non-skid grooves built in to help your dog retain traction.
220 pounds is the weight limit for this telescoping ramp. It can double as a ramp for the car or bed, as well.
Best Dog Ramp for Use in Cars
1) Kurgo Wander Ramp
The Kurgo Wander Ramp extends up to 8-inches to give your pup stress-free access to lower vehicles such as cars. The ramp can hold up to 200 pounds.
At 62-inches long, the ramp provides your dog with a gentle incline and a slip-resistant surface.
The small incline is perfect for dogs with joint pain or small dogs with short legs.
The ramp is easily folded up for car storage and features a safety lock for when it is extended.
The company offers lifetime warranties if you're ever unsatisfied with the product.
Best Dog Ramps for Beds
1) PetSafe Solvit Wood Bedside Pet Ramp
This gorgeous plush-covered wood ramp fits alongside most beds up to 25-inches high, so you can still snuggle with your mobility-impaired pup who weighs less than 120 pounds.
Some assembly is required for the ramp and it can't be folded after it's assembled.
It can be easily cleaned with wood polish for the cherry-stained wooden structure and carpet cleaner for the carpeted surface.
2) Petmaker Foldable Pet Ramp
Another stylish pet ramp, the Petmaker ramp features a mahogany wood finish to perfectly complement your bedroom decor.
For dogs under 80 pounds, the padded foam fabric on the surface of the ramp can be vacuumed or spot cleaned if necessary.
Unfolded, the ramp is 30-inches long and can reach furniture 18-inches high, making it easy to climb for nervous pups.
Best Dog Ramps for Boat Use
1) Pawz Pet Products Doggy Boat Ladder and Ramp
The Doggy Boat Ladder attaches to most boats that have a ladder with 3 or more steps with the enclosed grip.
The steps in the ladder are small enough to be more of a ramp than steps.
Most dogs shouldn't have any trouble maneuvering the ladder.
When humans are utilizing the boat ladder, the doggie ladder can easily be detached and set adrift to float next to the boat. The ladder is rust-proof for long summer days and nights at sea.
For older or arthritic dogs, the ladder provides an easy exit from the water back onto the boat without straining or further injuring joints.
The ladder can be stored right on the boat during times it's not being used.
2) Great Day LP500 Pet Platform (Load-A-Pup for Boats)
The Pet Platform is flatter than the ladder to give your dog a way to board the boat quickly, either from land or from the water.
It is easily hooked to the boat's regular ladder with enclosed hooks. It generally works with any type of boat ladder.
The surface of the platform has ridges that your dog's paws can grip for traction.
While the manufacturer didn't provide a weight limit, reviews indicate that the ladder works best with smaller dogs under 90 pounds. That's due to the platform itself being rather small at 14" by 20".
Both seasoned and novice dogs should be fitted with a dog life jacket for safety when on boats.
Regardless of their swimming ability, dogs can become stunned or otherwise incapacitated in the water, especially small dogs in colder water.
Best Dog Ramps for Trucks & SUVs
1) PetSafe Solvit UltraLite Bi-Fold Pet Ramp
The Ultralite folding pet ramp can fit into trucks, SUVs or car doors up to 4-inches high.
When fully extended, the ramp is 62-inches long, giving your pup an easy incline.
Pups up to 150 pounds can use this ramp to gain access to vehicles for camping trips, vet visits or dog play dates at the dog park.
For humans, it only weighs 10-pounds and easily folded up for storage in small spaces.
The surface of the ramp is high-traction to keep your older or disabled dog safe from slipping or sliding down the ramp.
2) Pet Gear Travel Lite Ramp
This ramp from Pet Gear comes in options of bi-fold or tri-fold and in varying lengths.
The 66-inch long ramp is 4-inches high and can withstand 150 pounds of dog.
The raised edges on each side of the ramp allows your dog to safely walk up and down the ramp while keeping a firm grip on the SupertraX mat.
The mat can be removed and put in the washing machine.
Best Dog Ramp for Large Dogs
1) Gen7Pets Natural-Step Ramp
The Natural-Step Ramp looks like a plot of grass. It has one of the highest weight limits (250 pounds) and widest walking paths (72-inches long) of any of the dog ramps.
It is 16-inches wide, which a large pup can easily maneuver. Despite these measurements, when folded, it is the most compact ramp for its size.
The plastic grass surface is textured for your dog to maintain a solid grip while being sensitive on the paw pads. The texture won't scratch the interior of vehicles.
It can easily be folded up and transported using the handle. A security lock ensures that the ramp won't accidentally open when being transported or stored.
How to Get Your Dog to Use a Dog Ramp
Like all activities, dogs need to be trained to use the ramp. Sure, there are likely a few dogs who will enthusiastically run up the ramp without prompting.
But most dogs would sniff cautiously and possibly urinate on the interloper.
So, how do you get your pup to use a dog ramp? Slowly and with treats! Here is one method to train your dog to use a ramp or steps.
Lay the ramp on the living room floor or outside in the yard
Let the dog sniff it
If your dog accidentally steps on the ramp, praise them and give them a treat
Attach your dog to their leash and walk on the ramp from one end to the other, offering treats as encouragement
Once your dog has walked on the ramp a few times, attach the ramp to a bed or vehicle
Use a treat to coax your dog into stepping on the inclined ramp
Move the treat to the middle of the ramp so that your pup has all four paws on it
Praise your dog and give him the treat
Use another treat to coax him to the top of the ramp, into the vehicle or on the bed
If your pup falls or jumps off, start over at step 6. It will likely take a couple of days and a few training sessions for your dog to be completely comfortable on the ramp.
Never force a dog to do something they don't want to do. If your dog refuses to use the ramp, try one of the other options available.
Alternatives to Dog Ramps
Dogs with mobility issues can have trouble climbing even dog steps. That's where the ramps come in handy.
They can be installed alongside the staircase or along the bed to give your pup easier access. The flat incline can be easier to maneuver with arthritis or hip dysplasia.
On the other hand, some dogs just cannot overcome their fear of ramps. If that's the case with your pup, consider steps, ladders or even stamps – a combination of steps and ramps.
Ramps can also be helpful if your dog is allowed in the car but not on the furniture. Whereas, dog stairs can fit in smaller rooms where your dog's favorite furniture is located.
Some ramps can be folded up for easy storage when they aren't being used, but that won't help your pup if they want to use the ramp to get on the couch while you're at work.
Dog steps with 4 or more short steps can help smaller breeds (such as Yorkshire Terriers) get on the bed when you're not home, especially if you have a taller bed frame.
My bed frame comes is even with my Weimaraner's back and Weims are one of the larger dog breeds.
He will likely need assistance getting on and off the bed within a year. Jumping on and off the bed probably caused the fluid to build up in his elbow joint.
Final Thoughts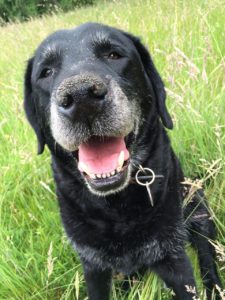 Before choosing an assistive device for your pup, you need to determine the difficulty your pup has in climbing stairs or jumping.
The seriousness of your dog's disability will help you decide between ramp, steps or ladders. The incline on ramps can also affect your dog's ability to maneuver the ramp.
The steepness of the vertical incline will make the ramp more difficult for your pup to reach the top. Any ramp or steps you buy should have padding and a non-skid texture to avoid slips.
If I had to purchase a dog ramp today based on the options available, I would choose the PetSafe Solvit Wood Bedside. It complements bedroom decor and both of my dogs could use it, despite their striking size differences.