Hello, my name's Valerie and I am the proud owner of Bentley the Clumberdoodle.
Now while Bentley has never had a hardwood floor to walk on, one of my friends has one and she was looking for a solution for her dog who slipped and slid all over the floor.
I decided that this was a subject that could help most dog owners at some time so did a bit of research and have found some interesting points.
Why Would You Need Dog Socks?
Well, if you have just recently had your new hardwood floors installed, you are no doubt going to want to keep them looking good.
I know with Bentley sometimes I forget to get his nails trimmed, and this will surely damage a hardwood floor. Sharp nails will leave scratch marks because dogs being dogs, they will run through the house.
A second reason for using dog socks on hardwood floors is that these floors are typically very smooth, and a lot of dogs will slip on them.
What we don't want is for our pooches to slide into furniture or other things, maybe break something, and possibly hurt themselves!
What do Dog Socks do?
Dog socks will provide traction for your dog and stop him crashing into things as he runs or even walks through the house.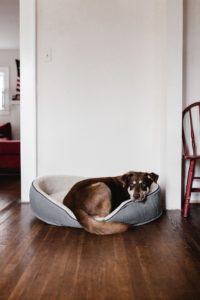 One thing that I have learned is that dog socks will help older dogs who are a little unsteady on their feet. These older dogs really don't need to be slipping and falling over on a smooth surface. 
Additionally, if you have a dog with Arthritis and he falls over, his legs will splay open and he will hurt himself. With non-slip dog socks his legs will not be able to splay open, even on smooth surfaces.
One other point to think about is that if your dog has a foot or calf injury, a dog sock will prevent him licking the wound and it will heal quicker.
In my mind this is a better option than wearing a plastic collar. I know Bentley hated wearing his collar, so I think the socks would be my choice in the future, if needed.
Some Things we Can do to Stop Falls on Hardwood Floors
There are several things that we can do to keep our furry friends safe, and hardwood floors in good condition.
Keep nails short. I know with Bentley that the more he walks on the pavement, the shorter his nails get. The roughness of the pavement serves as a grinder or nail file and his nails stay relatively smooth.
Consider placing a runner mat in a "main traffic area" or in the place your pooch is most likely to walk. This will give him a better chance of staying on his feet when he goes to answer the door or gets up from his bed.
Keep stairs safe. While it may look wonderful having hardwood flooring up stairs, this may be very dangerous for your dog, especially if he is a little unsteady on his feet. Consider a carpet in this area instead.
Opt for dog socks inside. Even with all these precautions, you may still find that your pooch slips on the hardwood flooring. Time to get him a pair of dog socks. These come for both indoor and outdoor use, with the outdoor socks being sturdier and waterproof. Indoor socks are not normally waterproof so don't be tempted to let him wear them on a rainy walk.
How do I Keep Socks on?
Yes, I could see that this would be a problem with Bentley. I have no doubt that he would enjoy pulling them off.
If you use some tape around the top of the sock, this will discourage the dog from getting them off in one movement. You may have to use all your distraction skills to take his mind away from the socks.
I would not use anything as strong as duct tape, but there are several good options that are also easy for you to remove if you need to get the socks off in a hurry.
I had a look and found some dog socks which I think are not only good value for money, but also durable and non-slip.
1) Ultra Paws Durable Dog Boots
These dog socks are perfect for senior dogs who are not that stable on their feet.
I can see that they would also be great for those long-legged pooches such as Whippets and Greyhounds.
The traction is excellent so any dog with hip problems should be able to walk without slipping.
The sole is skid resistant and flexible, and you will find that the socks are easy to put on and take off, although your pooch will have a hard time slipping them off as they are a good fit.
The Velcro straps mean you can adjust the tightness, so the socks will fit all size of legs.
These socks come in all sizes from petite up to x-large to fit a 4" wide foot.
2) EXPAWLORER Anti-Slip Dog Socks
These socks fit larger dogs with a foot width of 3".
They are also quite long at 7" and they have a really good grip underneath which will provide traction for the heavier dog.
One good thing here is that the socks come with an anti-slip silicone gel print for extra traction.
Which I think would be essential with a large and heavier dog who is at risk of slipping and hurting himself on a smooth floor.
3) LifeWheel Dog Anti-Slip Cotton Socks
These come in packs of three or five and are great for the fashion-conscious pooch (and pooch parent).
You'll be able to co-ordinate your dog with your own outfit!
The socks are made from soft spandex and cotton, and not only will they keep your pet's feet clean, they will help to prevent any scratching on your hardwood floors.
You will notice that the print is made of anti-slip gel for extra traction.
The socks are easy to fit and just tight enough to stay up.
4) BINGPET Anti Slip Dog Socks
These socks are made from very soft material which is also durable.
The socks themselves are light so even small dogs can comfortably wear them.
The socks are coated with an anti-slip sole which gives excellent traction on any smooth surface, so they are perfect for hardwood floors.
What is good about these dog socks is that they are hand washable as well as being okay to throw into the washing machine.
Another good thing about these socks is that they come with a 100% satisfaction guarantee.
If you don't like them or are not satisfied, you get to return them for a full refund. This is always a good selling point in my mind.
The company must be sure of their product to offer this.
My Favourite Choice
While I was looking at dog socks I came across these paw protectors which have won my vote, because they are so different.
The protection pads adhere to the underside of your dog's feet to give that non-slip feel without wearing a whole sock.
I can see how this would be great for little dogs instead of wearing a full sock. I think that they look great!
Take a look below:
5) LOOBANI PadGrips
While many dogs would be intent on pulling a sock off, these protection pads are less visible and designed to stay on for longer.
I think these would work with any dog who needs extra traction.
The pads are simply pressed onto the pads of the paws, where they stay for up to 7 days, depending on how active your pooch is.
The pads are made from toxic free fabric and give a strong grip.
They are also hypoallergenic and breathable so should not bother your dog in any way.
Before you put on the pads you need to trim your dog's paws so that there is no fur which will stick to the pad.
Apart from that, simply rub them onto your dog's feet. That's it! Very easy to do, less chance of his chewing them off, and out of sight.
What is good about these pads is that you can also use them outside it the pavements get hot in the summer months. They even stay on in wet weather so are very versatile. I think they would even suit Bentley!
Final Thoughts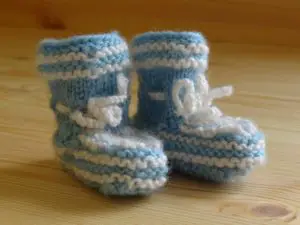 Well, I hope you've learned something about dog socks. I know I have. The last thing I want is for Bentley to be injured slipping on a smooth floor.
Neither would I want my new, expensive hardwood floor to be scratched by my dog's nails, so it makes sense to me that dog socks are added to my pet's wardrobe.
It also makes sense to protect his feet when going out in the summer time. Here in this part of Spain it gets really hot, and often we forego our afternoon walk as the ground is far too hot for Bentley.
I may even consider using a pair of socks next summer so that he can go out without burning his feet! Although some booties may be better…