Dogs love to chew. It's a plain hard fact and they can be at their worst when they are puppies and are teething. However, even adult dogs can be aggressive chewers.
My name's Irena and I know first-hand how much damage a dog can do when he's chewing. I have had lots of dogs and none can compare on the chewing scale to Sherlock, my youngest.
I found Sherlock dumped when he was only about 3 weeks old and from the moment I got him he loved to chew on my fingers. The next thing was furniture and it wasn't long before our couch was destroyed as well as a sunbed. We still loved him by the way!
Sherlock did grow out of the aggressive chewing stage thank goodness as we couldn't afford to keep buying new furniture, but some dogs do continue to chew as they get older.
Puppies usually stop chewing at six months though our Sherlock went on a quite a bit longer than that. Adult dogs continue chewing for any number of reasons. Perhaps they are bored or anxious.
Reasons Why Puppies Chew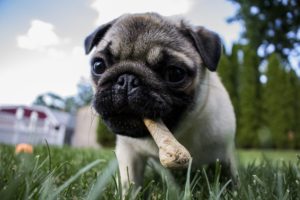 The pain of teething encourages puppies to chew, but they also have a natural instinct to investigate interesting objects.
Just remember to hide your shoes!
Some vets recommend giving puppies toys which have been frozen or frozen washcloths as this will numb the pain of teething.
The only remedy to chewing, and it doesn't always work, is to give your puppy lots of toys to play with and chew on.
It didn't work very well with Sherlock, but each dog is different.
Sherlock loved to chew his toys but then moved over to a lovely bit of furniture to carry on chewing.
Reasons Why Adult Dogs Chew
One of the most common reasons that adult dogs chew is separation anxiety.
If you go out to work and leave your dog alone, which is perfectly normal, he may get lonely and chew to calm himself down.
If a dog is on a calorie-restricted diet for whatever reason, he may chew when he feels hungry.
Dogs also chew for fun, so taking them out for long walks and playtime in the garden may be the answer.
Despite Sherlock's love of chewing, he did also like to play tag and chase balls and it did cut down on his chewing a little. You just need to have enough energy to keep up with a puppy!
How to Stop Your Dogs from Chewing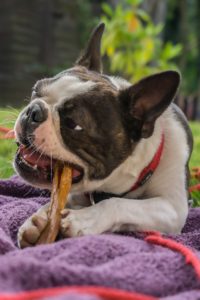 First of all, dog-proof your house. Put valuable objects out of sight and keep shoes and clothing firmly in a closed closet. Dirty laundry should be in a hamper and books on shelves.
Give your dog appropriate things to chew. It might be hit and miss at first to see what your dog likes to play with, but eventually you will have some success.
Inedible dog toys are always a good investment. Some of these are even flavored with meat or peanut butter. Watch and see which toys your dog likes the best.
However, it's always good to introduce something new to stave off boredom.
Specially formulated edible chews and bones are also a good idea. There are a lot of these out there and plenty which will keep your dog busy for hours. Bully sticks, pigs' ears, or rawhide bones are all a good choice.
You will probably know when your dog is likely to chew so offer him a puzzle ball filled with treats. This should keep him amused for hours, it does with my dog!
To help teach your dog what he can chew and what he can't, don't give him old shoes or clothes that you don't want. Otherwise, he may then think that it's alright to chew good clothes and shoes.
Bored dogs are the ones more likely to chew. Spend time with your dog going for long walks, let him have some off-leash playtime with other dogs, and play tug and fetch.
Benefits of Chewing
Despite all this, there are benefits of chewing. It is very good for the teeth and stops tartar from building up.
It also helps to get rid of bad breath.
A lot of edible chews are full of protein which is good for your dog's health. Pigs' ears, for example are high in both fat and protein, and are generally made without artificial colors, flavors, or preservatives.
However, make sure that your dog is only given a maximum of 10% of his daily food intake from chews, or choose non-edible chews instead.
So you've decided to give your dog a treat, but there are so many chews and bones out there. Which to choose?
Well, we're here to help you with our top choices. So let's look at the best dog bones/ toys for aggressive chewers!
Best Long Lasting Dog Chews
        1. MONSTER Himalayan Yak Dog Chew by Pawstruck
This is truly a monster chew. It weighs 6 – 7 ounces and is made in the mountains of the Himalayas by craftsmen.
It is fully vegetarian and protein-rich. The chew is made with yak's milk, cow's milk, lime juice, and a touch of salt for flavoring.
This is definitely a chew for an aggressive chewer.
It is also suitable for dogs that are a little porky as the fat is removed during the early stages of production.
In the end, the chew contains just 1% of fat.
The chew is 100% natural and is made with no artificial colors, flavors, or preservatives. Even the salt count is minimal.
While your dog is chewing away at the Monster, they will also be getting help for their teeth. This massive treat helps to remove plaque and so improve the teeth and breath of your dog.
Nothing from this massive treat needs to be wasted. When it gets down to just a small piece, put it in the microwave for 45 seconds.
It puffs up and your dog gets an extra snack.
Go on; treat your dog to this monster of a treat. It will keep him happy for hours, if not days or weeks.
2. Baxter Boy Prime Tender & Hearty Thick Cow Ears Odor Free Dog Treats
These cow ears are another long-lasting dog treat which your dog will love.
They come in a pack of 15 so your best friend will be kept entertained for days.
The ears are naturally produced from grass-fed, free-range cattle, which haven't been exposed to added hormones or antibiotics.
They are jam-packed full of vitamins and minerals, including iron, zinc, and vitamin B12.
These chews are boiled and then dried slowly which packs in an amazing flavor and eliminates any nasty smells, which is much more pleasant for you.
This preparation removes all the bad bacteria in the ears and in addition, no artificial colors, flavors, or preservatives are used.
Your dog will love chomping on these chews.
They won't even realize that the cows' ears are also helping with his oral care by removing plaque.
So hopefully, their breath will also smell sweeter!
Best All Natural Dog Chews
        3. Baxter Boy Premium Grade Roasted Meaty Shin Bone Dog Treats
These cow shin bone dog treats come in a pack of three 8 inch long chews.
They are long-lasting so should keep your pooch happy for weeks.
They are completely naturally made from grass-fed, free range cattle that haven't been exposed to any type of hormone or antibiotic.
You couldn't ask for much better when thinking about the health of your dog.
These natural chews are jam-packed with vitamins and minerals.
They have a hefty dose of calcium rich marrow bone and I can tell you that Sherlock loves marrow bone.
It keeps him occupied for ages and what can be better than that?
In addition, there are plenty of omega-3 fatty acids in these chews. They are important, together with the vitamins and minerals, in establishing a healthy immune system.
They will also give your dog plenty of energy if he's a bit lethargic.
These beef shin bones are slow-roasted with tendons and meat which gives them a deliciously rich meaty flavor and gets rid of all contaminates.
We mustn't forget that they are also good for the teeth, like most chews. It can be difficult to brush your dog's teeth, but this chew does the job for you by removing plaque.
No additives or preservatives are used to make these beef shin bones, so you can rest assured that they are all natural and healthy for your dog.
4. Brutus & Barnaby 100% Natural Whole Pig Ear Dog Treat 
Most dogs love bacon. I know that mine do, so a whole pig's ear is a real treat.
They come in a pack of 25 so are great for a multiple dog household.
They are in a zip-lock bag so can be kept fresh for a long time; especially important if you have just one dog.
These pigs' ears are totally natural and are not made with any added colors, flavors, preservatives, chemicals, or hormones.
All the better for the overall health of your dog, especially if combined with a diet packed full of protein, vitamins, and minerals.
There aren't any bones in the ears, so there won't be any splintering, something which can be dangerous for your dog.
The splinters could get stuck in your dog's throat and he could choke. It doesn't bear thinking about.
The way the chew is composed is soft cartilage wrapped in thin skin. It is easy to digest, but will still challenge the aggressive chewer.
He won't be able to demolish the treat in a matter of minutes which is something you don't want in a snack.
In addition, they are great for dental health and a sweet-smelling breath, and have enough protein in them to give your dog an energy boost.
Best Dog Chew Toys
        5. Benebone Real Flavor Dental Dog Chew Toy
Perhaps you're not keen on giving your dog too many chews or bones.
Maybe he's a little porky and you are trying to get his weight down.
However, on the other hand, you want to give a mixture of chews and toys so that he has plenty to amuse himself with.
The Benebone Dental Dog Chew is a great addition to your dog's toy box.
It may only be a toy, but it is flavored the whole way through.
You get a choice of four flavors, bacon, chicken, mint, and peanut so they should suit most pooches out there.
In addition it comes in three sizes, small, medium, and large, so just about all dogs can be catered for.
This chew comes in a dog-friendly shape so that your pet can get his teeth into it, and that's another thing.
It has patented ridges which helps your dog exercise his teeth, helping to say goodbye to tartar, plaque, and bad breath.
6. Pet Qwerks Barkbone Dog Chew Toys for Aggressive Chewers
Now this is really a toy for the aggressive chewer. It will certainly hold out for more than a couple of hours.
The toy is big. It comes in two sizes, large and extra-large. The extra-large chew is 8 inches, while the large is 6 and ¼ inches long.
The toy is shaped like a bone and tastes of bacon, even though no meat is actually used in producing it.
It contains a delicious BBQ essence which your dog will love and come back for more. No artificial colors, flavors, or additives are used to make the toy.
The shape of the bone is curved which makes it easy to pick up and for your dog to get hold of.
This is a great toy for dental hygiene. The bone massages the gums, removing plaque and tartar, and your dog's breath might smell better afterwards as well.
Best Natural Dog Bones
7. Lily's Choice Dog Bone For Aggressive Chewers with Bone Marrow
These bones are completely natural and are made from American grass-fed cows.
They are grain-free and have no artificial flavors, colors, or preservatives.
They are filled with delicious marrow bone and are in fact refillable.
Why not put in your dog's favorite treat?
A great idea on a hot day is to put in peanut butter and freeze it. If your dog likes peanut butter, he will love this and it will keep him amused for hours.
While your pooch is munching away, the bone will be doing its' work on the teeth.
Bad breath and tartar on the teeth will be a thing of the past.
These bones are strong enough to withstand the most aggressive chewer and can last for months.
8. Baxter Boy Premium Roasted Pig Femur Bone Healthy Dog Treat Chew
Some dogs just love bones, but it's generally not safe to give them bones from your dinner plate.
It is much better to give them bones which are specially manufactured for them.
This Baxter Boy 8 inch pig femur bone is smoked and slowly roasted, together with tendons and meat.
It has a delicious bacon flavor which your dog will love.
The bone has just the one ingredient, but is still packed full of vitamins, minerals, and omega-3s all of which go towards good skin, a healthy immune system, and masses of energy.
The bones contain marrow, which most dogs love.
It's quite difficult to munch through marrow bone so it will keep your dog busy for hours.
They are made from free-range pigs which have been raised without artificial hormones or antibiotics.
There are no artificial flavors, colors, or preservatives which makes it a very healthy option.
These bones are very good for your dog's oral health. They clean plaque and tartar build-up and strengthen gums and jaws.
9. Jack & Pup Premium Grade Roasted Beef Knuckle Bone Dog Treat
This is another naturally processed dog bone which comes in a pack of two.
It has a delicious flavor created by slow roasting and smoking the knuckles with slices of meat.
Your dog won't be able to resist the taste.
Only one ingredient is used to make this dog bone, that is beef, and there are no additives.
It is packed full of protein so should provide your dog will with plenty of energy.
The knuckles come from free-range and grass-fed cattle and have nothing added such as antibiotics or extra hormones.
No preservatives are used, but the bones are still odor-free.
They are also full of vitamins, minerals, and omega-3s which help to keep your dog's immune system working correctly. In addition, they help to promote a healthy coat and skin.
As with most bones and chews, these bones help to keep your dog's teeth clean and free of tartar and plaque.
Final Thoughts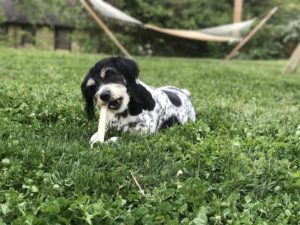 I hope I have given you a good selection of dog chews and bones which are out there!
Whether you give your dog edible or non–edible is a personal choice.
Most edible bones don't splinter so you should be safe.
However, if your dog is overweight, giving edible bones might not be a good idea, although they could probably have one on special occasions like Christmas.
With my dogs, they are only interested in edible bones.
Sherlock loved toys when he was little, but now he just wants food which I think is typical of a lot of dogs.
Edible treats do have the advantage of containing nutrients and many are naturally sourced so are healthy for your dog. However, both edible and non-edible treats are good for your dog's teeth, which in itself is a great incentive to buy them.
All the treats I have talked about here are good for aggressive chewers and should last a long while so hopefully they stop your dog from chewing on furniture and clothing!
Go on; give your dogs a treat. They'll love it.