Hi, my name's Irena and I have five dogs. "Crazy dog lady" I can hear you saying and perhaps I am, but they're all wonderful and I wouldn't be without any one of them.
The dogs get frustrated if they have to stay in all day and they love to be outside. We have a big yard so they have lots of room to run about.
However, four of the dogs are fourteen and like to take naps. I worry about them lying on the hard ground at their age and want them to be comfortable.
Dogs aren't used to sleeping on hard surfaces for long periods of time. It can cause them sores which you might not notice even though your dog is in pain.
Yes, dogs will sleep anywhere, but they do really need a spot of their own where they can feel secure and comfortable.
That's when it dawned on me that perhaps I should get them an outdoor dog bed each. I started doing some research and found that there was a great choice out there.
Why Buy a Dog Bed for Outside?
A good outside dog bed provides warmth, support, and a feeling of security. If your dog is going to spend a lot of time outside, he needs an outdoor bed just as much as an indoor one.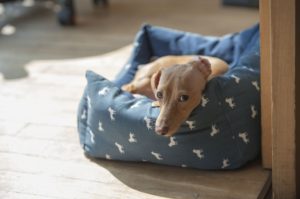 If you have old or arthritic dogs, and one of mine is definitely very wobbly on his feet, some outdoor dog beds will provide cushioning for joints and bones. I can truly say that my Einstein loves his bed.
We all like to sit out on a warm summer's day in a comfy chair, so why not give your dogs the same pleasure?
Apart from being comfortable, dog beds offer protection from the ground. In winter the ground can be too cold; while in the summer, too hot.
What to Look for in an Outdoor Dog Bed
The first thing to decide is what sort of bed you want. Do you want one that rests on the ground or do you want a raised bed? Do you intend to travel much and want a bed that folds up easily?
Shape of the Dog Bed
The next thing to decide is the shape of the bed. If your dog likes to curl up and snuggle, you would be best going for a round or oval bed which has bolster supports. In fact, they look like a bird's nest, but are much comfier.
These beds are perfect for dogs who like to sleep in a small space or those who like to circle around before laying down to go to sleep.
Another choice is a pillow bed. These usually have a cover which you can take off and wash.
These rectangular or square beds are great for dogs who like to sprawl out and relax. Many even come with handles which makes them easy to transport. Great if you want to take it with you when travelling.
If choosing a pillow bed, make sure that you get one that doesn't flatten out over time as it won't be as comfortable for your dog if it's not all fluffed up.
Orthopedic Dog beds
Is your dog old and having trouble with his bones and joints? If so, there are orthopedic foam beds out there which give relief to pain.
Orthopedic beds are made from memory foam which helps to ease the pain of arthritis, joint pain, or hip dysplasia by adjusting to the shape of your dog.
Many orthopedic beds are also hypoallergenic which helps dogs who have allergies to certain materials.
If buying an orthopedic bed for an older dog, make sure that you get one which is water resistant as your elderly pooch may have the odd accident or two.
Mat/ Pad Dog Bed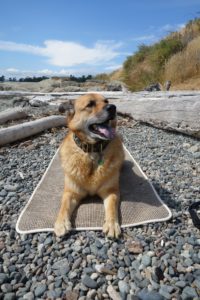 Another type of bed which you can choose is a mat/pad dog bed. They don't offer the cushioning of other beds, but they are still comfortable for you pooch.
As well as putting these beds outside, they can be put in a crate, carrier, or dog kennel. They can also be easily folded up for travel purposes.
Heating/ Cooling Dog Beds
Heated and cooling dog beds can also be useful. If you live somewhere where it's not too hot, you may want to keep your pooch warm when he goes outside.
There are two types of heated dog beds, one which is self-warming and radiates heat back to your dog using a two layer fabric system, and the other is one that plugs in to the electricity. However, this is obviously not good for dogs who love to chew.
Cooling dog beds are especially good for dogs who live in a hot climate or who just love to run and exercise.
There are two types of cooling beds. With one you fill it up with water which acts as the coolant. The other already has a non-toxic coolant and doesn't need filling.
In addition, you can find luxury dog beds out there if you want to spoil your pooch. There are chaise lounges, mini couches, and big extra comfortable fleece beds. Your dog can be truly spoilt.
There are also dog bunk beds which are great for people who have two dogs, presuming of course that the dogs can decide between them who is sleeping where!
Waterproof Dog Beds
Another important feature of an outdoor dog bed is whether it is waterproof or not. I have found in my research that most are.
You will want a waterproof bed as you don't want to be bringing your outdoor dog bed in every time it rains or there is a threat of bad weather.
When your dog gets older, he can unfortunately become incontinent. Choosing a waterproof bed when your dog ages is a good idea as you will want to be able to clean up easily.
Easy to Clean Dog Beds
This brings us to another thing you need to look for when choosing an outdoor dog bed. How easy is it to clean?
Most outdoor beds can be hosed down or wiped clean. Some come with removable covers which you can throw into your washing machine on a gentle wash.
Durability of Dog Beds
The final thing to look for is the durability of the bed. You will want it to last more than a few weeks or months.
Generally, cheap beds aren't going to fit the bill. It's worth paying that little more to have a stronger bed which will last for years.
So, which bed to choose? I've done my research and have come up with my top five which all have different characteristics. Hopefully this will save you the time of looking through pages and pages of outdoor dog beds.
My Top Five Outside Dog Beds
1. Petfusion Large Dog Bed
If you're tired of cheap beds that fall apart and get torn, you've come to the right place to find an alternative.
This outdoor dog bed is made with premium materials and is constructed strongly.
The memory foam base is 4 inches high and is very comfortable. The memory foam helps with joint pain so is great for your senior dog.
This bed has support bolsters so it won't sag. They are made of recycled polyfill so you know that you're doing your bit for the environment.
The cover is waterproof and tear resistant. Replacement covers can be bought so if you have one in the washing machine, your dog won't have to go without his bed.
You can also spot clean the cover if there's just one or two marks on it and it's easy to remove hair from it.
This outdoor bed is suitable for a medium or large dog, although it would also be good for a couple of small dogs.
I would have to buy one each for my dogs as they're quite big and Sherlock is a little porky! Luckily, this bed can hold a dog up to 100 pounds.
2. SUPERJARE X Large Outdoor Dog Bed with Canopy
If you love to take your dog to the beach or camping, this is the bed for you. It folds up perfectly and comes with its own carrying case.
The bed is elevated 9 inches and comes with a canopy; ideal if it's hot as you'll want to shield your dog from the sun's rays. He will certainly appreciate the shade.
However, this is probably not a good bed for an older or infirm dog as he will have to jump onto it and he might hurt himself.
Because the bed is elevated air can flow freely in all directions, keeping your dog cool.
The elevation also means that your dog doesn't have to sleep on hot, cold, or hard surfaces.
The materials used in making this bed are strong and durable. 1680D fabric is used and there is a steel frame. This fabric is breathable so your pooch shouldn't get too hot.
The bed can hold a dog up to 120 pounds which will suit the majority of dogs.
It is very easy to clean this outdoor dog bed. All you have to do is hand wash with a mild soap and then let it air dry.
My favourite feature of this is the little canopy that, as already mentioned, will help shade your dog from the sun!
3. The Dog's Bed: Premium Orthopedic Dog Bed
I had to mention this outdoor dog bed as it has so many great features.
For a start, it is large. You'll easily get your big or medium sized dog in it and small dogs can share if they want.
If you have an older dog or one with joint and bone pain, hip dysplasia, or arthritis, this bed is ideal. It is made from a high-quality and luxurious memory foam and support foam.
The bed has a 4 inch base and 2 inches of this is made from high-grade and very comfortable memory foam, ensuring that your dog is as cozy as he can be.
Although this bed will suit any dog, older dogs will find it therapeutic and it should give them a good and comfortable sleep.
The bed is made from hypoallergenic Oxford fabric and it has a waterproof protective inner. This protects from the rain and also from incontinence.
The bed is very easy to clean, although you should wash the cover and the inner separately. It is best to wash by hand or on a gentle machine wash.
To top it all, the fabric resists mold, mildew, and dust mites. If the cover begins to show signs of aging, you can buy replacements.
4. K & H Manufacturing Indoor & Outdoor Waterproof Orthopedic Pet Bed
This is a large and flat bed which comes in three sizes so should fit most dogs. The large size can handle even the heaviest of dogs.
It has a waterproof core which is useful if it rains or if your dog is incontinent. However, don't think that this bed is just for older dogs. It's suitable and comfy for all ages.
The foam is a special 'noodle' type which is waterproof, so moisture is never an issue. It bounces back every time your dog jumps on and off it.
The base is 2 inches thick and is light enough to carry with you if you want to take your dog out for the day.
The bed has a cover which is fade-resistant and has also been UV treated so it won't look worn out after a few weeks.
It's super easy to clean. You can hose it off which is the easiest option, but you can hand wash the cover or put it in the washing machine.
It comes in 2 colors, lime which will add a splash of color to your yard, or chocolate which will blend in with your surroundings.
5. K & H Pet Products Cool Bed 111 Cooling Dog Bed
Now for something a little different. This is actually a mat which can double up as a dog bed and is great for those long hot summer days.
It is water cooled and in fact only needs to be filled up once so is very simple to set up. The bed absorbs the heat out of your pooch and releases it into the air, leaving behind a happy cool pup.
Just lay out the mat where your pooch likes to sit, as long as it isn't in direct sunlight, it will go to work immediately. It can be used all the year round and either outdoors or indoors.
The bed is large and there is no weight limit. It can easily fit a large dog and a couple of small dogs could get on it together.
The cooling bed helps comfort arthritis, hip pain, and skin disorders. As well as helping to ease the pain a senior dog might have, it also helps a dog who is recovering from surgery.
It's really easy to transport the cooling mat so you can take it everywhere your dog goes with you.
It's also very easy to clean this mat. All you have to do is wipe it with a mixture of mild detergent and water. To help prevent bacterial growth, add grapefruit seed extract to the water. It's an anti-bacterial and will stop mold from forming.
As an added bonus, the mat is made from a very durable nylon/vinyl exterior and should last for years. What a great investment, both for your purse and for your dog's comfort.
Final Thoughts
In this article I have tried to show you the importance of an outdoor dog bed. Having a healthy and happy dog means giving him a comfortable spot to lay his head. Yes, dogs will sleep almost anywhere, but they need somewhere to call their own and where they can feel relaxed and safe.
There is a lot to think about when choosing an outdoor dog bed and you need to take your dog's dislikes and likes into account.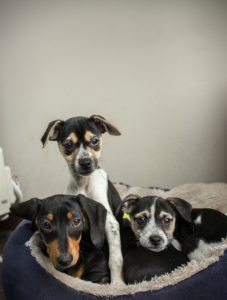 Perhaps your dog likes certain materials which would be more comfortable to sleep on. Maybe he likes to chew so then you need to choose a bed with very durable material.
If your dog is old or has health problems there are beds out there that can ease the pain. Raised beds are not suitable for this type of dog as he could injure himself jumping up.
Being able to wash your dog's bed is a must. Dogs can be smelly creatures and older dogs can be incontinent so they need their beds to have a cover which can easily be thrown into the wash.
The one thing not to do is buy a cheap outdoor dog bed. Chances are that it will tear quickly and be ruined after a wash or two. You need a dog bed which is tough enough to handle a good washing and your dog chewing it. If you can't clean it and it's not tough, just don't buy it.
My top pick is the Petfusion large dog bed. My older dogs and even the younger one love the feel of this bed. It has helped to ease Einstein's joint pain because of the memory foam and gives plenty of support from the bolsters.
In addition, it has a non-skid bottom so stays where it's supposed to be. To top it all, it's waterproof and tear proof.
It's a great idea to get a special bed for your dog to use outside. Dogs love to be in the open air so why not make them as comfortable as possible while they are there?
If you have any thoughts, or products you love, let us know in the comments below!