Hi, my name's Beth and I am a dog lover. I have two family dogs, a malamute named Phoenix and a huskamute named Ash.
As you can probably tell, these are both big dogs and finding toys that can survive big dogs is a huge problem! Most toys in the shops are either too small for my dogs or will be chewed to pieces in a matter of minutes.
I was looking for a way of giving them toys regularly, that will engage their natural need to chew and play. It's also a bonus if I could find a source of natural, healthy treats that my dogs will love.
My dogs have had very few toys that have lasted more than a month, most get thrown in the bin long before that. They also get bored of toys fairly quickly, so a great long-lasting toy that captures their attention for a longer time is something I am always searching for.
I then came across Bullymake after looking around online and after realising that they ship to the UK (as well as the US of course), I got in touch!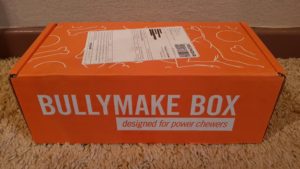 To my delight, Bullymake have sent us the December 2018 box to try, and I thought what better way of reviewing it – than seeing how it fares against two huge dogs.
I have two difficulties in life; remembering to buy toys for my dogs and finding toys that my huskies will not destroy in five minutes.
The Bullymake box could be a solution to both of these.
Who Are Bullymake?
Bullymake is an American company started in 2014 after Karyn Owens grew frustrated with the amount of toys her pitbull, Duke, destroyed.
Their mission is to keep power chewing dogs and parents happy and satisfied.
So they aim to make durable toys for dogs that enjoy gnawing and mischievous pups who try to rip their toys apart in the fastest time possible.
They design, manufacture and test their toys from USA, which guarantees a level of quality and assurance for their toys.
What is a Bullymake Box?
A Bullymake box is a delivery of toys and treats for dogs who love to chew; which arrives every month!
These boxes are specially made and aimed for those destructive breeds with toys that are guaranteed to withstand and satisfy their need to gnaw.
The box also offers toys based on the size of your dog, to make sure they are the perfect fit for your best friend.
This is great for me, because most pet shops only offer toys for small and medium sized breeds. I then go online searching for better toys and I am constantly let down by the selection.
The boxes are themed on the month, allowing you to share all the important milestones of the year with your pooch!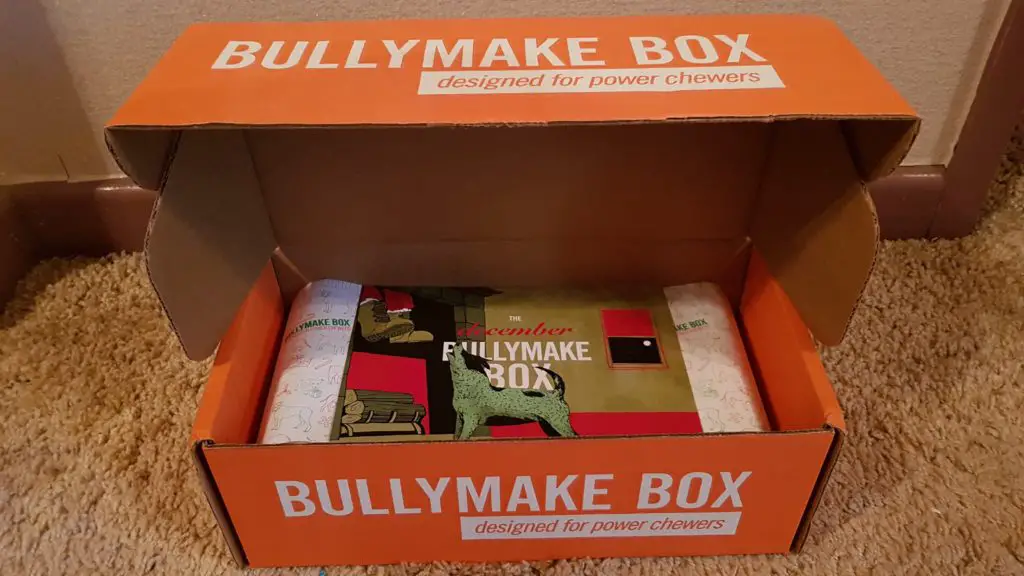 Why Choose a Bullymake Box?
There are many reasons why you should choose a Bullymake box.
Firstly, every box comes with a 'Bullymake guarantee'. This means that if your dog destroys a toy within 14 days or is not interested in any toy, they will send you a replacement.
These boxes are designed for power chewers, so chances are if you have a high chewing breed you too are looking for more durable toys to cater for your dog – and this box is the answer.
The treats are made from natural ingredients in the USA, so you know that what you are giving your best friend is healthy and delicious.
The real benefit of the Bullymake box is the ease of the delivery. They will deliver a box right to your door that you know will be great for your dog – you can even change the frequency of how often your box is delivered!
If your dog has allergies, the Bullymake box can cater to this excellently. You just need to input your dogs requirements, or if you just want toys; and they will deliver a box that is perfect for your pup.
They also offer great discounts of up to 20% if you subscribe for a year!
What Comes in a Bullymake Box?
Hidden inside a Bullymake box is a collection of 2-3 incredibly tough chew toys and 3-4 bags of delicious treats.
The toys inside have been designed, manufactured and tested in the USA and are exclusive to the box – meaning you can't get them anywhere else!
The treats are 100% natural and healthy and come with a full list of ingredients on the back, so you know exactly what's in there.
You can input your dogs allergies and receive treats that your dog will be able to enjoy instead, or you can opt for a toy only box and receive 4 toys instead.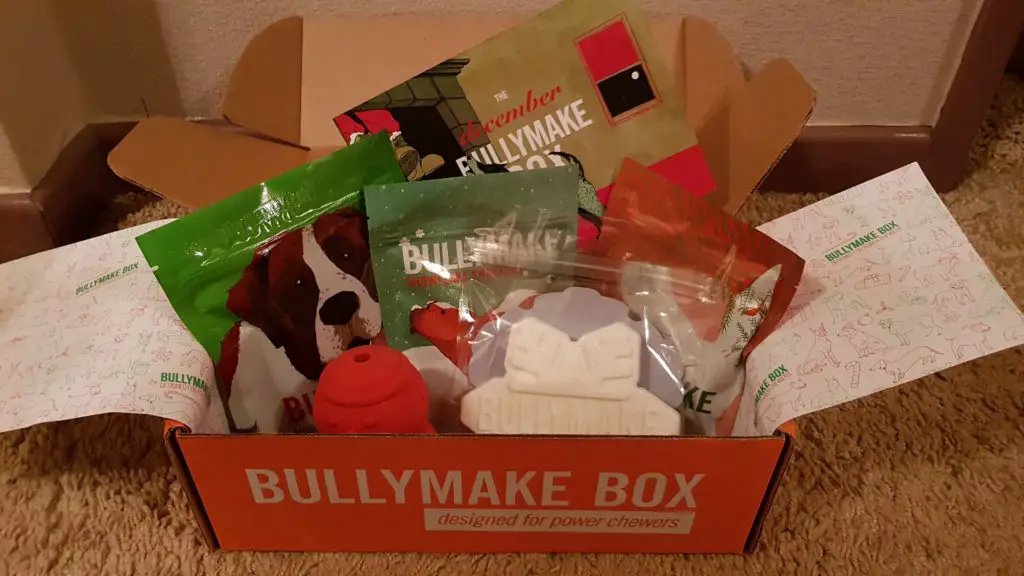 Personal Review of a Bullymake Box
Bullymake sent us the December 2018 Bullymake box to review, so I thought what better way to test a box made for power chewers than on two huskies.
The box arrived fairly quickly from America, even though it was over the Christmas period – which I was very impressed by! The orange box has a lovely dog print on the front so you know exactly what is it – the dogs could even tell it was for them!
Inside the toys and treats are wrapped in a lovely christmas dog wrapping paper, which helps to build my excitement. A lovely card explains the different toys that come with the box, which adds a unique touch.
Now it was time explore what I'd been waiting for, the treats and toys! Below I'll break down everything that came in my Bullymake box and give my personal views on the items!
Bullymake Treats: Jumbo Chicken Chewers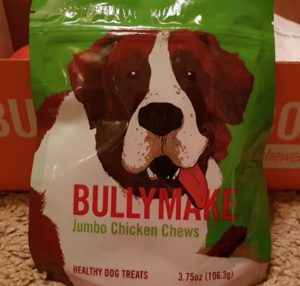 The first treats I unboxed were some jumbo chicken chews. The packet has a lovely image of a St Bernard, which is great to see that they are targeted at large dogs like mine.
The chews are of fair size, although I'd have liked them to be larger, as my dogs wolfed them down in one go and were more like bites than chews!
They smelt very chicken-y and my dogs get super excited whenever I lift the packet; so I think that's a positive review.
Bullymake Treats: Minty pines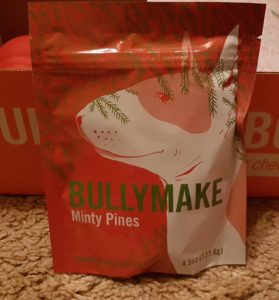 Then I unboxed some minty pines. This bag contained some adorable mini green christmas tree treats that smell exceedingly minty when you open the packet.
I got mixed reviews from my dogs about this treat, one of my dogs swallowed it down as quickly as he could.

Whereas my other dog put it on the floor and smelt it for a while before reluctantly eating it.
They are fairly small, but would be good for use when training.
Bullymake Treats: Snowflake Snackers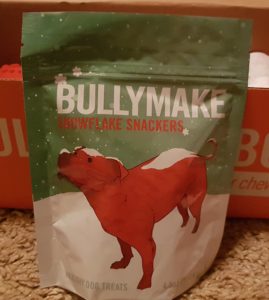 Finally, I opened a packet of snowflake snackers.
These has a smell of almost white chocolate to me, which is very weird since they have no white chocolate in them.
But they were shaped like little snowflakes which just melted my heart and stuck to the christmas theme perfectly.
My dogs were only too happy to eat these and again they were rather small, but you do get quite a lot of them in the packet to use throughout the month.
Bullymake Toys: The Snowman Toy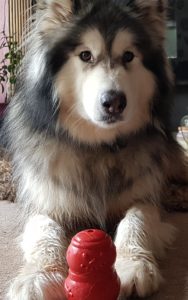 The first toy I received was the snowman. This toy mimics a Kong, which my dogs have had and loved in the past, but with an adorable snowman design; passing the christmas magic onto your pooch.
My dog instantly started playing with this, as if it was a ball, which I was surprised about, as previously the dogs would only be interested in their Kongs if there were treats inside. I think he liked it for the flexible rubber that he could chew nicely in his mouth.
I tried it later with a jumbo chicken chew inside and he was mesmerised by it – although it was a little bit difficult for him to get out, but it kept him occupied for half an hour!
This toy would be great as a treat dispenser and boredom breaker, we used to fill our Kongs with a liver cake that we made and we would give it to them before we would go out and it would entertain them for a while.
You can also buy different pastes in a pet shops to put inside for your pets to lick out.
So I loved this toy and I know it will be used a lot in the future, it has so much versatility and is THE popular toy in our house at the moment.
Bullymake Toys: The Snowflake Toy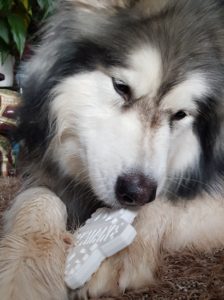 Finally, I pulled out the snowflake toy. Initially when I removed this from the box it was inside a plastic packet, which when I pulled it out I understood why.
It was very heavily scented of mint, which I was amused by and hoped would make my dogs interested in it.
When I gave it to one of my dogs she just sniffed it and looked away. The other is a little more persistent and he tried to work out how to play with it and managed it briefly, giving it a gnaw.
But I found that they aren't very fond of this toy; it's an awkward shape for them to hold and to pick up off the floor.
The only time he will play with it is when I give it to him, and even then it's just a few bites and then he forgets about it. He hasn't managed to break it, although he can't if he's not chewing it. 
I think it's just an unfortunate toy, that if I were a subscribed member I would get a replacement for.
BullyMake Box Review
Overall, I think this is an incredible box, I love the ease of getting toys and treats delivered to your door that are specifically for your dog; because a lot of pet shops do not cater for large chewing dogs.
The treats offered a great range, although I would have loved to see a real long lasting larger chew that would last more than a minute – even if you only received one or two in the box.
The toys were durable, and do what they say on the tin. Though some of that durability comes at the cost of the toy being forgotten in my household.
The snowman toy was excellent and I can't say a single bad thing about it. I loved how well the box stuck to the Christmas theme and definitely added a smile to my face as well as the doggies'.
I've recorded a video of mine and my dogs experience with Bullymake, which you can watch below!
Pros of Bullymake Box
The box comes with an amazing ability to cater for any sized power chewer and it's great to be able to get exactly the toys that are perfect for your dog. It can also be easily customised to cater for dogs with specific allergies, this is done by asking before checkout all about your dog, and Bullymake knowing exactly what goes into their treats.
The 'toy only' option is great for any dogs that are not into treats or even for dogs that may be overweight and still deserved a treat box. You even have the option at checkout to add an extra toy to the box each month for $9 extra a month.
Another amazing feature is the Bullymake guarantee, this is unique to the Bullymake box and adds another level of great customer service to the product that is so thoughtful and understanding of what dogs are like.
One of my fears about buying subscription treat boxes is that my dog might just not like anything in there, and because I had no input in the selection of the toys I would just be left with a box of useless toys. Their guarantee gives me complete confidence in the box and my dogs happiness and also in the quality of the toys they make.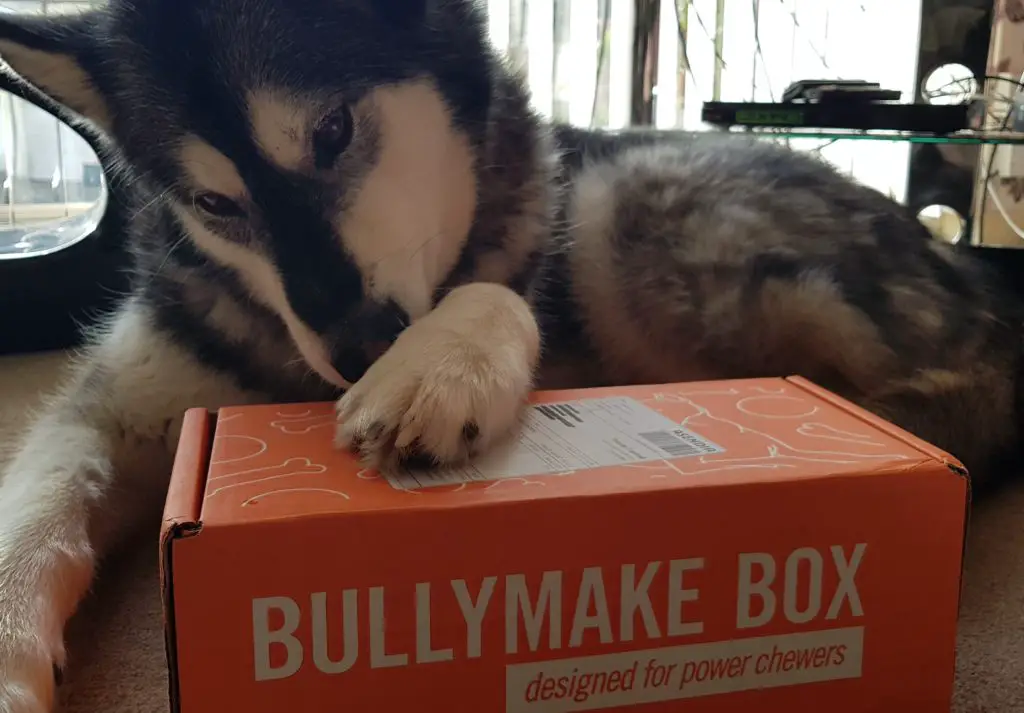 One of the best selling points of this box is the ease. Once you set it all up, the boxes will get delivered to you every month without you having to do anything. Not only that, they will have picked great toys and treats specifically for your dog; which means no more lengthy trips to the pet shop trying to find the perfect toys.
This is excellent for owners of large or heavy chewing breeds, because the selection for these at a pet shop is very limited.
These boxes also come with a great price tag, and amazing discount options when bought with a subscription for the year. This can offer you a saving of up to 20% and with free delivery to the USA!
You are also offered the option of purchasing an extra toy at the checkout for each box for an added $9, which is fabulous for owners with more than one dog.
Cons of Bullymake Box
Now this is a minor con, but nothing deal breaking. Whilst you CAN repurchase toys from previous themes, once they are sold out, they're gone. So it you find a toy you particularly like, make sure to buy it again, quickly. As once they're all sold, they don't tend to remake toys from previous themes!
I would also love the option at checkout about what kind of toys your dog likes. Some dogs will not like the really hard chew toy and may prefer a rope toy and something a little softer; just having the option of selecting something you know your dog would love would be incredible. 
Update: As of Januarary 2019, Bullymake have now actually included this option, through their Bullymake Box Customization,which allows you to opt in/ opt out of certain styles of toys. This can be changed as often as you like!
They say on their Facebook page that they do deliver to the UK, but on their website they do not specify how much this will cost. They charge and additional $8 for delivery to Canada, so if it is similar, this would increase your monthly cost by quite a bit
As mentioned earlier, I would have loved to receive some larger treats that were more like chews and would last my dogs more than a minute.
How to Sign up For a Bullymake Box
You can sign up for the Bullymake box on their website by clicking here! Once there you can select whether you would like to get started or send as a gift.
You can choose between signing up for boxes for 1, 3, 6 and 12 months, each with different costs attached.
Then you are asked to input the weight of your dog and any allergies they have. Here is where you have the option to request a toy only box.
Finally, input your payment and delivery details and you're done!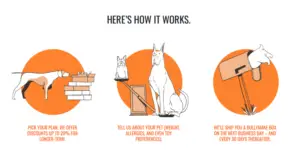 Price of a Bullymake Box
The prices vary for the boxes based on how long you commit to buying them, with the best savings offered to those who subscribe for a year.
The table below breaks down these costings and shows you how much you can save with each option.
| | | | |
| --- | --- | --- | --- |
| | Monthly cost ($) | Yearly cost ($) | Yearly saving ($) |
| 1 month | 39 | 468 | 0 |
| 3 months | 36 | 432 | 36 |
| 6 months | 34 | 408 | 60 |
| 12 months | 31 | 372 | 96 |
You can check out the prices of Bullymake subscription boxes by clicking the button below.
This will take you to the homepage, where you can begin to explore the Bullymake options available to you!
Do Bullymake Offer Discount Codes?
I wasn't 100% sure on this at first.
So I emailed them to ask, to find out whether we could secure a discount code for our readers!
To my excitement, I got a speedy response, with two discount codes!
The codes can be activated at checkout and both give $10 off!
To claim the discount, click the button below, customise and finalise your order, then either "IG10 or FB10" when checking out!
The code can be entered by clicking the "click here to enter your code" button at the top of the checkout page.
Is Bullymake Box Worth it?
In my opinion…Yes!
Each toy in the box is worth $18 and each treat packet is worth $9.
This means that you are getting $63 worth of dog supplies for under $40 (even less if you use one of the codes "IG10 or FB10").
Which could be even more of a saving if you get the boxes for 12 months because you'd get $63 for $31 which is better than half price!
Again, you can check it out here!
If you have any questions or comments about Bullymake (or anything else dog related), please feel free to drop them below!