When it comes to my dog, I want him to have the best quality toys and treats.
I might go a little overboard at times, but if he is happy, so am I!
Finding the best treats and toys is not always easy.
No matter what size dog you have, it can be difficult to find toys that last and are appropriately sized for your dog.
Barkbox vs Bullymake Review: Let's Get Into it!
Hello dog moms and dads! My name is Bri, and I live to spoil my American Bulldog and Pitbull mix, Bruce.
Bruce weighs a little over 80 pounds and has incredible bite strength, so finding toys for him has always been difficult.
I have searched everywhere for the best products for Bruce that he does not just destroy as soon as I give it to him. He also has sensitive skin and has to be given limited-ingredient treats and food.
After spending hours in stores looking for toys and treats that meet my dog's needs, I got frustrated because nothing was holding up.
I was spending way too much time in stores reading ingredients on treats just to take them home and find out that Bruce is NOT a fan of salmon flavor (pro tip: ALWAYS go for bacon!).
That's when I started looking into toy and treat subscription boxes. I knew that these companies provide high-quality toys and treats, so I figured I could let them do the hard work for me!
There are many different suppliers of pet subscription boxes. After doing some research, I finally landed upon BarkBox which I've been a subscriber to for over a year now.
Bruce loves the toys and treats and gets the "zoomies" whenever he sees the box arrive!
However, another great option that another of our authors (and dog owner), Bethany, really likes is the BullyMake box. Bethany has huge, beautiful Huskies who could probably chew through a freight train!
Her dogs love the BullyMake toys, and mine loves his BarkBox. In this article, we will talk about both boxes and help you decide which one could be right for your dog.
What is BarkBox?
Bark is a company that provides monthly subscription options for pet owners. They send a box right to your door that matches the subscription you sign up for.
BarkBox is their most common subscription box, but they also have the SuperChewer option that provides more durable products.
We tried out the SuperChewer box for Bruce, but he prefers the plush toys, so we switched back to the traditional BarkBox! You can watch a video of my review (and of Bruce opening the SuperChewer box) below!
The company is run by dog owners who test out each product they make on their own dogs. They are based in New York and currently reach over 600 thousand dogs with their boxes!
Bark also has their online storefront called Bark Shop. This shop has all the toys and chews that they provide in their BarkBox just in case your dog is really obsessed and wants more.
The shop also has other products such as supplements and anxiety calming treats. Plus, their toys can be found in stores like Marshalls and Target as well as on Amazon.
What is BullyMake?
BullyMake is also a subscription box company for dogs. They provide heavy-duty toys and treats that are meant for dogs that are prone to chewing and destroying toys.
These boxes are delivered right to your door and coincide with the subscription option you chose when signing up.
BullyMake's founder, Karyn Owens, created the company when she struggled to find toys that could withstand her Pitbull's love for destroying toys.
She makes sure that her company provides toys, treats and chews that are durable enough for the toughest chewers.
BullyMake also provides a two-week guarantee on their products where they will replace any toy that your dog was able to tear apart.
You don't get to choose what comes in your Bullymake box, they just send out a different box each month with toys and treats related to that month; so we received the December box to try; which included a snowman and snowflake.
What Comes in a BarkBox?
Every month, your dog will receive a box of toys, treats and chews. Depending on what type of subscription you choose, you will get more or less of each item.
The standard box will come with two toys, two bags of treats and a chew. You can personalize your box to have more of each option.
The great thing about BarkBox treats is their customization. Like I said before, Bruce has sensitive skin and can only have limited ingredient treats.
BarkBox has an allergy option I could select when subscribing, which will make sure that the company only sends limited ingredient and non-allergenic treats and chews.
This helps assure me that I don't need to check the ingredients every time he gets a new box!
The toys in a standard BarkBox are plush toys that usually contain a squeaker (yes, Bruce is obsessed). Even better, each month is a new theme and all the contents follow that theme.
BarkBox goes all out with these themes and usually follows the seasons like Christmas and Halloween. The boxes also have fun activities and games to go along with the theme.
So far Bruce's (okay my) favorite is the Viking theme that even came with its own cut-out Viking helmet which you would have seen in the end of my SuperChewer review video!
As you can see, it didn't really fit his head, but we made it work.
The treats and chews in these boxes are made of all-natural ingredients in the United States.
You can customize your box to eliminate certain ingredients, and if your dog does not like the treats or even the toy included you can contact BarkBox for a free replacement!
Each box is customizable based on your dog's allergies and size. Since Bruce has a little extra junk in the trunk, he gets the largest toy option.
The Bark customer service is amazing. Any time I've ever had a problem with Bruce's box (which was only once because they sent us salmon flavored treats, and we know Bruce does not like salmon!), they were super helpful and sent replacements for him.
At least I'm not the only one who spoils my dog! I have also created a separate article on what comes in a BarkBox here!
Or you can check out their website for yourself, by clicking here!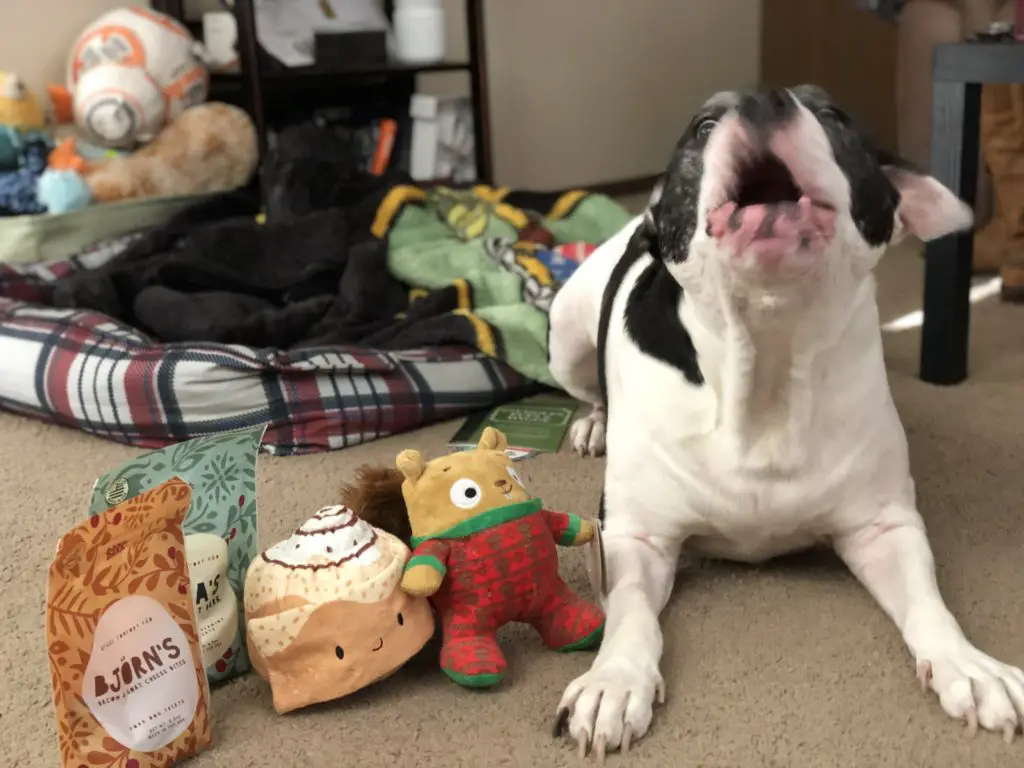 What Comes in a BullyMake Box?
BullyMake boxes come with two or three chew toys and three or four treats. All of their products are made in the United States and are tested on the toughest chewer breeds like Pitbulls, Labs, Beagles and more!
BullyMake allows you to customize your box to fit your pup's needs. They let you choose an allergy selection to make sure all the treats you receive are safe for your pup.
Plus, if your dog has too many allergies and you don't want to risk it for the biscuit, you can choose the "Toys Only" option which will give your dog all toys and no treats!
Sometimes it's better safe than sorry, or you might have a favorite treat brand that is already your go-to for your dog.
Have multiple dogs? No problem. You can add an additional toy to your box for a little extra money so everyone is happy! Or you can just really spoil your one dog, which is perfectly acceptable.
These boxes also come in different themes each month. Each one includes a card that describes what the contents are.
You might be thinking, "Bruce is a bully breed, so why don't you get him a BullyMake box?"
While, yes, Bruce is a big dog and certainly likes to chew, I have found (after spending a ton of money on toys) that he prefers softer, plush toys over hard ones.
I think this has something to do with his old age, and his jaw and teeth are not as strong as they used to be. He is 10 years old, after all!
To get an idea of what the Bullymake box contains, you can check out Bethany's video again (above), as well as her review article here!
Again, you can check out their website also, by clicking here!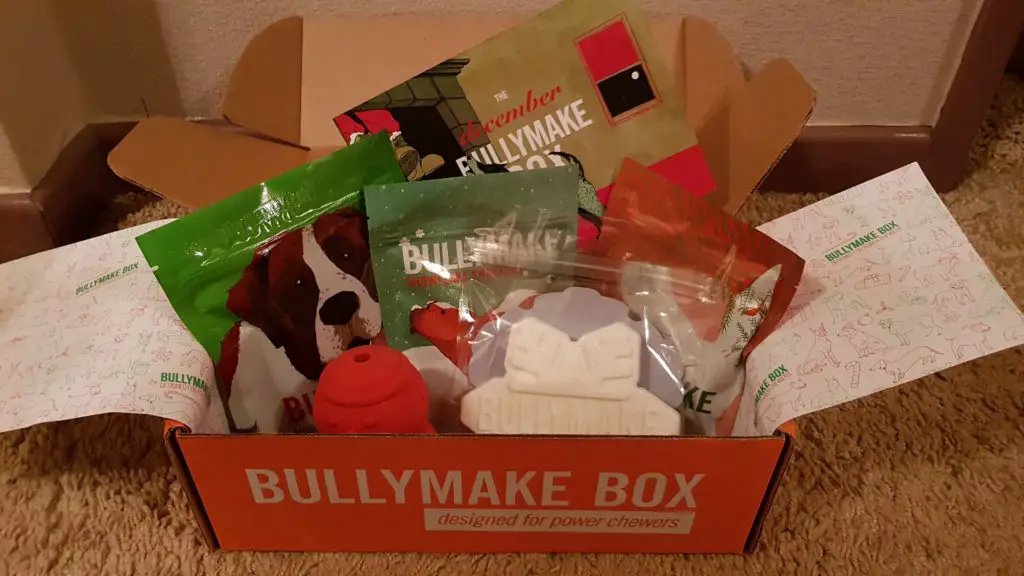 Barkbox vs Bullymake: How Much do They Cost?
Each of these subscriptions have different options at different prices.
To make it easier to follow, I created a table that shows the different monthly options and prices. Let's take a look:
| | | | | |
| --- | --- | --- | --- | --- |
| Months | BarkBox Price/Month | BullyMake Price/Month | BarkBox Price Upfront | BullyMake Price Upfront |
| 1 | $35 | $39 | N/A | N/A |
| 3 | N/A | $36 | N/A | $108 (saves 7%) |
| 6 | $25 | $34 | $135 (saves 10%) | $204 (saves 12%) |
| 12 | $22 | $31 | $239 (saves 5%) | $372 (saves 20%) |
As you can see, there are a few different subscription options for each company.
They both offer upfront costs too that can save you money.
Barkbox vs Bullymake: Shipping Times
As far as shipping goes, BullyMake will ship the box to your front door on the next business day and every 30 days thereafter.
BarkBox typically ships on the 15th day of every month and it takes about two to eight business days to arrive.
Each company does ship outside the US and Canada, but it could take closer to four to twelve days for BarkBox to arrive. For shipping to Canada, there is an extra $8 per month fee to pay.
Both BarkBox and BullyMake provide tracking numbers once the box has shipped to allow you to see where your box is! Plus, if your dog is anything like Bruce, they will love to open the box themselves.
Both boxes are cardboard and relatively easy for them to open if you remove the packaging tape.
Having these boxes shipped to my door has saved me a ton of time. I also save money by not having to buy a ton of different toys to see which ones will hold up.
Barkbox vs Bullymake: Pros and Cons of Each
Each of these subscription companies has different features and options.
To break it down in the easiest way possible, I'll give pros and cons of both boxes to compare.
To make it even easier to understand, I've created a nice looking graphic below the pros and cons, to help you see the stand out features of each box!
Pros of Both BarkBox and BullyMake
Customizable options
Caters to allergies
Different subscription choices
Themed contents
Multiple treats and toys that are different every month
Ship right to your door 
Pros of BarkBox over BullyMake
Cheaper subscription options
Toys for large and small dogs, light and heavy chewers
Can upgrade to SuperChewer box for extreme chewers
Bark also supplies health and wellness supplements
Pros of BullyMake over BarkBox
Toy only option
Ships the day after your first order
More subscription options
Cons of BarkBox
Has less subscription options than BullyMake
Plush toys are easily destroyed by heavy chewers (Bruce likes to leave the fluffy stuff aaaalllllll over my living room)
Stuffing and squeakers can be a potential safety hazard for dogs
Cons of BullyMake
More expensive
Toys are only suitable for heavy chewers 
Final Thoughts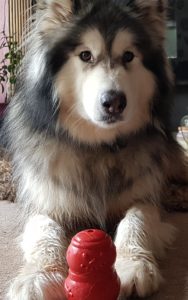 Either one of these subscription boxes would make your dog's tail wag. The treats and chews are wholesome and healthy, and the toys are adorable.
However, there are definitely some dogs who might benefit from one more than the other.
If you have a small dog who does not like to tear apart toys, the BarkBox subscription would probably be better for them. However, if you have big dogs who can tear through the toughest toys, the BullyMake box would be better.
Like I said before, even some big dogs might not prefer heavy-duty toys. Bruce loves to thrash around his stuffed toys and does not typically chew on hard bones, so the BarkBox is perfect for him.
However, Bethany's dogs love to play with the tough toys in a BullyMake box. It all depends on your dog's preferences, size and chewing habits.
The good thing is, each company allows you to take out a one-month subscription. This lets you get one of each so you can test out which one your dog likes better.
The most important thing is keeping your dog happy and healthy. Both are qualities that each of these companies are devoted to.
Hopefully this helps you decide which subscription to spoil your dog with! Happy Pup Parenting!