Destructive behavior in dogs is actually quite common, and, while it is problematic, it's not something that you can't help curb.
My name is Megan, and, up until quite recently, there's never been a time in my life where I didn't have a dog.
Even with all the dogs I've raised – some from birth even – there's always one that will stick out in my memory. She would destroy anything she was left alone with.
Pants, golf balls, softballs, one of those supposedly indestructible toys – if she could reach it, she could have it destroyed within ten minutes. Don't even get me started on her poor, plushie dog toys.
Now, I did eventually train her to not destroy every single toy and object in sight, but, before that, I spent a lot of time trying to figure out what exactly was causing her behavior.
Why do Dogs Destroy Toys?
At first, I wondered if it was her breed. Next, I wondered if it was the fact that I got her from the shelter since she was abandoned as a puppy.
After a bit of time and research, though, I've learned that, while genetics and experiences can worsen this behavior, they aren't what cause it.
Dogs destroy their toys for a lot of reasons ranging from instinct to, in the case of my dog, a lack of training as a puppy.
Instinct
First, most dog toys have a squeaker in them. These high-pitched sounds can bring out your dog's primitive side and instinctual need to hunt.
If this is the case, you'll often see your dog biting their toys and shaking their head, a common hunting tactic of their wolf ancestors.
The more the toy squeaks, the more your dog will rip the toy apart until they effectively render the toy 'dead' – or rather, in a pile of fabric and stuffing on your floor.
Boredom
Think of the last time you were bored. It's frustrating, isn't it? It's no different for dogs; when they get bored, they get frustrated.
This frustration can lead to them demonstrating destructive behaviors, such as tearing up their toys.
Lack of Early Training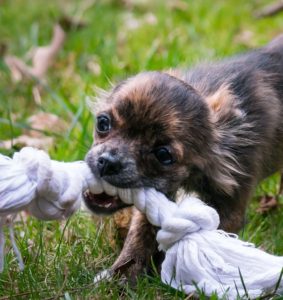 I'm not talking about training your dog to perform tricks and commands but training them to play.
My dog was left in an abandoned house when she was just a puppy, so she never had the opportunity to learn how to play properly.
Instead, she was left alone with her boredom and instincts, resulting in destructive behavior.
It's important to start teaching your puppy to play when they're younger. One of the best ways you can do this is by teaching them not to bite you while playing.
After a while, they'll learn that biting does not equal playing, and they should try other, more appropriate behaviors.
While heavy chewing and tearing up toys is an unpleasant behavior, it's not necessarily a bad one.
However, due how most dog toys are constructed, it can pose a variety of risks for your dog.
If you're looking to resolve bad habits that your dog has, consider consulting a trainer.
However, you could also check out Brain Training for Dogs, an online dog training problem, that helps to teach your dog new tricks and overcome behavioral issues.
Dangers of Dogs Destroying Their Toys
Besides just being expensive and a lot to clean up, dogs destroying their toys can be a potentially dangerous behavior.
Not dangerous for you, as dogs destroying their toys is rarely an aggressive behavior, but dangerous for you dog.
When your dog destroys their toys, they become at risk for choking or intestinal issues. The tiny pieces, especially of particularly harder toys, can easily be swallowed.
If the pieces manage to get to your dog's stomach – although, most of the time, especially in smaller dogs, you'll find that the piece gets lodged in their throat – they can tear your dog's intestines, which is a condition with a high chance of a fatal outcome, or causes intestinal blockage, which will require a pricier and nerve-wracking surgical procedure.
While training your dog to not destroy their toys in the best option, that doesn't mean you have to cut out toys completely until this behavior has stopped.
Instead, looking for toys made out of high-quality, durable materials that will let your furry friend play and chew without worrying you.
How to Teach Your Dog to Stop Destroying Toys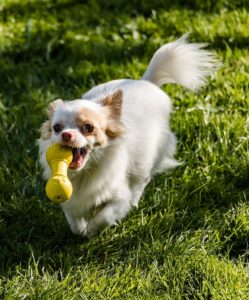 Getting your dog to stop ruining their toys is less about training them and more about redirecting their attention and energy to a more productive, less destructive task.
The worst thing you can do is punish them or cause them to become afraid; this will lead to even more problems later down the road.
You also don't want to toys away completely. They not only entertain your puppy but provide him or her the oral exercise and activity that they require.
That doesn't mean you should just let your dog destroy everything without supervision, though.
Instead, try making playtime with toys a reward; have your dog perform a basic command (sit, lay, rollover, etc), then let them have their toy.
Supervise their playtime and, if they destroy the toy, take it away. This is not to punish your dog, but to keep them from harming themselves and making a mess.
If your dog does not perform the command, that's okay too; just put the toy away and offer it again later.
Best Material for Indestructible Dog Toys
Obviously, when looking for an indestructible toy, you want a material that is durable.
Before I tell you what the best materials are, though, I want to tell you the absolute worst material.
Bad for the environment, bad for your home, and definitely bad for your dog, plastic is one material that you want to stay away from in general.
However, when you're buying a toy specifically for your dog to chew on, this becomes even more important.
Plastic is actually fairly weak, especially when up against your dog's mouth. In case you were wondering exactly how strong your dog's bite is, the average the dog's bite is 269 pounds of pressure.
Rottweilers, with 328 pounds of pressure per bite, lead the list. So, that plastic toy? It doesn't stand a chance.
This means that when your dog breaks it, it will splinter and break into small fragments. These sharp pieces cut the inside of your dog's mouth, their throat, and their intestinal lining.
With that taken care of, the best materials for your dog's chew toys are rope and rubber.
Both of these a durable and, if on the off chance they are broken and swallowed, while blockage is still a concern, you don't have to worry about these cutting your dog.
These materials are much harder to break, though, since they are built to withstand pressure.
While settling for only two types of materials may seem to limit your options, don't worry. Rubber and rope are also very versatile, and it's a lot easier than you think to find the perfect toy.
If you're not sure where to start in your search, here is a review of the top tough and indestructible dog toys.
Top 7 Best Tough & Indestructible Dog toys
#1 Ruff Dawg Indestructible Ball Dog Toy
The Ruff Dawg ball toy combines everything you love about regular, minimalist tennis balls while cutting out everything you don't.
These balls are advertised to be indestructible and they are both pop-proof and waterproof.
They come in two sizes, either 2.5 or 3.5 inches, and a variety of randomly chosen colors. Even with the variable sizes, though, this ball is only designed for small and extra small breeds.
What is it Made of?
This ball is made of out buoyant, non-toxic rubber made in the United States, making it the perfect toy for every dog in every area.
It won't pop and, unlike a tennis ball, it won't become soggy and weighed down in water.
Pros
Durable
Won't pop
Perfect water thanks to buoyancy and waterproof exterior
Non-toxic
Made in the United States
Two sizes
Cons
Color choice is random
Not designed with larger dog breeds in mind
Better for fetching than chewing
#2 Rocco & Roxie Dog Toys Balls
Rocco Roxie dog balls are just like your average toys with a few added benefits that keep them affordable and useful.
These toys are also non-toxic and fade-resistant with an easy to clean exterior. Rocco & Roxie are also so sure of these ball's durability that you can get a full refund if your dog manages to tear it up.
What is it Made of?
Rocco & Roxie dog balls are made out of a unique compound known as thermoplastic elastomer.
This material as all of the strength of plastic, but the consistency and safety of rubber. This makes it a great material for dog toys.
Pros
Non-toxic
Made of high-quality thermoplastic
Fade resistant
Durable
Guaranteed to hold up or you can get a refund
Easy to clean
Two sizes for both small and large breeds
Cons
Better for playtime rather than constant chewing
#3 Kong Extreme Dog Toy
It's no surprise that a Kong toy made it onto this list. Kong is a reputable brand that has be praised for a long time for being one of the absolute best indestructible toys for all dogs, no matter their size or breed.
This toy in particular, though, is the best of the Kong toys thanks to it's extra (or rather, extreme) durability.
It's available in sizes ranging from small to extra-large, and it is designed to both help your dog safely chew and clean and sooth their mouth.
It also has an opening so that you can add treats to extend and improve playtime.
What is it Made of?
The Kong toy is made in the United States from all-natural, globally sourced rubber.
This material is durable but gentle on your dog's mouth – making playtime fun, beneficial, and safe.
Pros
Durable
Reputable brand
All-natural rubber
Soothes your dog's gums and cleans their teeth and mouth
Can be filled with treats
Cons
Strong rubber scent
Despite large and extra-large sizes, this toy can still break with larger dogs.
#4 West Paw Zogoflex Tux Interactive Treat Dispensing Dog Chew Toy
This toy combines sturdy material and interactive features that will act together to reduce destructive chewing by reducing boredom and provide a safe toy for your dog when they do chew.
The West Paw chew toy is also dishwasher safe, making cleaning easier for you. This also works to prove its durability. It comes it two sizes so that no matter their size, your dog can enjoy playtime.
What is it Made of?
The West Paw interactive chew toy is made in America out of non-toxic, recyclable, and dishwasher safe 'zogoflex'. Zogoflex is a non-toxic, buoyant, and recyclable material similar to rubber that is unique to West Paw toys.
Pros
Non-toxic
Recyclable
Durable
Two sizes available
Interactive design to reduce boredom
Unique Zogoflex material
Cons
Heavy with awkward weight distribution
Treat can be difficult to get out
Expensive
#5 Goughnuts Original Dog Chew Ring
This dog toy has a unique two-layer system that helps your dog achieve the most out of each and every chew while staying safe.
The outer layer is the best part, and the inside, which stays red, lets you know when it's time to order a new one.
The red should remain within the colored shell at all times, and, if you happen to see red, you'll know the toy has seen its final game of tug-o-war or fetch.
The Goughnuts ring bounces, rolls, and floats – allowing your dog to experience a wide variety of indoor and outdoor fun.
What is it Made of?
The Goughnuts dog chew ring is made in the United States out of natural rubber using carbon engineering.
This increases the durability of the ring, so your dog gets more bites for your bucks. It's also easy to clean.
Pros
Variety of colors
Three sizes ranging from small to maXX (XX-large)
Easy to clean
Durable
Unique two layer feature
Cons
Expensive
Heavy and bulky
Expensive shipping costs if you are returning your ring
#6 Nylabone DuraChew Double Action Chew Toy
This is one of the first – if not the first – chew toys mentioned on this list that have a style marketed just for your puppy.
It comes in a bacon flavor, and it is designed with small bristles and nubs that work to clean your dog's teeth and massage their gums.
This not only provides a healthy outlet for chewing but will help clean their teeth, cure and prevent bad breath, and increase blood flow within their gums.
What is it Made of?
The Nylabone DuraChew chew toy is made out of nylon. However, as a few customers have mentioned, there is a metal tube within the toy – meaning you should exercise caution and not leave your dog alone while playing with this toy.
Pros
Small bristles and nubs to help clean your dog's teeth and massage their gums
Variety of sizes for every breed and size dog, including puppies
Dog-friendly flavor
Specially designed for heavy chewers
Cons
Expensive
Inner metal tube
Needs occasionally filing to prevent sharp edges that can cut your dog's mouth
Heavy with awkward weight distribution
#7 Ucho Chew Toys for Aggressive Chewers
The ucho (no, that's not a typo!) chew toy is a multi-purpose, non-toxic chew toy for aggressive chewers that is constantly being innovated – in fact, the last innovation and upgrade was in 2019.
It acts as a durable chew toy while also keeping your dog's jaw strong, teeth clean, and mouth healthy. While it is only available in a size suited for medium to large dogs, it is the perfect design for a puppy.
What is it Made of?
The ucho toy is made of soft, non-toxic, FDA compliant rubber that is also odorless.
This makes it safe for your pup to chew on it while also providing a fun method of relaxation. The rubber material also makes it float, so it's great for outside fun.
Pros
Non-toxic
FDA compliant
Durable
Multifunctional
Durable
Alleviates frustration
Cleans teeth and mouth
Cons
On the more expensive side
Only for medium and large dogs
Better for puppies and occasionally chewers rather than constant, heavy chewers
Best Dog Subscription Boxes for Heavy Chewers
Sometimes, it's just easier to have new toys that are durable and fun delivered right to your doorstep every month rather than having to pick out toys that you aren't quite sure of.
Dog subscription boxes are a great way to purchase quality toys without the hassle, and, usually, subscription boxes are cheaper than the retail cost of the toys.
If this sounds like the path you want to take but choosing a box to try sounds a bit too difficult – because, let's face it, there are hundreds of options – don't worry.
Here's a list of the best dog subscription boxes for heavy chewers.
BarkBox Super Chewer
src="https://officiallypets.com/wp-content/uploads/2019/06/Barkbox1-300×225-300×225.jpeg" alt="A dog with barkbox" width="300″ height="225″ />BarkBox is one of the most reputable dog subscription boxes, and their Super Chewer box is designed specifically with heavy chewers in mind.
Regular BarkBox boxes come with plushie toys that, while cute, aren't made to hold up against a playful dog's teeth.
These toys also often feature squeakers inside of them, and, as mentioned before, the high-pitched sounds often encourage dogs to tear up their toys.
The Super Chewer, though, since it is identical except for the style of the toys, provides durable and fun chew toys that even the heaviest of chewers should be able to enjoy.
This box provides the same toys that dogs love without any of the plastic, fillers, or instinct-triggering squeakers that will cause your dog to shred every toy limb from limb.
If you would like more information on how the Super Chewer compares to the regular BarkBox, you can find a lot of great sources like this one.
What Comes in It
2 durable toys that are free of fluff and plastic
2 full sized bags of treats
2 'chews' (meat snacks that dogs love)
Pros
Designed for heavy chewers
Reputable brand
Inexpensive
6 full sized, quality products
Variety of options
Cons
Surprisingly enough, I couldn't find anything wrong with the BarkBark Super Chewer.
BullyMake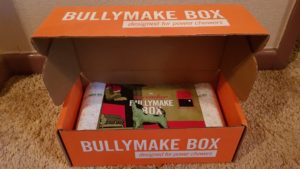 While I'm not as familiar with BullyMake as I am with BarkBox, after spending a lot of time researching and reading customer reviews, I can say this: it's a good subscription box.
In fact, the brand thinks that its box is so good, they offer what is known as the BullyMake guarantee.
This means that if your dog either doesn't like the toy or likes it so much they tear it up within 14 days, BullyMake will replace it for you – so long as you have a subscription.
Each toy is designed specifically for those breeds of dogs that have a tougher bite, though, they're safe for all dogs to use.
They're durable and fun, and there are even interactive toys that will keep your pup entertained and happy.
The treats are all made of natural ingredients in the United States, so you rest assured that every bite is healthy and safe for your dog.
You can request for special treats that cater to your dog's allergies and sensitivities, and each box features themed treats.
As an example, in a December box, you'll receive treats that smell of mint and chicken, which dogs love.
What Comes in It
2-3 durable toys
3-4 bags of treats
Or, so long as you order it this way, you can receive of box of only toys, which is still a great deal.
Pros
BullyMake guarantee
Treats are made of natural ingredients in the United States
Caters to allergies
Ability to order a box that comes with either toys and treats or just toys
Exclusive toys designed specifically for the strongest of chewers
Cons
Treats and chews are on the smaller side
Some toys, such as the snowflake toy mentioned here, aren't popular with dogs
Once toys are sold out, they're gone for good
Pet Treater
When I was searching for a subscription box for my dogs, Pet Treater was actually one of the very first ones I came across.
At first, I was a bit skeptical because it seemed like Pet Treater wasn't good for dogs who liked to chew.
However, I loved the fact I could get either all treats, all toys, or both. And, while not every toy is designed specifically with heavy chewers in mind, there are some great picks like rope toys.
I would just save any plushie toys for supervised playtime. Another thing that really sold this subscription box for me is the fact that part of the cost for every single both is donated to an animal charity.
That and the fact that cater to your dog's dietary needs really establishes the fact that they love and care for animals.
What Comes in It
Each box is different, depending on which box you decide to purchase. There are options for all toys, all treats, a combination of those two, or even grooming and care supplies.
Pros
Inexpensive
Donates to charity
Variety of options
Ability to customize boxes to fit your dog's breed, size, and dietary needs
Comes with treats and supplies as well as toys
Cons
Not specifically designed for heavy chewers
Plush toys
My Top Picks
I've given you a review for a wide variety of toys and subscription boxes. Now, it's time for me to tell you which ones I love just a little bit more than all the rest!
Top Toy
My top toy from the list would have to be number four, the West Paw interactive toy. First, I absolutely loved the unique yet durable Zogoflex.
I also love the interactive feature. Like I mentioned at the very beginning of this, a lot of times, your dog is only chewing because they're bored.
The interactive design will keep your dog entertained and will discourage chewing, which I think is a win-win situation.
This toy also had a large amount of good reviews, and, while there were a few negative reviews, hardly any mentioned the toy significantly breaking.
My second choice would be number two, the Rocco & Roxie toys. I enjoyed the simple design that, while minimalistic, included an abundance of great and useful features.
The only major downside to this toy is that fact that it's not great for constant chewing.
While it can hold up during playtime, there were a handful of reviews where customers stated that, after aggressive chewing, the balls broke.
My third choice would be, ironically enough, number three, the Kong toy. I personally have used Kong with my own dogs, and I quite like the product.
Since I have used it, though, that also means that I can vouch for the smell.
It varies between faint rubbery smell and overwhelming burning tire smell, which is one of the reasons that it's in third place and not higher up.
I do think this product lives up to its claims of durability, however, and, for that, it deserves its place as number three of my top picks.
Top Subscription Box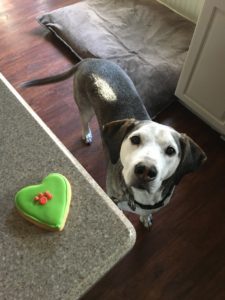 I think my pick for this one is obvious. My top subscription box is going to have to be the BarkBox Super Chewer.
First, the fact that this subscription box has virtually no cons makes it a great choice.
It is specifically designed for the toughest of chewers, and it also comes with tasty treats that will decrease the amount of time your dog needs to spend chewing. And, at such a cheap price, you really can't beat that.
I think that my second favorite, the BullyMake, is actually such a close runner-up they could be considered a tie.
The only major downfall with the BullyMake is the fact that, if you find a toy your dog absolutely loves, if it's sold out, you won't be able to reorder it.
Other than that fact, I think the BullyMake is an incredible option. I really enjoy the themes, and I like the fact that you can either get toys and treats or just toys.
I think it's also great that you can specify if your dog has an allergies or sensitivities, and BullyMake will make sure that the treats that come in your box are safe and healthy for your dog to snack on.
The Pet Treater didn't make my list of top picks because, while it is a great subscription box, it's not designed for heavy chewers.
And while the toys are cute and good for some dogs, the box isn't worth it if they'll be destroyed within minutes.
I still think that due to the rope toys, treats, and supplies it is a good box to consider, though BarkBox and BullyMake are my recommendations for heavy chewers.
Final Thoughts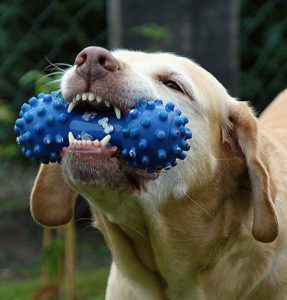 Chewing is a natural behavior that stems from a variety of causes such as boredom and instinct.
While this is a natural and, although unpleasant, harmless behavior, due to the risks that come from the toys themselves, it's important to begin training early so that your dog will understand playing and won't be tempted to chew and destroy every single toy you bring home for them.
Without doing this, your dog has a chance of choking or suffering from intestinal issues due to accidentally swallowing the broken pieces of a chewed toy.
Thankfully, even if your dog is still demonstrating destructive behavior, there are a variety of toys that you can choose from to make sure that, while your dog plays and chews, he or she is safe.
No toy is 100 percent indestructible, though, so always make sure to supervise your dog, and, if the toy does break, remove it immediately.
With both toys and subscription boxes, there are a variety of options for you to find the best indestructible chew toy for your furry best friend.
No matter what option you purchase, your dog will thank you for taking their enjoyment and safety into consideration.