While most people may think that only certain breeds such as Spaniels and Retrievers enjoy the water, the fact is that most dogs enjoy paddling in water.
While they may not aspire to being great swimmers, being in the water appeals to most breeds.
Not everyone has a beachfront property or a built-in pool for their dog to enjoy, so many people look for other options in the hot months.
There is no need to feel guilty because all you can offer your dog is a small paddling pool similar to those you would buy for the kids.
Your dog will thank you just the same as if you had a designer-built pool.
As long as the pool is puncture proof and stays safely upright while your dog splashes around in it, you will have a grateful pooch on your hands.
Children Pools vs Dog Pools
The problems come with using kiddie pools for dogs because they are not really designed for animals to use. They are designed for kids not dogs with sharp claws.
Even as pups, many are more boisterous than most kids will ever be, and it is little wonder that pools designed for kiddies simply do not last for dogs.
Another safety factor is that dogs tend to chew things and having started to tear the paddling pool apart they could continue and swallow the plastic pieces.
I suppose if we were to watch our pets like hawks we would never let them even start to tear the paddling pool apart, but dogs can be crafty creatures and before you know it, you will be replacing the paddling pool because it has been destroyed.
Inflatable paddling pools are great for the kids but honestly, if you want something that will last more than one summer you should think about a puncture-proof pool.
While puncture proof dog pools may not necessarily be made only for dogs, you will find that they are also suitable for rough and tumble kids, which is good to know.
Playing around water and in pools can be great fun for your dog. Not only are they having fun and burning off some excess aggression, they are also keeping their weight under control.
Even small pups who have not yet learned to swim can safely play in shallow water until the learn how to paddle.
Not every dog enjoys being fully submerged under water and this is where a paddling pool comes into play. You can fill it with as much or as little water as you like, so even the smallest of dogs can enjoy it.
Types of Puncture Proof Dog Pools
Puncture-proof pools are normally made from three different types of material, namely:
1) Polyurethane
This is often used for kiddie pools as it is rigid and does not easily collapse. Another good point about this material is that it is very hard to puncture it
2) Structural foam
This material also delivers a rigid pool which is great for both kids and pets.
3) PVC
Pools made of this resemble thick vinyl. They can collapse easily for storage and do not need air to keep them in shape.
Why Should you get a Dog Pool?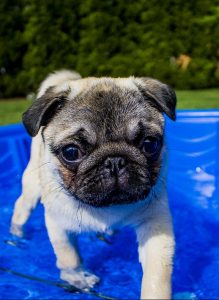 There are several excellent reasons why you should invest in a doggie pool, not least because having a pool is a great way to have fun with your dog.
Keeps dogs slim
Overweight dogs have trouble moving comfortably and most of them develop health issues. Having a dog at the right weight is best for both the dog and the owner.
Swimming places very little impact on joints and muscles, as well as helping to lose that extra weight.
Burning of extra energy by swimming also helps to reduce destructive habits because the dog is bored. Swimming will give the dog something to do and reduce boredom.
It's great playtime
Most dogs love to play, even older ones enjoy an occasional romp around. Swimming not only uses the muscles but makes for a great play session.
Most dogs will learn how to swim quickly and soon you will not be able to keep them away from the pool!
Once you have taught your pooch to swim in a controlled area you will be confident of taking his swimming with you in a quiet lake or even at the beach.
A tired dog is a good dog
That's the saying, and most owners agree that when their pooch is worn out, he is less likely to become destructive or disobedient.
Not only will your dog behave better, but he will also sleep better because he has had a day out swimming and is exhausted.
Swimming is stimulating
Dogs need to be given tasks to do or things to learn and swimming fulfills both of these. Exercise stimulates the mind and swimming is great way to do this.
Great for summer
In those hot, hot days when neither you nor your dog want to do anything because you are too hot, having a swim will lower the internal temperature of both of you and cool you down.
Swimming will also help to cool off the pads on the dog's feet and thus keep him cool inside. Even having a dip in a paddling pool will keep your pooch cool
Benefits of Getting Puncture Proof Dog Pools
Inflatable kiddie pools:
Can burst from uneven pressure
Can be punctured by many things
Must be emptied manually by first using a bucket
Can be very bouncy and unstable
Must be completely inflated before adding water (takes time)
Must be completely deflated before folding up and storing
Always need a pump (and a person to use it)
Must be stored carefully so as not to be damaged by sharp things
Puncture-proof dog pools:
Are stable
Won't be damaged by sharp claws or teeth
Does not burst
Can be used immediately without buying a pump (or looking for one)
Easy to fill, simply open and place the hose inside
Easy to empty, just open the valve and let the water out
Store away after folding up, no need to deflate
As you can see, there are many good reasons to buy a puncture-proof pool for your pooch, certainly far more convenient than an inflatable pool will ever be.
A Word of Advice
As with anything that contains water, you should never leave either kids or animals alone in or even around the pool.
No matter that the water is only a few inches deep, it is still possible for a child to drown in a paddling pool.
Similarly, with small dogs you should always be at hand because the sides of the pool may be too high for the small dog to climb over and they could panic, causing them to drown or injure themselves.
It is a good idea to keep plenty of old towels at hand for when your pooch finally gets out of the pool.
Your dog will want to shake himself all over the place and preferably dry himself on the sofa or your bed. Keep the house doors closed until he is dry enough to go inside without wetting everything he touches.
Because you are likely to use the pool in summer when it is hot, you should also keep a bowl of water handy for your pooch for when he gets thirsty.
He may not enjoy drinking water from the pool because it will taste of PVC and most dogs do not like the taste. He will get thirsty with all that swimming so keep a bowl of fresh water near for him.
You may also like to keep a few safe plastic floaty toys for your dog to play with.
Top 10 Puncture Proof Dog Pools
1) FrontPet Foldable Dog Pool Pet Bathing Tub
This is a large fold-able pool. It opens out to a massive 50" with a depth of 12". Additionally, it is made from durable material, extra-tough PVC so that it can withstand your dog playing in it through the entire summer.
The pool is easy to use, simply open it out and fill to your required level. It is even easier to empty with the sealed drain opening. Just empty, let dry and fold up for next year.
Of course, being able to fold up means that the pool is portable – easy to take with you and your dog wherever you want to go.
You can also use the pool as a bathtub for your pooch, or even bath the baby in it! Being a decent size means that if you fancy it, you can hop into the pool with your dog.
2) Zacro Foldable Large Dog Pool – Dog and Cats Paddling Bath Pool
Here's another high-quality puncture-proof pool, made of scratch resistant fabric. The PVC is very durable, and the base is double thickness.
What is good about this pool is that it is made from environmentally friendly fabric.
The pool is portable and easy to fold up and carry with you. You can use it for your dog, or turn it into a fishpond. It is also suitable for the kids to paddle in.
It is easy to use, simply fold out and fill up. Just as easy to empty, just reach in and open the drain to let the water flow out.
The manufacturers advise that you don't let your dog gnaw on it, even though it is heavy-duty and durable. This is to make sure that the pool lasts for several seasons or at least until your dog gets too big for it.
3) Petsfit Portable Outdoor Pool for Small to Medium Dog up to 50 Pounds
Another easy-to-use puncture-proof pool where you don't need to carry a pump with you. Easy to fold open and just as easy to empty and fold up when you are done.
This pool is made of heavy oxford and waterproof nylon to prevent any leaks. The frame is heavy-coated wire which gives a great support. You will find that the sides do not collapse even when the pool is filled with water.
All the materials used in this pool are durable and guaranteed. The pool is ideal for small and medium dogs, although it will easily handle larger dogs.
4) EXPAWLORER Foldable Dog Swimming Pool
This is a massive pool! It measures 12" deep and 63" in diameter so suitable for even those huge dogs who want to paddle.
The pool is durable and made from waterproof PVC exterior. The interior is constructed of wooden panels and the base extra durable to stop any damage from nails.
The pool is easy to set up, simply unfold and away you go! Also, easy to disassemble, it can be folded flat in just a few minutes.
The pool comes with a drainage hole which is easily opened to drain away the water.
You must fill the pool to higher than the outlet hole which is about half-way up. Because of this it may not be ideal for miniature dogs as it may be too deep. It is perfect for medium to larger dogs.
5) NHILES Portable Pet Dog Pool
This pool has durable foldable panels which are made from waterproof nylon. This means that there are no leaks.
An interesting fact about this pool is that it is made from cool-down fabric so does not heat up if left in the sun for a long time.
It's easy to drain the pool as the cap is easy to twist and open. The pool measures 8" deep and 31.5" diameter so is perfect for small to medium-sized dogs – and other small animals. Even the kids can have fun in this pool!
6) Kundu Round Heavy Duty PVC Outdoor Pool/Bathing Tub
This pool measures 32" in diameter and 8" deep. No need to inflate as it simply folds open to use. Just fold and fill and your dog can enjoy himself!
To empty the pool just twist off the cap and the water drains away easily and quickly.
The pool is made from durable, heavy-duty PVC which is industrial strength to resist scratches from nails.
The pool folds up neatly so is portable and can be taken with you and your pooch wherever you choose to go.
7) Delifur Foldable PVC Dog and Cat Pool
This pool is ideal for your dog as well as for the kids as it is extra large in size. The pool measures 63" in diameter and has a depth of 11.8" making it perfect for those large dogs who also like a paddle.
This pool is made from PVC and Fibreboard materials and you will find that the corners are well sealed for prevention against leakage.
The pool is sturdy and will last several seasons even with rough and tumble from dogs.
The folded size is very small so it can be packed away when not in use. Also, because it folds up so neatly it can be taken with you and your dog.
8) PUPTECK Foldable Dog Swimming Pool – Outdoor Portable Pet Bathing Tub
This pool is ideal for small to medium dogs – and cats if you so choose. You can also use the pool as a fishpond or even whelping box.
The pool is portable and folds up very neatly meaning it can be stored away in any small place you have. It can also easily be taken with you when you and your pooch go away.
The pool is made of extra-tough PVC fabric and the base is slip-resistant as well as leak-proof.
No instructions needed to set it up, simply fold open and fill. To empty, open the drain and let the water run away.
9) Mcgrady1xm Collapsible Pet Dog Bath Pool
This pool is 80cm x 20cm so is big enough to take a large dog. It is sturdy enough to only fill a small way up with water so that small doggies can also have fun.
Because the pool can be folded it is easy to store, also easy to carry with you when you and your pooch go out together.
The pool is made from durable extra-tough PVC so will not be damaged by claws. It is made to be long-lasting so will last for several years.
Easy to assemble, simply unfold and then empty via the drain before packing it away.
Because the drain is on the side and close to the bottom, you can refresh the water whenever you want to.
The pool is perfect for paddling although you can also use it for bathing your dog as the base in made from non-slip fabric.
10) Fuloon PVC Foldable Pool for Dogs
This pool is made from extra-tough PVC to resist scratches and claw marks. The base is made from thick material which is non-slip for extra safety for your dog.
The pool is sturdy enough to withstand everyday use and not leak or collapse. You can use it for either dogs, or toddlers. It can even be used as a fishpond or baby bathtub.
The pool has a side plug so you can simply let the water out when you are finished using it. It is easy to use, simply fold open and fill. Just as easy to empty, you just pull the plug out and let the water flow away.
Once the pool is dry you can fold it up and store it away until next time you need it. The pool folds up to a small space so is easy to take with you when you travel and does not take up a lot of space when you store it.
11) Jasonwell Foldable Collapsible Dog Pool
I like this pool because it comes in many different sizes so you can tailor it to you dog's size and get the same high quality with whichever pool you order.
It's easy to fold and store, no need to use a pump to set it all up. Simply fold out and fill.
I also like that the base is slip-resistant so even boisterous dogs will be stable when playing. The fabric is extra tough PVC and the material is environmentally friendly.
Because of the size of the large pool you could even use it for the kids. 63" x 12" is a good size for a large dog – or a pooch and their owner!
Final Thoughts on Puncture Proof Dog Pools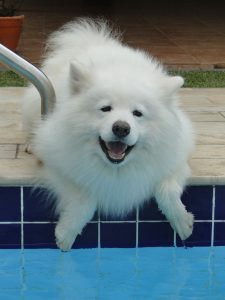 Our top puncture proof dog pools pick is the Jasonwell Foldable Dog Pet Bath Pool because it comes in many different sizes and can be easily folded and stored.
Well, all things considered, it makes sense to choose a puncture-proof pool instead of an inflatable one.
Not only do you have the peace of mind knowing that it won't simply pop when your dog gets over excited in it, but it does not need any pumps to set it up.
Just like on Christmas Day when you desperately need a battery for that remote and can't find one anywhere, there is nothing worse than wanting to get into the pool with your dog, only to find that the pump doesn't work, or you can't find it!
Having a pool that you simply fold open and fill, then empty and fold up to store will make it so much easier to set up than if you have to spend time huffing and puffing to blow it up before you even start.
This means you'll be more inclined to get the pool out for your dog when the weather calls for it.
At the end of the day, it something is easy to do, both setting up and packing away, we are more inclined to do it, particularly when the weather is hot.
Both you and your pooch will appreciate a pool which can be set up and packed away in a few minutes, leaving you more time to relax and have a paddle with your pup!
Thank you for reading puncture proof dog pools, have a nice day!