When the weather starts to warm up, may of us head for the local pool or the beach.
Unfortunately, these are not normally where dogs are welcome because they are too boisterous among small children or they foul the area where kids want to play.
So, often, our furry friend gets left at home while we head of for a day of fun in the sun.
Having a pool for your pooch is a great way to include them in the fun times. They are also a great way to keep your pooch at the right temperature especially if the summer is very hot.
Why Buy a Dog Paddling Pool?
There are several reasons for getting a doggie pool.
– Keeps your dog cool
Because dogs have a fur coat, they will feel the heat more than you. Imagine going through summer in a thick coat – you would soon feel overheated.
Having a paddling pool to cool off in the garden is a better alternative to simply finding shade under a tree. Water will go a long way to bring their temperature down.
– Added exercise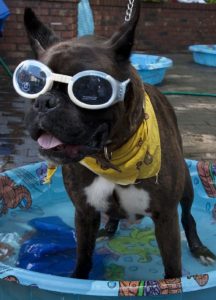 I know from experience that when my pooch sees his paddling pool, he gets very excited! Runs around like a mad thing and splashed to his heart's content.
All this adds up to extra exercise, and as dog owners know, a tired dog is a good dog! Pools are also great for dogs who tend to be overweight. Every bit of exercise helps to keep that weight under control.
– Good for some medical conditions
While paddling pools may be too shallow for actual swimming, unless you have a small dog, water is very therapeutic for aching joints.
– Because it's just fun!
This may be the most important reason to get your pooch their own paddling pool!
It is fun, it's great to see your dog so happy and splashing about, not being bothered about anything and just being a happy dog. There is literally nothing better than seeing a dog having the time of their life!
What are the Best Materials for a Dog Paddling Pool?
There are several options for a paddling pool for dogs. Whatever it is made of needs to be robust enough to stand up to a good bit of rough and tumble.
Dogs have sharp nails, and these will easily rip through a pool which is designed for small children.
Heavy duty PVC, this is perfect for a pool that you want to fold up and pack away after use. Heavy duty PVC is not only tough, but it is flexible and can stand up to most dogs.
This is also used to make the liners of trucks so as you can imagine, it's solid and hard-wearing. This material will withstand even a large dog with giant paws.
These pools are not portable so you will need space to store them after the summer. Ideally you can hang them up in a garage as long as they stay dry.
They are normally rust-proof and weatherproof. The disadvantage is that they are sometimes high off the ground so you may need either a ramp or a hole to fit the in so that your dog can get in and out.
Depending on how often you plan to use the pool, you may want to either choose material that will be easy to fold up and store.
If your pooch likes to go for a paddle most days, then perhaps a solid pool will be the most suitable. This way it is always filled, and your dog can hop in and out.
Why Can't I Use a Kiddie Paddling Pool?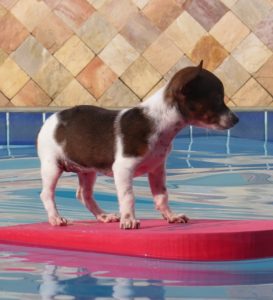 The different between kiddie pools and doggie pools is that the former is designed for tiny hands and feet, while the latter is meant to handle an exuberant dog with sharp nails.
Doggie pools are designed with dogs in mind as well as handling a pooch of up to 100 pounds.
Additionally, having a dog share the pool with your toddler will give a higher chance of introducing bacteria to the child.
If you do happen to have an old kiddie pool doing nothing, then you may as well let your dog use it. It could well be ruined with claws but if it's not being used anymore, why not let your pooch have it?
What's the Ideal Size?
To work out the ideal size of paddling pool for your pooch you should measure from the tip of the nose to the base of the back, at the tailbone.
This will give you the ideal radius for the pool.
Anything less and your dog will not fit, or they'll be hanging over the sides!
What About Getting In and Out?
This is an important issue especially if you have a pup. Most large dogs will just hop over the side to get in, but a smaller dog breed with short legs, or even a younger pup may have problems getting in.
If a small dog can't get out either, it may become scared and refuse to use the pool.
If this is the case then you may want to consider a ramp up the side and into the pool, with a small step on the inside that you can remove once your dog is in the pool.
Having a ramp is also great for an older dog who still enjoys sitting in water in the summer.
You can check out our article on the best dog ramps for above ground pools here!
How Deep Should the Water be?
Your dog must be able to sit and lie with his head above the water level.
If your dog wants to lie down and cannot because the water is too deep, you may find that the pool is not used because your pooch is disheartened and scared.
Smaller dogs may also drown if they find the water is too deep and they cannot get out.
Where Shall I Place it?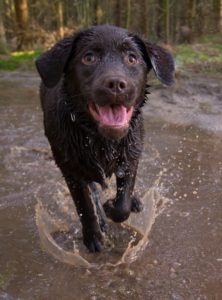 Ideally the pool should be in the shade. Remember that your dog can suffer from sunburn the same as you can. Having the pool in full sunshine all day will possibly burn the skin particularly if the fur is pale.
Never underestimate the power of the sun and don't think that dogs can't be sunburned, because they can.
If your pooch has a very pale skin and coat it may be worth talking to your vet about some sun protection – which you really do get, even for dogs!
Under a tree will work well, as will an umbrella placed so that you can move it around to keep the pool shaded.
You need to pace the paddling pool on a surface which is free from sharp stones and rubble. Even if you place it on grass you should check first for hidden stones.
If you need to, then use an old thick folded blanket to form a padded base. This will stop your pet from standing on sharp objects and hurting his feet, as well as keeping the pool from being punctured.
Can my Dog Drink the Water?
If you have filled the pool from the hose pipe and there are no chemicals in it, then no harm will come to your dog.
However, if you want to keep the pool filled for several days before changing the water, then you should discourage any drinking from this as the water will be dirty.
Additionally, you should check if the water from your hose pipe is potable as often it is not, so it is better for your pooch if you encourage drinking from the water bowl instead of from the pool.
Should Dogs be Supervised?
The answer is yes, they should. Just like children they can have accidents and hurt themselves.
They may get very excited and run around like mad things.
You might have to calm them down, so they don't slip and injure themselves.
Unfortunately, even with dogs, accidents can happen around pools, so it is never a good idea to leave your pooch unsupervised when heading off to paddle.
What Toys Should I Get?
There are many toys which are suitable for paddling pools, although they should be waterproof and not breakable.
Plastic toys that you can leave out to dry are fine, his favourite chewy toy will work well, and even a plastic wind-up duck will amuse a pooch who is not a chewer.
Toys that float are great because your dog will be able to paw them and try to sink them, only to have them keep bobbing up again.
Best Paddling Pools for Large Dogs
Let's look at some paddling pools for larger dogs.
1) Petsfit Portable Outdoor Pool for Dogs up to 80 Pounds
This is a great paddling pool because it does not need to be inflated. We all know how much effort goes into blowing up pools, so this is a great advantage. Your pet's pool simply unfolds and is ready to fill.
When you want to drain the pool you just need to press down on one side and the water can be drained away in no time.
You will find that this paddling pool is made of heavy oxford waterproof nylon. It does not leak, and the inner frame means that the pool sides won't collapse, even when it is full of water.
Of course, what is great about this pool is that it folds up into a neat little package which you can take with you. Ideal for taking with you when you go away on holiday!
Because of the small fold-up size the pool can be stored at the end of summer.
2) Zacro Foldable Large Dog Pool (47 X 11.8 in)
What I like about this paddling pool is that the base is strengthened with thicker material so your dog's claws will not damage the fabric.
The entire pool is made of scratch resistant fabric which is also environmentally friendly.
The pool is versatile as you can also use it for an outdoor water pond or a fishpond. With these options you can be sure that it is sturdy enough to handle your pooch!
It is easy to fill and empty. Just pop a hose pipe over the side to fill and when you want to empty it out you simply open the sealed drain to let the water run out.
With this pool you never need to bother with pumps that are notorious for breaking or somehow disappearing when you really need them!
The pool measures 47 x 11.8 inches deep so can handle a large dog with ease.
3) Fuloon PVC Pet Swimming Pool
What is good about this pool is the extra tough fabric. The pool is designed to accommodate either dogs, children or even ducks!
It is easy to store after being drained and dried and will stand up to everyday use with no leaks or damage from scratches.
As with any other fabric paddling pool you need to place it on a smooth surface where there are no sharp stones which can puncture the pool.
The sides are solid and stay up even with an active dog splashing around in it.
After you are done with the pool, or summer has ended you can drain the water away by opening the built-in plug. After that just fold it up and store it until next summer.
4) SCIROKKO Foldable Dog Swimming Pool
I like this paddling pool because it is 48" in diameter so can handle a good-sized pooch without feeling crowded.
The pool is made from high-quality fibre board and extra tough PVC and has anti-slip material on the base, which makes it safe for both older dogs and active ones.
I like this because there is no inflation, you don't need a pump or any tools, just unfold it and fill it.
The pool has a bottom and side drain so if it is too full you can simply open the side valve and let some water out.
The paddling pool folds up into a neat bundle so you can easily take it with you if you visit friends or go on holiday.
The pool sides are 12 inches so you can get a decent amount of water in which is great for larger dogs who like to wallow in water to cool off.
Best Paddling Pools for Small Dogs
And some for the smaller pooch!
1) KOPEKS Round Heavy-Duty PVC Outdoor Pool / Bathing Tub – Portable & Foldable – 3 Sizes Available
This cute little pool comes in three sizes so will also work for larger dogs. The small size comes in a 32" diameter and is 8" deep.
No need to inflate the pool, simply unfold and place on a smooth surface, then fill to your pet's comfort level.
When you need to drain the pool, you just twist off the cap of the drain and the water runs off.
The pool is made of high-quality durable material which is heavy duty industrial strength PVC so it will stand up to sharp claws.
Once you are done with the pool, drain and dry it, then fold it up for a later date.
2) Jasonwell Foldable Dog Pool
This paddling pool comes with a drain at the base for easy emptying. It is foldable so great to take with you.
Easy to set up, all you do is unfold the pool and make sure it is on a smooth surface.
What I like about this pool is that the base is made from anti-slip fabric, as well as being extra thick and durable. The fabric used is also environmentally friendly.
The pool comes in several sizes from small to XXL which is nice as you get to choose the correct size.
If you like you can also use the pool for toddlers as it is small enough for them. Obviously, they must always be supervised, particularly if your dog wants to share with them!
The pool comes with its own carry bag for if you want to take it with you. It is a good idea to keep
3) KOPEKS Outdoor Portable Dog Swimming Pool
This paddling pool is portable and made to a very high standard. It will stand up to your pooch's frolicking about in it!
The fabric is high-grade industrial strength PVC which is also very lightweight and easy to carry about.
Simply unfold the pool and fill with water, easy as that! To drain the water just untwist the drainage cap and the water runs off.
The pool comes in three different sizes, small, medium and large.
Alternatives to Paddling Pools
If you simply cannot have a pool, then you may think about other ways to cool your dog off in the summer. Hose pipes are a great alternative here.
Most dogs enjoy trying to eat the water and adding a sprinkler system will give them plenty of enjoyment jumping through the spray.
If the temperatures rise to where your pooch is too hot, then you may want to give a bath. The water should be tepid, not icy cold even though your dog may be hot.
Let your pooch have a splash around in the bath and then dry off outside if you can, to stop your bathroom from being soaked.
Another way to cool your dog is to add ice to the drinking water. The water should not be very cold, just have it at room temperature and then add a few ice cubes for your dog to chew on.
This is also a good idea for when you come back from a walk and it is very hot.
What if my Dog Does Not Like the New Pool?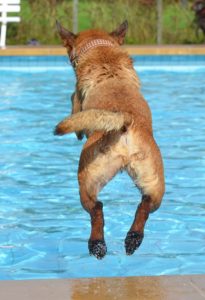 Well there are ways to encourage your pooch to like the new pool. As you may have to do with a child who does not like water, you may have to lead the way yourself.
Get your swimsuit on and sit yourself down in the pool! Dogs will want to be with you so much that they will start to test the water.
Be sure to reward with heaps of praise and an extra hug when your pooch finally ventures into the pool to be with you!
Don't Forget the Towels!
Your dog is going to come out from the pool and shake like mad! Make sure that you both stays outside to do this. It's also a good idea to have a towel to stand your pooch on and another one or two to dry off with.
More is always better here so arm yourself with a heap of towels to get your furry friend as dry as possible before going back inside, because most dogs will certainly head for either the sofa or your bed to do a final dry!
It may be a good idea to make sure that you and any visitors are not dressed in 'Sunday best', because when pooch's gets out of the pool, they will happily shake water on everyone!
Final Thoughts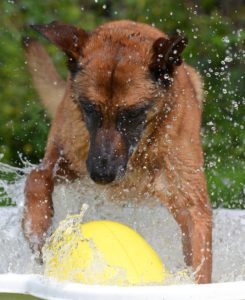 Having a paddling pool for your dog is a great idea. Sometimes it is just not practical to take animals to the beach with you.
In fact, some beaches will even forbid dogs to be on them. Understandable if there are small children around.
But is nice for your pooch to be able to cool down and splash around to their heart's content without getting on other people's nerves, so this is an ideal way for them to enjoy themselves.
Additionally, your dog can stay in your own garden and be off leash while swimming instead of being on a lead in case they run off to investigate something on the beach.
So, with a few simple precautions such as finding a smooth surface and keeping the pool in the shade no matter how hot it gets, your dog will be able to have a great time.
You will know that your pooch is safe and happy, and your photo album will have heaps more pictures of your furry friend!