My name is Megan, and I've had my fair share of dogs. And, with each and every dog, there is poop.
There have been plenty of times I was desperate and had to use a bag to pick up my dog's feces, and it was awful.
Pooper scoopers saved both my yard and my health, and I wouldn't raise a dog without one.
Why It's Important to Clean Up After Your Dog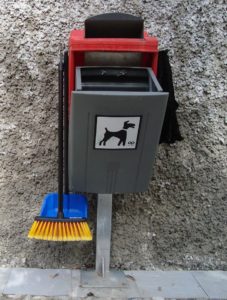 In case you didn't know, dog poop is actually labeled as toxic by the Environmental Protection Agency, along with herbicides, oil, and grease.
Not to mention, a single piece of dog poop can contain as many as 23 million bacteria that are known to causes cramps and other gastrointestinal issues: that's not something you want to be touching.
However, it's still important to clean up after your dog. Dog poop can damage your yard, spread disease, and, put bluntly, it just stinks, the last thing anyone wants is to step in it.
Since you can't just leave it, and you probably don't want to use a bag to clean it up, a long-handled pooper scooper is the best option.
Why You Should Choose a Long Handled Pooper Scoopers
If all of that information about the number of bacteria in your dog's waste wasn't enough to convince you that long handled pooper scoopers are the way to go, then think about the strain you'll be saving your body.
Some people, especially older, arthritic people, can struggle to get up and down off of the ground.
A long scooper will allow you to pick up your dog's waste without any struggle or strain, allowing both of you to enjoy the walk for longer.
Poop doesn't smell good either, so the last thing you want is to have to be face to face with it while cleaning.
If you're interested in buying a long handled pooper scooper but have no idea where to start, don't worry; you're not alone.
There are a lot of different types of scoopers on the market – plastic, metal, one piece, two piece – and it's hard to know exactly which one is best.
That's why I've created a list of the best long handed scoopers, so that way you can see a side by side comparison without doing hours of research.
8 Best Long Handled Pooper Scoopers
1. Dogit Jaws Grass Dog Waste Scooper
At 25.5 inches long, the Dogit Jaws Dog Waste Scooper is definitely what I consider long handled.
It has an ergonomic handle that is comfortable to grip and easy on hands; a major benefit for people with carpal tunnel or weak hands.
The serrated edges can pick up waste on even the hardest to clean surfaces such as grass and gravel while the calibrated springs make sure that you don't get dirty while doing the dirty work.
This scooper is durable and easy to clean, which is important as, because of the smooth plastic, you'll find yourself having to clean it after every use to prevent the waste from sticking.
As of the time of this review, 85% of customers recommend this product, so you can rest assured that you'll be getting a great, high quality scooper.
2. Pooch Approved Products GoGo Stik Pooper Scooper
If you're willing to make the investment, the GoGo Stik Pooper Scooper is a unique and innovative product that will keep your hands and scooper clean and free of harmful bacteria.
Unlike other scoopers, which touch the waste directly and require constant cleaning and sanitizing, this scoop uses a bag so that it never directly touches the waste.
Even better, in order to save your money, any plastic bag will work with the GoGo Stik; this is great for the environment too as it reduces the number of plastic bags used by reusing grocery bags that you would normally just throw away.
The dual blade claw is so versatile you can even use a bag with a zipper in case you need to collect a sample for the vet.
With the ability to extend up to 36 inches while weighing only 9 ounces – perfect for taking with you on a walk – this scooper is the second longest mentioned on this list.
While the price on this one seems to be a bit much, it is definitely a high-quality product that will save you money in the long run.
3. QUMY Dog Pooper Scooper
This relatively inexpensive pooper scooper comes with disposable bags and a bag holder, making it a great package for first time pooper scooper owners.
It's made of sturdy plastic with serrated teeth and a non-stick bucket to make sure that the waste you pick up comes up off the ground and comes out of the bucket easily.
If the idea of having to clean your scooper after every use seems like too much work, then you can fit the baggies that come in the package over the bucket for mess and germ-free cleaning.
The arm can extend up to 24 inches, and, if you're not satisfied, the company offers a full refund, no questions asked.
4. Petmate Arm and Hammer Scented Scooper
The Petmate scooper can extend up to 32 inches, making it one of the longest ones on this list.
Afterall, the further away the better when it comes to cleaning up your dog's waste.
Although it's not as convenient as it's single piece counterparts, this two-piece scooper provides a large swivel bin that works even in multiple pet households and a plastic rake that's gentle when needed but tough enough to get the job done.
To make your life easier, the rake and the bin can snap together, and then the bin has a looped end so you can hang it up for easy storage.
This package also includes Arm and Hammer goodies such as odor neutralizing bags and waste bags to make sure that, even during the hottest summer days, you don't have to worry about that less than wonderful smell.
5. Activedogs Heavy Duty and Lightweight Pooper Scooper
As the most expensive scooper on this list, the Activedogs pooper scooper can easily be considered luxurious. It comes in four different options that offer a variety of benefits.
There is a normal aluminum version with a flat blade that works best on hard surfaces like concrete and a version with serrated teeth that works best on grass and gravel.
There is also a version with collapsible teeth, and then there is the powdered coated version that is the most expensive version and guarantees a nonstick surface.
The aluminum used to build this scooper is durable but lightweight with a comfortable grip, making picking up after your dog easy. With a maximum length of 38 inches, this is also the longest scooper.
6. Pik-a-poo One Handed Pooper Scooper
This is the first scooper on this list that you can choose the size; this one has two options: a 28 inch or a 31 inch.
You can also choose a third option to only purchase a bag refill. This is also the first pooper scooper that you can use with only one hand.
Those aren't the only things that make this unique scooper a great choice, though.
Just like with GoGo Stik, the Pik-a-poo can be used with any type of bag to make cleaning up on the go easier.
Afterall, after going through all the hard work of purchasing a scooper so you don't have to touch your dog's waste, the last thing you want to do is have to then get close t the waste just to put it in a bag.
This pooper scooper isn't made of plastic either, instead it's made of nylon and aluminum, and, as another unique feature, it is battery powered.
7. Handiscoop
It's important to make sure you consider more environmentally friendly options too – after all, you want a healthy, clean planet for your pup.
The Handiscoop offers everything you want from a pooper scooper: it's convenient, hygienic, and, most of all, easy.
In fact, this scooper allows you to load three bags at once so that whenever nature calls, you'll be ready.
The Handiscoop is available in both small and large, allowing you to pick the perfect size for your dog, and it is light enough that you can take it on a walk around your neighbor or even a hike.
After you pick up your dog's waste, you can lock the bucket with the bag so that you can continue your walk without worrying about any accidental spills.
I mentioned that this was environmentally friendly. The bags that are included with the Handiscoop are biodegradable, which I think is a great and innovative feature.
8. Spotty Telescoping Metal Tray with Rake
Even though they aren't as convenient, sometimes a two-piece pooper scooper is what you really need to get the job done.
Due to the fact that all two-piece scoopers are designed to be used while standing, you never after to worry about one arriving and being too short.
The Spotty pooper scooper is designed to be as lightweight and comfortable as a one-piece scooper.
It has a lightweight aluminum frame that resists rust and a thermoplastic handle that is both soft to the touch and the perfect fit for your hand.
The rake is durable but gentle enough to work on any surface such as grass, gravel, and even concrete, and it's affordable and inexpensive.
The design is very simple and functions in a way that is very similar – if not identical – to using a broom and dust tray.
Despite this simplicity, though, it is a very hardy and efficient scooper that will keep your yard clean.
My Top Pick: Best Long Handled Pooper Scoopers for Dogs
There were a lot of good choices mentioned, but I feel like it's only fair if I mention which pooper scooper really stood out to me.
So, my top pick the is the very first product: the Dogit Jaws Grass Pooper Scooper.
Simplicity and environmental friendliness are extremely important to me, even when it comes to picking up my dog's waste.
I like the fact that I can use this scooper without a bag, and, even though it has to be cleaned often because of the lack of a nonstick surface, it's the most convenient for me.
I live in a small house, so the fact it doesn't require a lot of storage room is a plus, and it is inexpensive. If you're not looking for anything fancy and just want the job done, this is the best option.
My next choice would be the Handiscoop pooper scooper. I love the fact that this is inexpensive and comes with biodegradable bags that are both good for the environment and keep you from getting germs on your hand.
I also like the fact that it is available in two different sizes, as a large scooper doesn't pick up small waste efficiently and vice versa.
It's also great that this pooper scooper, whether small or large, is light enough that you can take it with you wherever you go, and, since it uses biodegradable bags instead of bare claws, you don't have to worry about spreading bacteria.
The fact that the Handiscoop can load three bags at a time, each hold up to four piles of waste, is a money, time, and space saving feature that really makes this pooper scoop worth every penny.
Final Thoughts: Best Long Handled Pooper Scoopers for Dogs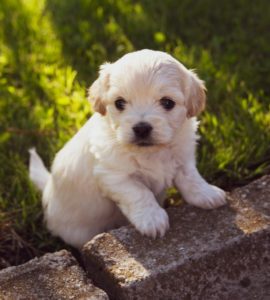 No matter what scooper you choose to pick up your dog's poop, it's important to make sure that you do it.
Going the old fashion way and simply picking up your dog's waste with you hand may seem like the best option, but, between the exposure to bacteria and the strain on your body, it can actually open you up to an abundance of health issues.
Leaving your dog's poop is not an option either as it hurts the environment and is simply impolite.
No matter what scooper you get, your neighborhood, your dog, and the planet will appreciate you cleaning up.
More articles you may like:
Best Indoor Dog Potty That Allows Your Pooch to Poop in Comfort!