Investing in a dog dryer is one of the smartest moves that you can make. It doesn't matter if you own a grooming business, or you just own your own pooch.
A dog dryer comes in handy after baths, after walks, and after terrible weather.
When searching for a great dog fur dryer, you'll be bombarded with tonnes of-of items.
That's why we're here to help – you won't have to filter out the good, the bad, and the ugly. We've searched through, and weaned out any misinformation.
Here are the best dog hair dryers, that will help you out in every single situation. We'll even specify who would benefit the most from each one.
Let me introduce myself, before I start giving you advice on dog dryers. First and foremost, I'm a dog lover – my main goal when writing this is to ensure that your dogs get the grooming that they deserve. 
As for experience with dog dryers, I do have my own short-haired dog. To be more specific, she is a labrador and, obviously, loves to swim.
I used to dry her with a towel until I realised that it just wasn't working. I like to use dryers targeted at ordinary people like me, but I also understand that groomers may want something different. 
My dog grooming friends, vets and professionals have inputted their opinion – hopefully ensuring that this article helps everybody from pet owners to dog groomers. 
With that cleared up, let's dive right in.
Different Types of Dog Hair Dryers
Finding the best type of dog dryer for you, really just depends on your needs and also the animals that you'll be drying.
For example, if it is just for one pet – you could find a very specific dryer. However, if you'll drying multiple different animals your dryer will obviously differ.
Just to begin, actually drying pet hair takes a lot more effort than with human hair. Not only is it different textures, but they also have a lot more of it.
For this reason, you should not use a human hairdryer – it's too hot and loud.
To find the best type of dog dryer for you, you should consider all of the below:
The length of the hose

Electrical current

Heating elements

Speed control
Figuring out which one works best for you, will undoubtedly depend on what you're personally looking for.
You can choose from Stand dryers, cage dryers, or hand-held dryers. Again, which you ultimately choose is completely up to you.
Making the decision is made much easier by knowing what is available, and the benefits of each one. I'd say research and look around.
5 Best Dog Hair Dryers for Grooming Your Pets
1) K-9 III Blower/Dryer
Obviously, just by judging the price, you'll know that this dryer is definitely for the professionals. K-9 have announced it is their most powerful dryer yet.
Obviously, making it perfect for those who need a quick dry – efficiently, despite the length or thickness of the hair.
This incredible dryer has two motors, two filters, and a powerful degree of air flow.
One of the best things I like – it's a great dryer, from a company that you can trust. This makes it all the more trusting to use.
Another great thing about this dryer is that its portable. So, as amazing as this is for professionals, it is also great for those that just like to go on long walks with their dogs.
You can take this dryer in your car – using it for your business or for your hikes. Being so lightweight makes it the perfect tool for the majority of people.
The versatility and compatibility of this dryer make It a really great option.
With this dryer, you get a 2-year warranty, which makes any issues you might have the price or any fears completely okay.
You have 2 years to make sure that this dryer was worth your money – giving you an extra level of protection.
Again, this is great for businesses – picking a dryer with a warranty is always the safest option.
If you are searching for a dryer for professional use, always make sure that you have some type of guarantee – this will protect you and your company.
Specifications
Let's look at some of the important specifications that might make this the best choice for you. It is:
120 Volts

18.5 Amps

120-volt outlet for clippers

10' hose with different size blower tips

Features two speeds and two temperatures

Powered by two motors
You get a choice of one motor for delicate jobs, and two more motors for super blowing power.
Let's talk about that last point – the fact that you get a choice of motors. This makes it perfect for every type of breed of dog.
This is why I've listed it as one that is great for professional use. It's ideal for heavy and double coated animals, as well as smaller animals with thin hair. Of course, dog owners can also make great use of this dryer.
So, how does the III compare to K-9's other models? To begin, the K9 II and K9 III utilise the same motor.
However, due to the single tube on the K9 II, it does produce a higher temperature due to the smaller tube.
The K9 III does produce a slightly higher airflow but at a lower temperature, courtesy of the increase in the intake area. Whichever you prefer in this case, generally depends on personal preference and your needs.
It has to be said, the K-9 II has made improvements. For instance, the III is much easier to maintain, and the brushes can be easily removed and changed. The II required a lengthy disconnecting process.
As a company, K-9 is super respected. They provide help with any repairs or services and have set themselves as a leading professional in the industry.
To reiterate, though this dryer is great for any pet owner, it is particularly wonderful for those who may own a pet grooming business.
2) Flying Pig Grooming Dryer
What this dryer does, that might be the best selling point, is make drying your pets super quick.
It's great for ordinary pet owners, with their mantra being "groom like a pro" – meaning anybody can make the most out of this incredible dryer.
It claims to be able to cut drying time by 60% – something that is always welcomed. Drying your dog after a walk or bath is usually such a tedious task.
This also means that fewer knots and damp spots will be apparent on your dog – it's a win-win for everybody involved.
The Flying Pig Grooming Dryer is also ridiculously easy to use – with multiple airspeeds, and a couple of heat settings. It's even perfect for those double coated breeds.
Again, I recommend this dryer for anybody who has a pet, that's tired of spending time drying them.
Another great feature – this dryer has a removable feature, making it really easy to clean. It's almost like the whole selling point of this dryer is speed.
If you live a busy lifestyle, or just hate the task of grooming and drying, this little gadget could solve all your problems. It's okay – not every part of being a parent to your furry friend is great.
The Flying Pig, although marketed towards beginners, still has all the benefits that a professional dryer would have.
It has a durable steel frame, is super quiet, and is suitable for all heavy-duty use. It also has a degree of flexibility – with interchangeable nozzle heads for example. So, it's really perfect for dog groomers and pet owners alike.
So, if you're searching for a dryer that cuts drying time by 60%, and does it with a really quiet motor – I've found the perfect dryer for you.
Another thing to consider when buying your pet dryer is your pet. Do they really hate grooming time? Does the load dryer scare them?
If that's the case, the Flying Pig Groomer solves both of these problems, ensuring that both you and your dog are happy.
Lastly, the Flying Pig Groomer has a flexible grooming hose – that measures 10 feet. This means you can move around your dog with comfort. Obviously, this is also a great feature for professionals.
The Flying Pig Grooming Dryer has a one-year limited warranty. Which, as I've said previously, should be an essential factor in your dog drying search.
All in all, the Flying Pig dryer is a great option for you – whatever your needs or animal.
3) Amzdeal Dog Dryer
With a super powerful 2800W motor, this dryer is definitely going to all the hard work for you.
There's no doubt about that. Truly, this dryer is a brilliant choice for those who are looking for an affordable option.
This dryer claims to not only be able to dry your dog's fur, but also blow any dirt out too.
This, as you'll know, is a great little tool to have – especially for those more adventurous walks.
Because of the affordable price, and certain properties, I do feel like this dryer is best for casual use. For instance, if you have a pup who loves to go swimming or long walks in the rain.
That being said, if you want to use this dryer for professional use – by all means, do. It's completely acceptable and great.
It even comes with 4 different nozzles, for different drying demands. You can also make different styles of fur – perfect for professional dog groomers, or dog owners that want their pooch to look their very best.
As for what type of dog this is best for, I'd say those with long and thick hair. I say this as, although it would work on all breeds, how powerful it is just suited for more challenging fur.
There's no need to buy one of these dryers for your short haired dog. I'm in no way saying that this dryer isn't safe. It really is.
It's designed to protect the heater from electric leakage, and will never burn your dog's fur.
It's also complete with a rubberised feet stand, this keeps it completely stable while using – making it an easy tool for even newbie pet owners to use.
Another great feature is that it's not loud. This is important as loud noises (like those from traditional hair dryers) can easily scare your pet.
This dryer claims to be lower than 78db – making it one of the quieter dryers to be listed. Not bad for such a low price, right?
Like I've mentioned before, a warranty or some form of guarantee is important. This particular dryer has an 18 months warranty – which gives you a little bit of a security net.
Of course, this dryer is also available on Amazon Prime – meaning you can get it quickly and with free delivery (if you have a prime account, of course).
Here's a list of the specific times it would take to dry certain breeds
Small dogs and cats will take ten minutes. Like, say a toy poodle or Bichon.
Medium dogs will take about 20 minutes. Labradors, pugs and Huskies, for example.
Big dogs will take 30 minutes, so be prepared with your Chow Chow or Alaskan.
Large dogs will take 45 minutes. This will be for Great Pyrenees as one example.
Obviously, every dog is different and everybody's technique varies too. These are just general expected times.
Overall – this is a great dryer that should absolutely be considered. No matter what you do, or what you need it for. It's just a bonus that it's so cheap, too.
4) B-Air Pro Series
With a price that's on the other end of the spectrum, compared to my last listing. I really need to prove to you just how special and amazing this dryer is.
The B-Air is obviously marketed towards professionals – it's in the name. It's also classed as a premium quality dog grooming tool. So, what sets a dryer out as premium and professional, compared to others?
It has a powerful 8HP variable speed motor, and a unique noise dampening technology. It only emits 66 decibels of sound – making it the quietest 8HP dryer on the market.
The high-velocity dryer ensures that your pet is dry, right down to their skin – everybody will be happy and comfortable.
Of course, like with all the dryers I've chosen, they really are free to be used by anybody.
However, with the price tag and certain features, I'd say it's best for professional groomers and veterinarians. You do want to be able to earn your money back, some way or another.
This dryer dries the fur in half the time, by repelling the water without drying out the hair or skin or overheat. It can also give a nice gentle massage – it's enough to make you jealous.
The B-Air also only weighs 14 pounds and has a washable filter – making it perfect for mobile businesses. It also comes with two rubber nozzle attachments. Again, making it the perfect dryer for those who have to use it on multiple different dogs.
Perhaps the most interesting aspect – B-Air claims that this dryer will actually save you money. I guess time is money, right? You'll just have to see for yourself.
There is also a warranty of one year on this product.
5) Gravitis Stepless Speed Dog dryer
It's worth noting, that for all the dryers that I've mentioned, they can be used on other animals – as long as they're not too small or any other obvious points.
The Gravitis is marketed at both dogs and cats, making it perfect for pet owners and professional groomers alike. At a medium price range, it's a really great piece of equipment, that could prove to be great for you and your business.
It also has a low noise feature, which is obviously put in to help with keeping your dog as comfortable and happy as possible.
It's under 78DB which is enough to make sure your pets aren't startled.
It also has a safe, standard voltage AC – which is perfect for both professional and at-home use. There's really no faulting this wonderful dryer.
It gets the job done, helps your animals, and looks really great too. I also love that you can pick from a choice of colours – making it perfect for grooming salons that have a specific theme.
Also, it's adjustable, easy to clean, and durable. Again, making this perfect for any type of use. I'd say, if you're just starting your own salon – it's affordable, but has all the benefits that a premium dryer would offer you.
If you're searching for a great dog dryer for at home, or in your salon, you need to consider the high airflow, low noise benefits, and variable speeds. Considering all of these aspects is a great way to ensure you pick the best dryer.
Now that we have the dryers out the way (I hope you like them) let's look at how to use them.
And, importantly, it has a warranty – never forget about the warranty.
How to use Dog Hair Dryers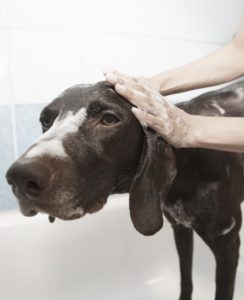 If you're a professional dog groomer, you won't need to read this next part. You probably have your own technique and method.
However, if you're just looking for a dryer to help with after walkies or swims – let's walk through this together.
#1 Get your Dog Used to the Hair Dryers
You don't want to dive straight into drying your dog. You should use your dryer from a distance, and let your dog watch.
This way your dog could get used to the dryer, which will make future drying sessions much easier, too.
You should even let your dog smell the dryer and all the components. This is extremely beneficial if your dog is young – though, that isn't overly important.
#2 Holding Your Dog
This all depends on the size of your dog. It also depends on the location, how passive they are, or your own strength.
A large breed of dog will need to be stood up. You need to have one hand free just to help with stability. Smaller dogs will obviously be easier to turn and dry.
Standing is always more comfortable for the owner or groomer – if this is possible for you.
A trusting relationship with your dog is the most important thing. The actual process of drying your dog is really simple. Especially if you pick one of the dryers that I listed.
They are dry really efficiently, help to keep your dog calm, and even saves you money and time. If you don't pick the right dryer, it is just a similar to towel drying or air-drying your dog.
Final Thoughts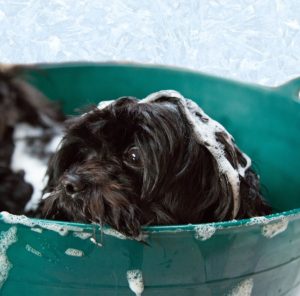 It actually spans a lot further than just a simple "It dries your dog". Actually, a dog dryer is the best thing to purchase, especially if your dog often goes swimming, or you live in a rainy climate.
Of course, for your house – a dog dryer helps to prevent stains and dampness. Especially, if you allow your dog on the furniture (I'm not judging).
Dog dryers actually not only dry the fur, but they can take the dirt away too. This is perfect for clean homes.
Not to mention, nobody likes the smell of wet dog – drying the instantly is the best way to prevent the smell.
For your dog, a dryer can help them stop becoming ill. If they're shivering after a bath or walk, a towel might just not cut it. A quick, warm drying session will make them feel much better.
If your dog has sensitive skin, it could be best to leave them to air dry. An abrasion or incision that's irritated by a towel or dryer would not be helpful.
If you're worried, always speak to your vet for advice, and make sure everyone is safe. 
Overall, picking a dog dryer is extremely subjective. It depends on what you're looking for, and what you need it for.
I hope the dryers that I listed help you to pick – they're all from reputable sources, have amazing reviews, and a warranty. This gives you peace of mind, and a nice dry dog to cuddle.
 To reiterate, if you're worried or unsure about giving baths or using a dryer – check with your vet or a professional first. It's better to be safe than sorry.