One of the rare downsides to owning dogs is bath time. Dogs love to roll in stinky stuff much more than you enjoy smelling it.
Hi, my name is Jennifer and I have a dog whose favorite past-time is rolling in dead animals or animal poo.
Ruger is an 11-year-old Weimaraner and it is a messy business giving him a bath. I get soaked every time he jumps out of the tub.
I also have a 4-year-old Yorkie, but she is easier – I just put her in the kitchen sink.
However, using your regular shower or tub creates the potential for a plumbing disaster, with all of the dog hair clogging up the drain.
It's getting harder for me to lift the Weimaraner over the side of the bathroom tub.
Walk-in dog grooming stations or tubs seem like a perfect solution to a problem that many other people might have as well. How to get your dog into a bath and keep them there?
I don't know much about grooming tables or dog bathing tubs, so this article will be informative for both of us.
Why Might You Need a Dog Grooming Tub/Table At Home?
There are many reasons why you might choose to have a dog bathing area installed in your home. A few possible reasons include:
Convenience – if you have a dog who routinely takes mud baths, you may need a grooming station for routine baths.
Ease of Use – bad backs and other health problems could prevent you from lifting a full-sized dog into the bathtub. Many dog grooming tubs have steps, a ramp or can be raised electrically or hydraulically.
Cost – Depending on where you live, grooming can cost as high as $50 per session. I just took Ruger to the vet for a bath and it cost over $40. He doesn't even have that much fur.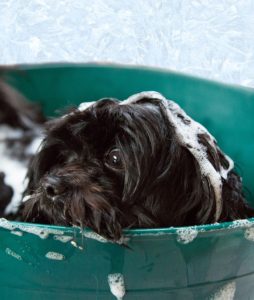 The tubs meant for dog washing can be shaped like traditional bathtubs or deep basins. Grooming a dog is more complex than a simple tub.
You need a table with some type of restraints that hold your dog in place while you clip their fur or nails. Washing them is the easy part.
Unlike traditional tubs, dog grooming tubs are big enough to allow your large dogs to soak if they are really grimey. The higher sides present a barrier between you and your dog's dousing fur shake.
Many dog washing tubs have higher legs supporting the tub so the dog is level with your chest instead of you bending down on the hard bathroom floor to their level.
Benefits of Owning a Dog Grooming Bath/Station
Installing a pet grooming station in your home can be done during pre-planned renovations or attaching the tub to your current plumbing system.
The spaciousness of the tubs allow you to stand next to them to keep them comfortable and safe when bathing.
If you can't afford to install an entire grooming station, there are smaller shower heads that can be attached to your regular shower, but keep in mind that the baths may clog up your drain with dog fur.
A dedicated pet grooming drain helps prevent plumbing issues. Once you're confident in your grooming talents, you can potentially open a dog grooming salon.
This is especially useful in smaller towns where the closest grooming salon is the national PetSmart chain thirty minutes away.
In warmer climates, you can even have a dog washing tub installed outdoors for even more practicality and ease.
Lifting a large dog and then bending over to wash them can wreak havoc on one's back. But before you start grooming your pup at home, you need to learn the fundamentals about grooming.
How to Groom Your Dog at Home
Grooming your pup may seem as simple as clipping their fur with scissors, but it's a lot more detailed than that.
Saving money by grooming at home won't help if you have to rush your dog to the vet because you accidentally nipped them or cut their nails past the quick.
(The "quick" is a blood vessel in your dog's nails that can be nicked when the nail is cut too far, causing what looks like the scene of a bloody massacre. It looks worse than it is and the bleeding can be stopped with cornstarch.)
Having at the very least some basic knowledge of grooming – including what tools and best methods – can keep your dog safe and your stress level low.
Make sure to read this section to see if you have the grooming chops before you take the plunge into purchasing a dog grooming tub.
Tools You'll Need
Brush or Comb – a rubber-toothed brush is fine on short-coated dogs but dogs with longer fur need a metal comb to get out any tangles
Scissors – scissors of professional quality keep your pup's fur from pulling or snagging
Clippers – electric clippers should be the ones specifically made for dogs
Shampoo – There are a wide variety of dog shampoos. Choose the ones without harsh  chemicals
Nail Clippers – Dog nail clippers come in several sizes; many people prefer grinding (filing) to nail clipping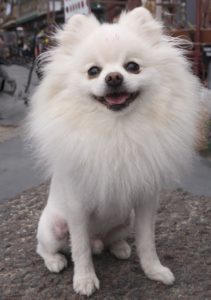 If you're going full-groom like a salon, you also need to clean out the ears and clip the nails.
Dog's nails have a black 'quick' that indicates where to stop clipping the nails.
However, many dogs have black nails. If you do accidentally cut the quick, expect heavy bleeding, but cornstarch will stop the bleeding.
For ear cleaning, you can use purchase a solution use cotton balls. My Weimaraner doesn't like the alcohol-based ear cleansers, so I use plain warm water.
Floppy-eared dogs are prone to getting ear infections and need their ears cleaned regularly.
Washing Your Dog
Washing your dog is the first step in a grooming routine. If they are a short-haired, indoor dog, it could even be your only step.
Before you start running the water on your pup, be sure to check the temperature of the water, nothing too hot or too cold.
You can wear a cute apron with dog paws on it while you wash your dog to stay dry. If your dog has long, floppy ears, you may need to consider covering them with
The fur on the dog needs to be completely dry before moving on to the next step, brushing. Grooming salons often have dog dryers or you can let your pup air dry.
Even short-haired dogs shed a lot during washing. You can wrap a used hand towel or steel wool around the drain to prevent fur from clogging your drains.
Brushing Your Dog
Brushing your dog before clipping the fur is a must. It removes the dead or tangled hair, particularly in the dog's underbelly.
However, the underbelly is a sensitive area for a lot of dogs, so use caution when brushing this part.
Start brushing at your dog's head and work down to their tail, being careful not to brush too hard, as that can cause skin irritation. And of course, wait until your pup's fur is completely dry before brushing.
It also makes the pre-groom brushing smoother if you regularly brush your doggo's fur once a week or more, depending on the thickness of the coat.
Clippers Vs Scissors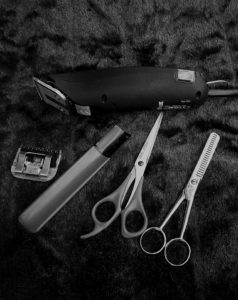 You'll likely use both clippers and scissors when cutting and shaping your dog's fur. Clippers are safer and more effective in clipping longer fur.
Then once the hair is shorn to the desired length, the scissors are used to tidy up and for cutting around the feet and face. However, many dogs don't like sharp, pointy objects near their eyes, so move carefully.
When using clippers, shave in the direction the hair grows. It's best to have another person hold the pup during the clipping stage or use a tether to keep your dog from squirming.
Clipping too close to the skin can cause redness and even infection.
When using the scissors on your pup's ears, hold the ears down so you won't accidentally maim your dog's ears.
Another thing to be aware of is whether your dog has a single or double coat. Huskies, Golden Retrievers and Pomeranians are just a few examples of double-coated dog breeds.
Double-coated dog breeds should never be clipped or shaved completely, even in the summer. You may think a shorn dog would adapt better to warm weather, but that's not the case.
Each of the dog's two coat has its own advantages – the undercoat acts as insulation while the outercoat repels dirt.
Once shaved, the two coats will never grow back normally or at the same rate, leaving your pup without protection from the changing seasons.
What You Can Do To Calm a Nervous Dog
Very few dogs enjoy being groomed. Many of them simply tolerate it thanks to a calm and skilled groomer.
The most important thing you can do for your dog when grooming them is to stay completely calm and not get frustrated if they get fidgety or whine.
CBD oil is trending in the news a lot lately and many people swear by it. It is supposed to calm even the most nervous dog.
Do your due diligence and research any product before you try it. Your vet can also recommend some other possible medicinal options for anxiety.
Dog treats can help your dog associate the different grooming steps with something positive. Praise also goes a long way in reassuring your pet.
When it comes to baths and nail clipping, some people spread peanut butter on the side of the grooming tub or on the grooming table to distract the dog during the nail clip process.
The best way to prepare your dog for a lifetime of grooming is by starting when they are a small pup and keeping a regular grooming schedule.
Eventually, your dog may just hop into the tub on their own or lay down so you can do their nails.
Here are 6 of our top choices for dog baths and tubs, plus another top 4 choices for grooming tables. Hopefully, you can find one that best suits you and your dog's needs.
6 Best Dog Grooming Baths & Tubs
1) Mustee 28F Big Tub Utilatub
The Mustee 28F Big Tub is wide enough and deep enough to wash even the largest dogs. The tub has the capacity for 36 gallons of water.
It boasts both a leak-free drain and a back shelf that runs off back into the tub. The shelf can also be used to store toys, shampoos and anything else you'll quickly need to grab while bathing your pup.
If you're concerned about the strength of the tub's legs compared to your dog's weight, the legs are made from a heavy steel that can withstand bigger breeds.
The fiberglass and durastone the product is made from are both mold and mildew resistant. The rubber stopper allows you to plug the drain and let your dog soak if they are extra stinky.
2) Booster Bath Elevated Pet Bathing Tub- Medium and Large Sizes
The Elevated Booster bath tub can be purchased in medium or large sizes. The U-shaped tub can easily be accessed from any side.
The safety features included a non-slip mat and a restraining harness. It has a small caddy along one wall for easy storage of shampoo and other tools.
As the name suggests, the tub can be elevated to ensure the groomer doesn't have to bend over continuously.
The legs are easily removed for storage or portability. The faucet hooks up to any plumbing – indoor or outdoor. The material of the tub is plastic and the large tub can hold up to 75 lbs.
3) Flying Pig Pet Dog/Cat Portable Bath Tub
Flying Pig has a lot of different pet baths. This one is for small dogs or cats. The basin is just 11-inches.
Made from plastic, this model is perfect for mobile pet grooming or quick baths in the home. It also features access from 360 degrees.
A drain hose and stopper help keep the tub from overflowing. While you have to provide the leash or restraint, there are eyelets on the sides of the tub to keep your pup safe.
Some customers complain about the difficulty in assembling the tub, especially the drain hose. However, they also say that the tub's legs are sturdy and even.
4) Pet Wash Enclosure with Splash Guard
The Pet Wash Enclosure is similar to a mini spa for your pup. The tub easily hooks up to the water supply in the home.
As the name suggests, the doors enclose the dog around the chest area. It may be suited more for medium-sized dogs, as large breeds likely wouldn't fit and small breeds wouldn't like to be flooded with water.
Once hooked to a water supply, there are jets along each side of the enclosure. Many dogs may not like that at first, but with treats or praise, they may get used to it.
There are chains on the outside to help keep the dog safely contained in the event they are able to open the enclosure's door.
5) 38″ Stainless Steel Pet Bathing Tub
This tub greatly resembles the dishwashing sink in restaurants, including the back and side splashes walls, both of which can be removed.
The tub measures 38-inches long x 26-inches wide. Customers are split over whether this tub is suitable for just small dogs or any dogs. One reviewer said their Cocker Spaniel fit in the tub.
Made from stainless steel, the tub is sturdy and rust-proof. It comes with both a sprayer, a faucet and a non-slip mat.
There are restraints for your dog and a rack for shampoo and other products. The legs can be adjusted to suit the groomer's height.
However, the tub doesn't contain an electric lift, which some owners may find difficult.
6) Everyday Pro Tub for Pets
This tub from Master Equipment is professional-grade grooming equipment made from stainless steel that won't rust.
The tub easily drains from the pre-drilled hole in the bottom of the tub's basin. There are bolts where you can hook leashed up to restrain your pup.
One of the main complaints from customers is that while the tub is 46-inches in length, it is only 2-feet wide, meaning larger dogs likely won't fit in the basin.
However, the tub can be raised and lowered electrically 25-inches to 41-inches high, perfect for someone with a bad back and a big dog, like Ruger.
4 Best Dog Grooming Stations
1) GoPetClub Dog Grooming Table with Arm
The GoPetClub Dog Grooming Table is a groomer's dream. The textured, non-slip table is made from aluminum-alloy for easy cleaning and stability.
The legs fold up for portability but also have rubber soles to prevent slips when the table is in use. There is a leash loop to attach your pup's leash for safety and comfort.
Let's talk about the arm. Kept in place by a clamp gripped to the table, the arm can be adjusted up to 40-inches, which accommodates dogs from small breeds to large.
The table is 42-inches long, giving you enough room to work while keeping your dog contained.
2) Master Equipment Small Dog & Cat Grooming Table
This grooming table rotates for easy access to smaller dog breeds (or cats, if you're feeling adventurous.)
The surface of the table has a non-slip surface and rubber feet that keeps the grooming table sturdy.
The arm has a leash hook and can be adjusted with the turn of a knob to your dog's height. The product comes in blue, black and purple table surface and grooming loop.
3) Go Pet Club Grooming Table, Electric Motor
The Go Pet Club Electric Z-Lift grooming table is professional quality that can be used in grooming salons or homes.
The frame of the lift is designed in an H-style that gives the table more stability and flexibility. The table can be adjusted from 21-inches high to 41-inches high.
The top of the table features a pebble, non-slip covering that protects your pup and the aluminum alloy material beneath.
The adjustable arm can be clamped onto the edge of the table. There is also a grooming leash that comes with the product.
4) Groomer's Best Grooming Table for Pets
Electric grooming tables can be raised and lowered with the touch of a button.
Hydraulic grooming tables, such as Groomer's Best Grooming Table uses a hydraulic pump the groomer presses with their foot until the desired height is reached.
For grooming several dogs every day, that hydraulic pump could get tiresome, but if only one or two dogs are groomed occasionally, it shouldn't be an issue.
The table features a non-skid table top with pre-installed holes to store scissors, clippers or blades for easy reach.
One drawback is the table doesn't have anywhere to loop a leash to restrain the dog. You'd likely have to buy an arm that clamps to the side of the table or goes overhead separately.
Final Thoughts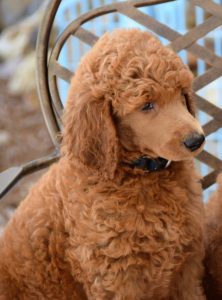 Like people, dogs need baths regularly to stay happy and unhealthy and unsmelly.
Unlike us, dogs can't give themselves baths. Part of the responsibility of dog ownership is to regularly bathe your dog and keep them well-groomed.
However, grooming salons often recommend grooming every six weeks, depending on the dog's breed and thickness of fur.
Some people may find purchasing one of these dog grooming tables or baths is a much cheaper solution.
Older dog owners can have difficulty lifting their dogs into tubs or table and may opt for electric or hydraulic grooming equipment.
Grooming a dog is essential to their overall health and well-being, but it can be harmful to your wallet.
Setting up an at-home grooming station with a washing tub and table can save a lot of money in the long run.
It also gives you an opportunity to bond with your dog and routinely check their skin for lumps and bumps.