Hello, my name is Shelby and I only have on dog. She is a Shih Tzu, Toy Poodle mixed breed and so her hair grows and grows!
I was spending so much money keeping up with her curly hair that I decided to do what my parents did with their Shih Tzus, groom them myself!
When I started grooming her all I had was a simple dog hair trimmer kit.
This made it very difficult to trim her whole body correctly as both her and I would sit on the floor and it would take hours!
Growing up, my parents had an extremely nice groomers table, grooming kit and all the bells and whistles.
I decided after trimming her a few times I needed something just like that, that was going to be a little less stressful on my back.
I knew that by getting a table I would not have to worry about being sore the next day from bending over for too long and that I would be able to simply rotate my dog when trying to trim her other side!
What is a Dog Grooming Table?
When I first started looking into getting a table I thought getting a simple card table or a cheap table from the local store would work well, but I'm glad I kept looking!
Dog grooming tables come in a few different sizes depending on your breed, they have special attachments for leashes, and the tops of them are made to provide your dog with grip on their paws.
Whether you are grooming the family dog, handling a string of dogs, or own a salon full of barking or meowing clients, choosing a dog grooming table is very important to getting the job done.
Types of Dog Grooming Tables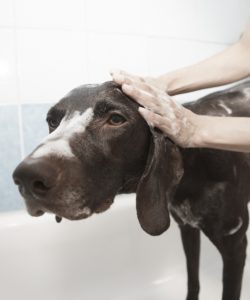 The first question to ask yourself when you begin looking at buying a grooming table is what you need it for.
Do you plan to groom large dogs? Are you going to be handling a lot of cats? Or are you just grooming the family dog?
If you work in a salon, chances are you will not always know the size of dog you will be working on that day and you may need more than one.
One for the grooming area, the other for your bathing/washing area. There are three/four types of grooming tables to choose from.
Below is some great information to help you choose what fits you and your furry friends the best!
Portable/ Fold-able
These tables are fairly basic and get the job done.  If you plan to use this table for personal use on your family pet this is a great option.
They are meant to collapsed down to be stored in between grooming sessions.
If you have a show dog, these tables could be a great option if you're planning to head from one show to the next as they can be easily tucked away in the back of your vehicle.
However, these tables can feel insecure for a larger breed dog. Make sure that you check the weight requirement for the table you purchase.
Hydraulic Dog Grooming tables
These tables take both the weight of your dog and the ease of grooming into account.
They are meant for adjusting to make it a little more comfortable for you. The bases of these tables are much more secure than the collapsible options.
Many of these higher end tables allow you to lower your dog or cat just about 1-2 feet off the ground and then back to full table height, people tend to say it takes time to lift and lower.
Due to this people normally lean more towards these tables for smaller breed dogs.
They are an affordable option, with adjustable height range and create comfort for you while grooming!
Electric Dog Grooming Tables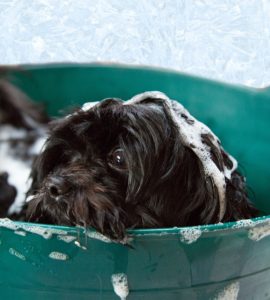 These tables are a great option if you want all your bases covered. They took the already great hydraulic concept of height and improved on it.
Unlike the collapsible and hydraulic tables, these electric tables can be lowered all the way down to the floor allowing your dogs and cats the ability to hop on the table then for it to be raised up!
The height range on these tables varies to accompany both small dogs and very large dogs.
If I had a large dog and were to pick from the three options, I would choose an electric table. With these tables you have the ability to lower it all the way to the ground, and they are very stable!
More About Dog Grooming Tables
I have a small dog, and for that reason I chose a collapsible tuck away grooming table.
I chose to buy a grooming table because I tried grooming her in our bathroom, as well as in the garage.
While I was able to get the job done it was not a very comfortable experience. I was either bend over or on my knees grooming for a couple hours.
With a table I was able to stand and move around while my dog sat or stood!
I have never used the other options, but the collapsible table does the job! My in-laws have the exact same table and they designed a whole room around it.
When I was younger my parents groomed both of their Shih Tzus and they also had a collapsible table.
They now have a full-sized golden doodle and that table does not work for his grooming.
They do not groom him themselves anymore and their professional groomer uses an electric table because he is one rambunctious young pup!
With all of that being said, let's explore what the best options for all of the different situations may be.
Between the convenience of a collapsible table, the price of the hydraulic versus the electric and the ability to lower the table to the ground there is a table for every situation!
Before deciding which one to pick, we need to know what makes for a good grooming table.
In my opinion, the number one priority when picking a grooming table is you and your back. Even as a family pet groomer you will be standing for at least an hour grooming your pet.
Best Portable Dog Grooming Tables
There are a few different options for these tables and the best news is that not only are they convenient for storage, but they are very budget friendly!
1) Pet Any Way LLC Master Equipment Grooming Table
First option would be this Pet Any Way LLC Master Equipment Grooming Table.
With over 140 reviews on amazon, this is the perfect option for mobile and salon owners.
It features things like easy to clean non slip pebbled rubber surface covering a .75-inch laminated wood composite top.
There are three sizes available ranging from 30 inches to 48 inches accommodating pets up to 220 pounds.
Amazon offers this table in two colors for the table top color. This is a great started table for anyone doing personal dog grooming!
2) Master Equipment Pet Grooming Table for Pets
The second option for collapsible table includes a bit of flare! Master Equipment Pet Grooming Table for Pets has over 500 reviews on amazon and its table rotates.
It provides traction and control while grooming on an 18-inch (diameter) circle platform. This affordable option does have two downsides that removed it from my options.
It does not stand alone, meaning you would have to place it on the ground or another table top.
This could be fine for someone who does a quick groom on their dog but not recommended for anyone who plans to spend a normal amount of time grooming their pup.
The third option is actually the table that I own. Is the first of the Go Pet Brand of tables.
They have an option for collapsible, hydraulic and electric! Each one more advanced than the next. Prices ranging from under $60 to just under $400.
3) Go Pet Club Dog Grooming Table With Arm
The Go Pet Club Dog Grooming Table With Arm checks off a lot of the boxes that any amateur groomer may have on their list.
There are a few different sizes ranging from 30 inches, 36 inches, and 48 inches.
The table top is covered in a water proof rubber matting making it easy for my pup to stand still and the four legs are reinforced, and an arm was included!
The height of the arm is adjustable and includes three different spots for the leash to clamp.
If you are looking for a one click purchase from amazon with everything you need this arm is the way to go!
Best Hydraulic Dog Grooming Tables
There are more options for the collapsible and electric dog grooming tables than there are for hydraulic tables but there are a few great options I would purchase myself.
1) Puppykitty Z-Lift Hydraulic Pet Grooming Table 
The first one is this 42.5 inch by 23.6 inch anti skid rubber mat covered table top.
The puppykitty Z-Lift Hydraulic Pet Grooming Table Heavy Duty Professional Dog Grooming Table with Clamp On Arm Height Adjustable Great for Large Dogs Cats table raises up from 21" to 36".
This option is great for any professional and even people who plan to use it for personal use.
The table top on this hydraulic grooming table is 108L x 60W cm making it a great option for bigger sized dogs!
The rubber mat on the top of the table to is anti-skid making it a tad bit easier for your pup not to move around!
2) Go Pet Club 36 in Pet Dog Z-Lift Hydraulic Grooming Professional Table
The second option for this table is the Go Pet Club 36 in Pet Dog Z-Lift Hydraulic Grooming Professional Table with Arm.
This table comes with a foot pump that raises the table between 22.5" and 40". Most amazon reviews note that the pump is very easy!
Anti-slip mat makes it a great option for both calm animals who are used to grooming and dogs who may not love being on the grooming table!
Best Electric Dog Grooming Tables
These Dog Grooming tables are the most expensive of the three options because it gives you a bit more convenience with the touch of a button.
Height ranges for these tables vary from 50cm to 130cm for the most common tables. Here are a few great options!
1) Master Equipment TP8639 36 95 Z-Lift II Electric Table
The first option I looked into was the Master Equipment TP8639 36 95 Z-Lift II Electric Table which includes dual foot pedals that raise and lower the table quietly from 19' to 39'.
The weight capacity is 200 lbs which is great for a few different breeds.
The table top is covered ina. Great gripped material and it includes a free grooming arm and loop.
2) Flying Pig Heavy Duty Super-Low Electric Lift Dog Grooming Table
This second option is the Flying Pig Heavy Duty Super-Low Electric Lift Dog Grooming Table. This table is the upgraded version of this brands base model.
The weight limit on this one is a little bit higher than the previous option with a 220 pound capacity.
This upgraded model includes foot pedals, heavy steel base and a removeable silicone tabletop.
This option includes a stainless steel overhead adjustable arm and grooming loops.
3) Go Pet Club Grooming Table, Electric Motor
This last option is the best of the best on amazon for electric tables.
With over 90 reviews and almost 5 stars this is a great option for someone who grooms four legged friends all day.
The Go Pet Club Grooming Table, Electric Motor lifts from the Z base that provides great stability and no wobbling.
Things to Consider
A few things to keep in mind that you may need if you choose to buy a grooming table. Not all of the grooming table that you can buy come with an arm, so you may have to buy one.
There are a few different options for arms, an overhead arm, L-shaped arm etc.
If the table does not come with an arm chances are it does not come with a loop or leash.
You could try and use your own regular leashes but purchasing a few grooming loops would probably be the best option. There are a lot of different lengths and a few that are even adjustable.
Most of the arms that you can buy have many different clips for the loops but that is something to check as well before buying the arm as you may come across one that one has one clip making it harder for you to rotate your pup while grooming.
The last thing I would keep in mind while purchasing a grooming table is how the arm attaches to the table.
Most of the arms are attached via a clamp but not all of them. You will have to read the description on the arm you plan to purchase to make sure it is compatible with your current table!
With all of the three options explained there is one more way you can go if you're more of a hands-on person.
The DIY Route!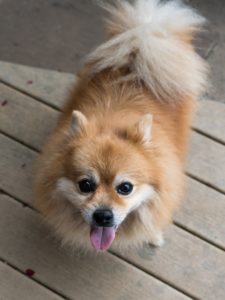 While it is great to just purchase a table online and not have to worry about a whole lot of assembly some of you may find it fun to build your own.
One of the reasons you may chose the DIY route over just purchasing one is not only do you get to pick how it looks but you can also save a little bit of money!
There are quite a few people who turn to building things on their own so here are some things you may need for building your own table.
Table Top
The table you build yourself needs to be stable. You may need to test it yourself and you'll want strong legs and a strong top.
Anti-Skid/Non Slip Covering
In order to ease some of the stress of grooming your animal your table's top should be covered in something that the dog will not slip on.
Some people have used linoleum squares, and other have been able to find a cover made of rubber.
Size and Height
The size of your table totally depends on what the use of the table is for. You'll need to consider both the size and height of the table for your breed(s).
If you're building this table for a place in a salon, you Amy need to make a few for different heights to accommodate different animals.
If you're only making a table for your personal use you will be fine to make just one table that is specialized with one dog in mind.
Tip: Some people have even made a grooming table out of a folding card table.
How to Make a DIY Grooming Table for Your Dog
Ideally you will need to start with several 2×4's and a piece of plywood.
Other things you may need include:
2-by-4s, cut to the height you're after
One full-length 2-by-4
Two sheets of plywood, cut to the size you want
Rubber matting or linoleum squares
Krazy Glue or staples
Our Top Pick
The third option collapsible table is actually the table that I own. I searched for weeks and looked at this table about 10 times before buying it.
I am someone who looks at a ton of reviews on a product before purchasing anything and am very happy with the choice to buy this table!
The Go Pet Club Dog Grooming Table With Arm checked off all the boxes for what I was looking for. I chose the smaller option because my dog is under 20 pounds.
More About Grooming
My dog does not like going to the groomer. I am not sure what makes her so skid-ish but whenever I have taken her she has either bitten, or freaked out on the groomer.
This came to a great surprise to me to due her normally so loving and soft personality. Thankfully growing up my parents had two pure bred shih tzu with the most beautiful coats.
One of the shih tzu's was chocolate brown and the other was beige and white.
My parents used to keep their coats fairly short so that there was little to no daily brushing required.
In order to keep up with their crazy long hair we used to groom them about once a month or so.
They started off with grooming the dogs on the floor in our garage, but the chocolate brown pup used to take off running every chance he could see.
My parents purchased a collapsible grooming table after a few months of having to wrangle the dogs.
The one they purchased was very similar to the one I have and they chose it for just about the same reasons!
While this is a great option for me, I am not a professional groomer, and would not consider this a professional grade table as it is not made for large dogs.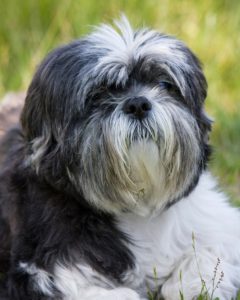 It is light weight, easily transported and has "anti-scratch" caps on the feet of the legs.
I would not use this to groom dogs daily, but it gets the job done for my garage grooming sessions!
After looking into all the different options out there I think if I get another dog that is larger than the dog I have I will look into getting a hydraulic table.
The small fold able table that I have works great because I can put it in a small space in my garage while using it and fold it up to store.
If I had a larger dog though I would not be able to use the table I have now, due to the fact that it would be too wobbly.
Final Thoughts
Remember that grooming is a lot of work and can be a strain on your back, so anything you can do to remove strain will be better on your body and better for the dogs in the long run.
If you're grooming your dog at home and just need a simple table, making your own grooming table may work well.
If you're opening a salon and planning to groom daily, you should strongly consider tables that have adjustable qualities, such as a hydraulic or electric table.