Hi, my name's Irena and today I'm going to talk to you about the best dog harnesses for your dachshunds!
Firstly let's explore why a harness is a good idea for you dachshund.
Why Use a Harness for your Dachshunds Instead of a Collar?
So why use a harness for your dachshunds instead of a collar? Well, neck safety is a very important reason and is especially so if your dachshunds pull and tug.
If they are wearing a collar and they tug, a lot of pressure is put on the neck which is a delicate part of the body.
Because they have strong hunting instincts the discomfort often doesn't stop them from carrying on pulling at the leash.
There's not much which can distract dachshunds from pursuing another animal or digging for some treasure.
It's up to you to be aware of the problems which can be caused by just using a collar and leash on your dachshunds.
Collars and leashes can cause bruising and in more extreme cases, long term damage to the larynx or trachea.
The problem is made even more serious by the fact that dachshunds have tracheas which are very sensitive in comparison to many other breeds.
Pressure away from the neck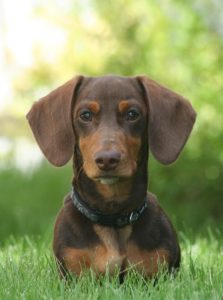 Using a harness takes away the pressure from the neck and spreads it over a much larger area.
Tugging can put pressure on the chest, but this is bigger than the neck area so it doesn't do as much damage. The last thing you want to do is cause trauma to their necks.
From a safety point of view a harness is a better bet than a collar. It is not easy for dachshunds to wriggle out of their harnesses, but collars are much easier for them to escape from.
You have more control over your dogs if they are wearing a harness rather than a collar.
Harnesses are also excellent for training dachshund pups. They discourage pulling and jumping, enabling your dogs to remain focused on the task at hand.
However, there can be a disadvantage in that pulling isn't punished as strongly as with a collar so if your pups are headstrong, they may still try and pull at the leash.
What Size Harness is Suitable for Dachshunds?
It is vitally important that you get the right size of harness for your dachshunds so that they are comfortable and the harnesses don't rub against their bodies causing chafing.
You also don't want the harnesses to be too big so that your dachshunds can escape.
There are three important measurements which you need to take. The first is the girth which is the measurement of the front of the dogs bodies, around the ribcage and behind the front legs.
To take this measurement place a tape 1 – 2 inches behind the front legs and wrap the tape around the ribcage.
The second measurement to take is that of the chest. The chest strap starts a couple of inches below the neck, runs across the chest area and connects to the girth on each side.
You will need to put the measuring tape 1 – 2 inches behind one of the front legs and then pass it around the chest, ending a couple of inches behind the other leg.
The final measurement to take is that of the neck which is easy. All you have to do is measure around the base of the neck. When you have taken all the measurements you will be ready to buy a suitable harness.
Another thing to look out for when buying harnesses for your dachshunds is to make sure that they have adjustment points. They should have at least four.
This makes it easier to find harnesses that will fit your dachshunds and that will take into account any changes in their weight.
Getting the right measurements is the most important step in purchasing harnesses for your dachshunds. You will want them to be both secure and comfortable and this can only be achieved with accurate measuring.
What Sort of Harness Should you Get for a Dachshund?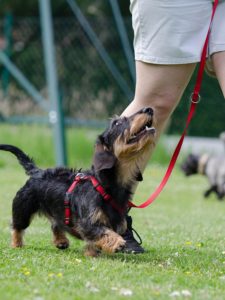 Dachshunds come in two sizes, standard and miniature. Standard dachshunds weigh between 16 and 32 pounds, while miniature dachshunds are 11 pounds or under.
If you have standard dachshunds , particularly ones who pull, you would be advised to get a no-pull harness. A no-pull harness tightens when your dogs pulls, but the pressure goes onto their legs rather than their necks.
Miniature dachshunds and standard dachshunds who don't pull can be put in standard harnesses. These distribute the pull of the leash over the dogs backs and chests ensuring that they are not caused any injuries.
In addition, there are harnesses which have more back support and they are ideal for dogs which pull a lot.
They are bigger and extend further down the backs of your dachshunds, spreading the pull of the leash over a wider area. They have a second strap further down the harness which gives more support.
What Material is Best for a Harness?
Harnesses come in all sorts of material, Nylon is one of the cheapest, but this doesn't make it bad. In fact, it's extremely hardwearing and easy to clean.
It is also very easy to adjust so you should be able to get harnesses that fit your dachshunds perfectly. 
Another option is a mesh harness. They may not be quite as hard-wearing as nylon harnesses, but they do allow air flow which is essential for hot weather.
It could be a good idea to buy both nylon and mesh harnesses and use the mesh harnesses when it is hot and the nylon ones when it is cooler.
Leather is an excellent option, but be sure to choose good quality leather. Bad quality leather can be uncomfortable for your dachshunds because it can be stiff.
Leather probably costs more than nylon or mesh, but it is more durable. However, beware that some dogs will chew on the leather so keep an eye on your pooches.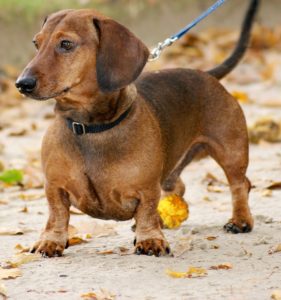 If you want to dress up your dachshunds for a special occasion, why not buy a fabric harness? They are very attractive and will make your dogs look smart.
They cost a little more than mesh and nylon harnesses, but they are great if you want your dog to stand out in a crowd.
I think that the best option is to buy a few harnesses. You can get nylon or leather for everyday wear, mesh for hot weather and fabric for days out with your pups.
There's nothing wrong in investing in more than one harness as your dachshunds will wear them out eventually anyway and you will have to buy new.
How to Fit a Harness on Your Dachshund
Now comes the difficult bit and that's putting the harness on your dachshunds. I don't have dachshunds, but I have other dogs who always struggle to get into their harnesses.
However, there is an easy way and I'm here to tell you how to do it.
The first step is top put the harnesses on the ground making sure that they aren't twisted. Then get your dogs to walk forward and put their legs inside the leg holes.
Then it's time to pull the harnesses up. Do this slowly so that they don't twist. Once you've done this, adjust the harnesses so that they fit.
What you want to be able to do is fit one finger under the strap of the harnesses. If you can't, then the harnesses are too tight.
If you can get more than one finger underneath the strap then the harnesses are too loose and your dogs may be able to wiggle their way out of them.
What Are the Best Dog Harnesses for Dachshunds?
Now we're going to have a look at our top five harnesses for dachshunds.
1) Embark Adventure Dog Harness, Easy On and Off with Front and Back Leash
If you are looking for a no-pull harness and one which supports the back you won't go far wrong with this harness.
It is made with military grade nylon and because it doesn't allow your dog to pull it can easily be used for training purposes.
You will be able to walk in front of your dog and stop them from pulling and they will learn how to heel. It has a back attachment which spreads the force of any pulling over the back rather than on the neck.
The harness is easy to put on and there are plenty of adjustable points so you can ensure that the harness fits perfectly. There is also a control handle which helps you to take charge of your dachshunds.
2. Chai's Choice Best Outdoor Adventure Dog Harness
This is a suitable harness for both standard and miniature dachshunds as it comes in different sizes. It is made from nylon which is a very durable fabric.
To keep your dachshunds comfortable, the chest and back are covered with extra padding.
The harness has straps both in the front and the back of the chest which can be adjusted and made either shorter or longer so they fit your dachshunds perfectly.
There are two D-rings so you can attach the leash either to the front or back. If you attach it to the back you will be able to train your dogs to heel much better.
This harness also has reflective material which means that you and your dogs will be able to be seen much better if you are going out for a night walk.
In addition, there is a handle which easily attaches to a seat belt so your dachshunds can go out with you in your car.
3) Puppia Soft Vest Harness B
This is a mesh harness made out of polyester which is durable and easy to clean, as well as giving your dachshunds coolness in hot weather.
The polyester also won't rub or irritate your dogs skin. It is a no-pull harness so it's choke-free.
There are D-rings attached to the back of the harness so you will be able to teach your dogs how to heel.
There are adjustable straps so this harness is good for dogs which are in between sizes or are difficult to fit into ordinary harnesses.
4) Comfort Fit No Pull Small Dog harness and Vest
This harness comes in 4 sizes so you are bound to find one in the size that fits your dachshunds.
You just have to fit the harness around the neck and lock the clip. What could be easier than that?
It has a padded and comfortable inner which will fit the necks of your dachshunds perfectly.
The outside pad is also very soft. There are 2 reinforced d-rings which lock the head of the leash, but they are very lightweight so won't irritate your dogs.
They aren't any extra weight for your dachshunds to carry.
A great advantage of this harness is that it can be fitted to puppies of just a few months old so they can be trained to walk on a leash from an early age.
This makes life so much easier.
5) Sporn Dog Harness – No Pull and No Choke Humane Design
This dog harness should last for years. It is made out of durable nylon mesh which gives comfort in hot weather.
It also has nickel plated hardware for strength which reduces weathering.
The harness is non-pull so your dogs won't feel any discomfort. The mesh also stretches naturally with the movement of your dogs so again there is no discomfort.
The harness is padded so that also helps to minimize any pain.
It is flexible so moves at the same time as your dogs move. It is one piece so is easy to put on your dachshunds and to take off.
Final Thoughts: What are the Best Dog Harnesses for Dachshunds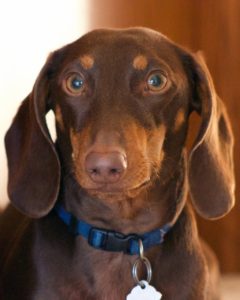 I hope that I've shown you some good examples of harnesses which will suit your dachshunds.
Look for ones that are flexible and move with your dogs and are also secure enough so that they can't escape.
You need to establish a happy medium between comfort and security and I think these harnesses can be ticked on both points.