Let's be honest for a moment. You love your dog, but there is one thing you hate about him – the shedding.
Some dogs shed more than others, but no matter the amount, it remains an annoying trait that causes hair to land on the carpets and floors, as well as countertops, curtains, clothes, and sometimes even your food.
A specialty vacuum cleaner might be just what you are looking for, so continue reading to learn about the best vacuum cleaner for pet hair.
Hello, Danial here… While I am a big fan of dogs – I love my Saint Bernard, Iron – today, I am here to talk about one thing that I do not like about my dog.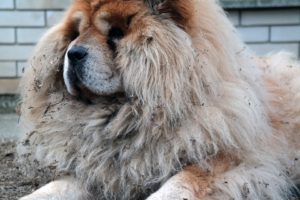 I'm not particularly keen on talking about negative factors related to dogs, because I truly think that they are man's best friend, but sometimes we have to face up to something bad.
I'm talking about shedding, of course.
Depending on the dog you have, you might be lucky enough not to be bothered with shedding at all.
If you are like me, however, you are constantly cleaning up to get pet hair off EVERYTHING in your house.
By now, I have gotten used to the fact that Iron sheds excessively around twice each year. In-between, he would continue shedding, but not as much.
My biggest problem was not really the dog hair on the carpet, but rather the fact that the hair started to get into everything around the house – even locations where Iron was not allowed.
I used to rely on a simple broom for getting rid of the hair, but that didn't work out as well as I hoped.
I later went on to buy a standard vacuum cleaner.
Even though it did pick up some hair, it caused me to suffer from allergies, and it still left a lot of hair behind.
I even bought a special shampoo that promised to reduce shedding, yet it failed to deliver on the promises.
I had to do something about all of the hair that Iron was shedding around the house.
Since he is such a quiet and relaxed dog, and let's not forget the fact that Saint Bernard breeds are sensitive, I simply couldn't leave him alone outside. He was an indoor dog!
Why A Specialty Pet Vacuum Cleaner
While preparing food one day, I noticed that there was hair in the food. Iron wasn't allowed in the kitchen, yet his hair has landed in the food.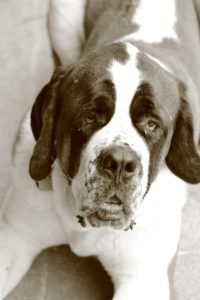 At the time, I decided that I had to take a more drastic approach – which led me to do some research on the best ways to keep dog hair to a minimum around the house.
I soon discovered that I had the right type of tools, just not the right options.
The research I did revealed that standard vacuum cleaners are actually not powerful enough to pick up all the hair and that I would need a different type of vacuum cleaner with more powerful suction.
After doing more research, I found that these "animal" vacuum cleaners really looked the same as a normal one – they do, however, contain a more powerful set of internal hardware that ensures pet hair can be easily picked up.
Additionally, I also found that many of these vacuums come with a filter that helps to reduce allergies.
This was a major bonus point for me, as a standard vacuum cleaner seemed to have caused my allergies to activate.
Best Vacuum Cleaners For Pet Hair
I knew I had to buy the best vacuum cleaner for pet hair, which is why I did extensive research on all of the different options out there.
These options are a little pricier than many of the standard vacuums on the market, which is why I had to ensure I buy the right one to get the job done the first time around.
Below, I share with you my absolute favorite vacuum cleaner designed with pet hair in mind, as well as a couple of other options that I discovered – which you should also take a look at if the first one does not seem like the most ideal option for you too…
#1. Dyson Cyclone V10 Animal Lightweight Cordless Stick Vacuum Cleaner
My first choice for the best vacuum cleaner for pet hair is definitely the Dyson Cyclone V10 Animal Lightweight Cordless Stick.
While the price might be a little high, it is definitely worth it.
If you own a pet that sheds a lot of hair in the house and you have $500 to invest in a decent, high-quality vacuum cleaner – then choose this one!
The suction power offered by this vacuum cleaner is unmatched by competitor cordless options.
A single charge gives you up to one hour of vacuuming without the need for a recharge, which really is enough time to clean up after your dog and ensure your house can be dust-free at the same time.
The vacuum has different suction modes, ranging from a milder option to a more intense and powerful mode.
The vacuum is good for cleaning all kinds of surfaces, be it a carpet, wooden floor, countertop, or even a curtain on the railing.
#2. Shark Rocket DuoClean Ultra-Light Corded Bagless Vacuum
If you are on a tight budget and cannot afford to spend more than $250, but prefer to opt for a cordless vacuum to help you get rid of dog hair in harder to reach areas of your house, then the Shark Rocket DuoClean Ultra-Light Corded Bagless Vacuum is a good option to consider.
This is a lightweight vacuum cleaner that comes with a special multi-tool designed to specifically pick up pet hair.
The attachment can be used on different types of surfaces, including carpets, laminated surfaces, and more.
A built-in LED light also helps you identify spots that you have missed on the floor.
#3.
Bissell Pet Hair Eraser 1650A Upright Vacuum with Tangle Free Brushroll
A great option if you want a vacuum that offers a good balance between features and affordability
The Bissel Pet Hair Eraser Lift-Off Bagless Upright Vacuum might not be cordless, but comes with many handy features, including a specially designed bristle system, that ensures every single pet hair in the way gets trapped and sucked into the attachable chamber.
The vacuum comes with a Smartseal Allergen System, which is great if you find that a regular vacuum tends to spark allergies.
You also get to opt for an optional extra known as the Febreze Filter, which filters the air inside the vacuum as you are cleaning the room.
#4. New Miele Dynamic U1 Cat and Dog Upright Vacuum
If style is something that you are after and you are not afraid of spending some extra cash on a good vacuum, then the New Miele Dynamic U1 Cat and Dog Upright Vacuum is an option worth looking at.
This vacuum cleaner has been specially made with a brush and other equipment that will help to catch more pet hair that is trapped in a carpet, as well as on other surfaces.
The product comes with an automatic height adjustment feature, as well as an AirClean 3D FilterBag system, which helps to regulate air while you are vacuuming.
The vacuum cleaner also features a rotary dial, which is used to control the suction power of the device.
#5. Kenmore Elite 31150 Pet & Allergy Friendly Upright Vacuum in Silver
The Kenmore Elite 31150 Pet & Allergy Friendly Upright Vacuum is an affordable corded option that comes with a built-in bag that is easily replaceable, as well as a filter that helps to reduce the risks of experiencing allergies.
The product features an enhanced inducer, which provides improved suction power.
The vacuum is also available in a bagless option, as well as an Ultra Plus Bagless option for those of you who have an ultra-plush carpet installed in your house.
The package comes with the vacuum cleaner, as well as a Handi-mate tool that was designed to help you get rid of pet hair quickly and easily.
#6. Eureka FloorRover Versatile Bagless Upright Vacuum Cleaner
At just under $180, this option is also perfect and offers a futuristic appearance.
The Eureka FloorRover Versatile Bagless Upright Vacuum Cleaner does not require frequent changing of a bag, due to the built-in container that will keep all the pet hair, dust, and other particles vacuumed until you empty it.
The special swivel design makes steering the vacuum through the house effortless.
The large wheel attached to the bag makes gliding easy. A special heap filter is also installed to capture smaller particles.
A turbo brush is also included with the vacuum cleaner, which was designed specifically with pet hair in mind.
#7. Bissell Pet Hair Eraser Handheld Vacuum
If you are on an extremely small budget and you really just need a very basic vacuum to get the job done, then consider the Bissell Pet Hair Eraser Handheld Vacuum.
This is a small, versatile option that is corded. It comes in two color variants, including pink and orange.
In addition to the standard package, you can also choose the "Eliminate Pet Hair" bundle, which comes with an extra brush that helps you get hair that seems to be stuck in the carpet lose. This vacuum is really cheap. – do not, however, expect the same suction power as the other options on the list from this vacuum.
Final Thoughts
Pets with long hair tend to shed – I know, as I am the proud owner of a Saint Bernard.
This can leave the house full of hair. In my case, dog hair even got into my food.
A broom and a standard vacuum cleaner don't help if your dog sheds a lot, but when you buy the best vacuum cleaner for pet hair, then you have a specialty device with improved suction to ensure every single hair is caught by the vacuum.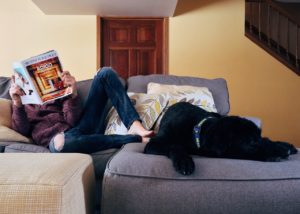 I've tried out a couple of different vacuum cleaners that were designed to be ideal for cleaning up pet hair and found the ones I shared with you in this post to be the most effective.
My absolute favorite is definitely the Dyson Cyclone V10 Animal Lightweight Cordless Stick Vacuum Cleaner, but many of the other options I shared are just as great.
While some of the might be a little pricey, consider the fact that their powerful suction force would allow you to clean much more than just pet hair – you'll be able to keep your entire house free of dust, hair, and more.