Hi, my name's Irena and I live on the island of Crete with four lovable, but crazy mixed breed dogs. I'm here today to tell you what you should feed Cane Corso puppies.
You're probably aware of what a Cane Corso is, however it's not surprising if you don't, as they are a rare breed of dog. They were bred in Italy as a guard dog and they were used to watch over livestock and property.
They look very cute as puppies and yes they are friendly dogs, but if you are tempted to buy one, keep in mind that they can grow as tall as 27 inches and weigh up to 120 pounds. That's more than me!
They need loads of exercise as well and can't be cooped up in an apartment for hours on end. A couple of good long walks a day and playtime in the yard suits them down to the ground.
Cane Corsos are still used as guard dogs, but they make great family pets as well. They get on fine with children and aren't aggressive towards them.
They are also laid back with other pets. You don't have to worry if you have another dog or even a cat, but make sure that they don't sit on them by mistake!
Tips for Feeding Your New Cane Corso Puppy
Okay, you've finally made the decision to buy a Cane Corso puppy and you bring it home. Your mind will probably be in a whirl. How do I train my new puppy? Where will it sleep? What do I feed it? How often do I feed it?
Well, the first thing your new pup will want to do is eat. Dogs just love food and aren't as fussy as other pets, such as cats, so it's up to us to make sure that they get the right nutrition.
When you bring your puppy home, it should be at least 8 weeks old and fully weaned so it can start eating commercial food.
You will need to feed them at least 3 times a day if not more. Like many dogs, including mine, Cane Corso puppies eat quickly and this can lead to bloat which can kill.
What Sort of Food Should I Feed my Cane Corso Puppy?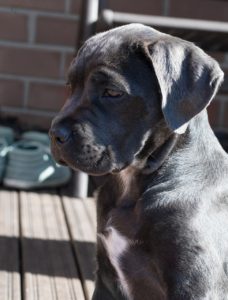 You have the choice of two types of dog food, wet or dry. Until your pups are 12 weeks old they should be given wet food.
They'll be used to their mother's milk and wet food is less likely to upset their delicate stomachs. Once they are 3 months old start introducing dry food little by little.
Dry food is less expensive than wet food, but still has the right nutrients. It can also be wasteful. How often have you opened up a big can of dog food for some of it to go to waste, especially if you live in a hot climate?
Dry food keeps for much longer as it usually has a zip to keep it fresh. In addition it's less messy. It also helps to remove plaque and tartar from their teeth.
When you are looking to buy the food for your Cane Corso puppy, always look at the ingredients.
They need animal protein to keep them healthy so make sure that the first ingredient is meat or fish. It's also a good idea to check that it has the AAFCO seal of approval.
They set the standards for both animal feed and pet foods in the United States.
What Do Your Cane Corso Puppies Need in their Food?
Protein
The first thing that Cane Corso puppies need is protein. It is really important in their diet as it gives them energy and aids their overall growth.
As they are going to be very big dogs, they do grow quickly so need this boost. In addition to animal proteins, you can also give them eggs.
They are jam packed full of protein and your Cane Corso puppies will love them. Ideally you should be giving your pups a minimum of 22% protein.
Fat
The next thing that your Cane Corso puppies are going to need is fat which is an important source of energy.
Fat has lots of benefits although of course you don't want to overload their systems with it. To start with, fat converts to energy-providing glucose.
It also enables the puppies to absorb vitamins. Fat has the added advantage of keeping their skins healthy and their coats glossy. They should be getting 8% fat in their food.
Vitamins and Minerals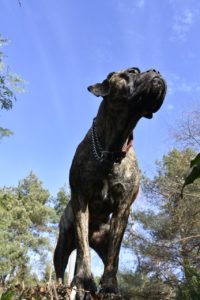 It's always a good idea to check that your puppy food has plenty of vitamins and minerals which will aid their general health.
You will want their brains to function properly, their digestive systems to work and for their vision and bones to be up to scratch.
We all need to have vitamins and minerals on a daily basis. However, do not feed them supplements.
They should be getting enough vitamins and minerals from their diet and if you give them supplements it could make them ill or even poison them.
Carbohydrates
Carbohydrates provide energy in the form of glucose and this helps to maintain the body temperature of your pups.
A lot of carbs also have fiber which helps with digestive health. Whole grains, beans, legumes and vegetables are all good in moderation for your Cain Corso puppies.
Keep them away from empty fillers like wheat, corn and soy as they don't do any good for your pups.
Some brands of dog food even use wheat as a thickening agent especially in wet food and you don't want this. Wheat and other grains can cause allergic reactions in your dogs.
What Else Should your Cane Corso Puppy be Getting in its Food?
If you buy a high-quality dog food you should be getting everything your pups need.
Fish oil is a good addition to the food as it encourages their brains to work at optimum level.
Glucosamine and chondroitin are both good for joint health.
Omega-3 and omega-6 fatty acids help to give healthy skin and a glossy coat. Calcium and phosphorus are good for their bones and teeth.
Top 7 Puppy Foods for a Cane Corso Puppy
1) Diamond Naturals Large Breed Puppy Formula Dry Dog Food
The top ingredient in this dry dog food is lamb which is a great source of protein. In fact it has 27% protein. It also contains lots of healthy fruits and vegetables, like papaya, coconut and peas.
They keep the digestive system working properly. There are Omega-3 and Omega-6 fatty acids in this puppy food and antioxidants, all of which help your pups to have a shiny coat and healthy skin.
DHA, which is an omega-3 fatty acid, promotes eye and brain health and amino acids give your pups strong muscles.
There are no artificial colors, flavors or preservatives in this puppy food, nor are there artificial fillers like wheat and corn.
None of these do your puppies any good. In fact it can do them some harm as they probably won't be getting enough of the nutrients they need.
2) Wellness Complete Health Natural Dry Large Breed Puppy Food, Chicken, Salmon & Rice
Again we have a good animal protein as the first ingredient; chicken. The food also contains omega-3 DHA in the salmon which helps with brain function.
There is brown rice for fiber and good digestive health, as well as calcium and phosphorus for strong bones. Puppies and dogs need taurine for a healthy heart and there is plenty of that in this kibble.
You all want your puppies to have a shiny coat and healthy skin and the flaxseed in this food promotes this.
You will be pleased to know that there are no artificial flavors, colors or preservatives nor are there empty fillers like wheat, corn or soy.
3) Hill's Science Diet Puppy Large Breed Chicken Meal & Oat Recipe Dry Dog Food
This Hill's Science Diet puppy food has 26% protein and the first ingredient is chicken meal which will make your puppies grow up big and strong.
It also contains oats which is a good source of fiber and so aids digestive health. Oats are also full of healthy minerals.
This puppy kibble contains taurine which is essential for heart health and vision. In fact, if you see a bag of dog food that doesn't have taurine in it, don't buy it.
It is an essential part of their diet. Strong bones will be supported by the calcium and glucosamine and chondroitin help to promote strong muscles and healthy joints.
Your pups will develop a healthy immune system from the antioxidants and you can't ask more than that.
4) Blue Buffalo Freedom Grain Free Natural Puppy Dry Dog Food
If you think your puppies are allergic to any food, this is a great dry kibble to choose for them. It doesn't contain any grains like wheat, corn or soy and neither does it have any gluten.
All of these can cause allergic reactions. The kibble is also just the right size for their tiny jaws and will do a great job keeping their teeth clean.
Their bones will be supported by Vitamin A, calcium and phosphorus and their muscles by L-Carnitine. The kibble also has omega-3 and 6 fatty acids which will give your pups healthy coats and skins.
Blue Buffalo dog foods contain Lifesource Bits which are a combination of vitamins, minerals and antioxidants, all of which contribute to a healthy immune system.
5) Eukanuba Puppy Dry Dog Food Chicken – Large Breed
Eukanuba believes that dogs prosper best as carnivores and so their food is jam packed full of animal protein. The first ingredient in this puppy kibble is chicken and there is 26% of protein.
There is also fish oil which has omega-3 and omega-6 fatty acids, meaning that they will have beautiful coats and healthy skin.
In addition the fish oil makes them just that bit smarter. You'll find that they are easier to train and a dog that can reach as much as 120 pounds does need to be trained otherwise there could be chaos.
For their digestion, this kibble contains fiber-rich beet pulp and there is calcium and phosphorus for their bone health.
6) Blue Buffalo Homestyle Recipe Natural Puppy Wet Dog Food
Although your Cane Corso puppy should eat mainly dry food, adding some wet food to it is not a bad idea as it gives them added moisture.
This Blue Buffalo wet food has chicken as the first ingredient. The chicken is deboned and there is no sign of any chicken by-products.
It is completely grain free so will help those pups out there who have allergies.
There are whole grains like barley and brown rice, both carbs which give them energy and fiber for good digestive health.
For their immune system there are antioxidant-rich cranberries and blueberries. Finally there is fish oil for smarter pups.
7) Blue Wilderness High Protein Grain Free Puppy Food
The first four ingredients of this wet puppy food are turkey, chicken broth, chicken and chicken liver. It is jam packed full of healthy animal protein which will help with muscle growth.
There are also potatoes and peas which are fibrous and will aid digestion. It contains the fatty acid DHA which is good for the brain and for vision.
It is normally found in mothers' milk which means that your pups will be getting a great start in life.
For a shiny coat and healthy skin there are omega-3s and 6s and for intelligence, fish oil. When it comes to gastrointestinal health this wet food contains a B12 supplement.
Other Things to Note
Well, we've had a look at some of the best dog foods out there, so what should you not feed them?
Obviously things like chocolate, mushrooms, garlic and onion are definite nos, but what about commercially produced foods?
It's probably best to avoid the really cheap varieties as they may have a lot of empty fillers and you will want to ensure that your pups are getting the best for their overall health.
And when should you swap them over to an adult diet? Somewhere between 12 and 18 months should be about right.
Final Thoughts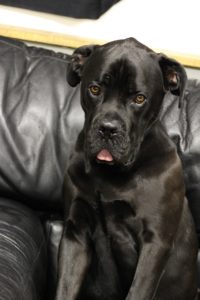 Cane Corsos are big dogs so it goes without saying that Cane Corso puppies need a lot of food.
In fact, while adults need around 2100 calories per day, the pups will need more to fuel their energy.
Just make sure that they get lots of protein, an adequate amount of fat and enough carbs and fiber to aid their digestive system.
If you do this you will be assured of a friend for a long time to come.