I'm a crazy dog mom who is always spoiling my dog with toys and treats that he loves. However, dog toys and treats that are high quality can be expensive and searching through all the different brands in the stores can be time consuming.
Hello dog moms and dads! My name is Bri, and my American Bulldog and Pitbull mix, Bruce, is one spoiled pup. He loves stuffed toys and most of the time when I bring one home, its annihilated within the hour.
Plus, he can be a picky eater when he wants to be, and it has been hard to find him treats he likes, while making sure the ingredients are healthy and wholesome.
After spending way too much money and even more time in the stores searching for the best goodies, I'm so thankful I found the BarkBox subscription to solve all our doggie problems!
In this article we're going to simply cover what comes in a Barbox Box, however for a more in-depth look at the subscription box, check out my full Barkbox review here!
What is BarkBox?
BarkBox is a subscription service provided by the company Bark. BarkBoxes contain two plush toys, two bags of treats and a chew that follow a different themed collection every month. Each box is delivered right to your door each month!
You can choose different sizes of BarkBoxes based on the size of your dog.
Small boxes are recommended for dogs that weigh from 0-20 pounds, mediums for dogs that weigh from 20-50 pounds, and large for dogs that weigh 50 pounds and up.
Being a 90-pound ball of blubber and slobber, Bruce definitely got signed up for the large box.
What are Barkbox Themes?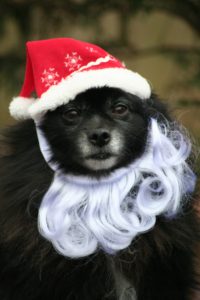 Each BarkBox themed collection is unique and incorporates the entire box. Themes will usually follow a holiday in the corresponding month, such as Halloween, Thanksgiving and Christmas.
Now I'm not saying you'll get a full on Santa outfit, like the dog pictured, but something festive is likely to be included, during the Xmas period!
Other themes will follow popular societal norms, such as back to school time in the fall.
There are also many themes that don't depend on any kind of holiday, they're just plain fun!
A few of the crazy new themed collections include The Knights of the Round Table, Chewrassic Bark (my personal favorite), and Throwbark Thursday which has all kinds of funky, retro toys – including a roller blade that brings back some great, and not so great memories for me.
What Toys Come in a Barbox?
The plush toys that come in a BarkBox are always different each month. Each toy is designed specifically for thrashing, tossing, chewing, and all the other weird crazy things dogs do with their toys.
Designers even pay attention to details like whether or not toys resemble the critters and things that dogs would be intrigued by in the wild, like hedgehogs and turkeys.
They take special care to get the material, noise and humor just right.
Obviously, the toy is for the dog, but it's even better if the owner loves it too! Once a toy is finished, it's tested on real dogs to make sure it's pawfect!
What Treats Come in a Barkbox?
BarkBox's all-natural treats are made in the United States and Canada. BarkBox uses wholesome ingredients to ensure the treats are not only tasty but also healthy for your furbabies.
If your dog has any food allergies or restrictions, BarkBox can accommodate and send treats free of beef, chicken, turkey and other common allergy-inducing foods.
This is incredibly important to me because Bruce has allergies and I've always had a hard time finding treats that adhere to those allergies.
Every treat is free of wheat, corn, soy and chemicals. I can already see the drool on Bruce's droopy chin.
Do Barkbox's Contaion Chews?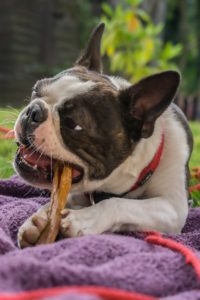 Yes! The yummy chews in a BarkBox turn my dog into an absolute maniac. He goes NUTS over these things.
Chews are made of all kinds of different, irresistible ingredients and BarkBox usually sends a different one every month.
The chews are meant to be long lasting, but that doesn't stop my dog from gnawing it down in record time.
Some of the common ones are the Beef Knee Cap chew which is made in the USA from USDA-certified Omaha beef and the Full Pig Ear which is also made in the USA and made of exactly what it sounds like – a pig ear (Bruce is a big pig for these pig ears)!
How Much Does a Barkbox Cost?
BarkBox offers three different subscription options. Each one includes the same number of treats, toys and chews. The three subscriptions include:
12-month subscription, which costs $22 per month. I currently have this plan for Bruce.
6-month subscription, which costs $25 per month. This is their most common plan.
Single month subscription, which costs $29 per month. This is the option most people take to try out the boxes for the first time.
Your subscription is billed automatically so there's no need to keep going back to the site.
I used to spend at LEAST $50 or more in the store each month buying Bruce treats and toys. Most of his toys would fall apart after only a few days, so right back to the store I went.
With our yearly subscription, I am paying less than half of that and I NEVER have to step food in a pet store! I get high quality, durable treats and toys and more time with my pup.
That makes me a happy dog mom, and my Bruce a happy dog! Plus, shipping is always free! You can check it out below!
How do I Subscribe to Barkbox?
Subscribing is easy! You just go onto the BarkBox website and start by building your dog's profile.
You'll provide their name, age, allergy or food restrictions and size.
Once that's done, you select which subscription you want and set up your shipping and billing information.
This information can be changed at any time online making it super easy to keep your profile current, so your pup never misses a box. Click below to check it out!
What is Good About BarkBox?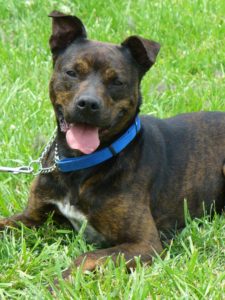 Everything that comes in a BarkBox is tested out by real dogs in the Bark offices, so dogs are sure to love it! Aside from the yummy treats and fun, irresistible toys, BarkBox has benefits that as a dog parent are just too good to resist.
One of my favorite things about BarkBox is that they offer 100% replacements if your dog doesn't like something. Luckily for me, Bruce has never had a problem loving the treats, toys and chews he's gotten.
However, this is a perfect solution for anyone who might get a treat that their picky eater isn't too fond of. Just let BarkBox know your pooch is unhappy and they'll do anything they can to make it right!
Same goes for the toys. If your dog prefers toys without fuzzy fur, just tell BarkBox and you'll never get a fuzzy toy again!
What is Bad About BarkBox?
The different treats every month can be a little tricky, especially if you have a picky eater at home.
Some of the treat flavors are unique and different (like peppermint bark – I thought Bruce would hate it, but he goes crazy for them!) and might not be a fan favorite.
However, BarkBox has their replacement plan which takes care of that!
A personal problem I've had with BarkBox is in the toys. Some of the toys contain an internal, plastic squeaker ball. Bruce is obsessed with these things and cannot help himself when it comes to getting to that ball.
He'll do whatever it takes to get that ball out and chew it to a million pieces. If I know Bruce, I know that if I wasn't watching him like a hawk, he would eat (more like inhale) those little plastic pieces which could be potentially dangerous for him.
I have to be very careful to not let him have the toys with the squeaker in them when he's home alone and I have to make sure I throw it away as soon as he rips it out.
Once that squeaker ball is out of the toy, the toy itself holds up very nicely and lasts a very long time. Bruce even still plays with toys from his first box!
How BarkBox Gives Back
BarkBox not only brings happiness to pets and their owners, but also to pets in need.
They provide care packages for foster dogs and resources to shelters, rescue operations and non-profits to help dogs in need be well taken care of.
BarkBox offers organizations a specific code and will donate $25 every time a new subscriber uses that code. They will also help those organizations put on events for their shelters.
Having a rescue dog myself, it warms my heart to see a company go out of their way to provide resources for the sweet pups in shelters!
To Subscribe or to Not Subscribe to Barbox?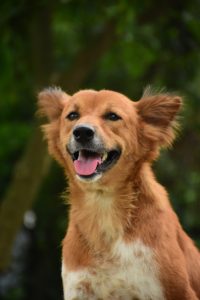 What are you waiting for? I absolutely recommend trying out BarkBox, even for just a single month to see how your dog reacts!
There are so many benefits to BarkBox that helped me spoil my baby and kept my wallet just as happy as he is. Hopefully this is all the information you need to help make your decision.
If you want to find out more, or subscribe to Barkbox, Click Here!
Happy pup parenting!
If you have any questions or comments, please feel free to leave them below!