Why get a Dog Carriers?
There are many reasons why a pet owner buys a carrier for their pooch. Possibly the best one is for safety and security.
If you travel with your pet in the car then you should remember that in some countries, they must be seat-belted in the back seat.
They can also be secured in a carrier. This makes taking your pooch to the vet easy as they are already in the carrier when you arrive.
Often pet owners like their dogs to go on outings with them so choosing a carrier for them becomes an important factor.
Your dog needs a carrier where he can relax when he gets tired of playing. This needs to be the right size for him to lie down in and stand up without feeling cramped.
Having an older dog or one who suffers from arthritis may mean that without a carrier they could not go anywhere with their owner, so a bag or carrier is an excellent idea here.
In this instance the interior should be soft so that any bumping does not hurt the dog.
There are literally hundreds of carriers and bags on the market and there are also several things that you should take into account before buying a bag or carrier for your pooch.
Size
Size is the first thing that you must think about. The last thing your dog needs is to be in a bag or carrier that is too cramped and tight.
You should measure your dog's full height from the ground to the highest point of the shoulders. Now add at least three inches onto this length. This is to ensure your dog can stand tall, this may differ between dog breeds.
You should measure from base of tail to front of nose and then add a few inches so that your dog can turn around.
Some carriers such as those which are designed for backpacking will be suitable for dogs within a certain weight range so make sure that you have a good idea of how much your dog weighs.
Don't use a bag if your dog is over the recommended weight limit as the bag may break.
It is also not a good idea to get a bag or carrier that is too big for your pooch as the dog could slip around and get hurt.
Additionally, if your dog wants to use the toilet, he may be tempted to use the bag because there is so much extra room.
What Makes Designer Dog Carriers Different?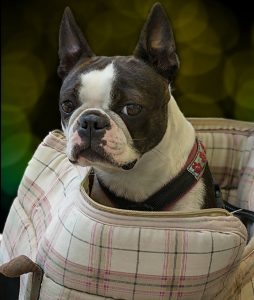 Designer carriers differ from regular carriers in that they are more of a fashion statement.
Many of them are designed to look just like an accessory that you might wear. They don't look anything like a regular carrier.
Designer carriers and bags are normally very comfortable and plush looking although they may not be suitable for using on an airline where extra security measures are needed to ensure that your pooch does not escape.
Types of Dog Carriers
There are several types of dog carriers and bags and what you need them for will dictate the style that you buy.
Flying or long-distance travel
Airlines have their own specifications of the sizes of carriers for each dog breed. You should find all this out before you make any travel arrangements.
These carriers will have solid sides and enough space for the dog to completely turn around. It should also come with a water bowl which normally fits on the side of the carrier. The door must be lockable.
Quick errands
This includes taking your dog to the vet. If your small pooch is afraid of the street noise, then it makes sense to carry them in a safe place where they feel secure.
Having a bag or carrier to transport your pet may also help to calm them down on the way. Many times, these types can be made with soft sides, although this will depend on the size of the dog.
Larger dogs may be better off in a solid sided carrier as normally they cater for larger sizes but also they are tougher.
A dog who gets agitated at people who pass by may be better off with a carrier which has solid sides so he cannot see out and they are harder to escape from.
Walking or hiking
If you and your pooch enjoy heading out into the country, you may want to get a backpack type of carrier. Wearing the backpack will be easy on your own back, as well as keep your pooch safe until you stop with them.
This style is also good for dogs who suffer from arthritis as they can be comfortably carried next to their owners.
Backpacks can often be worn on the owner's front if they prefer the dog to be looking ahead as they walk.
Biking
If you intend to go cycling with your pooch, then there are carriers available to keep dogs safe as you ride. They will normally have a seat belt and can be mounted on either the front or the rear of the bike.
These carriers are made for small dogs only as they will not take the weight of larger, heavier dogs. Larger dogs can be introduced to carriers which are pulled behind bicycles.
It is never a good idea to just harness your pooch and attach him to your bike. If he gets a start and runs off, he may find himself under the wheels of your bike.
Additionally, most small dogs cannot run as fast as a bike would go so better to have a carrier where he can sit comfortably as you ride. The carrier can be secured to either the front or the rear of the bicycle.
4 Best Designer Dog Carriers
1) Mr. Peanut's Expandable Airline Approved Soft Sided Pet Carrier
Most airline carriers are designed to take a pet which is lying down so this is how you should measure your pooch.
The sides are made from plush faux fleece padding and the carrier is nicely rounded. The carrier can take a pet weighing up to 15 lbs.
The carrier is strong and waterproof as well as being lightweight with mesh on all sides for extra ventilation.
The bedding is removable and can be washed. The shoulder strap is padded for extra comfort when carrying the dog. There is a zipper storage area where you can keep some treats while you travel.
2) Ibiyaya Top Loaded Pet Carrier for Dogs
This carrier is made from Eco-friendly fabrics so there is no chemical odour to bother your pet. You can easily take the carrier apart and fold it up for storage when not in use.
The material used is high impact resistance and still lightweight. You will find that the carrier does not lose its shape even after several years of usage.
The front-loading zips are lockable to prevent an accidental escape and there is also a side mesh entrance which allows extra air inside.
The interior is removable and washable, and the exterior can be vacuumed to keep it clean or wiped with a damp cloth.
For storage the carrier folds down to just 3" so can easily be hidden away while not in use.
3) Soft-Sided Pet Travel Carrier
You will notice right away that this is not just a pet carrier, it is a fashion statement.
Made from improved fabric there is no chemical smell, the shoulder strap is sturdy, and the zippers are self-locking to prevent an accidental escape.
The inside of the carrier is spacious and roomy, and the side entry is large enough for a medium sized animal. The fleece bed is washable, and it can take a pet weighing up to 20lbs.
4) SturdiBag Large Flexible Height Pet Carrier
You will see right away that this carrier is extra lightweight. It is also durable, being made from 600 denier polyester.
The shoulder strap has four adjustments and is padded for extra comfort. All the mesh windows come with privacy flaps for when your pooch wants to sleep.
The interior is attached by Velcro and can easily be removed to be washed. The zips have security clips and a tether, so your pooch won't escape.
This carrier can take a pet weighing up to 40 lbs and can hold most small to medium breeds.
4 Best Designer Dog Bags
1) Sherpa Travel Original Deluxe Airline Approved Pet Carrier
The interior of this deluxe carrier is made from washable faux lambskin for extra comfort.
The bag is suitable for airline travel or just travelling around at home. The windows are mesh for extra air flow and both the top and side zippers are lockable.
There is a rear pocket where you can keep a few treats for your pooch and this bag comes with a seat belt and non-slip shoulder strap. The large size will take a pet weighing up to 22 lbs.
2) PetsHome Dog Carrier
The premium PU leather exterior makes this bag easy to keep clean. The interior is waterproof, so your pet stays dry.
There is a fixed leash inside to prevent accidental escape and the ventilation is very good. The mesh comes on two sides to allow extra ventilation and there is a full zip opening on the top.
This bag conforms to the under-seat regulations of most airlines and the small size can hold a pet weighing up to 22 lbs.
3) Kenox Fashion Dog Carrier Bag
This smart bag will take a small dog with ease. The pockets are large enough for you to store some treats in them and the bag itself feels sturdy.
The handles are long and comfortable, and the bag has a mesh top opening. The zippers are snag-proof.
What is nice about this bag is that is does not look like a pet carrier, in fact, most people will not even know that you have your pooch inside.
4) Peanut's Airline Approved Soft Sided Pet Carrier
This bag is strong and waterproof as well as being lightweight. It weighs in at just 2.7 lbs. It is suitable for most airlines with the interior being thick and made from faux fleece padding.
The bag has breathable mesh on the sides for extra ventilation and a padded shoulder strap for easy carrying.
The travel bed is removable for washing and there is a name tag attached. The bag comes with a zippered mesh storage area for treats or paperwork. There are also seat belt attachments.
How to Properly Use Dog Carriers
Before buying a pet carrier of any type you should be clear on what you need it for. If you are travelling by plane, then your requirements will be different than if you are simply carrying your dog around town.
Make sure that the carrier or bag allows your dog enough room to stand and turn around, even though carriers for airlines are measured to fit under the seats when the dog is lying down.
Always make sure that the carrier is secured on the back seat of your car and that the seatbelt is threaded through the handle. This is because an unsecured bag can slide around the car and fall off the seat.
Don't put a lot of items in the carrier. They simply take up your dog's valuable moving space. They can also injure your dog.
Never pile things on top of the carrier and always make sure that the mesh vents are open, so your pooch has plenty of fresh air.
How to Make Sure Your Dog is Comfortable
Ventilation
Any carrier or bag you buy should have enough mesh vents to allow the air to flow freely. Additionally, having mesh on the sides allows your dog to look out and this will keep your pooch calmer when you travel.
If you intend to travel with your pet in the plane with you, then the most important thing is that the carrier is well ventilated.
You will need to place your dog under the seat in front of you and this will become very hot and airless. Your dog may become dehydrated if there is not enough air circulation.
Interior
The inside of the carrier or bag should be comfortable, removable and washable. Any blankets you add should also be soft and washable.
You should not add too many layers to the inside because this will mean there is less place for your dog.
Unless it is bitterly cold where you are taking the carrier there is no need for more than one blanket for your pooch to sleep on.
Keep the number of toys inside to a minimum also, otherwise there will be no room for your dog to lie down. He will find himself surrounded by playthings and no space to sit or lie.
Exterior
The exterior should be easily cleaned and have a storage pocket where you can keep some treats or a small water bowl.
The zippers should be lockable so that they cannot accidentally open and allow the dog to escape.
Soft sides
Small dogs prefer soft sides in a carrier, they will also prevent the smaller dog from being knocked and bumped against a hard cage.
Small dogs are easily injured, and care must be taken to keep them safe.
Mesh
Ideally your dog needs to be able to see some of the outside world so having mesh on at least two sides is something to look for.
Mesh also allows for more ventilation.
Other Considerations
We've all heard the phrase that 'we get what we pay for' and this is very true in pet carriers and bags. It is not a good idea to buy the cheapest carrier because it simply won't last as long as a good quality one.
The last thing you need is for a zip to break and your dog to escape at the airport or on a busy road.
If the carrier has external pockets you should make sure that there is no chance of your dog getting out that way.
Ideally the zips should be lockable so that they don't open accidentally and give your dog the chance to escape.
Dogs can find travel very stressful and will run off in sheer panic if they are scared. Additionally, having a zip open unexpectedly and your small dog fall to the ground will not be good for either you or your pooch.
Buy the carrier based on the size of the dog at the time, not how tall he will be at adulthood.
Your dog needs to be able to stand and turn completely around in ease and not rattle around like a pea in a pod. Too big is not a good idea. If the carrier is too large you may find that your dog uses one end as his toilet area.
Larger dogs may prefer hard sides to their carrier, but small dogs are safer in a carrier with soft sides.
Additionally, a hard-sided carrier may be easier to clean but it will not give your dog a cosy, safe feeling, although adding homely blankets would help.
Choose the carrier based on the dimensions of the dog rather than completely on the weight. Some breeds have wider shoulders, while other breeds are taller and need extra height in the carrier.
Before buying a carrier for flight you should check the requirements of the airline you will be using as they differ from one airline to another.
All of them will insist that the carrier is completely lockable so that the dog cannot escape, either in the airport or on the plane.
If your dog is going to travel in the cargo hold of the plane, he will need a solid sided carrier, but a cabin carrier can be soft sided.
Dogs who are anxious may be more comfortable in a carrier with mesh sides so they can see out, while solid side carrier are better for the dog who always barks at strangers.
Final Thoughts: Dog Carriers & Bags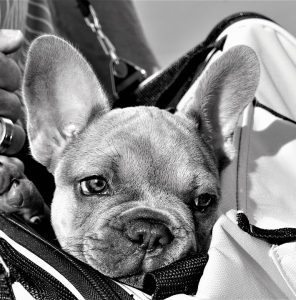 Before you buy a pet carrier you should decide what you are going to use it for.
Pet carriers which are to be used for flying will be different to those that you would use for visits to the vet. Dog carriers which are to be used for hiking and cycling will be different from any others.
What is the same, no matter which carrier you choose, is that it should be well made, and sturdy enough to house your dog safely and comfortably.
Never put the price of the carrier above the safety factor. It is not worth paying a 'bargain basement' price only to find that the carrier falls apart when you least expect it and your dog is put in danger.
The pet carrier should be able to be harnessed to the back seat of the car, on the back seat, not on the floor and not in the front.
It must be big enough for your pooch to stand up and turn around in, and the dog should not be cramped. The carrier needs to be attached to a seat belt so that in the event of an accident it will stay in place.
Most countries stipulate that a dog must be in the back seat instead of in the front. Some state that they need to be in a carrier while other countries are happy with only a harness.
Before you travel to another country with your pet, you should find out all the regulations about what is needed for the carrier.
Good ventilation is essential, particularly if you are flying with your pet. It will get very hot under the seat in the plane and your dog must never overheat.
With so many different styles on the market, there is no reason why your pooch should not go with you to all your favorite places – in comfort and style.