Hiking and walking are great forms of exercise for any person and their dog. Going on a nice long walk can relieve stress and keep both of you healthy.
However, in some circumstances your dog might not want to walk the entire time. Maybe they are elderly or have a medical condition that keeps them from being able to walk long distances.
Or, if they are anything like my dog, they are just simply too lazy to walk over a mile at a time.
Hi dog moms and dads! My name is Bri, and I have a big lazy dog named Bruce. Bruce loves to go on walks, but he is part American Bulldog and part Pitbull.
American Bullies are athletic, but also very lazy. Bruce is no exception. When he wants to stop walking, he stops.
Sound familiar? But what if you want to walk a decent distance? You could leave your dog at home but let's be serious. They would never forgive you.
Although I have never used one myself, I have seen many people using a dog stroller during long walks and hikes for this exact purpose. Instead of leaving your dog at home, let them enjoy a nice walk at their own leisure!
Once they get tired or if they cannot walk long distances for medical reasons, just let them ride along and enjoy the view!
I have put together a list of the best dog strollers for hiking. These strollers are made for dogs of all different shapes and sizes, even ones as big as Bruce! Let's take a look.
Best Dog Stroller for Hiking
1) Ibiyaya Light Weight Dog Stroller
Now first, let me clarify that this dog stroller will probably not work for a dog as big as mine. This one was specifically made for medium and small dogs, so Bruce does not qualify.
However, if you have a dog that weighs 44 pounds or less, this is a great option! This stroller keeps your dog safe and sound.
There is a peek-a-boo window in the back for you to keep an eye on your dog, and the front frame can open completely for them to have a great view.
It also has a 2-front-wheel suspension that absorbs shock, keeping your pup comfortable the whole way.
This is a very convenient stroller that folds up for easy storage and transport. It folds flat to be placed easily into your car and can even fit perfectly into an airplane's overhead compartment.
The fabric on the exterior of this stroller is waterproof, so if you get caught in the rain your pup will stay nice and dry. There is also a large basket under the dog's seat so you can store your personal items (aka snacks and treats).
It can also be used for cats!
2) Ibiyaya Multifunction Pet Carrier
Another one from Ibiyaya! This stroller does it all. It may look like a typical stroller for dogs, but can also be used as a pet carrier, car seat, rolling carrier and even as a backpack!
What makes this carrier great for hiking is the versatility of the product. Use it as a car seat on your way to your hike, as a stroller during and if the trail get's a little too bumpy, fold up the stroller and carry it as a backpack!
There's no way I'd be able to carry Bruce on my back – he's way too chubby. But for medium and small dogs that are 18 pounds or less, this is ideal.
There is a large opening with a sturdy mesh window for your dog to see everything happening around them. The perforated holes offer plenty of ventilation to keep them comfortable. The window rolls up too in case your pup wants to stick his head out and say hello!
Plus, there is a snack tray and cup holders for you or your dog's snacks, and nothing is better than snacks. Bruce agrees.
3) Petique All Terrain Jogger-Blazin Berry Pet Stroller
This pet stroller is definitely better for larger dogs. It can hold up to 60 pounds (still not enough to hold Bruce, but we'll keep looking).
With one step dual wheel braking and large tires, this stroller is perfect for jogging or long walks. The large wheels absorb shock to keep your dog comfortable the whole way.
With mesh windows all the way around, your dog will not miss a beat. There is even a rain cover on this stroller in case you get caught in bad weather! You can also attach this stroller to your bike to really cruise around.
As before, I know that in my home snacks are a priority for both myself and Bruce. This stroller comes with two large pockets that many would use for cellphones or personal items, but I think it would be a perfect location to store treats and snacks.
We all know that dogs can be messy, especially during walk time. The fabric on this stroller is completely removable and machine washable so you can let your dog get as dirty as they want to without having to worry about staining or ruining the interior.
4) VIVO Three Wheel Pet Stroller
If your dog wants a fun way to join you on long jogs or walks, this stroller is perfect. It has plenty of room for a dog that is up to 30 pounds to sit or lay down comfortably.
The pet compartment has a large protective space with zipper access. The mesh windows allow pets to see everything around them as well as keeping them comfortable with plenty of ventilation.
This stroller is also completely collapsible and folds up to be stored or taken in the car without taking up too much space. It is also light weight if you need to carry it.
With dual cup holders, a center tray and a huge storage basket underneath you can take all the snacks and treats with you, which is obviously one of my main priorities. I get that from Bruce.
The interior has padded foam to keep your pup safe and comfortable. Plus, the stroller has a great suspension that absorbs shock, so they are not bouncing around when you go over bumps and cracks.
The top of this carrier has a large window so you can keep an eye on your pet. It also opens up completely so they can feel the breeze in their face as you stroll along.
5) HPZ Pet Rover XL Premium Heavy-Duty Pet Stroller
We're finally getting closer to a stroller that would fit Bruce! Although this one only holds 75 pounds which would not quite hold his 90-pound belly, this one is definitely more heavy duty than the others and can hold larger or heavier dogs.
Larger dogs can sit or lay comfortable in this stroller because it can expand to 35 inches in length.
It has rubber wheels that are durable and shock absorbing, making it perfect for your hiking needs. The front wheels also rotate 360 degrees. so they are easy to navigate through rough and uneven terrain.
The aluminum frame is rust-free and light-weight. It is durable, but the fabric makes it look elegant and attractive. The fabric is also weather resistant and scratch proof so your rough pup will not damage it.
The pet compartment is waterproof too, keeping your dog safe and dry in any weather.
The stroller is designed with quick-release latches that allow immediate access to your pet. Plus, since it's now a tradition, we have the snack storage. This one has a large basket that is the perfect place to store all the treats!
6) Towerin Large Pet Stroller
We have a winner! This pet stroller can hold up to 120 pounds, meaning Bruce can finally have his own doggie stroller!
If you also have a large dog, this is a much more heavy-duty option. The inside dimensions are 25 x 31.5 x 25 inches, so your big babies have plenty of room to ride in style.
This stroller was specifically designed for large dogs who struggle from joint and other health problems. It has superior shock absorbing capabilities to keep them from bouncing around uncomfortably in their seat.
The mesh windows on this keep your dog ventilated properly while still allowing them to see the outside. Or, you can put the front window down so they can poke their heads out of the stroller as you go.
You can choose the best wheel setting for you on this stroller. Either allow them to swivel or keep them fixed depending on what terrain you are going over for the smoothest ride.
Most importantly, you guessed it. Snack compartments. This stroller has plenty of storage space for snacks and treats which is a must for Bruce.
7) HPZ Pet Rover Luxury Pet Stroller
Want your dog to ride in style? This sleek and elegant pet stroller is sure to turn heads.
It is a versatile, luxurious stroller that doubles as a car seat with its detachable carrier. You can also fold it easily to take in the car or to store at home.
The frame is made of rust-free aluminum that comes in a rose-gold color with black fabric for a very elegant look. The fabric is removable and machine washable to keep it clean and fresh for your dog.
Not only does this stroller look great, it also performs very well. It is weatherproof and strong and will keep your dog dry and comfortable.
For added safety, the stroller even has reflective lines for night-time walks and two tethers in the basket your you to attach their leash or harness, keeping them securely in place.
Pet Stroller Safety
Now that you have seen the top dog strollers for hiking, let's talk about some of the safety features you should consider when using them.
Each of these strollers allows you to carry your dog with you wherever you go. However, only one of them talks about the use of an internal leash.
It would be very easy to strap a leash onto the handlebars of the other strollers, which I would definitely recommend even for the best-behaved dogs.
Especially if you live in a city or walk or jog near a busy street, you want to make sure your dog stays put.
Another safety feature to consider is your dog's comfort level. Many dogs do not like being cramped in tight spaces, which is why the open-door features are great.
Make sure you are introducing the stroller to your dog in a positive way and be patient with them. This will probably be new for them and that can be a little scary!
Be sure to test your dog stroller before you put your dog in it. You wouldn't let your child drive a car without test driving it first, right?
Put a large stack of books or another heavy object in the stroller first and wheel it around a bit. These strollers are all durable and well made, but mistakes happen.
It would be much better for your stack of books to fall on the ground than your precious pup! Testing it will give you peace of mind before you put your dog in the stroller.
Final Thoughts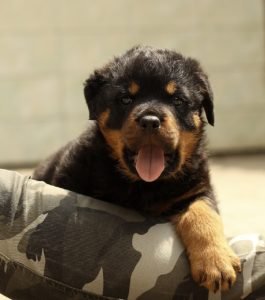 I am an avid believer that every dog should be spoiled. I think fresh air and walks are one of the best things you can do for your dog.
As much as I hate to admit it, Bruce is getting older and can't move the way he used to. This stroller would be a perfect solution for him to be able to still enjoy the outdoors without making him uncomfortable or in pain (okay enough before I start crying).
Any one of these products would be great for your dog. I would obviously choose the Towerin Large Pet Stroller due to my dog's size, but any of the others would be great for medium and small dogs.
Hopefully this helps you choose the best dog stroller for you and your dog!
Happy Pet Parenting!