My name is Michelle and I live with two rescue beagles at home: Joey and Gunther.
Living with two beagles, I've seen first-hand exactly how indiscriminate dogs can be with what they eat. Their nose leads them to many things—including trouble and food.
Because they will eat just about anything, including things they shouldn't, it is no surprise that oral hygiene is a frequent source of trouble for dogs.
While it might not sound serious, problems with your dog's oral hygiene can lead down a dangerous road. Some of the complications can even be life-threatening. It's scary stuff, but it doesn't have to be.
Good oral hygiene habits are easy to start with your dog and can improve their quality of life and their health in the long term.
The Benefits of Good Oral Hygiene For Dogs
Believe it or not, most pets begin their struggle with periodontal disease by the age of just three years old. Barely out of puppy-hood, they face conditions that can lead to tooth loss and infection.
These can cause dangerous mouth infections which can spread to the kidneys, liver, and heart and are potentially life-threatening.
It might seem shocking that just brushing your dog's teeth can help prevent a heart or liver infection, but it's true.
When you reach for some dog-safe toothpaste and help brush their teeth, you're fending off bad breath, tooth loss, infection, and gingivitis—resulting in a happier, healthier pup.
One of Gunther's least favorite things in the world is getting his teeth cleaned at the vet. He digs his paws into the ground in protest every time we go, but regular tooth cleanings at the vet help ensure his health in the future.
The vet checks for any serious problems, removes tartar and plaque, and eliminates bacteria under the gums.
That helps prevent tooth loss and potentially life-threatening infections. And, as much as Gunther hates going to the vet for anything, a walk through the park always cheers him up afterwards.
Do Not Use Human Toothpaste for Your Dog!

Oral hygiene is important for dogs and humans — but the toothpastes we use are completely different.
Human toothpaste is extremely toxic to dogs. It contains a sugar-free sweetener called Xylitol, which while relatively safe for humans, is potentially lethal for dogs.
Swallowing human toothpaste can cause life-threatening hypoglycemia in dogs within just a few minutes. It can also cause damage to the liver. Not only that, but some dogs do not show any symptoms of poisoning until their liver fails.
The best precaution to keep your dog safe is to keep human toothpaste far away from them, and out of reach of curious tongues.
Some of the other symptoms of toothpaste poisoning in dogs include:
*Collapse
*Lethargy
*Poor muscle control and coordination
*Vomiting
*Seizure
*Black stool
*Coma
If your dog swallows any toothpaste, take them to the vet immediately.
Their life may be in danger. Even if they look fine, they could be suffering serious liver damage.
The Best Dog Toothpastes
Since dogs can't use human toothpaste, what should they use?
Well, there are plenty of dog-safe toothpastes available in an assortment of flavors. Here are a few of my favorites:
1. Virbac C.E.T. Enzymatic Pet Toothpaste
This toothpaste is not only safe for your dog, but it comes with rave reviews and different flavor options such as beef flavor, malt flavor, poultry flavor, or seafood flavor.
This helps to cater to picky dogs or dogs with allergies (such as poultry allergies).
The Virbac C.E.T. toothpaste doesn't include any foaming agents or fluoride so it can be safely swallowed (which is good news since dogs find it delicious).
Naturally antibiotic ingredients help prevent the formation of plaque and help freshen your pup's breath.
This toothpaste also works on cats, so if you have dogs and cats you can buy one toothpaste to use for both of them with this.
2. Petrodex Enzymatic Dog Toothpaste (Poultry Flavor)
Like the previous toothpaste, the Petrodex Enzymatic toothpaste is non-foaming and formulated just for pets so it's safe to use.
It doesn't require any rinsing and helps to control plaque and freshen breath.
The enzymatic formula prevents tartar build-up, as well. It comes in a poultry flavor, so your dog will love the taste, and is made in the USA.
This toothpaste comes in a nice, big 6.2-ounce tube, so you'll get plenty of use out of each one.
Although it might not smell as appetizing to humans, dogs can't get enough of the flavor of this toothpaste and many of them beg for their daily brushing because of it.
When your dog looks forward to having their teeth brushed, it makes the whole process easier.
3. Paws & Pals Pet Toothpaste
This is another great toothpaste that is safe for cats or dogs—so if you have both at home, save yourself a few bucks and get a toothpaste that does double duty like this one.
The Paws & Pets Pet Toothpaste is beef flavored for your dog's enjoyment, and it helps freshen bad breath, prevent tooth decay, keeps tartar from building up, breaks down plaque, and combats gum disease.
This toothpaste comes in a set of two 14-ounce tubes so you won't run out for a long time.
A dual-headed toothbrush and a fingertip toothbrush are also included so that you're ready to brush right out of the box.
Start Brushing Your Dog's Teeth Early
Even if it's for the sake of your dog's health, they may be skeptical of a toothbrush the first few times. Starting out early helps dogs to get comfortable with having their teeth brushed sooner, but dogs of all ages can learn to enjoy it.
So how do you get started? First, you'll need a toothbrush. You can use a baby toothbrush in a pinch, but there are also handy dog toothbrushes that fit right over your finger.
These are less intrusive and awkward for dogs, and they're likely to warm up to them faster.
Best Dog Toothbrush
       H&H Pets Professional Dog Toothbrushes
This dog toothbrush makes brushing easy—it slips right over your finger so that you don't have to struggle with an awkward long-handled brush (and convince your dog that it isn't a chew toy).
These toothbrushes also come with a 100% satisfaction, 60-day money back guarantee.
They come in a pack of eight as well, making them a great deal for the price at less than a buck apiece.
The bristles on these finger toothbrushes are curved to help you reach difficult spots, and they are soft and won't irritate your dog's mouth.
These toothbrushes also help a good cause. Fifteen percent of their profits go towards a non-profit animal rescue, Hope for Paws.
How to Brush Your Dog's Teeth
So now you've got your doggy toothbrush and dog-safe toothpaste (remember, don't use human toothpaste as it is toxic for dogs), so it's time to get brushing!
Start by introducing your dog to the toothpaste. Let them smell it and the toothbrush, encourage them as they investigate.
Once they've had a chance to get acquainted with the smell and taste of it, there isn't too much difference between brushing a dog's teeth and a human's teeth (except for potential squirming); just put a bit of the dog-safe toothpaste onto the toothbrush, and brush from side to side across your dog's teeth.
If squirming is an issue, try having your dog lay down first. While you're cleaning their teeth, it is a good opportunity to check for any food stuck between teeth or any problem areas.
To encourage your dog to let you help brush their teeth, reward them after each successful brushing with plenty of praise, belly rubs, and a healthy treat. Before long, they might even think it's fun!
Joey, our youngest beagle, thinks that brushing his teeth is a strange game, and he has decided that toothbrushes make great toys. Just don't let your dog run off with one!
A Few More Tips for Good Dog Dental Health
So, you're brushing your dog's teeth daily with dog-safe toothpaste, you go for regular cleanings at the vet. Now what? There are a few more things you can do to help your dog's mouth stay healthy—including offering certain treats or food.
Giving your dog any kind of food sounds like it would do the opposite of cleaning their teeth, but there are actually certain types of kibble designed to promote good dental health. Some of them have larger pieces which help your dog work off some of the build-up on their teeth. Others include ingredients to help prevent buildup in the first place.
Here is a great example:
Hill's Science Diet Oral Care Adult Dog Food
While most food encourages the growth of plaque and tartar, this Oral Care dog food from Science Diet actually reduces plaque and tartar.
This helps prevent dangerous infections and tooth loss. This dry dog food uses larger kibble size and "interlocking fiber technology" to clean teeth and give your pup nice, fresh breath.
This dry food is made from natural ingredients with vitamins, minerals, and amino acids included for immune support and overall health.
What you won't find inside are artificial colors, flavors, or preservatives. It is highly recommended by veterinarians. Most importantly, it tastes great and dogs love it!
More Tips for Good Dog Dental Health (cont…)
Your dog may not be as big of a fan of the next suggestion, which is to cut back on table scraps.
It's hard to say no to those big puppy eyes. I know, I get stared down by two pairs of big, brown hound dog eyes every time I sit down to eat.
As tempting as it is to share your meal with the dog you love, it may not be as good for them as it is for you. Anything loaded with carbs or sugar spells bad news for dogs' dental health.
So, next time those big puppy-dog eyes come begging, consider offering a small (healthy) treat afterward instead of breaking bread with fido. And, if you are going to share… share the good stuff. Apples, carrots, cooked meat, and green beans all make guilt-free snacks. Gunther and Joey are fans of zucchini as well.
Best Dog Teeth Cleaning Toys
Did you know that certain toys can help improve your dog's dental health?
Toys made out of hard rubber or nylon help clean your dog's teeth as they chew.
While this doesn't replace brushing their teeth, it can help keep their teeth sparkly clean between brushing—and they'll have a lot of fun doing it.
Gunther and Joey have enjoyed chewing on Nylabones, though if your dog is as determined as they are, watch out for wear and tear. The great flavor might fool your dog, but these are not meant to be eaten.
Nylabone Dura Chew Plus Bone, Chicken Flavor, Regular
The Nylabone Dura Chew Plus is made out of tough nylon and features ridges and nubs which satisfy your dog's cravings to chew and helps clean their teeth.
While your dog enjoys chewing away at this Nylabone, it helps to keep their plaque and tartar under control. It is chicken-flavored throughout the whole bone for your dog's enjoyment, too!
Nylabones are made in the USA and come in a variety of sizes to suit your dog. Joey and Gunther have both happily chewed on Nylabones for hours. It really helps them settle down, and they love the taste.
An added bonus to the Nylabones is that, because they give your dog something enjoyable to chew on, they'll also be less likely to chew whatever they find laying around the house… shoes, electrical cords, and other things that can get them in trouble.
Giving your dog a treat to help their teeth stay clean sounds counter-intuitive, but there are treats that help keep plaque and tartar in check in the same way that hard rubber and nylon toys do.
Best Dog Teeth Cleaning Treats
       Whimzees Natural Dental Treats (Variety Pack)
Your dog will (literally) jump for joy! Joey and Gunther sure do.
Anytime I come back from the pet store with these treats, which are their favorite to chew on, they are beside themselves with excitement.
One of my favorite things about Whimzees is how simple the ingredients are.
Gunther has a few food allergies, it's something we both struggle with, and it can be a struggle sometimes to find treats that are safe for him.
Whimzees are gluten-free, wheat-free, grain-free, meat-free, and have no artificial flavors, colors, preservatives, or GMOs. The main ingredient is simple potato starch.
Despite their simplicity, Whimzees are a big hit around here! The dogs climb over each other to get to these. They drop everything they're doing and chew their Whimzee for as long as it takes to finish it off, and then come looking for more.
Whimzees come in several different shapes. Some of my favorites are the good old stix and the fun alligators. They all come with ridges that are designed to help clean your dog's teeth. These help prevent the build-up of tartar and plaque and help prevent bad breath.
Final Thoughts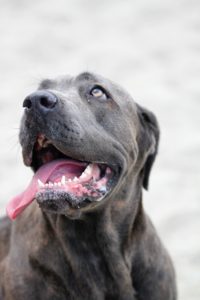 There are a lot of ways to help make sure your dog has a healthy mouth.
Whether you are just introducing your pup to good oral hygiene habits for the first time or looking for new things to add to your regimen, preserving your dog's smile and protecting their future health is easy with the right tools.
Drool-worthy toothpaste, delicious treats, and fun toys can enrich your dog's life and make teeth cleaning fun and effortless.
And, as a bonus… the next time they sneak in to give you a kiss, you won't need to reel back or hold your breath.
If you have any questions or comments, please feel free to leave the below!