You may not have thought much about this, but oral health is just as important for your pups as it is for you.
They can also get gum disease, broken teeth, and bad breath. In addition, if bacteria from the mouth gets into their bloodstream, it can damage other organs in their bodies.
So what are the options available to help your pooches have good strong teeth? Well, you can take your dogs to the vet to have their teeth professionally cleaned, or you can brush them yourself.
This can be quite difficult as I've found. None of my dogs like having their teeth brushed and always protest, so I have basically given up on this route.
However, there is a great alternative to brushing teeth and that is to give your dogs a teeth cleaning treat.
I give all of mine one a day and they certainly seem to be doing the trick. My Sherlock can't wait for his treat when we get back from our walk.
Is it Important to Keep Your Dogs Teeth Clean?
 Yes, it is very important. Just like you they can get plaque, which is a build-up of saliva, bacteria, and food, as well as tartar, a yellow or brown residue on their teeth, irritated and bleeding gums, and last but not least, pain.
If you've ever suffered from any dental problems you will know that it's hell on earth and you wouldn't wish it on your worst enemy let alone your faithful friends.
Perhaps you wonder how wolves and other wild animals survive without cleaning their teeth. The answer is simple; they don't live as long as their domesticated brothers and this may have something to do with oral hygiene.
If wolves break their teeth it can potentially lead to starvation. This is probably one of the reasons that they only live four to five years on average.
Domestic dogs can live to ten or even fifteen years and you will want to ensure that these years are pain free.
Why Use a Dog Teeth Cleaning Treat?
If your dogs are like mine and don't want to have their teeth brushed, a great alternative is a dog teeth cleaning treat.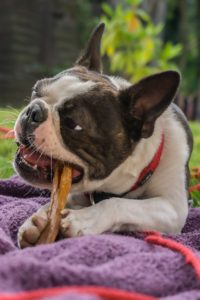 This is a product which is designed to remove tartar and plaque, but your dogs won't even be able to tell what their purpose is. Instead, they will just think that they are having a tasty snack.
Dogs who chew have less plaque build-up than those who don't. Even kibble, which they have to munch through, is good for their teeth.
You can see why a treat in the form of a stick can work even better. Just the mechanical action of chewing can make all the difference between good and bad teeth.
It has been proved that some dental treats used on a regular basis can reduce plaque by almost 70%.
As I've said dogs can suffer from bad breath. This is the result of bacteria build-up around the mouth and some dental treats can effectively cure this problem.
What to Look Out For in Dog Teeth Cleaning Treats
It's always a good idea to check if the treats have been VOHC approved. They are the Veterinary Oral Health Council and they check that pet products meet the right standards for reducing plaque and tartar.
VOHC says that any food, including treats and chews, must reduce plaque and tartar by at least 10%, or 20% if they contain a chemical anti-plaque agent.
Remember to match the treat to your dog. Buy the right size for starters and choose flavors that your dogs like in their daily diet.
If they like the taste, it is more likely that they will eat the treats. My dogs are easy to please. I'm lucky as they'll eat almost anything.
What to Avoid in a Dog Teeth Cleaning Treat
You should avoid hard bones and pigs ears if your dogs have bad teeth. These could break their teeth very easily, and in addition, pigs' ears have been shown to have no dental benefits at all and can be contaminated with bacteria.
Don't give aggressive chewers soft treats as they could eat them too quickly and not get any oral benefit. In addition, they could end up swallowing whole pieces of the chews. This is dangerous as it can cause them to choke.
Positives of Dog Teeth Cleaning Treats
A great plus for giving your dogs teeth cleaning treats is that you won't have to visit your vet so often to have their teeth cleaned. This can save you money while still being assured that their oral hygiene is a priority.
Dog teeth cleaning treats are a simple way to clean their teeth. What dog doesn't like a treat and if it helps reduce tartar and plaque all the better.
I'm not saying you shouldn't brush their teeth, but if they resist, this is a great alternative.
Negatives of Dog Teeth Cleaning Treats
Sometimes a dog will swallow a large piece of a chew and it can fail to break down. This can cause an intestinal blockage which will require medical help.
To avoid this, choose the right size of chew for your pups. It's also a good idea to watch them to make sure that they chew them properly and not gulp them down.
Make sure that the chew is made out of easily digestible ingredients which won't bind up in your dogs' intestines.
Also check the labels of the treats to ensure that they have been made in the US. The US has strict quality-control regulations unlike some Third World countries.
There have been incidences where animals have been fed tainted products from other countries and this can cause illness, if not death.
Best Dog Teeth Cleaning Treats
        1. Blue Buffalo Dental Chew Dog Treats Large Dental Bones
These large dental bones are recommended for dogs who weigh at least 50 lbs. Don't give them to smaller dogs as they are not the right size for their smaller mouths and could cause them to choke.
The bones are easily digestible and are completely natural. There are no poultry by-product meals, no gluten, wheat, corn, or soy, and in addition there are no artificial colors or flavors. It's a total health-kick.
The first ingredient is potato and the chews are jam-packed full of healthy vegetables and fruits such as peas, carrots, beets, blueberries, alfalfa, and parsley.
The bones are specially formulated to maintain healthy teeth and gums, as well as to freshen breath.
They are the ideal choice for your larger dog, but make sure you supervise your dogs eating them to make sure that they don't take too big bites. It's also a good idea to have some drinking water handy as treats can make your pooches thirsty.
2. Milk Bone Brushing Chews Daily Dental Dog Treats
Milk bone brushing chews have been clinically proven to cut down on tartar and plaque and to fight against bad breath.
Having one a day is equal to brushing your dogs' teeth twice a week. They are great for dogs who hate having to have their teeth brushed just like mine.
The first ingredient is rice which goes easy on the digestion. There is a natural smoke flavor and chicken meal which will make your pooches mouths water.
The chews contain 19 essential vitamins and minerals including calcium which promotes strong teeth and bones.
They are an unusual shape which makes it easier for them to get into all those nooks and crannies in the mouth. They are flexible and have bristle-like ridges.
The chews have VOHC approval which should fill you with confidence.
3. Pedigree Dentastix Dog Dental Treats Original Flavor
I've used Pedigree Dentastix in the past and have always had good results. The dogs love them too.
They come in different sizes for small, medium, and large dogs and the company advises you to feed your dog one a day.
They have an unusual X-shaped design which helps to clean in-between the teeth. In addition, they also take a little bit longer to chew than a flat-surfaced treat.
These treats are jam-packed with vitamins and minerals which will do nothing but good for the health of your dogs. The first ingredient is rice flour and there is a smoky chicken flavor which your dogs will love.
They have been clinically proven to reduce both plaque and tartar, and to promote fresh breath. My dogs are always jumping up for cuddles and it's much nicer having someone with a sweeter breath drool all over you.
4. Virbac C.E.T. Veggie Dent Dental Chews
If you are looking for a vegetable chew for your pooches, this is the one to go for.
Perhaps you feel that they are getting enough meat in their daily diet. Unlike cats who are carnivores, dogs can have vegetables and they won't complain.
The chews are in Z-shapes which are easy to hold. They are tough so should last your dogs a bit longer than a couple of mouthfuls.
The top ingredient is corn starch and there are very few other ingredients. A limited ingredient diet is good for pups with allergies. The chews are wheat and gluten free.
Virbac Veggie Dent Dental Chews have been approved by the VOHC. They have confirmed that these chews help to reduce plaque and tartar, and freshen the breath.
5. Greenies Original Dental Dog Treats – Teenie Size
This particular chew is made for dogs weighing between 5 and 15 pounds, but Greenies do make them in larger sizes as well.
Their unique toothbrush shape is rather fun and can clean down to the gum so fighting plaque and tartar, as well as freshen the breath.
The top ingredient is wheat flour and there is a natural poultry flavor. The chews are jam-packed full of vitamins and minerals. All of the ingredients are easy to digest and have a chewy texture.
The chews are recommended by vets and approved by the VOHC.
6. Bully Stick Rings – Natural Bulk Dog Dental Treats & Healthy Chews
These Bully Stick Rings are what they say; chews shaped in a ring. They're fun in that you can have a little tug-of-war with your pooches before giving them the treat.
These are single ingredient chews which are great for dogs with allergies. They only have beef and this has been slowly-roasted in its own juices. They are low in fat, but high in protein. This promotes strong, lean muscles while keeping added weight at bay.
As there are no other ingredients you can rest assured that these rings contain no artificial ingredients. In addition, the chews are made from grass-fed cattle who have not been fed any hormones or chemicals; all the better for the health of your dogs.
They are long-lasting which helps to keep your pups amused for a lot longer. There is also very little odor from them which is better for you.
Bully Stick Rings help to remove plaque and tartar so leading to better oral health.
7. Healthy Breeds Triple Enzyme Dental Sticks
The first ingredient of these dental chews is potato starch. There is also dried chicken liver which will give your pups the taste they love.
They are easy to digest, are grain-free in that they don't have any wheat, soy, or corn, and they are low in calories.
It's a good idea to give your dogs treats which don't pile on the pounds.
These dental sticks have been formulated by vets and help to control plaque and tartar as well as freshen the breath.
8. Whimzees Natural Grain Free Dental Dog Treats Variety Pack
Whimzees are for larger dogs and ones aged over nine months. They come in three different shapes so can get into all those little nooks and crannies.
Blood flow in the gums is aided by the knobbly shapes.
They are great for freshening the breath as well as counteracting the build-up of tartar and plaque.
These dental dog treats are completely natural and vegetarian. They contain no artificial flavors or colors, nor are any GMO products used to make them. They are also grain and gluten free.
They only have six ingredients which is good for dogs with allergies. The first ingredient is potato starch which is an excellent source of energy and it enables your pups to gain strong and lean muscles.
Dogs all need some fiber in their diet to aid good digestion and these treats contain powdered cellulose which is a pure form of dietary fiber. It will keep them regular.
The treats are a great source of vitamins and antioxidants, including the B vitamins and amino acids which come in the form of yeast.
9. Mini Bully Sticks for Small Dogs & Puppies – Natural Bulk Dental Treats for Toy Breeds by Pawstruck
If you have a toy or small dog, these dental treats are ideal for little mouths. They will suit all dogs under 15 pounds.
The first ingredient is beef pizzle which comes from free-range and grass-fed cattle. These cows haven't been treated with artificial hormones or chemicals, and there are absolutely no artificial ingredients in them.
They are roasted slowly in their own juices which makes them even more irresistible to your dogs.
The protein count is high which will give your little pups more energy and help to build strong and lean joints. On the other hand they are low in fat so they won't become tubby.
These treats help to reduce tartar and plaque and encourage fresh breath. All this adds up to better oral health.
10. Dingo Tartar and Breath Chicken Dental Sticks for all Dogs
These dental sticks have been made for dogs of all sizes which I'm not sure is that good an idea as the size of their mouths differ as does their calorie requirements.
However, there are lots of positives with these treats so I couldn't leave them out.
Dingo Dental Sticks have got an excellent protein kick in the form of real chicken, not by-products. In addition, there is plenty of fiber in the sweet potatoes. These have been added for good digestion and regularity.
The first ingredient is rawhide, with chicken jerky as second. They are free of wheat and gluten which is good for those pups who have allergies.
They are a perfect replacement for a toothbrush. They contain baking soda, chlorophyll, and parsley seed, all of which combine to give your pooches a great oral experience.
How to Clean Your Dogs Teeth
Of course you can brush their teeth with toothpaste. Coconut oil is another option as it is antibacterial and helps to support the immune system.
An alternative is an antibacterial herbal extract like grapefruit seed extract. Dilute a few drops in water and apply to the gum line.
Kibble is thought to be good for removing plaque and tartar, but bits of it can get stuck in-between the teeth. A great idea is to add cinnamon to the bowl. It's full of antioxidants and is naturally antibacterial.
Raw fruit and vegetables like apples and carrots also remove plaque and tartar and provide needed fiber.
I personally have gone down the dental stick route. I find it easy and convenient with the number of dogs I have and it works. If you feel that your dogs are eating the sticks too quickly to have much effect, break them into smaller pieces.
Final Thoughts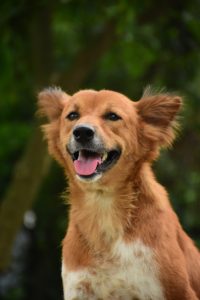 It is vitally important for you to take care of the oral health of your dogs. It's not a cosmetic issue; dogs don't care what they look like. However, if they don't have good teeth, infection can spread to other parts of their bodies and cause all manner of illnesses.
Keep a look out for loose teeth and inflamed gums. If you do this regularly, your dogs should have few problems and won't need a visit to the vet. However, this must always be kept as an option.
My personal favorite dental sticks are Blue Buffalo Chew Dog Treats as they are all-natural. There are no poultry by-product meals, grains, or artificial flavors. The dogs love them as well as Pedigree Dentastix.
Remember to give just one chew a day as they don't need more to keep their pearly whites in tip-top condition.