Dogs truly are your best friend, which is why it's only reasonable that you would want the opportunity to bring them everywhere with you.
However, if you plan on going biking, bringing your dog along can be difficult.
If you have a large dog with high stamina, then it's possible for them to keep up with you for short distances, however, for the most part, biking isn't a pet friendly activity.
That doesn't mean you can't change that, though.
Dog bike trailers are a great tool that allow you to bring your dog with you. They are easy to set up and take down, and your dog will enjoy the fresh air.
If you're not sure what a bike trailer is, it is similar to a stroller that hooks on to the back of your bike. It is covered and has mesh windows so that your dog can enjoy the scenery without risking injury or sunburn.
This ventilation will also protect your dog from overheating, however, it is still good to take breaks to let your dog out so they can get fresh air and water if it is exceptionally hot outside.
Dog bike trailers offer an abundance of benefits for both dogs and their owners.
Benefits of Dog Bike Trailers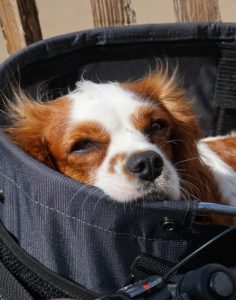 First, even if your dog is okay to walk beside you while you bike, if you're going into an area that is notoriously muddy or dirty, the last thing you want is to have to take them home like that.
With a bike trailer, you can get your dog clean while still having them along with you for the ride.
Dog trailers are also much safer for dogs, especially if you plan on biking through the city or if your dog is skittish.
If your dog is nervous and is being walked next to your bike in the city, a car horn or loud truck can spook your dog which can cause an accident that leaves your dog, you, or a stranger injured.
The dog trailer will keep your dog in a safe place where they can not cause accidents or get injured.
Finally, while there are other ways to bring your dog on bike rides with you such as baskets or carriers, these are not designed for larger dogs.
You can purchase a dog bike trailer to fit your dog, allowing you to bring any size dog from a Chihuahua to a Great Dane with you.
However, just because a dog trailer has so many benefits, that doesn't mean there aren't any precautions necessary.
Safety Concerns
Any time you take your dog out of the house, whether it be a car ride, a walk, or a bike ride, you need to take precautions and be aware of possible dangers so that you can keep your dog safe.
The flooring of your dog's bike trailer is very important. While a low-quality, flimsy flooring might be good for your wallet, it can be detrimental for large or senior dogs.
It lacks the support that these types of dogs require, and it can lead to joint pain and stiffness and an uncomfortable ride for your dog.
The amount of air circulation in the bike trailer is also important and can vary based on where you live.
Too much air circulation in a colder environment can lead to respiratory issues, while too little air circulation in a hot environment can lead to overheating and heat strokes.
Also, some breeds of dogs, such as pugs, are more prone to overheating than others.
Finally, you need to consider your dog's height and weight. Dog bike trailers come in different sizes, and, if you pick the wrong size, you risk your dog becoming injured.
Picking the Right Size Trailer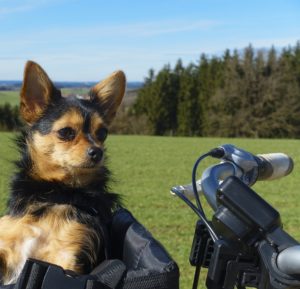 When picking the right dog bike trailer for your dog, size is important. Generally, if your dog is a smaller breed (usually under 30 pounds), they can use any size bike trailer.
Since they are so small, they don't require a lot of support or room, making picking the right dog bike trailer easier.
However, if you're shopping for a larger dog breed, you might run into a little bit more trouble.
For the most part, dog trailers are designed with smaller dogs in mind. This is because most larger dogs have the stamina to walk beside your bike for a few miles each day.
However, if you're planning a large trip, are planning to bike on harsh terrain, or have a senior or arthritic dog, then you'll still need to find a large dog bike trailer.
While this is more difficult, it's not impossible. In fact, here's some of the best bike trailers for large dogs.
Best Bike Trailers for Large Dogs
1) PetSafe Solvit HoundAbout
The Solvit HoundAbout dog bike trailer is designed to be easy to set up, easy on joints, and easy to clean.
Putting it together is much like putting a tent together: you simply unfold it, make sure everything is secure, and put on the wheels.
If you purchase the large version – which, if you're shopping for a larger dog you'll want to – it would be wise to construct the trailer either outside or in the garage.
While the medium version should be okay indoors, many customers say that the large version is too big to get out the door with the wheels on.
This trailer was also designed with your dog's comfort and safety in mind.
It has a waterproof inner cushion that can be position and will help alleviate any pressure on your dog's joints. This is especially beneficial for larger or arthritic dogs.
The cabin is built lower to the ground than most other bike trailers so it will have an easier entry and exit that will be gentle on joints.
It also has an adjustable leash that will keep your dog secure while allowing them to roam the cabin and put their head outside of the mesh screen.
There are also reflectors on the exterior of the cabin and on each wheel so that you don't have to worry about a car not seeing your precious cargo.
With multiple mesh panels and an oversized sunroof, this trailer will also allow your dog to have enough air flow and a great view while you travel.
In case a sudden storm pops up, the HoundAbout bike trailer also has a waterproof rain guard that will keep your pup dry.
This bike is great if you want to go camping – thanks to all the pockets and extra space it has – or just a casual bike ride through either town or trails.
However, due to the fact that this trailer also has a high rollover risk, if you plan to take any sharp, fast turns – like in racing – this choice might be a little dangerous.
Pros
Cushioned seat that is gentle on dogs with arthritis and other joint problems
Mesh and waterproof layers to protect dogs from the elements
Multiple safety features including adjustable leash for security and reflectors for riding at night
Outside is easy to clean and inside cushion is machine washable
Cabin sits low to make entry and exit easy for dogs
Can carry dogs up to 110 pounds
Cons
High rollover risk
Inner cushion can move around the cabin rather than being secured to the bottom
Exterior fabric fades quickly
2) DoggyRide Novel Dog Bike Trailer
If you need a lightweight trailer that can support a large dog, then this is a great option to consider!
The DoggyRide Novel dog bike trailer was originally made out of a heavier material, but it has been redesigned with an aluminum frame to make it lightweight.
It is versatile and can be used as either a trailer or a crate, although, some owners have had trouble getting the kickstand to sit properly when in crate form.
The interior of the cabin is designed for your dog's comfort. There are multiple mesh panels that will allow your dog to see outside while staying cool along with rain guards to keep them dry.
There are reflectors on the inside of the wheels that will help keep your furry companion safe if you decided to bike along the road.
This trailer is a good option if you're okay with spending a little more. It's versatile and lightweight, and it's a great option for someone who wants to keep their larger dog close with as little extra weight as possible.
Pros
Lightweight
Can hold up to 110 pounds
Extra storage and water bottle holder
Padded headrest so your dog stays comfortable
Waterproof rain guards and mesh screening
Converts into crate
Cons
Difficult to assemble
Zippers are easy to undo, allowing dog to escape midtrip
Reflectors along wheels are hard to see
Kickstands falls during bike rides
Expensive
3) Burly Tail Wagon
The Burly Tail Wagon is a bit more on the expensive end, but, if you're willing (or WHEELing) to make the investment, it's a unique and worthwhile purchase with a large amount of 5-star reviews.
Like every other trailer, this bike as mesh panels with rain guards to keep your pup happy rain or shine. If you purchase a compatible kit, it can also be converted into a stroller.
This dog bike trailer has an abundance of features such as security ties and side battens to help reduce the rollover risk and to keep your dog comfortable safe throughout the duration of your bike trip.
You can also remove the flooring so that you can wash it.
It can easily support a dog that is under 75 pounds, and it is designed specifically to make short trips with your dog easier.
However, unless you purchase it separately, it does not come with a kickstand. This can make the act of loading your dog into the trailer while it is hooked up to your bike difficult.
This bike trailer is a good option if you're willing to make a larger investment. The trailer itself isn't cheap and for the best experience, you will need to buy some extra things, such as a kickstand.
However, this trailer is also built for safety, and, with its reduced rollover risk, it's one of the safer ones on the market.
Pros
Removable flooring for washing
Optional security ties and side battens for added support and stability
Designed to make casual traveling with pets easier
Cons
Expensive
Comes with handle but the wheel to convert it into a stroller costs extra
No kickstand which makes it difficult to get your dog into it
Best Bike Trailers for Small Dogs
Doggy Ride Mini Trailer
If you're looking for a compact, lightweight, and small-dog friendly bike trailer, then this one is a good choice.
While it can be a little difficult to set up for the first time due to a lack of instructions, after it's set up and ready to go, storage and connection will be a breeze.
This bike trailer can support up to 55 pounds. It comes in a variety of colors, and, with the proper kits and equipment, it can be converted into either a stroller or crate for your dog.
This dog bike trailer also addresses safety. Inside of the cabin where your dog will be, there is an interior leash which you can use to secure him or her.
There is also a large mesh panel on the front that will allow your dog to have proper air circulation – although, owners who have two dogs say that it still gets a little too hot sometimes – as well as a good view.
It has a waterproof rain guard that can quickly and easily be pulled down in case it starts to rain.
This bike trailer is great if you have smaller dogs who won't fit in your bike's basket, but you still want to keep them close while you travel.
It's also a good choice if you're looking for a trailer that can also be used as either a trailer or a crate.
Pros
Folds down easily for quick storage
Interior leash to keep your dog secure while moving
Mesh panels with waterproof rain guards to keep your dog happy rain or shine
Rear door for easier entry
Pockets and water bottle holder for extra storage
Can be converted into a stroller or crate
Cons
Overheating concerns
Difficult to pump up tires
Difficult to assemble
Sepnine Pet Bike Trailer
If you're looking for a cheaper, easier to use bike trailer for the occasional, casual biking, then this is a great choice for you.
It comes with interior support that one customer says protected her dogs from any injuries during an accidental rollover. It can switch between a trailer and stroller easily without any extra tools.
Like the rest of the dog bike trailers mentioned in this list, the Sepnine pet bike trailer comes with mesh panels and plastic rain guards to keep your dogs cool and dry.
It also has a front and back door so that any dog under the weight limit (88 pounds) can easily get in and out.
This trailer is a good buy if you're looking for something simple and light without any extra features.
If you're just planning a brisk bike through the park or through town and not a tour through the mountains, then this is probably a good choice for you.
Pros
Interior leash for added security and protection
Switches between a trailer and stroller easily without any tools
Front and back doors for quick and easy entry and exit for all dogs
Cons
Flooring is lacking support, however, that is an easy fix
Counterfeit products: some customers report purchasing this and getting a different brand upon arrival
Schwinn Rascal Pet Trailer
The Schwinn Rascal pet trailer is the cheapest on this list, but it still maintains a high standard of quality.
If you're just searching the market for your first dog bike trailer and you don't want to spend a large amount of money, then this is a great option for you.
This bike trailer can hold one pet up to 50 pounds, so if you have more than one pet or if you have a larger pet, this won't be a good option for you.
However, if that describes your furry companion perfectly, this trailer comes with an abundance of benefits that makes it great for a beginner.
First, this trailer is designed with your dog's comfort and safety in mind.
It has plenty of mesh panels so that your dog can stay cool while enjoying the ride, and the internal leash is adjustable so that you can have bike without fear of your dog jumping or falling out and getting hurt.
It has a small pouch for added storage – such as doggy bags because you should always pick up after your pooch – and a reflector so that you can ride without worrying about a car hitting your trailer.
Then entire back end of this trailer unzips and makes an easy entry and exit for your dog.
If you're looking for the absolute basics at a low price, then this is a great option.
You still get the security, enjoyment, and peace of mind without any excess features or costs. That means more money to spend spoiling your favorite furball.
Pros
Cheap
Lightweight
Rear panel for easy entry and exit
Room for 12 pounds of additional gear
Washable liner
Cons
High rollover risk, especially while turning
Dogs are able to break out of internal leash if not secured properly
Fragile zippers that break easily
Fabric not durable
Training Your Dog to Use the Trailer
Unless your dog was exposed to a bike trailer from an early age, they may be uncomfortable or even fearful of the crazy, new contraption you're trying to convince them to climb into it. After all, there aren't bike trailers in the wild.
That doesn't mean that you can't use a trailer, though. With a little time, love, and dog treats, even the most anxious dog could learn to love their trailer.
Much like with stairs or any other thing that your dog might consider scary, positive association is the most important part of training your dog.
At first, your dog may not want to even get close to the new trailer. Gently coax them to get closer and sniff it.
After they're done figuring it out, give them a treat. After all, the way to a dog's heart is through their stomach.
Next, after they are no longer flinching away from the trailer, try coaxing your dog to get in it. However, do not force them to!
It's important that you let them move at their own pace in order to prevent any negative associations. After your dog is comfortable inside of it, then you can start trying to help them get used to movement.
At first, you can try pulling the bike trailer with your dog inside by hand – so long as they aren't too heavy!
This will let them get used to the idea that it is you causing the movement, and they don't have to be afraid. Make sure to use lots of treats and verbal praise.
After they are comfortable with this, you can try hooking the trailer up to your bike and working your way up to longer bike rides in harsher or louder terrains.
Final Thoughts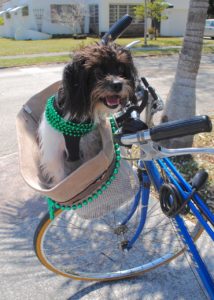 Whether your dog is a young, energetic puppy who might get into trouble or an older dog who struggles to keep up on your favorite hikes, purchasing a dog bike trailer can drastically change how much you and your dog enjoy your bike rides.
While you still may not be able to bring your dog to every place you go, a dog bike trailer is a great way to include them in your life just a little bit more.
It can be hard to pick the perfect dog bike trailer for your furry friend, though. You have to consider things such as the safety concerns and size limits, as well as whether or not your dog is comfortable with the trailer.
However, by putting in the proper amount of research, you'll be able to find the best fitting trailer for your and your pet's lifestyles.
While it may seem like a challenging process, a dog bike trailer offers enough benefits that it is definitely worth the investment.
Plus, your dog will appreciate the chance to explore the world with their favorite person – you!