When I first got Rush, my adorable Pitbull, I knew I was in love. He was a rescue dog from a home that unfortunately was breeding dogs for fighting.
I felt compelled to help Rush know that humans aren't bad and show the world that Pitbulls are lovable and kind animals.
Thankfully, I got Rush as a puppy, so I could teach him to be kind. But he really barked a lot out of stress!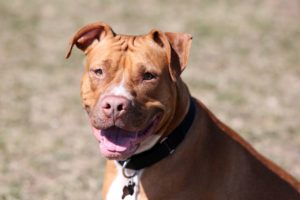 How was I to teach my dog not to bark?
Rush barked at everything, from cars to other dogs, to me when he got left alone.
I looked on the internet for some ideas, but I got so many that I had to find the best ones.
Hi! My name is Pete. I am so excited to share with you my 6 favorite products to keep your dog from barking.
My selections worked for me, and they also worked for my family and friends, too! There are lots of good, effective ways to keep your dog quiet.
No matter how you choose to keep your dog from barking, there is a safe, humane way for you to do it, and a product for every budget. Check out the products!
1.TBI Pro -Newest 2019 Rechargeable Bark Collar
The customer reviews speak for themselves here. This is actually the product I use when it comes to my dog.
It has the option to shock or vibrate, depending on what you think is right for your dog.
You can select the collar to beep, also. This will fit dogs from 7 to 120 lbs.
I like that you can adjust the level of the vibration using the digital screen. It runs on rechargeable batteries, which is great because buying batteries all the time is surely a pain.
Best of all it is waterproof, so those of you who go walking even in the rain will like it. Do not let your pup swim with it, however.
Also. keep in mind that you are not to leave the collar on the dog's neck for more than 12 hours in a day.
If possible, also adjust the collar every 1-2 hours. This will prevent neck damage and irritation.
I don't believe in shocking your dog, so I tend to stick to the vibration feature.
 2. Doggie Don't THE DEVICE
A good friend of mine with a little Yorkie used this, and it is a nice, humane way to keep your dog from making too much noise.
Bear in mind that this device is nice because you don't have to worry about adjusting a collar all the time, but it does make a really loud noise that might be annoying to some pet owners.
However, it is dependent upon your personal taste.  The device is really easy to use.
You press the button when your dog is doing the bad behavior, and then you say the command word such as 'Stop' or 'No.'
Your pet will hear it, get distracted, and gradually learn they are doing a bad thing.
This device is really great because trainers across the country use it to teach and train pups to stop barking.
It has a great wrist strap too-you can just hook it onto your wrist and walk the dog with ease, using it when it's time.
The price is not so bad, either. It is a product that will last, and it works on dogs of each and every size!
3.The Company of Animals Pet Correctors
Here is a rather unconventional but still great product to keep your pet from barking.
This is a spray-it is compressed air that makes the sound of a snake to distract your dog.
Once distracted, you can issue the command for your dog to follow, and the behavior will gradually be corrected.
It is a nice, safe, humane way to teach behavior, but the air will run out.
This works well, but you may spend a lot depending on how much training you need.
It was created by an animal psychologist, Dr. Mugford!
Do not spray into a dog's face directly, however.
This is an excellent, humane way to teach dogs how to be quiet.
You can order it in a single can, or you can purchase multi-packs of the product.
4.Nylon Dog Muzzle
As much as I love Rush, I do not feel completely 100% safe with him around young children. He is still learning to be friendly.
Now, when we go over to my sister's house, I have him wear this muzzle.
My 5-year-old niece loves dogs but does not understand that Rush is stressed out and still is learning to be friendly.
Therefore, I put this muzzle on him to make sure we all can relax.
Even if your dog is friendly but the vet stresses him out, this may be a great product for you.
The nylon is nice and soft and won't dig into the dog. The muzzle come in all sizes, and you can measure to fit your dog by doing the following:
Wrap a tape measure around your dog's snout. Put one finger under the tape measure to ensure comfort.
Then measure the circumference of the neck and choose according to the sizing chart.
For my 60lb Rush, the Large size was fine. This will also help if your otherwise friendly dog is biting other dogs.
This reasonably priced product can save you a lot of headaches and worry when it comes to taking your dog out in public.
 5.POP VIEW Dog Anti Bark Collar
Here is a great collar that has a perfect 5-star rating!
If you do not believe in shocking even if it is small, and you want a collar that just works, and works well, this is it.
The price is really good, and it comes in a cool Army pattern that makes even a little dog look tough and cool. It will fit any size of dog.
The best thing about it is the nice, safe humane approach that POP VIEW has taken when it comes to pet safety.
This collar does not shock at all. It uses only vibration and sound to train your dog. Your dog can wear it anywhere, indoor or out.
The sensitivity adjustment lets you choose the right level of vibration so that your dog, no matter how big or small, will learn how to correct his behavior.
If for some reason you do not like the collar, you can always return it under the 60-day money-back guarantee the company offers.
 6. MARDOG No Bark Collar
Here is another great, humane collar that will teach your pup when it is time to be quiet.
The price is perfect for all of us, and it continuously uses vibrations and beeps to teach your dog when he is doing an undesirable action.
Your dog will soon figure out that whenever he barks, a beep or vibration is emitted.
Then he realizes that by stopping the barking, the beeps and vibes will stop, too! Any dog from 11 lbs. to 150 lbs. can wear this collar and be successful with it.
The technology in it is top-notch. It will only activate when your dog barks.
No other dogs or sounds will trigger the deterrent.
It is also waterproof, so dogs that walk or play in the rain or muddy puddles will do fine while wearing this collar.
This collar also comes with a 60-day money-back guarantee, so you will be refunded if this collar does not work out for you.
The customer reviews are great too-one customer writes that the collar helped her dog stop barking at the vacuum, the broom, and the blow dryer. Another states that it works really well for her rescue dogs!
Final Thoughts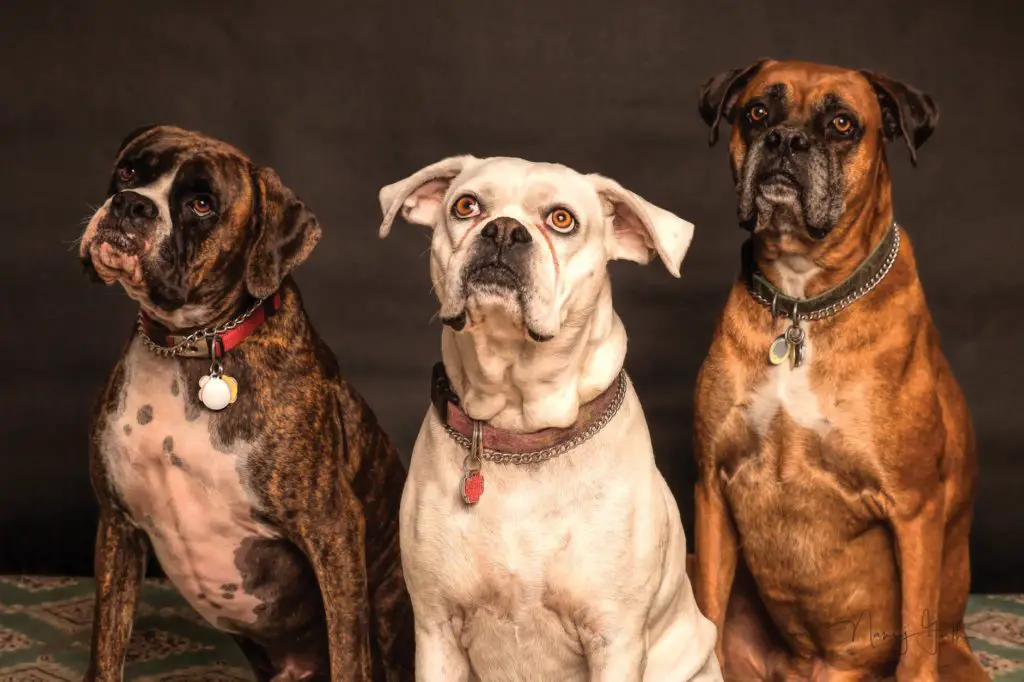 Getting your dog to stop barking is definitely something you can do.
You will just need to find the right product.
If you have multiple dogs that need to learn to stop barking, perhaps a noisemaker is best.
Each dog can hear the same noise and learn the same lesson.
For those that live in the city where there are noise laws in place, perhaps vibration collars are the best choice.
And it is always a good idea to have a muzzle if your dog has any indication of being unfriendly and biting.
It is just not worth the risk! Let us know which product you use, please leave a comment below and share the post for more fun!